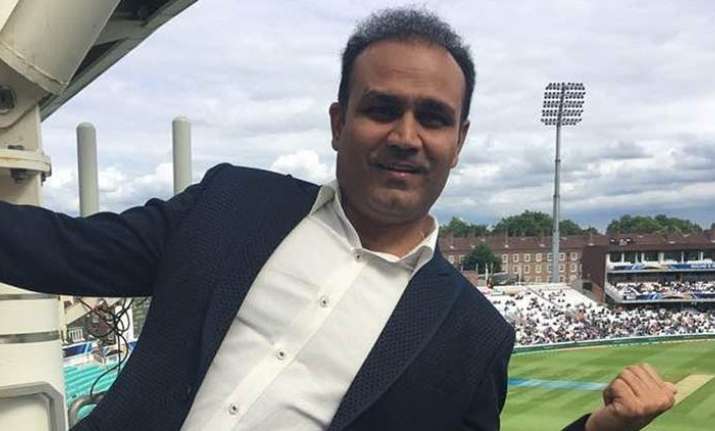 Former India opener Virender Sehwag was a fearless character on the field who smashed the living daylights out of many bowlers during his hey days. His happy-go-lucky attitude helped him to keep the pressure at bay during many big occasions and developed him into a match-winner.
With India playing Pakistan tomorrow in the second semi-final of the ICC Under-19 World Cup, Sehwag - a seasoned campaigner of many such high-profile Indo-Pak clashes - wants the junior team to imbibe his fearless character and play "bindass".
"Jaakar bindaas khelo... bina darr ke kheloge toh jeetoge (Play bindass cricket, be fearless and you will win)," Sehwag said during India TV's "Cricket Ki Baat" show on Monday.
The clashes between India and Pakistan, two neighbours who have fought three wars, are filled with emotions and pride with people of both the countries expecting their teams to win at any cost - making this contest more than just a game.
Sehwag, who is a cricket expert to India TV, said pressure will always be there during such mega clashes but players need to handle it well if they want to win.
"The team which can handle the pressure will win the match. I have seen a couple of matches of the India U-19 team and there are a few players who have went for millions in the IPL 2018 Auction. I think this is the first time where U-19 players have attracted such bids in the IPL auction," Sehwag, who is the director and mentor of IPL franchise Kings XI Punjab, said.
"There will be sledging as always the case with Indo-Pak matches. But players should not cross the line. They need to keep the focus on their cricket," he added.
Speaking about Prithvi Shaw, the captain of the India U-19 team, Sehwag said: "Prithvi Shaw has already played first class cricket, has scored a lot of runs and he has five hundreds in first class. So, there will not be much pressure on him. However, there is a certain amount of pressure which is always there in the India-Pakistan clashes. This is contest where you have emotions from both the countrie."
Sehwag also praised his former India teammate Rahul Dravid, who is the coach of the India U-19 team.
"There are only a few players who have played over 150 Tests and have agreed to work with the junior team and Rahul Dravid, I think, is the only player to do so. Normally a player of such high repute refuses to work with the junior teams but Dravid is doing this from the past two years. So, he deserves all the accolades," he said.