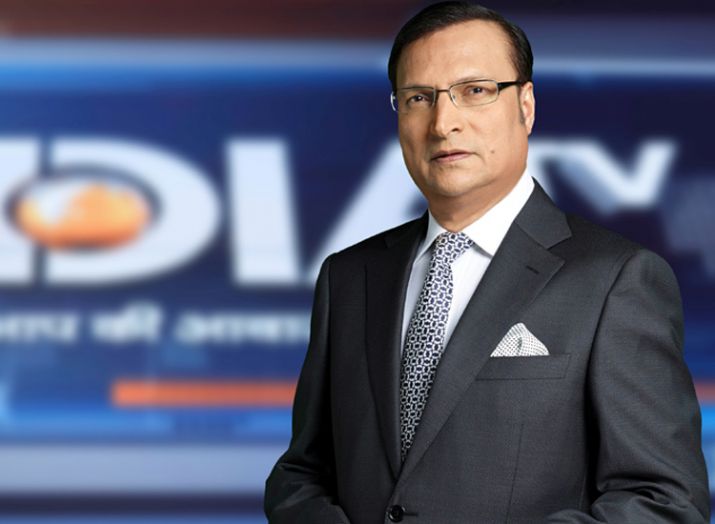 IndiaTV Chairman and Editor-in-Chief Rajat Sharma, who on Monday became the new President of the Delhi & District Cricket Association (DDCA) after registering a landslide victory, said he will work towards the betterment of the state cricket body. Mr. Sharma received a total of 1,521 votes (54.40 per cent) in his favour.
The results of the DDCA polls were announced on Monday and Mr. Sharma's team swept the elections winning all 12 seats. (Also Read: Rajat Sharma elected as DDCA President, thanks members after historic victory)
Mr. Sharma, who is a Padma Bhushan awardee, said the credit of his victory belongs to the DDCA members.
"The credit of this victory goes to the DDCA members, my panel who did a lot of hard work and also all those people who have worked behind the scenes. The biggest reason for this victory was that the people wanted to see a change in the DDCA," Mr. Sharma told IndiaTV.
The four-day long elections saw a turnout of over 72 per cent. A total of 2,791 DDCA members turned up to cast their votes out of the 3,828 eligible voters. This was the first time that the polls were held without the much-criticised proxy voting system, as directed by administrator Justice Vikramajit Sen. The proxy system of voting has been considered by many as the root cause of corruption in DDCA.
"They (DDCA members) didn't want people, who are elected on the basis of proxy voting, to run the affairs of the DDCA. So, it is a victory of democratic standards over the proxy system," Mr. Sharma said. (Also Read: Virender Sehwag congratulates Rajat Sharma after historic victory in DDCA Elections)
He extended his gratitude to the members for putting their faith on him and his team.
"The manner of the landslide victory only shows the belief people had in me and my team. They have showered their love on us. I want to express my gratitude to all the DDCA members who have put their faith on us," he said.
Mr. Sharma's candidature garnered a huge amount of support right from the beginning with legends like Virender Sehwag and Gautam Gambhir coming out in the open to back him.
"Cricketers like Virender Sehwag and Gautam Gambhir have given a lot to DDCA. They have played world-class cricket and have made the country proud. They are the pride of Delhi. Now it is our turn to increase their glory. We will give them the opportunity to work in the DDCA affairs. We want to use their cricketing experience and powers for the benefit of the DDCA," Mr. Sharma said.
Mr. Sharma said he will set up more cricket academies in Delhi for the benefit of the kids who come from economically weaker sections. 
"We will set up more cricket academies in Delhi so that kids who come from economically weaker sections do not face any kind of problems and get better coaching facilities. We want more players to come out of Delhi who can make the country proud," he said.
Following their victory, Mr. Sharma and his team went to meet Union Minister Arun Jaitley, who has been a former President of the DDCA.
"Arun Jaitley ji is very passionate about cricket. He is well aware of the intricacies of the game. He has been a former DDCA President and we would like to use his experience. We came to seek his blessings and his guidance to run the DDCA. I feel that Arun Jaitley ji had done historic work during his tenure as DDCA President. He worked towards bringing glory to the state body. We want to carry forward his good work and that's why we came to meet him. 
"Arun Jaitley ji has extended his support to us and told us to continue our work together. His blessings are with us," he said.
Meanwhile, Rakesh Kumar Bansal has been elected as the Vice President, Vinod Tihara has been elected as Secretary, Om Prakash Sharma is the new Treasurer and Rajan Manchanda is the Joint Secretary.
Apart from them, Renu Khanna has been elected as Director Woman, Apurv Jain, Alok Mittal, Nitin Gupta, Shivnandan Sharma, CA Sudhir Kumar Aggarwal were elected as Directors while Sanjay Bhardwaj has been elected as the Director First Class Cricketer.