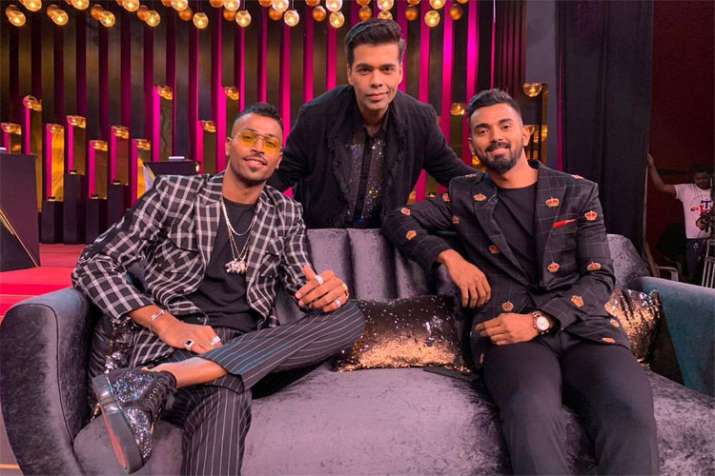 Indian star cricketers Hardik Pandya and KL Rahul graced the coffee couch on the latest episode of talk-show Koffee with Karan. It was the very first time when any cricketers were the guest on the much-hyped show hosted by top Bollywood director-producer Karan Johar.
In the talk-show, there is an interesting segment named 'Rapid Fire' where the person has to give some quick and spicey answers to win the hamper prize. In the exciting round host Karan asked both the players to choose the better captain between Mahendra Singh Dhoni and Virat Kohli to which Pandya and Rahul opted for the former skipper who guided India to the 2011 World Cup glory.
Pandya said, "MS Dhoni because I made my debut and it was fantastic", While the right-handed opener added, "In terms of achievement, yes MS Dhoni".
It was a fun episode as both the cricketers revealed some of their secrets on the show that really shocked their fans. Pandya and Rahul revealed several dressing room things and some personal stuff from their life. 
The show turned out to be the disaster for allrounder Pandya as he was called out on Twitter for his 'misogynistic' and 'creepy' comments on the coveted couch.
The 25-year-old, who flew to Australia for the last two Tests after recovering from a back injury, didn't get a game but managed to grab enough eyeballs and hate through his 'cool-idgaf-badboy' image.
A thread on all the creepy, misogynist, racist, and problematic things Hardik Pandya said on Koffee With Karan:

1) KJo: Why don't you ask women's names at nightclubs?

HP: I like to watch and observe how they move. I'm little from the Black side so I need to see how they move.

— Anxious and depressed 🌹🌱🌼🌾 (@SreePooh) January 6, 2019
By far the worst episode. Classy show usually and then appears #HardikPandya Verbal gutter, sadakchhap vibe. Feeling bad for #KLrahul Why #KJo why????!! #KoffeeWithCricketers

— Nomadic Mind (@NomadicDimaag) January 6, 2019
It might have been fun initially to watch two young sportsmen letting their guards down, but the obnoxious and misogynist attitude of Hardik Pandya just was too much to take in. At one time, cricket was called a gentleman's sport. Where has all the class gone? #KoffeeWithKaran

— Medha Chatterjee (@moldyshorts16) January 6, 2019
Watching @koffeewithkaran, a show so entertaining and a mass favourite was a huge disappointment today. Mr Cool objectifying women around him seemed like a coffee affair passed away in few giggles. Sadly, He represents our National Team.#HardikPandya #koffeewithkaran

— Shivani Asthana (@ishivaniasthana) January 6, 2019