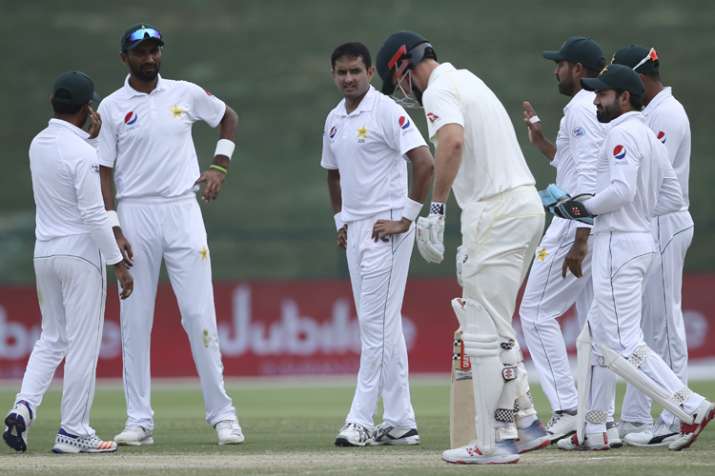 10 matches, 59 wickets at a miserly average of 15.64! These are the Test figures of Pakistani fast bowler Mohammad Abbas in his still short career. If only he could bat too! Having taken a five-for in the first innings of the ongoing Abu Dhabi Test versus Australia Abbas added five more scalps to his rapidly burgeoning kitty as he completed the rare feat of ten wickets for the match helping his team's huge 373-run victory over the visiting Australians. Expectedly, he is all over social media at the moment and the cricket world is comparing him to some of the all-time greats.
Chief amongst them is South African great Dale Steyn who has made the prophecy that Abbas might soon be the new No.1 ICC Test bowler.
While former England captain Michael Vaughan has conceded that if he was playing against the Pakistani sensation, he would be dismissed once every six balls.
I see a new number 1 Test bowler coming... Mohammad Abbas

— Dale Steyn (@DaleSteyn62) October 19, 2018
Having watched Mahammad Abbas now for over a year ... I have decided he would get me out every time within about 6 balls ... The type of bowler i would poop my pants about ... Thought I would let you all know ... #PAKvAUS

— Michael Vaughan (@MichaelVaughan) October 17, 2018
Faced him last month with storm Ali up his backside....lasted 1 ball first innings and somehow survived the huge LBW shout 1st ball in the 2nd innings!! Had me on toast #unplayable https://t.co/R2ZgipHxrb

— Paul Collingwood (@Colly622) October 17, 2018
Pakistan have as always unearthed a special fast bowler. Mohammad Abbas looks an unbelievably talented bowler.

— Mohammad Kaif (@MohammadKaif) October 19, 2018
When I grow up I want to bowl like Mohammad Abbas 🏏 #PAKvAUS

— Rene Farrell (@Fezzy88Rene) October 19, 2018
Although all the accolades that are coming his way are richly deserved and always welcome, Abbas and the Pakistan Cricket Board should make sure that he doesn't fade away like a number of other bowlers before him.