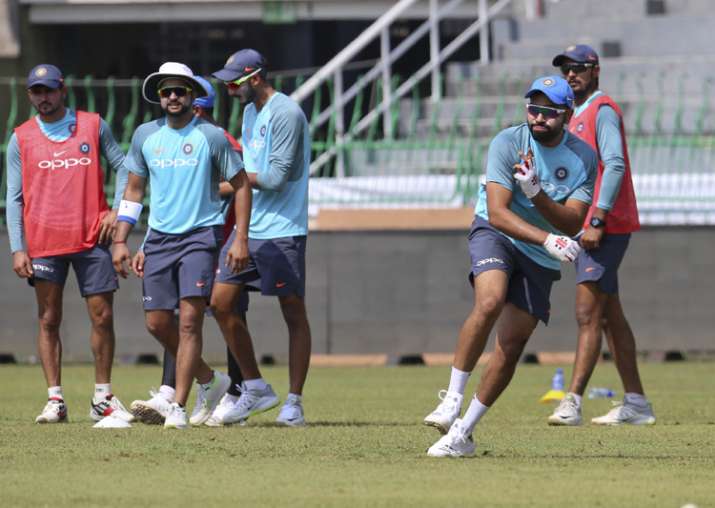 The Board of Control for Cricket in India (BCCI) acting president CK Khanna, in an exclusive chat with India TV, has assured that there is no threat to the security of Indian players stationed in Sri Lanka following the ongoing violence in the country which forced the authoritied to declare a 10-day emergency. The Indian cricket team, led by Rohit Sharma, is in Sri Lanka to take part in the Nidahas Trophy Tri-Nation T20I series, involving India, Sri Lanka and Bangladesh. Police in Sri Lanka imposed a 10-day emergency to quell anti-Muslim violence after mobs from the majority ethnic Sinhalese population burned shops and homes in retaliation for a death that's the subject of a dispute.
The first match of the series is scheduled to take place at the R. Premadasa Stadium in Colombo on Tuesday.
CK Khanna has said that the Sri Lanka Cricket board has assured that there will be no comprise on the security of the Indian players and has denied any possible threat to the match.
"There have been reports of curfew and an emergency being called in Sri Lanka. The situation in picture is Kandy and not Colombo. This is to notify everyone that after talking to concerned security personnel (Ministerial security division - in charge of team security) we have understood that the situation is completely normal in Colombo. If at all there is any update on the same we shall notify," the BCCI said in a press release.
Meanwhile, the violence in the Kandy district occurred on Monday after an ethnic Sinhalese man died in hospital after he was attacked by a group of Muslims.
Police spokesman Ruwan Gunasekara confirmed the imposition of curfew but declined to provide details on injuries and property damage.
The government said in a statement that police were put on alert to prevent the violence from spreading and asked the people to "act with responsibility and remain calm."
At least 11 shops and homes were set on fire, said Keerthi Tennakoon, chief executive of the Sri Lanka-based Center for Human Rights and Research group.
About 75 percent of Sri Lanka's population is Sinhalese who are mostly Buddhists while about nine percent is Muslim.
The largely cordial relationship between the two communities has been strained in recent years with Buddhist monks and hard-line Sinhala groups accusing Muslims of expansionism and of trying to undermine the majority community.
(With agency inputs)