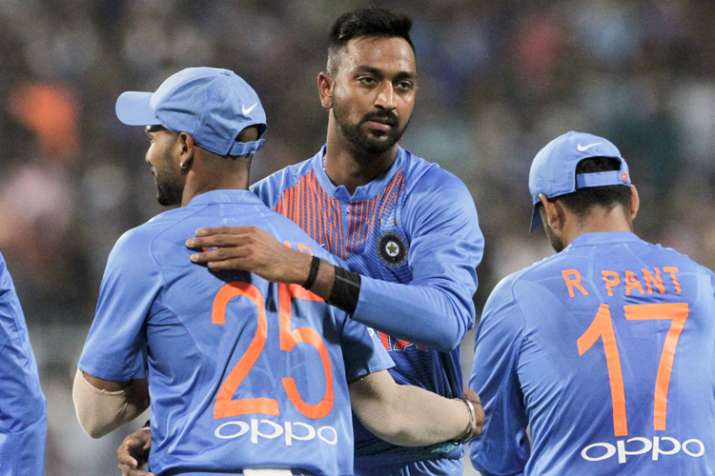 A misfield, two wides down the leg side followed by getting thumped for a huge six by Kieron Pollard. That is how the first half an hour went for Krunal Pandya after his long-awaited India debut. Such an introduction to top-flight cricket can make the most lion-hearted cricketers feel dejected. However what followed afterwards proved that the IPL and Mumbai Indians' (MI) star all-rounder is ready for the rigours of international cricket.
Krunal's misfield off just the second ball of West Indian innings was described by our live commentary as thus: 'A poor effort in the field sees them open their tally with a boundary. Slightly fuller in length and there is not a lot of swing this time. Hope strokes it through extra cover. Pandya from mid-off hares after it. He slides and tries to stop it with his left hand but unfortunately, the ball hits his right hand and creeps towards the ropes.'
Later when he was brought into the attack by his skipper Rohit Sharma in the eighth over, with another MI teammate Kieron Pollard on strike, the stage was set for the left-armer to seize the day. However, two balls into his spell he threw down two successive wides giving the impression that the debut feeling was still sinking in. When the West Indian lofted him for a six next ball, spectators would have been forgiven if they believed that Pollard had the wood on him given the number of times he must have faced Pandya in the MI nets. Everything could have gone south for Pandya from here. No one had a clue that Hardik's elder brother had other ideas.
Temperament. It seems to be the common trait among the Pandya brothers. Hardik had shown glimpses of the same when he stuck to his plan in a tense final over against Bangladesh in a Super 10 encounter at the World T20 2016. At the Eden Gardens on Sunday Krunal exhibited similar virtues when he returned for his second over.
He rapped Pollard on the pads the first ball with a quicker one leading to a huge LBW shout that was turned down by the umpire. As any thinking bowler would do, the 27-year old fired the next ball a bit slower through the air forcing a false shot from the West Indian who holed out to long on. As soon as Manish Pandey took the catch, Pandya was engulfed by his teammates in celebrating his maiden international wicket. The cheeky all-rounder also blew kisses to the departing Pollard continuing his banter with his friend and teammate from IPL.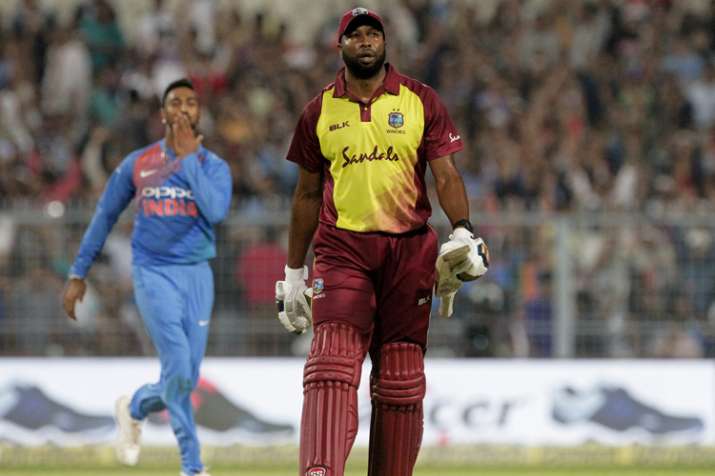 "He's (Pollard) like a brother to me. And to get him as the first international wicket is a special thing for me because I've been very close to him. During the game itself, I was teasing him that I got his wicket. The kisses at the end were my love for Pollard after getting him out," Krunal told Star Sports after the match
Even though he didn't take any more wickets in the rest of his spell his figures read an impressive 4-0-15-1. He played an important role in restricting the West Indies to 109/8 at the end of 20 overs. But little did he know that he would find himself at the centre of attention again during India's chase.
With India at 83/5 after 15 overs and 27 runs required to win, the Baroda-born cricketer walked out onto the field again as the last recognised batsman to steer his side home. One more wicket and the chase could have ended disastrously for the home side. But Krunal showed nerves of steel with veteran Dinesh Karthik for company at the other end. After taking a couple of balls to settle in he unfurled a flurry of strokes to ease the dot-ball pressure and finished with 21 runs of just nine deliveries. That India won with more than two overs to spare was largely due to Pandya's steady head and keeping calm during his stay at the crease. It seemed as if he was a veteran of 50 games rather than a debutant.
Why wouldn't he? Krunal has been facing such situations for the past few years in the IPL. He was ready for Sunday even before he was selected. His Man-of-the-Match performance in the IPL 2017 final is a testimony to this. "Honestly, I have been waiting for my opportunities. I was preparing myself before the tournament - whether playing IPL or domestic cricket - but my ultimate goal was to play for India from childhood. But lately, I was desperately waiting for my opportunity. And I told myself, I don't need two-three games, I just need one game, because that's how I prepared myself. I like whenever there is a pressure situation, because I work hard for that situation, not for the easy one. So whenever I get those kinds of situations, I feel, 'Okay, here I can be a hero'. So whenever I see this kind of situation, I love it," added Pandya post-match.
Having seen his younger brother catapult his way into India's limited-overs' side and then into Tests, Krunal has shown that he is made for the long grind but not shy of grabbing the opportunities that come his way. One shouldn't be surprised if he becomes a regular member of India's T20 setup and with the 50-overs World Cup looming large all he needs to do is to keep repeating what he is doing at the moment. If he does that, the day is not far when we see the Pandya brothers' childhood dream of playing together for the nation come to fruition. At the Eden Gardens on Sunday when Hardik was watching the match while nursing his injury, his brother gave him enough reasons to cheer. On Sunday Krunal Pandya showed he is ready for the highest level. On Sunday Krunal proved he belongs.