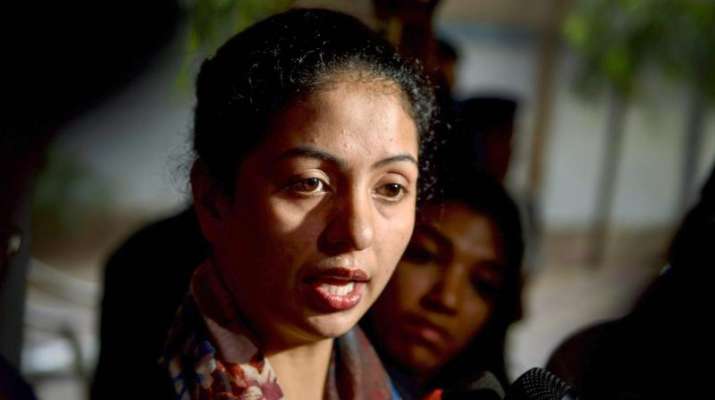 Mohammed Shami's wife Hasin Jahan will meet West Bengal Chief Minister Mamata Banerjee on March 23 after the Team India bowler's wife requested the CM to meet her amidst the ongoing tiff with her husband who has been accused of domestic violence, attempt to murder, match-fixing, adultery and infidelity.
Jahan had earlier sought an appointment from the CM to meet her in person and listen to her side of the story in regards to her allegations against her husband.
"I only appeal that you just keep your eye on my fight for truth, meet me and listen to what I have to say and then judge what needs to be done," Hasin had told media in a press conference and added, "I want to meet you and share my pain with you. This is all I request of you."
In a bid to expose the pacer's extra-marital affair, Shami's wife had earlier posted several screenshots of Shami's conversations with other women on her Facebook wall.
In recent developments on the case, Shami told a media outlet that his wife has the passwords of all his social media accounts, hinting that she might have fabricated the evidence.
Meanwhile, the Supreme Court-appointed Committee of Administrators (CoA) had also written to the Board of Control for Cricket in India's (BCCI) ACU head to investigate the charges levelled against Shami by his wife.
The cricketer was charged under various non-bailable and bailable sections of the IPC, including Section 498A, which deals with cruelty to a woman by her husband or his relatives, Section 307 - attempt to murder, Section 323 - punishment for voluntarily causing hurt, Section 376 - rape, Section 506 - criminal intimidation, Section 328 and Section 34.
Meanwhile, Shami had rejected all the allegations and said someone has been misleading his wife.
Recent to the controversy, Shami insisted that he is willing to take legal action against his wife after she has failed to prove half of the allegations and will take the matter up legally as well despite the ongoing investigations from the Kolkata Police.
"My wife is unable to prove half of the allegations she has put on me. Now, I want to see to what extent she can go. I tried to solve the issue for seven to eight days, but she openly said she does not want to, so now I also do not have any option but to take this up legally," said Shami in a press conference.
Shami and Jahan got hitched in 2014. The couple has a daughter Aaira Shami, who was born in July 2014.
(With Agency Inputs)