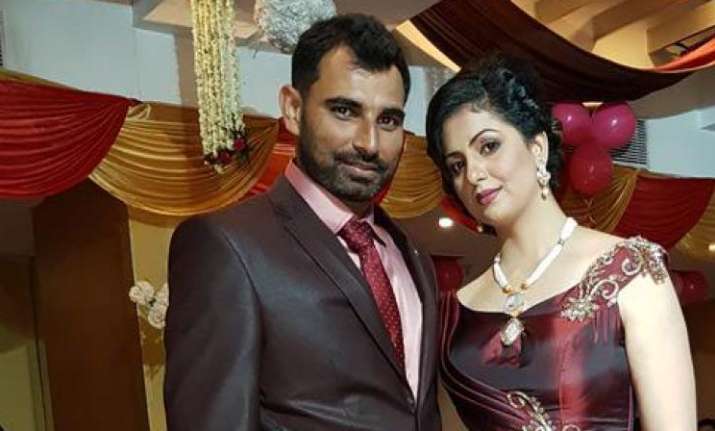 India fast bowler Mohammed Shami's wife Hasin Jahan, who has levelled serious allegations of infidelity and domestic violence against her husband, has reacted to the cricketer's statement where he has alleged a conspiracy to malign his image. Jahan raised doubts over Shami's character and said that the India international is having extra-marital affair with multiple women.
Earlier on Wednesday, Shami termed the allegations levelled by his wife as baseless and called it a conspiracy to malign his image.
Reacting to the news, Shami, who is currently in Dharamsala for the Deodhar Trophy, wrote on Twitter that all these allegations were false and it is an attempt to malign his image and to ruin his game.
"Hi I'm Mohammad Shami. Ye jitna bhi news hamara personal life ke bare may chal raha hai, ye sab sarasar jhut hai, ye koi bahut bada humare khilap sajish hai or ye mujhe Badnam karne or mera game kharab karne ka kosis ki ja rahi hai (Hi, I am Mohammed Shami. All these reports about my personal life are completely false. This is a huge conspiracy to malign my image and to ruin my game)," Shami tweeted. 
However, Shami's wife has come out in the open and has blown off the cricketer's defence. Jahan revealed that she found Shami's HTC mobile phone hidden in his BMW car along with male contraceptives. She found out the obscene chats on the phone.
Jahan, who married Shami in 2014, has alleged that she has been "facing domestic violence". She is also planning to take legal action.
"Soon after my marriage, I was abused physically and mentally. He has also married a Pakistani girl and went to see her while returning from the South Africa tour," Shami's wife said.
"I asked Shami to take me to Dharamsala along with him but he refused. He even called me from there and abused me. He is having multiple affairs.
"Shami and his family is after my life from a long time. The problems started happening soon after our marriage. He and his family tried to kill me. I have done everything he wanted me to do. I left my modeling career, job and also did not step out of the house," she said.
"He was planning to abandon me after his South Africa tour by taking away the property and insurance papers. I have been tolerating all this for the past five years. He has been asking for divorce for two years," she added.
Jahan said Shami was only concerned with money and fame.
"I'm not going to divorce him till my last breath. I've all evidences against him and will soon drag him to court," she said.
Meanwhile, the Board of Control for Cricket in India (BCCI) has excluded Shami from its new annual contract list.