Follow us on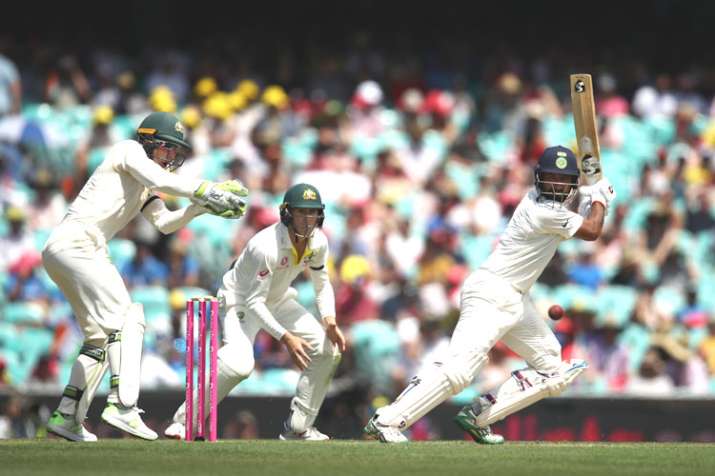 Former Australia captain Michael Clarke heaped praise on Chetewshwar Pujara after he guided India to a commanding position after the first day's play of the fourth and final Test in Sydney on Thursday.
Pujara, who recorded his third century of the series, remained not out on 130 off 250 balls as the visitors closed the day on 303/4 with Hanuma Vihari batting on 39 at the other end.
But the day belonged to Pujara yet again as he stood like a rock and anchored the innings perfectly after coming to bat in the second over of the day.
It was Pujara's solidity that allowed Mayank Agarwal (77) and Vihari to score quick runs and put India in the driver's seat at the Sydney Cricket Ground.
Pujara, who closed 2018 on a high, incidentally became the first player to hit a century in Test cricket in the new year and is looking all set to carry on from where he left off on the second day of the Test match as well.
And it is this ability of Pujara that Clarke believes that makes him a great player. The 37-year-old went on to compare him with Brian Lara and Sachin Tendulkar and said that Pujara is a player of the same mould.
"Growing up as a young boy, what I noticed about the great players the difference between good and great players is turning that 50 into a 100, that 100 into a two hundred and three hundred. I had two idols a young boy - Brian Lara and Sachin Tendulkar. Brian Lara was the best at it. Anytime he would get a start, he will make it big. He made a 500 in first-class cricket. And he's got the record in Test cricket, he will make big hundreds. Sachin as well...You see Sachin get to a thirty and he would turn that into a hundred. Very rarely would he miss out once he got into his innings," Clarke told Sony Six after the close of day's play on Thursday.
"I see Pujara at the moment and you can sense that hunger by the way he is batting. With that second new ball, not trying to take the hook shot or pull shot, he is defending, letting those balls go and that tells me he knows he is in good form and he wants a massive hundred," he added.
Pujara, who played 250 balls on day of the Sydney Test, now also became the fifth Indian to face more than 1000 balls in a Test series Down Under. He has joined the elite list comprising of Rahul Dravid (1203 in 2003/04), Vijay Hazare (1192 in 1947/48), Virat Kohli (1093 in 2014/15) and Sunil Gavaskar (1032 in 1977/98).
Mayank was also all praise for India's No.3, with whom he stitched a 116-run stand for the second wicket on Thursday.
"The way he grinds the bowlers. He's got a pattern to it, he understands his strengths, he sticks to that, he knows he's very tight with his defence. He looks to do that and he waits for the bad ball to come," Mayank said.
Pujara's Australian counterpart at No.3 Marnus Labuschange, who was called in to play in the flat tracks of Sydney, also said that he would like to follow the footsteps of the Saurashtrian to succeed in the Test match.
"He was very classy. He has time and patience around at the crease. The way he batted is something I personally would take a lot from. He just batted a lot of time and he has done that through the whole series. And that's what we are going to need to do to step up to put a big score on the board," he said on Thursday.