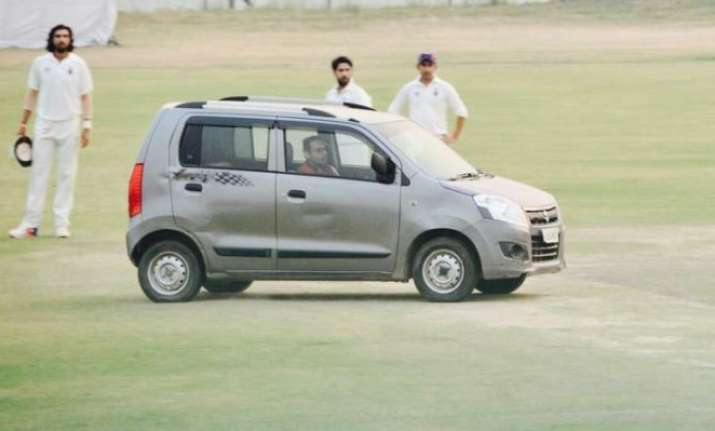 In a bizarre incident, a man drove his car onto the pitch during the Ranji Trophy match between Delhi and Uttar Pradesh at the Airforce ground in Palam, a major security breach which left both the players and officials dumbfounded. 
At around 4:40 pm, 20 minutes from close of play, a Wagon R suddenly drove onto the field of play with Uttar Pradesh batting in their second innings. 
The man, who identified himself as Girish Sharma, tried to swerve his car twice on the 22-yard strip before stopping. 
It was learnt that the main gate of the Airforce ground, which only allows entry of cars after proper checking remained open with the security not in his position. 
This allowed the man free access inside the complex and instead of moving towards the designated parking lot, which is behind the main pavilion, he drove straight towards the field of play, leaving everybody in a state of shock. 
International players like Gautam Gambhir, Ishant Sharma and Rishabh Pant were present on the ground when the incident took place. 
The security personnel at the ground swung into action after this and closed the gate in order to stop the man from fleeing. 
The allegedly inebriated man was first detained by the Airforce Police before being handed over to the Delhi Police for interrogation.
Speaking to India TV, BCCI acting president CK Khanna admitted that this was a "serious breach in security" and that strict action will be taken to ensure that this kind of incident is repeated in future.
"It is indeed a serious lapse in security. The Services Sports Control Board should take full responsibility of the issue and should take action so that this kind of incident never happens again in future. I will talk to my colleagues in the BCCI to ensure that this thing is never repeated in future. Action will be taken on this. We are yet to get full details on the matter and we will take action the moment we know everything," Khanna told India TV.