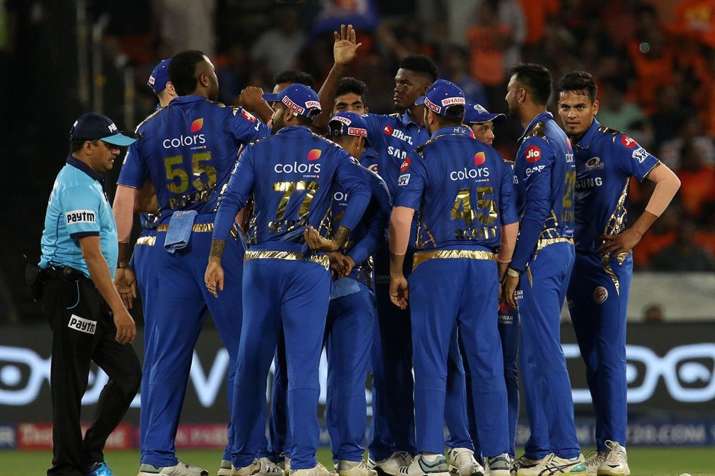 Sunrisers Hyderabad vs Mumbai Indians, Match 19 Live from Hyderabad: Hello and welcome to our live coverage of Match 19 of the Indian Premier League clash as Sunrisers Hyderabad host Mumbai Indians at the Rajiv Gandhi International stadium. Mumbai Indians scored 136 for seven against Sunrisers Hyderabad thanks to some late Kieron Pollard fireworks in the Indian Premier League on Saturday. The Sunrisers bowlers gave away 39 runs in the last 2 overs. Ouch. Have Hyderabad given away 20 runs too many? The pitch looks to be on the slower side but towards the end, dew came into play which might bring the smile on the faces of Hyderabad's batsmen. (Match Scorecard)
IPL 2019, Match 19: Mumbai beat Hyderabad by 40 runs
Alzarri Joseph now has the best figures on @IPL debut - 6/12 🌟🌟🌟🌟🌟🌟#OneFamily #CricketMeriJaan #MumbaiIndians #SRHvMI pic.twitter.com/BY8yMQdDh3

— Mumbai Indians (@mipaltan) April 6, 2019
23.25 IST:  Alzarri Joseph grabs six-for on debut as Mumbai Indians (136/7) beat Sunrisers Hyderabad (96) by 40 runs in Hyderabad. 
23.28 IST: OUT! EDGED AND TAKEN! He does get a six-fer. Best figures by a bowler in the Indian T20 League. What a performance by the youngster. Outstanding stuff. He lands this one on a length and it is outside off. Kaul hangs his bat out, the ball kisses the outside edge and de Kock behind makes no mistake. All smiles in the Mumbai camp as THEY HAVE WON BY 40 RUNS!
23.17 IST: OUT! Or he would just look to shuffle across in the hope to find a boundary but miss with his flick shot and see his middle stump get uprooted. FIFER FOR ALZZARI! That too on debut! How better could you start your Indian T20 League career. They do check for the no ball but AJ is fine.
23.17 IST: OUT! That is probably the final nail in the coffin. Bumrah gets rid of Nabi. Hits the deck hard and lands it on middle, the ball zips through. Nabi is way too late in the pull shot. It goes off the top edge towards mid off and Rohit takes it with ease.
23.13 IST: OUT! Two-in-two for Joseph and it is Mumbai's game to lose now! The short ball does the trick again for him. It is on the body and rushes onto the batsman. Rashid looks to pull by taking his eyes off the ball. The ball takes the top edge, then hits the shoulder and lobs beside the pitch. Joseph runs towards it and takes it. Nabi has to do it by himself. Needs to replicate what Pollard did. On the other hand, AJ is on a hat-trick on his debut. . Sunrisers Hyderabad 88/7 in 15.5 overs
23.10 IST: OUT! BOOM! Third for Joseph. You miss, I hit. Full and straight. Hooda swings across the line but misses. The furniture behind is disturbed. Hooda, the batsman who was set walks back. 49 in 26. Joseph removes Hooda for 20. Sunrisers Hyderabad 88/6 in 15.4 overs
23.05 IST: SIX! Nabi has a go and a much needed six for the hosts! What a shot! Outrageous! Powerful. It is short and it is slower in pace. Nabi stands tall and then flat-bats it over the long off fence. Spoils what was a top over till then. 53 needed in 30 balls. SRH 84/5 in 15 overs
23.03 IST: A very interesting run up there. Chahar comes right arm over, reverse cutting the wicket. Seen that for the first time probably. The delivery is quick and on middle, it is worked around the corner for a run.
23.00 IST: Full on leg, Hooda flicks it towards the mid-wicket region. Rohit Sharma at short mid-wicket dives to his left to take the catch but the ball is away from him. Eventually, Pollard at long on, runs to his right and collects the ball. Two runs taken.
22.51 IST: FOUR! Short and wide and it has been put away! Much-needed boundary for the hosts. It is short and outside off. Hooda cuts it through point and it races away. SRH 66/5 in 11.4 overs
22.50 IST: OUT! Another one bites the dust. Pathan departs and half the side is back in the hut. A nice tossed up delivery on off, Pathan gets on one knee and looks to play the sweep. The shot is more of a top edge-type, carrying to deep backward square leg where Ishan Kishan makes no mistake. Now then, now then, now then... Sunrisers Hyderabad 62/5 in 11.2 overs
22.46 IST: OUT! Rohit has taken a very sharp catch! That was hit at some pace towards him and the Mumbai skipper has held onto it. Leading from the front. Pandey fails to make the life he got count. Sunrisers Hyderabad 61/4 in 10.3 overs
22.44 IST: Back of a length on middle, this is punched down to long on and a single is taken. They can continue to knock the ball around for a while now.
22.40 IST: Another single to end! 7 from the over. Pandey guides it down to third man again. They take on quickly but have to settle for it.
22.36 IST: A nothing delivery to begin with. Short and on middle, Pandey pulls it over mid-wicket. Chahar does well in the deep to make good ground in the deep to his left and keep it down to two. Pandya needs to bowl well, needs to continue the pressure that has been built.
22.29 IST: OUT! Joseph gets his second IPL wicket. Just like the Mumbai batting line-up, Hyderabad too have lost their top three within the first 10 overs. Could have easily been four had Pollard taken the catch of Pandey. Nevertheless, Joseph continues to impress. A quick short one, the key here though is the line. It is just outside off. Sunrisers Hyderabad 42/3 in 6.5 overs
22.25 IST: DROPPED!!! Pollard! What could have been a match defining moment, sees an opportunity missed for Mumbai. A tossed up delivery on off, Pandey tries to slog sweep it and gets a top edge and ball skies in the air towards the mid off region.
22.23 IST: 5 dots in a row! Pandey pushes this off the back foot to covers. Can he begin his Indian T20 League career with a wicket maiden?
22.22 IST: Excellent stop! Mumbai have their tails up here. Short and on middle, Pandey awkwardly looks to pull. It is right off the middle but Chahar at square leg dives to his left and saves a boundary
22.18 IST: OUT! CHOPS IT ON! Now we have a match on our hands. The openers who were doing most of the scoring for the hosts have been dismissed in the space of 3 balls. Alzzari Joseph does not take time to make an impact. A poor shot to be honest by Warner. It is a nothing delivery, it is full and wide outside off. Warner throws his bat at it, away from his body but only manages an inside edge onto the stumps. Chahar removes Warner for 15. Sunrisers Hyderabad 33/2 in 4.1 overs
22.14 IST: OUT! In the air... taken! Chahar strikes! Excellent bowling change and the formidable opening stand has been broken early. This is given nice amount of flight and it lands on off. It seems to be the slider. Bairstow looks to hit it on the leg side but only manages a top edge which balloons towards short third man where Bumrah takes it. JB's problems against leg spinners continues. 104 needed in 96. Chahar removes Bairstow for 16. Sunrisers Hyderabad 33/1 in 3.4 overs
22.12 IST: FOUR! Poor bowling! This is on the pads, easy pickings for Warner. He sweeps it through square leg and a boundary. SRH 32/0 in 3.2 overs
22.11 IST: Rahul Chahar is on for MI now

22.10 IST: Jason Behrendorff to Jonny Bairstow, FOUR!

22.09 IST: Jason Behrendorff to Jonny Bairstow, FOUR! FOUR! Short again. Jason has been bowling short deliveries throughout the over. Bowls this one short on off. Jonny was waiting for it and pulls it towards the mid-wicket region for a boundary.

22.06 IST: Jason Behrendorff to David Warner, FOUR! Pure timing. Jason sprays on Warner's pads and with the ball angling in David warner flicks it with ease towards the fine leg region for a four.

22.02 IST: Jasprit Bumrah to bowl from the other end

22.00 IST: Jason Behrendorff to Jonny Bairstow, FOUR! Width offered and Bairstow makes full use of it. Short pitch delivery outside off, Jonny square cuts it through the gap between point and covers. First boundary for the hosts.
21.58 IST: Jason Behrendorff to David Warner, Warner starts with stepping out on the first ball itself. Behrendorff bowls this length delivery outside off, Warner charges down and lifts it over the cover region for a double.

21.57 IST: David Warner and Jonny Bairstow will open for Hyderabad while Jason Behrendorff  has the ball for Hyderabad

21.56 IST: Excellent bowling from Hyderabad. They might not be happy given the final 2 overs but for 90 percent of the innings, they had their hands on Mumbai's throat. Mohammad Nabi was the most influential bowler, with 1/13 in his 4 overs, choking the visitors in the middle period. Rashid was intelligently played out, as usual. 137 to win then. Was it poor bowling from Hyderabad towards the end? Too many full tosses. Or was the ball slipping out of their hands? The slipping aspect indicates that dew could play a key role. The pitch is slow though. Too many questions. Let the game resume!

21.47 IST: Rashid Khan is having a chat with Michael Slater. The Afghan star says they dropped quite a few catches in the end and hence Mumbai scored around 30 runs more. Mentions the wicket looks good though and feels they bowled well, gaining assistance from the bounce on it. On being asked whether Hyderabad can chase it down, Rashid hopes the openers can continue their good form and take the team home. Ends by saying he is happy with the support the players are getting and that makes them strive for more. On his dropped catch, Khan looks a bit sad. Says that bad fielding is what disappoints him more, adding further that he would rather have a bad day while bowling but not in the field. 

21.43 IST: Mumbai Indians score 136/7 in 20 overs against Sunrisers Hyderabad in Hyderabad. Pollard 46*, Kaul 2/34
21.38 IST: FOUR! CLOUT! No, no, no. Not to this man. He will butcher you. Width outside off and the length is short. What do you expect? Slapped over cover for a boundary. 5 balls left... MI 122/7 in 19.1 overs
21.37 IST: SIX! Third in the over! Another West Indian clearing the ropes with ease here. Another full toss, Pollard says thank you very much and hits it right over the mid-wicket fence. Makes the Free Hit count. 2 more balls to go.
21.37 IST: NO BALL! Kaul has overstepped. Maybe in the attempt to try harder. It is another full toss though and Pollard fails to take full toll of it this time as he finds covers. Free Hit coming up though.
21.34 IST: SIX! A freebie and Pollard takes full toll of it. It is on the pads, Kieron flicks it nonchalantly and into the mid-wicket stand. 12 from the first three balls. Pressure on the bowler here. MI 109/7 in 18.3 overs
21.32 IST: SIX! HUGE! A one-handed biggie! Such is the power of this man. It is the slower one and outside off. Pollard seems to have been foxed by it. He is a touch early into the shot and hence once hand comes off. He though still gets good enough connection and it sails over the long on fence. Once again perfect start to the over. Need a few more. MI 103/7 in 18.1 overs
21.32 IST: OUT! EDGED AND TAKEN! A handy innings by Chahar though comes to the end. Can't blame him for this shot though. It was the last ball so you would not expect Pollard to take a single and hence, it was a free hit for him. He swings to this delivery outside off but only manages an outside edge to Bairstow. MI 97/7 in 18 overs
21.29 IST: DROPPED! This could have been the final nail in the coffin but Rashid drops it. Kumar bowls a length ball outside off, Pollard lofts it above covers. Rashid in the deep runs in and goes low but fails to hang onto it.
21.27 IST: FOUR! What a way to get off the mark and what a shot. Very clever! It is bowled outside off. Chahar waits for it and then plays it late past the slip fielder. Uses the pace of the bowler nicely and it races to the fence. MI 90/6 in 17 overs
21.25 IST: OUT! Rashid has the last laugh! Hardik though can feel a little unfortunate here. He had hit that nicely. He brings out the slog sweep but hits it flat and in the air towards the man in the deep at mid-wicket. Shankar there takes a good catch. The dangerous Pandya departs. Now the onus of taking Mumbai to a decent total now depends on Kieron Pollard. Rashid removes Hardik for 14. Mumbai Indians 86/6 in 16.3 overs
21.24 IST: SIX! That is colossal! Hardik Pandya, you beauty! Picks the googly and then goes with the turn. Hits it right off the middle and into the long on stands. Ideal start to the over, need to make this count. MI 86/6 in 16.3 overs
21.22 IST: Fuller this time on off, Pandya moves across and drives it straight past the bowler for a run as long on cuts it out.
21.18 IST: BEAUTY! That is a terrific ball. How did that miss the stumps? Rashid has his hands on his head. Pollard asks Hardik something and he responds with a thumbs up.
* The strategic break has been signalled! Hyderabad continue to be on top here. Mumbai however, have their best hitters out in the middle. They would be expecting them to deliver and somehow get them to the 150-run mark. However, they need to go at more than 10 per over. However, the Ishan Kishan decision could hurt the visitor as they will now have to delay their big shots. The hosts on the other hand, will want to break this stand as quickly as possible.
* Hardik Pandya walks in next.
21.06 IST: OUT! Kishan has been adjudged run out. Adjudged. Bizarre dismissal. Let us go step by step. First, it is a googly from Rashid. Kishan looks to work it to the leg side but the ball spins away, hits the high portion of the bat and goes off the leading edge to cover. Kishan comes halfway down the track but is sent back because Pollard barely moves a muscle. Vijay Shankar gets across and then returns a decent throw to Bairstow. Here comes the controversy. Bairstow looks to collect but deflects the bails with his right elbow. Then, with the throw, he looks to disturb the stumps again, behind him. But he does not UPROOT them. The off stump just comes off. Kishan has to dive in and while this is true that he is short when the stump comes off, Bairstow has not held the stump in his hands! The rule says that one has to uproot the stump collecting it in one hand and then the ball in the other. The third umpire has a couple of looks and then gives it OUT. Interestingly, replays show that David Warner signalled to his team that it was not out. Tough luck for Kishan. Mumbai Indians 65/5 in 12.4 overs
* A run out appeal has been taken upstairs! Bairstow though seems to have dislodged the bails with his hands though.
* Keiron Pollard comes in
20.58 IST: OUT! Another one bites the dust! The short ball does the trick. This is a very good short ball. On this slow surface, he really got this one to zip through. It is on middle. Pandya is hurried into the pull shot. He only manages a top edge which lobs towards the keeper who takes an excellent catch. Kaul is pumped and Hyderabad stay on top. Kaul removes Krunal for 6. MI 63/4 in 11 overs
20.54 IST: FOUR! Lucky! Kishan goes on the back foot to this flighted ball and plays an educational edge which goes past the diving Warner at first slip and into the third man fence. MI 61/3 in 11 overs
20.50 IST: Rashid Khan to Krunal Pandya, Not out! Googly, pitching on leg and coming in. Krunal goes for the sweep but fails to connect. Bairstow behind the stumps takes the bails off and appeals. Replays show that Pandya's back foot never left the crease.
* An appeal for a stumping has been taken upstairs. Krunal is the man in question but Bairstow does ot seem to be confident.
* Rashid Khan is on now.
20.46 IST: FOUR! That is some stroke. Wow-a-wow. It is not all that short and not much width given either from Kaul. But what does Kishan do? Waits for the ball to come to him, then arches back and steers it behind point. Third man starts to run to his left but eventually, comes second best. MI 48/3 in 9 overs
20.41 IST: OUT! Caught in the deep! De Kock falls now and Mumbai have lost their top 3 inside 10 overs. It seemed to be a terrific shot at first. Probably at the Wankhede, this would have been taken in the crowd. But at Uppal, the boundaries are longer. A length ball, around middle and leg, angling away, Quinton pulls this with absolute ease over mid-wicket. However, to his dismay, he finds Deepak Hooda waiting for the catch patiently. QdK falls for 19 and Mumbai are 43/3. Kaul removes Quinton de Kock for 19. Mumbai Indians 43/3 in 8.2 overs
20.37 IST: The slowness of the wicket comes into play there. This is tossed up on off, de Kock looks to hit it through the off side. The ball though comes off slow of the surface. It goes off the inner half down towards long on for a single.
20.33 IST: FOUR! A gift there for de Kock. It is down the leg side and it is the quicker one. Quinton says thank you very much and then helps it on its way through backward square leg for a boundary. MI 35/2 in 6.2 overs
20.30 IST: Bowls a flatter one pitching on middle and going down with the angle, de Kock flicks it behind square for a single.
* Ishan Kishan is the new man in.
22.28 IST: OUT! The impact is umpire's call and hitting is also umpire's call. Mumbai lose their second and the change of ends for Sandeep Sharma has worked. Another good wicket as we know how good Yadav has been for the visitors. Sandeep removes Suryakumar for 7. Mumbai Indians 28/2 in 5 overs
* Have Hyderabad got another? Yadav has been given out LBW. He has reviewed. Impact may just save him here.
20.22 IST: FOUR! Welcome back into the attack, Sandeep. A terrific shot. The back foot punch straight down the ground. Not easy to play those. It is shortish and around off, Yadav stands tall and powerfully punches it past mid off. It races away. MI 26/1 in 4.1 overs
20.20 IST: Not out! Yadav is inside the crease. Nabi bowl a flatter one outside off, that goes straighter with the arm, Yadav goes to push at it but plays down the wrong line. Bairstow behind the stumps takes the bails off quickly.
* Is that a stumping? Bairstow is confident. Suryakumar is emotionless. Referred upstairs...
IT'S IN THE AIR AND TAKEN!!!!! NABBIIIII!!!!

We get our first wicket and it's their captain!

MI - 21/1, 3.4 overs #OrangeArmy #RiseWithUs #SRHvMI pic.twitter.com/hk4WjxkmNt

— SunRisers Hyderabad (@SunRisers) April 6, 2019
20.18 IST: OUT! Rohit holes out! The dropped catch has not cost a lot. Nabi strikes. The bowling change has worked wonders. Not such a great delivery though. It is slightly short and on middle, it is turning back in. Rohit look to pull it but it is not right off the middle. The boundaries here are long and Manish Pandey in the deep runs in and takes a good catch. The Mumbai skipper fails to make an impact and a much-needed wicket for the hosts as the two seemed to get going. Nabi removes Rohit for 11. Mumbai Indians 21/1 in 3.4 overs
* Mohammad Nabi is introduced into the attack.
20.16 IST: A dot to end! A good over though for the visitors. 9 from it again. De Kock takes a couple of steps ahead bu Kumar bowls it closer to the body, cramping the batsman for room. De Kock pushes it back to the bowler.
20.12 IST: SIX! He too joins the party with a huge one. Trademark de Kock this. He shuffles across a little and hence the line is now a straighter one. He picks it up and lofts it over the square leg fence. MI 17/0 in 2.3 overs
20.06 IST: SIX! The first maximum of the matcha and Rohit smashes that! First maximum of the innings. Sandeep bowls it on the pads, Rohit flicks it and it's gone high and handsome over the square leg fence. MI 7/1 in 1.1 overs
20.04 IST: DROPPED! Kaul has put down a sitter! How costly will this prove? It would have been a huge wicket.  Rush of blood there as Rohit dances down the track and heaves it across the line. He only manages a top edge which goes high up in the air towards third man. Kaul seems to have judged it well but is falling onto the ground while taking it. In the end he spills it. The batsmen run one in the meantime. Could have been a wicket maiden this.
20.03 IST: NOT OUT! A big inside edge! Hyderabad have lost a review in the first over itself! A waste of a review to be honest. Kumar wasn't very sure, Pandey from point did indicate there was an inside edge but they still went with the review. The inswinger from Kumar and it is full. It starts from outside off. Sharma looks to drive but gets an inside edge onto his pads. An appeal follows and the umpire shakes his head. They go for the review and there is a spike on Ultra Edge.
20.01 IST: A review early on! A huge shout for an LBW has been turned down. Hyderabad have reviewed. Rohit is the man in question. There seems to be an inside edge.
Meet the most capped #MumbaiIndians player in the @IPL 😉

Here's to many, many more memories in the MI Blue and Gold, @KieronPollard55 💙💙💙#OneFamily #CricketMeriJaan #SRHvMI pic.twitter.com/cUyWqrlSPe

— Mumbai Indians (@mipaltan) April 6, 2019
19.59 IST: We are all set for the action to begin! The Hyderabad players are seen in a huddle and now they make their way out to the middle. They are now followed by the Mumbai openers, Quinton de Kock and Rohit Sharma.
Mumbai (Playing XI) - Quinton de Kock(WK), Rohit Sharma(C), Suryakumar Yadav, Ishan Kishan (IN), Hardik Pandya, Kieron Pollard, Krunal Pandya, Jason Behrendorff, Rahul Chahar, Alzarri Joseph (debut), Jasprit Bumrah.
Hyderabad (Playing XI) - David Warner, Jonny Bairstow(WK), Vijay Shankar, Manish Pandey, Deepak Hooda, Yusuf Pathan, Mohammad Nabi, Rashid Khan, Bhuvneshwar Kumar (C), Sandeep Sharma, Siddarth Kaul.
Two big changes in Hyderabad!

Ishan comes in for Yuvraj. Alzarri Joseph will make his debut in place of an absent Malinga.

Playing XI: Rohit (C), de Kock (WK), Surya, Kishan, Pollard, Hardik, Krunal, Joseph, Behrendroff, Bumrah, Chahar.#OneFamily #CricketMeriJaan #SRHvMI

— Mumbai Indians (@mipaltan) April 6, 2019
SRH win the toss and invite us to bat first in Hyderabad!#OneFamily #CricketMeriJaan #MumbaiIndians #SRHvMI

— Mumbai Indians (@mipaltan) April 6, 2019
19.34 IST: Match 19: Sunrisers Hyderabad win toss, opt to bowl against Mumbai Indians in Hyderabad.
Saha ✅
Dhawan ✅
Pandey ✅
Shakib ✅@MarkandeMayank had a successful outing at the Rajiv Gandhi International Stadium in @IPL 2018 👌🏻#OneFamily #CricketMeriJaan #MumbaiIndians #SRHvMI pic.twitter.com/GXlmfh4AwQ

— Mumbai Indians (@mipaltan) April 6, 2019
When the opponent thinks one is dangerous, give them two...

How many wickets for them today? 🤔#OrangeArmy #RiseWithUs pic.twitter.com/Q7FzdAW5Th

— SunRisers Hyderabad (@SunRisers) April 6, 2019
19.14 IST: 
.@rashidkhan_19 vs MI in 2018:

Man of the Match x 2

4-0-13-1 in Hyderabad (18 dot balls)

4-1-11-2 in Mumbai (16 dot balls)#OrangeArmy #RiseWithUs #SRHvMI pic.twitter.com/vqiUAgZXkj

— SunRisers Hyderabad (@SunRisers) April 6, 2019
Hello and welcome to our live coverage of Match 19 of the IPL as SRH host Mumbai in Hyderabad. The TOSS will take place at 7.30 PM IST while play will commence from 8.00 PM IST.
Brief Preview: In contrast, the Sunrisers, after losing their opening game against Kolkata Knight Riders, went on the win against Rajasthan Royals, Royal Challengers Bangalore and Delhi Capitals. The Sunrisers, in fact, were without the services of their captain Kane Williamson during Thursday's match against Delhi because of an injury, but they did not let that have an impact. Bhuvneshwar Kumar led from the front as the seamer, along with Mohammad Nabi and Siddarth Kaul, chipped in with two wickets each to restrict Delhi to 129 for eight. (Read Full Preview Here)