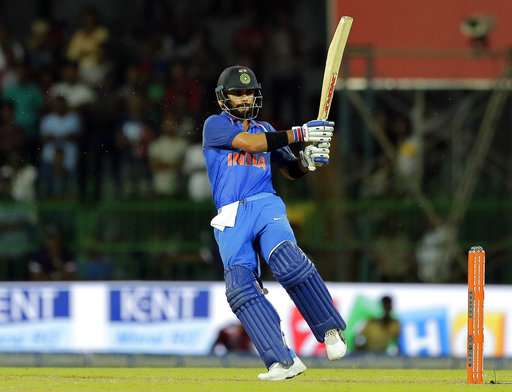 India complete their domination against Sri Lanka with a 7-wicket victory in the one-off T20I at R Premadasa Cricket Stadium in Colombo. Yet another comfortable win for India and they finish their tour with the scoreline reading 9-0! They were ruthless in the Test series, dominated the ODIs and now crushed the Lankan Lions in the only T20I match. It wasn't an easy target for the Men in Blue. And once they lost Rohit Sharma and KL Rahul inside the Powerplay, it became tougher. However, Virat Kohli and Manish Pandey soaked all the pressure of a run chase and orchestrated one of the clinical chases. They went hammer and tongs and punished the insipid Lankan bowling to all parts of the ground. The hosts never got a sniff to come back after that and surrendered meekly like they did throughout this Indian tour. The Sri Lankan cricket is in shambles will be an understatement. (SCORECARD)
HIGHLIGHTS FROM INDIA VS SRI LANKA, ONE-OFF T20I IN COLOMBO
22.59 IST: Upul Tharanga says that they were 15-20 runs short. Admits that they lost the momentum in the middle overs. Praises Virat Kohli for his outstanding batting. Feels that was the difference. On positives, he replies that their fielding was outstanding.
22.56 IST: Man of the Match and Series, Virat Kohli is all smiles. Says that it's a special win. Credits his boys for the hunger and feels that it's an evidence of their bench strength. He is very happy as a captain. On his batting, he replies that he backs his strength and enjoys playing all the formats. Admits that there was pressure when two wickets went down but it was all about staying calm and building a partnership. Praises Manish Pandey for his handy knock and finishing it well.
22.52 IST: FOUR! Manish Pandey finishes it off in style! A length delivery in the channel outside off, Pandey knows that the field is up and hence takes the chance to go over the top. Nails his shot over mid off and finds the fence. Handshakes all around. INDIA WIN BY 7 WICKETS!  IND 174/3 in 19.2 overs
22.49 IST: FOUR! Eased away! Short delivery outside off, slower in pace, Pandey has ample time to crash it through extra cover for a boundary. IND 169/3 in 19 overs
22.46 IST: OUT! Totally against the run of play. Udana serves a fuller length delivery in the line of the stumps, Kohli leans across and unfurls an effortless flick shot. Plays it in the air with the intention to clear mid-wicket. However, there isn't enough distance behind the shot. Shanaka near the fence catches it calmly to bring an end to an outstanding knock. 10 needed off 9 balls. IND 161/3 in 18.3 overs
22.44 IST: FOUR! Fantastic shot! Brilliant use of the bottom hand. Full and angling into the batsman, Kohli murders it with his wrists and sends it with utter disdain to the mid-wicket fence.  IND160/2 in 18 overs 
22.38 IST: 6 singles from Dananjaya's over. IND 148/2 in 17 overs
22.35 IST: FOUR! Nearly took the head of the umpire. Fuller length ball on middle, Kohli gets behind the line and bludgeons it straight back. Umpire Ruchira Palliyaguruge just manages to evade it as it speeds away to the fence in no time.  IND 142/2 in 16 overs
Lasith Malinga is back on. 38 needed off 30 balls.
22.29 IST: Good over from Dananjaya, 5 runs from it. IND 133/2 in 15 overs
22.26 IST: Fullish and around the middle, a fine wristy flick through mid-wicket by Pandey for a couple, 10 runs from the over. 43 needed from 36 balls. IND 128/2 in 14 overs
Isuru Udana is back on. 52 needed from 42 balls.
22.21 IST: Plays it late with the spin but finds short third man. Looks for a run but the skipper screams no. 12 runs from the over. IND 118/2 in 13 overs
22.19 IST: FOUR! Even better! This time Kohli shimmies down the track to a full ball and hammers it past the bowler for a boundary at long off.  IND 114/2 in 12.3 overs
22.18 IST: FIFTY for Virat Kohli, Continues to march along! Fourth consecutive fifties for Virat Kohli against Sri Lanka in T20Is. He just loves scoring against them. A flighted full ball on off, the Indian talisman drills it past extra cover for another couple of runs. India are running away with this game.  IND 110/2 in 12.2 overs 
22.16 IST: FOUR! Mathews is put off the radar here. Short and wide outside off, Manish jumps on the back foot to dominate the bounce and slams it over point for a boundary. This partnership is pushing Sri Lanka on the back foot. IND 106/2 in 12 overs
22.14 IST: SIX! Pandey is matching shots for shots with his skipper. Fuller in length and outside off, Pandey keeps his weight on the back foot and launches it over long off for a biggie.  IND 100/2 in 11.3 overs
22.13 IST: FOUR! Fifty-run stand up betweeen Kohli and Pandey. Quality shot! Fuller in length on middle, Kohli uses his wrists of steel and whips it through mid-wicket for a cracking boundary. He makes those flick shots look amazing.  IND 93/2 in 11.1 overs
22.12 IST: Kohli hangs on the back foot and punches it through covers for a single. 7 runs from Dananjaya's over. IND 89/2 in 11 overs 
22.09 IST: FOUR! Hammered away! But was there a chance? The fielder for some reason was standing up and had he been on the edge of the boundary line, he could have taken the catch.  IND 82/2 in 10 overs
22.07 IST: FOUR! Shot! Kohli is in unstoppable form. A lollypop delivery, shortish and outside off, the Indian skipper latches onto it and smacks it through covers for a boundary.  IND 75/2 in 9.2 overs
22.06 IST: FOUR! Welcome into the attack, Thisara! A touch short in length around middle, angling in, Kohli brings his bottom hand into play and unfurls a half pull. It races through backward square leg and finds the fence.  IND 71/2 in 9.1 overs
22.04 IST: Kohli has played it towards mid-wicket. One more run added to the total.  IND 67/2 in 9 overs
22.03 IST: FOUR! Delicate from the King! A flatter and shorter ball on off, Kohli stays back inside the crease and at the very last moment runs it past the keeper for a boundary. Almost off Dickwella's gloves.  IND 64/2 in 8.3 overs
Akila Dananjaya to bowl.
22.01 IST: Flatter and outside off, Pandey tries cutting but misses. The keeper fumbles and they cross for a bye, 10 runs from the over. IND 57/2 in 8 overs
21.59 IST: SIX! Fifty comes up for India. Boom! Out of here. Prasanna tosses it up in the air and lands it full around middle, Kohli gets the chance to get inside the line and he absolutely thwacks it over the bowler's head.  IND 53/2 in 7.1 overs
21.58 IST: Another good over for the hosts, just four runs came off it. IND 47/2 in 7 overs 
21.54 IST: Pandey turns it off his pads to mid-wicket for one. 4 runs and a wicket from the over.  IND 43/2 in 6 overs
Manish Pandey walks in next.
21.52 IST: OUT! What. A. Catch. Take a bow, Dasun Shanaka. Prasanna has a wicket. Tossed up ball on off, fuller in length, Rahul tries to play an inside-out shot with the spin but fails to make the proper connection. As a result, he fails to find the desired elevation. It flies to extra cover where Shanaka throws his body to his left and takes a stunning catch. Prasanna has a wicket. They are all pumped up. You can sense different energy in the field from the Lankan Lions.  IND 42/2 in 5.4 overs
21.49 IST: Full and angling into the batsman around off, Kohli pushes it with gentle hands to mid-wicket and scampers across to the other end. The fielder misses his shy otherwise it would have been close. IND 39/1 in 5 overs
21.45 IST: In the air... Catch it is the shout... drops safe! Ooohhh... A back of a length delivery on middle and off, Kohli tries to punch it straight from the back foot but it bounces a bit more on his bat and flies just over the cover fielder. Two runs taken. IND 36/1 in 4.2 overs
21.43 IST: FOUR! Brilliantly done! A change in pace delivery by Udana, Rahul picks it early and waits for it. The length is on the shorter side which works to his advantage. He keeps his weight on the back leg and smashes it over covers for a boundary. There was a sweeper in place but he failed to cut it off.  IND 31/1 in 4 overs
21.39 IST: Peach of a delivery! Beats the Indian skipper all ends up. Malinga is looking in good rhythm tonight. He has his tail up after picking the wicket of Rohit Sharma. Delivers a length ball around off, Kohli stays back to work it on the leg side but it swerves away to beat the outside edge. Nearly edged it. Exemplary first over by Slinga, 2 runs and a wicket from it!  IND 23/1 in 3 overs
Skipper Virat Kohli arrives.
21.36 IST: OUT! Malinga gets rid of Rohit! A big wicket for the Lankans. Back of a length delivery around off, Sharma sticks back to power it across the line over the leg side. But he fails to middle his shot. It flies off the top edge and Perera calls for it from mid on. He settles underneath it and takes the skier safely. Lasith draws first blood! IND 22/1 in 2.4 overs
Lasith Malinga replaces Mathews in the attack.
21.32 IST: Slower delivery outside off, Rohit is early into his attempted square cut and hence misses. 9 runs from the over.  IND 21/0 in 2 overs
21.29 IST: FOUR! Excellent shot! Too full in length around off, angling away, Rahul leans into the drive and thumps it over point for a boundary. He did well there to open the face of the bat in order to get the placement right.  IND 16/0 in 1.1 overs
Isuru Udana to bowl from the other end.
21.28 IST: FOUR!   The line is wrong and Rohit makes him pay. He just picks it off his pads and deflects it past the diving short fine leg fielder for a boundary. Malinga was stationed there and he actually dived over the ball. Excellent start for India!  IND 12/0 in 1 over 
21.25 IST: FOUR! Poor delivery, short and wide outside off, Rahul attacks it with all his might and slaps it square of the wicket on the off side for a boundary.  IND 6/0 in 0.3 overs
21.23 IST: Back for the chase! KL Rahul and Rohit Sharma will open for India. Interestingly, Angelo Mathews to begin proceedings with the ball. Niroshan Dickwella standing up to the stumps. A slip in place. Here we go...
21.20 IST: Can the Lankans defend 170 and earn their solitary win on this rough tour? Seems like a tall ask against a well-oiled Indian batting unit. But if they get a couple of quick wickets, they could do the unthinkable. Stay tuned...
21.19 IST: Indian bowling - Inconsistent tonight. Bhuvneshwar and Bumrah were good in patches but were all over the pitch map. The real control was provided by the spinners who, apart from Chahal, kept the Lankans at bay. Chahal though, followed the Warne philosophy - get prepared to spend some runs to buy some wickets. He unfortunately ended up conceding 43 runs but picked up 3 wickets in the process. Axar was economical while Kuldeep was relentless, picking up 2/20 in his 4 overs.
21.17 IST: Apart from Munaweera, there were not many decent knocks in the innings. Ashan Priyanjan managed to hang on till the end and ended up scoring a run-a-ball 40. However, Isuru Udana made a handy cameo of 19 from just 10 balls and the pair staged a stand of 36 from just 20 balls.
21.15 IST: Have Sri Lanka got enough? 160 is supposed to be a par total at this venue. They lost their openers pretty quickly but Dilshan Munaweera played just like the way an innings has to be played in a T20I. Swing like there is no tomorrow. He made a handy 53 from 29 balls with 5 fours and 4 sixes but fell short of partners.
21.08 IST: A full ball outside off, AP looks to punch it through the off side but gets a bottom edge. A single taken to help SRI LANKA FINISH ON 170/7! 
21.07 IST: SIX! Kaboom! A short ball outside off, Priyanjan swings hard and sends it over mid-wicket for a biggie!  SL 169/7 in 19.5 overs 
21.05 IST: FOUR! Huh? How to describe that? Priyanjan backs away to the leg side, telegraphing his intentions to reverse paddle. Bhuvneshwar sees that and follows him, delivering a length ball in line of the stumps. Priyanjan is cramped for room but he goes through with his shot with his eyes closed. Lady Luck smiles on him and makes the ball go off the bat, over short third man and into the fence!  SL 161/7 in 19.1 overs
21.04 IST: FOUR! More useful runs! A length ball outside off, Udana goes for the pull but gets a top edge which sails over the keeper and short third man and makes it to the fence! 13 from the over and Bumrah finishes on an expensive note - 4-0-38-1.  SL 157/7 in 19 overs
21.03 IST: FOUR! AWESOME! This is some cameo from the number 9 batsman. A length ball outside off, Udana backs away a touch and drives this between mid off and cover. No one in the deep and it is a boundary! 150 comes up for Sri Lanka. SL 153/7 in 18.5 overs
20.59 IST: SIX! THUMP! Slightly short from Bhuvi and Udana just sends it flying! Stands tall and ala Mathews, gets his front foot forward and swipes it over mid-wicket for a maximum! Just spoils an excellent over. SL 144/7 in 18 overs
20.54 IST: Priyanjan works this through mid-wicket for a single. 8 runs from the over.  SL 135/7 in 17 overs
ISURU UDANA walks in at number 9, replacing Prasanna.
20.53 IST OUT! He is gone this time! Slightly short, around middle and off, Prasanna looks to pull but gets more height than distance. He picks out Virat Kohli to perfection at deep mid-wicket who simply reverse cups the catch. Second wicket for Kuldeep.  SL 134/7 in 16.4 overs
20.51 IST: MISSED OPPORTUNITY, FOUR! Chahal is the man. Slightly short on off, Prasanna goes for the pull but miscues it. Yuzvendra Chahal starts off late, hence does not get to the ball. Worse, it bounce just before him and skids through. The captain is not happy. SL 132/6 in 16.2 overs
20.49 IST: Short and outside off from Bumrah, Priyanjan cut away for a single. 9 runs from the over. SL 127/6 in 16 overs
JASPRIT BUMRAH is back on. Just 28/3 in the last 5 overs. How much can Sri Lanka finish with?
20.44 IST: Just 5 came off from Axar's final over. SL 118/6 in 15 overs
SEEKKUGE PRASANNA walks in at number 8, replacing Shanaka.
20.40 IST: OUT! LBW! Isn't that a bit too high? No one cares. At least not the Indian side. This is outside off, the wrong 'un, Shanaka prods forward to defend but misses and is hit very high on the pads. Chahal appeals and the umpire upholds it. Replays seem to indicate height but there are no reviews in T20s as of 2017. Sri Lanka completely out of sorts now.  SL 113/6 in 14 overs
DASUN SHANAKA is the new man in at number 7, replacing Thisara.
20.38 IST: OUT! Chopped on! Chahal has his revenge. Outside off, a bit flatter, Thisara goes back and looks to punch but the perhaps the ball comes slowly off the pitch. Takes the inside edge and knocks the stumps down.  SL 113/5 in 13.3 overs
20.37 IST: SIX! SL 113/4 in 13.2 overs
20.35 IST: Another tight over from Axar Patel comes to an end, just four runs from it. SL 105/4 in 13 overs
20.32 IST: A successful over from Kuldeep comes to an end, 3 singles and a wicket from it. SL 101/4 in 12 overs
20.31 IST: 100 comes up for Sri Lanka in 11.3 overs
THISARA PERERA walks in at number 6, replacing Munaweera.
20.30 IST: OUT! BOWLED! Excellent variation from Kuldeep. He slows the pace and then bowls the googly. Munaweera goes back to pull this over square leg but he misses the ball and the bat flies out of his hand. Lands just in front of the square leg umpire! The ball hits the timber and the Indians have a giggle. End of a fine, fine knock.  SL 99/4 in 11.2 overs
20.28 IST: Another productive over for the hosts, 8 runs from it. SL 98/3 in 11 overs
20.26 IST: Fifty for Dilshan Munaweera! Well played young-man! SL 91/3 in 10.1 overs
AXAR PATEL is back.
20.25 IST: SIX! There comes the release shot. Priyanjan is quick to go back and smash the pull, connected well and it went all the way over deep mid-wicket.  SL 90/3 in 10 overs
20.22 IST: Another stumping appeal! Dhoni does look confident this time. Is Priyanjan gone? SAFE. Another good one from Dhoni though. Flighted outside off, Priyanjan looks to defend but misses the googly.
20.21 IST: FOUR! Cheeky! Delightful, delightful batting. Normally we try not to repeat adjectives or words but what to do. Munaweera is making us short of words. Landed outside off, Munaweera waits and waits and waits and then opens the face of the bat to run it past Dhoni's gloves to the third man fence!  SL 84/3 in 9 overs
20.19 IST: SIX! Bye bye ball! Chahal is not afraid of tossing it up but Munaweera is loving it. He jumps down the track and swings this straight back over the bowler!  SL 80/3 in 8.5 overs 
20.18 IST: SIX! That is a lovely, lovely shot. Chahal tosses it up outside off and Munaweera just makes a slight charge. But then, he stops. Waits for the ball to come and then jumps out, gets to the pitch of the delivery and lofts it delightfully over extra cover.  SL 73/3 in 8.1 overs
20.17 IST: Excellent first over from Kuldeep Yadav, just two came off it. SL 67/3 in 8 overs
Another spinner - KULDEEP YADAV to bowl.
20.14 IST: 5 runs and a wicket from Chahal's over. SL 65/3 in 7 overs
ASHAN PRIYANJAN walks in at number 5, replacing Mathews.
20.12 IST: OUT! That is some lightning quick work by Dhoni and Mathews has to go! Floated outside off, Mathews lunges to defend but is beaten by the away spin. Dhoni collects the ball and before Mathews can even think about dragging his foot back, MS whips off the bails in a flash.  SL 62/3 in 6.3 overs
20.10 IST: STUMPED! Yes or no? Referred upstairs. Third umpire is having a look. Does Mathews have something behind the line?
Chahal replaces Bumrah
20.08 IST: FOUR! Up and over! Tee time for Munaweera. He jumps out of his crease and lofts this flighted ball over mid off. Nearly gets a maximum! SL 60/2 in 6 overs
20.07 IST: FOUR! Not the cleanest of shots but he will take it. Munaweera is enjoying himself tonight. Slightly short in length and that is enough for Munaweera. He rocks back in a flash and heaves it over mid-wicket for a boundary.  SL 56/2 in 5.3 overs
20.06 IST: FOUR! Fifty comes up for Sri Lanka. Bad start. A dart, that too, down the leg side. Mathews is too good a batsman to miss out. Flicks it to the fine leg fence. Axar straightaway shakes his head.  SL 51/2 in 5.1 overs
Another spinner. AXAR PATEL comes on to bowl.
20.04 IST: Good over from Bumrah, a single and a wicket from it. SL 47/2 in 5 overs
ANGELO MATHEWS walks in at number 4, replacing Dickwella.
20.01 IST: OUT! The off stump is dismantled! Good ball but a poor choice of a shot from Dickwella. This is what happens when you premeditate too much. Dickwella's favourite shot is the paddle scoop but he perhaps chose NOT TO play it, since fine leg was back. However, there was some confusion in his mind. He made a late call to play the reverse scoop but Bumrah outsmarted him. He kept this very full and Dickwella missed. The sound next heard was the timber unearthed. Bumrah shows his aggression, clapping Dickwella off the field.  SL 46/2 in 4.3 overs
JASPRIT BUMRAH gets a change of ends.
19.59 IST: Another wrong 'un, Dilshan has no clue about this ball, pushes blindly but misses. The ball somehow misses the leg stump. Excellent comeback from Chahal after being hit for successive sixes on his first two balls.  SL 46/1 in 4 overs
19.57 IST: SIX! THRASH! He is in some mood tonight. Chahal does not shy from looping the ball and Munaweera does not back away from going over the top again. He gets to the pitch of the ball and lofts it straight back down the ground. Same result.   SL 44/1 in 3.2 overs
19.56 IST: SIX! Welcome into the attack, mate! Tossed up outside off, Munaweera goes leg side and lofts it easily over cover for a biggie!  SL 38/1 in 3.1 overs
Interesting. Spin inside the Powerplay. Here comes the leggie YUZVENDRA CHAHAL.
19.55 IST: Again that knuckle ball from BK and perhaps Munaweera read it a bit late. Nevertheless, he went through with his swing and just about managed to get bat on the ball. Once it made the connection, it flew over square leg and made it to the boundary.  SL 32/1 in 3 overs
19.53 IST: FOUR! AMAZING! That will give the new man a lot of confidence. The ball is by no means a half volley but Munaweera comes forward and drives it on the up through the covers to get off the mark in style!  SL 27/1 in 2.3 overs 
DILSHAN MUNAWEERA comes in at number 3, replacing his skipper.
19.52 IST: Bhuvneshwar removes the Sri Lanka skipper Upul Tharanga for 5. Knuckled out! The slower ball from Bhuvi which he has developed so well - the knuckle delivery. Tharanga does not pick it and swings wildly at a length ball in line of the stumps. Misses and the zinc bails illuminate. First wicket for India. SL 23/1 in 2.2 overs 
19.51 IST: FOUR! TAKE THAT! A short ball on middle, angling away, Tharanga pounces onto it on a flash and pulls it over mid-wicket for a boundary!  SL 23/0 in 2.1 overs
19.49 IST: FOUR! Again! Did anyone miss what happened on the previous ball? No problem as gentleman Dickwella is ready to showcase it again. This is much fuller than the previous one but Dickwella does not care. He has made up his mind, gets down and across and scoops it over short fine leg for consecutive boundaries! A hat-trick!  SL 17/0 in 1.5 overs
19.48 IST: FOUR! Thank you, VK! This must what be Dickwella telling to Kohli after that field change. He wanted fine leg to be called in so that he could do exactly what he loves to do. Gets down and laps this ball over short fine leg for a boundary! SL 13/0 in 1.4 overs
Immediately Virat Kohli makes a field change. Fine leg comes in while square leg drops back.
19.47 IST: FOUR! Flicked away! Dickwella shows us his array of shots. He picks the length in a trice and flicks it way over square leg. The fine leg fielder moves across to his right as the ball lands on the damp outfield and slows down but eventually trickles into the ropes.  SL 9/0 in 1.3 overs
JASPRIT BUMRAH to share the new ball.
19.45 IST: Good start from Bhuvneshwar, just four runs from the over. SL 4/0 in 1 over
19.40 IST: Right! The players are out in the middle! The usual suspects for Sri Lanka take guard - Niroshan Dickwella and skipper Upul Tharanga. It will be Bhuvneshwar Kumar to get the first feel of the new ball. Dickwella to face. Here we go!
19.32 IST: UPUL THARANGA also wanted to bowl first but feels it is a very good wicket. Admits that this is a very important game for his team along with a great challenge. Wants to win and end the series on a high. Says that his side has got plenty of changes with Seekkuge Prasanna, Thisara Perera, Dasun Shanaka and Isuru Udana getting a game.
19.27 IST: VIRAT KOHLI says that it looks like a very good track and he wants to chase. Also, there is a bit of rain around which influences the decision. Brushes aside the target of clean sweeping the tour 9-0 and wants to concentrate on playing good cricket. Informs that from the last ODI, Ajinkya Rahane and Shardul Thakur miss out. Lokesh Rahul and Axar Patel come in.
19.25 IST: TOSS! India win toss, opt to bowl vs Sri Lanka in Colombo 
Captain Kohli calls it right at the toss. Elects to bowl first #SLvIND pic.twitter.com/UXvAjhsVpk

— BCCI (@BCCI) September 6, 2017
19.20 IST: Pitch Report - It's a good one for batting, pretty hard in nature. There is sweating underneath as it was under the covers. 160-170 is a par score on this pitch, reckons Russel Arnold.
19.15 IST: 
The team talk ahead of the one-off T20I #SLvIND pic.twitter.com/ZIh1BzgYcQ

— BCCI (@BCCI) September 6, 2017
19.10 IST: Inspection is done and the umpires confirm that the match will start at 19.40 IST. It will be a 20-overs-a-side game.
18.45 IST: The groundstaff are doing their best to get the ground match-ready. However, there are some wet patches on the outfield which remains to be an area of concern during the inspection.
18.25 IST: Toss has been delayed due to wet outfield, there will be an inspection by umpires at 19:00 local
UPDATE- The toss has been delayed. Inspection at 7 PM #SLvIND

— BCCI (@BCCI) September 6, 2017
18.15 IST: Good News folks - Covers are being removed!
It has stopped raining and the covers are coming off now #SLvIND pic.twitter.com/7vVsmRhK95

— BCCI (@BCCI) September 6, 2017
17.51 IST: The groundsmen are on the field, Supersoppers are in action.
17.40 IST:
Glum and gloomy scenes here in Colombo ahead of the one-off T20I #SLvIND pic.twitter.com/hjNrcAgw4E

— BCCI (@BCCI) September 6, 2017
17.30 IST: It's been raining since last morning in Colombo. The entire ground has been covered. However, it has stopped raining a while ago and the groundsmen are on the field now. 
Brief Preview: 
It is all the more surprising since the selectors had an opportunity to send him for this stand-alone game when Shikhar Dhawan returned home to tend to his ailing mother this past weekend, leaving Ajinkya Rahane to open the innings in the fifth ODI.
Pant has previously featured in two T20Is against England and West Indies, but was kept out of this tour on account of his poor run for India-A in South Africa, as stated by chief selector MSK Prasad after the team selection.
In the lone T20I against West Indies at Jamaica, Virat Kohli had opened the innings with Dhawan with Pant slotting in at no.3. As such, their dual absence will necessitate atleast a couple changes from the Indian skipper.
Rohit Sharma slots back in automatically, for he didn't travel to the Caribbean earlier whilst KL Rahul and Manish Pandey will be expected to bring up the middle order.
Kedar Jadhav scored a much needed half-century in the final ODI, and he could be afforded another chance to prove his credentials as India prepare for a long limited-overs' schedule at home.
Hardik Pandya was rested for that fifth match on Sunday, and he too is expected to return to the playing eleven. Pandya hadn't featured in India's last T20I against the West Indies, with Kohli opting for five full-time bowlers back in July. His return to the playing eleven could allow for a bowling combination similar to the ODIs, with four full-time options to choose from.
Jasprit Bumrah is a shoe-in of course, whilst it remains to be seen if Shardul Thakur will get another go after proving expensive in the last match at Bhuvneshwar Kumar's expense.
Kohli does like to field leg-spinners in the shortest format, and he played both Yuzvendra Chahal and Amit Mishra against England at both Nagpur and Bengaluru. He is expected to repeat this trick with Chahal and Kuldeep Yadav this time around.
Even so, there were no sure hints coming forth as the Indian team enjoyed an additional off day ahead of the game and did not practice. (Read Full Preview Here)