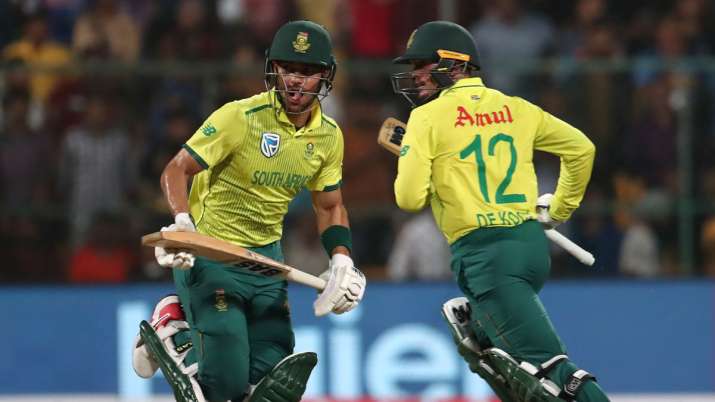 Highlights, India vs South Africa, 3rd T20I: Hello and welcome to our coverage of India vs South Africa 3rd T20I match live from M Chinnaswamy Stadium, Bengaluru. India stuttered after a bright start from Shikhar Dhawan and in the end could only manage 134/9 from their 20 overs. Kagiso Rabada picked up 3 wickets while Bjorn Fortuin and Beuran Hendricks picked up 2 wickets each with some tight bowling as well. The Proteas will need 135 to level the three-match series 1-1. You will get all the live score and updated of the third T20I match here. (Match Scorecard) (Stream IND vs SA)
SA beat IND by 9 wickets
* 5 key takeaways from 2nd Innings
1. Quinton de Kock golden run with the bat continues
2. No senior bowler in the Indian bowling line-up hurts the team
3. Team India desperately need Kuldeep Yadav and Yuzvendra Chahal in the limited-overs format
4. Poor DRS call from Virat Kohli
5. South Africa are on the road to rejuvenation 
22.04 IST: Krunal to Bavuma, SIX! The young batsman finishes off in style as SA win the match by 9 wickets to draw series 1-1
21.57 IST: Krunal to De Kock, SIX! It no. 5th for De Kock and his love with the mid-wicket region continues.
21.55 IST: Krunal to De Kock, FOUR! De Kock lofts it through the cover and the ball races away for the boundary.
21.48 IST: Hardik to De Kock, SIX! Another maximum for the Proteas skipper and the match is loosing from India's hand now.
21.45 IST: Saini to Bavuma, FOUR! A 148 km/hr full stop from Saini and Bavuma just opens the face of his bat to guide it for the boundary. Not a good day with the ball for Saini.
21.41 IST: Hardik to De Kock, FOUR and FIFTY! De Cock doesn't want to stop despite Reeza's departure and he smashed it hard for the boundary to reach his fourth T20I half-century.
21.38 IST: Hardik to Reeza, OUT! In the air and Kohli takes a stunner to dismiss the opener on mid-on.
21.30 IST: Sundar to De Kock, SIX! SMASHED! De Kock is in no mood to stop here as he just hammered the short ball to the maximum.
21.24 IST: Krunal to Reeza, FOUR! Excellent shot from Reeza and Iyer tries his best stop it from the boundary line but it went in the vain.
* Krunal Pandya into attack
21.13 IST: Chahar to Reeza, FOUR! He pulls it nicely for the boundary and pressure on India to put a brake on South Africa boundary spree.
21.09 IST: Saini to De Kock, SIX! Another biggie for the De Kock and this time even bigger from the opener as he looks to unsettle Navdeep right from the first over.
21.07 IST: Saini to De Kock, SIX! Welcome to the attack Navdeep! The Proteas skipper just dispatches the ball for the maximum with his trademark golfers shot.
21.06 IST: Chahar to Reeza, FOUR! Beautiful shot through mid-wicket for Reeza Hendricks as he ends the excellent over with a boundary.
21.00 IST: Sundar to De Kock, FOUR! De Kock cuts it hard and even the lightning-quick Jadeja was not able to stop it. SA 13/0 in 2.4 overs
20.57 IST: Excellent over from Deepak Chahar as he gives only one run from it.
20.53 IST: Deepak Chahar will share the new ball with Washington Sundar.

20.50 IST: Sundar to de Kock, FOUR! Drives through cover and pierces the infield for a boundary. The first one of the innings.

20.48 IST: The players are out in the middle. Reeza Hendricks and Quinton de Kock to open for the visitors, Washington Sundar has the ball for India.

5 Key takeaway from India's innings
1. Rohit Sharma dry run after WC continues
2. Rishabh Pant's misery continues 
3. Hardik Pandya fails to finish the game
4. Hendricks leads the South Africa bowling line-up
5. The decision to bat first backfired for Team India.
* South Africa's bowlers bowl extremely well to restrict the heavy Indian batting line-up for just 134/9 at the flat track of Bengaluru.
20.37 IST: Rabada to Saini, BYES, SINGLE! Excellent running between the wickets from the tailenders as India finish on 134/9 after 20 overs
20.36 IST: Rabada to Hardik, OUT! Hardik strikes it hard but it lands directly into fielders hand.
20.34 IST: Rabada to Sundar, RUN OUT! Excellent thow from De Kock as he turned the wide ball into a wicket.
20.33 IST: Rabada to Sundar, FOUR! Cheeky from Washington as he just guides the ball to the boundary through third man.
20.31 IST: Rabada to Jadeja, OUT! Jadeja skies it straight in the air and Rabada takes a beautiful catch to dismiss the Indian allrounder. IND 127/7 in 19.1 overs
20.28 IST: Phehlukwayo to Hardik, FOUR! Hammered finally a boundary for Hardik Pandya and India look to grab some runs from the remaining balls.
20.22 IST: Rabada to Jadeja, SIX! Not a good day for Rabada as it's getting more worse for him with every over. This time Jadeja hits it straight down the ground for the maximum.
20.19 IST: South Africa have now tightened their hold on the match with another big over and Hendricks is leading the bowling charge for the Proteas. IND 109/6 in 17 overs
20.13 IST: Phehlukwayo to Jadeja, FOUR! Edged and no-slip there as the ball races away for a boundary.
20.10 IST: Hendricks to Krunal, OUT! Edged and taken by the wicketkeeper, Excellent bowling from the Proteas pacer his inclusion in the playing XI is turning into a masterstroke.
20.06 IST: Another good over for South Africa as Tabrez Shamsi just give only 4 runs in it. IND 97/5 in 14 overs
20.00 IST: Fortuin to Iyer, STUMPED AND GONE! Two wickets in an over, excellent bowling from the spinner as Iyer steps out to dispatch the ball but Fortuin watched his footsteps early and he just pulled back his length. IND 92/5 in 12.5 overs
19.58 IST: Fortuin to Pant, OUT! Another match another disappointment, Pant's misery with poor shot selection continues as he skied it again and throw his wicket again.
19.54 IST: Pretorius to Pant, SIX! It's time for Rishabh Pant to shut his critics and few more shots like this will help him in doing it.
19.50 IST: Excellent over from Phehlukwayo only 3 runs from it and now the pressure is building up on Indian batsmen Shreyas Iyer and Rishabh Pant. IND 79/3 in 11 overs
19.40 IST: Rabada to Pant, FOUR! Pant just releases some pressure from his shoulders from that boundary.
19.39 IST: Rabada to Kohli, IN THE AIR and TAKEN! OUT! Kohli didn't manage to continue his good form in Bengaluru here.
19.32 IST: Shamsi to Dhawan, OUT! In the end the Proteas spinner wins the battle against Dhawan as he skied in the air and Bavuma makes no mistake to grab it. IND 63/2 in 7.2 Overs
19.29 IST: Fortuin to Dhawan, FOUR! This time Dhawan sweeps the ball in the air and it lands just before the boundary line for four.
19.25 IST: Shamsi to Dhawan, SIX! Back-to-back sixes! This was even bigger from the Dhawan as he walks down on the pitch and loft it straight to send the ball over the line.
19.24 IST: Shamsi to Dhawan, SIX! Welcome to the attack Tabrez! The Indian southpaw plays it with sheer power over long on for the maximum.
19.23 IST: Excellent from Hendricks as he bowls quick with a tight length which troubled both the batsmen in the over. Only six runs from the over. IND 41/1 in 5 Overs
19.17 IST: Phehlukwayo to Dhawan, FOUR! EDGED AND SAFE! Dhawan walks down the track and slashed the ball but he was in no control and ball gets a thick inside edge for the boundary.
19.17 IST: Phehlukwayo to Dhawan, FOUR! BEAUTY! Excellent on drive from the Indian opener and he looks to continue his good form.
19.10 IST: Hendricks to Rohit, OUT! And another disappointment from Rohit Sharma, it was an excellent delivery from the Proteas pacer and Rohit edged it uncomfortably and caught by Reeza in the slips. IND 22/1 in 2.2 Overs
19.07 IST: Rabada to Rohit, FOUR! Exquisite timing from the hitman and now he overtakes Virat Kohli to become the highest run-getter in T20I cricket.
19.03 IST: Rabada to Dhawan, WIDE and FOUR! Back to back wides from Rabada and this one was even too much that wicketkeeper De Kock was not able to reach it and ball went for four runs extra. IND 11/0 in 1 Over
* Rabada to bowl from the other end as IND 5/0 in 1 over
19.00 IST: Fortuin to Dhawan, FOUR! First ball and it's gets the treatment it deserves and the ball races towards the boundary rope in a flash.

18.59 IST: Rohit Sharma and Shikhar Dhawan to open for India, Bjorn Fortuin has the ball for South Africa.

18.47 IST: The player to look out for in the match is surely Rishabh Pant who is under a lot of scanners after throwing away his wicket due to poor shot selection in crucial situations.
18.34 IST: Playing XI of South Africa: Reeza Hendricks, Quinton de Kock(w/c), Temba Bavuma, Rassie van der Dussen, David Miller, Dwaine Pretorius, Andile Phehlukwayo, Bjorn Fortuin, Kagiso Rabada, Beuran Hendricks, Tabraiz Shamsi
18.31 IST: Playing XI of India: Rohit Sharma, Shikhar Dhawan, Virat Kohli(c), Rishabh Pant(w), Shreyas Iyer, Krunal Pandya, Hardik Pandya, Ravindra Jadeja, Washington Sundar, Deepak Chahar, Navdeep Saini
18.30 IST: Indian skipper Virat Kohli win the toss and opt to bat first against South Africa in Bengaluru
Toss news - #TeamIndia win the toss and elect to bat first. Team unchanged from the previous T20I #INDvSA @Paytm pic.twitter.com/pHcdFrttnP

— BCCI (@BCCI) September 22, 2019
18.22 IST: King Kohli is ready to roar in his second home Bengaluru.
Ready to Roar 🦁
The King 👑 at Chinnaswamy #TeamIndia #INDvSA @imVkohli @Paytm pic.twitter.com/ycvwvYdZOb

— BCCI (@BCCI) September 22, 2019
18.09 IST: India's young gun Shreyas Iyer card game is too strong to handle.
MUST WATCH👀: Will @ShreyasIyer15 read @imK_Ahmed13's mind successfully? 🤔🤔

Time for the big reveals in Part 2 of our Iyer's bag of magic tricks.- by @RajalArora

Watch the full video here ▶️▶️ https://t.co/Mc8Ag01Rmn pic.twitter.com/OEEJmkbLTm

— BCCI (@BCCI) September 21, 2019
18.01 IST: The weather doesn't look pleasant as of now as Rain is likely to play spoilsport in the final T20I in Bengaluru.
17.00 IST: 
Game Face On ✌️✌️#TeamIndia #INDvSA pic.twitter.com/MQu6yVjfM8

— BCCI (@BCCI) September 22, 2019
Match Preview: Virat Kohli's familiar exuberance and pep talks drowned the chatter around Rishabh Pant as India prepared to play South Africa in the third T20 International here on Sunday, seeking a 2-0 series verdict. The comprehensive seven-wicket victory in the second game, which was built on the back of a fine comeback by the bowlers and a Kohli masterclass, is history now and the team is looking for another commanding performance before the Test series gets underway. (Read Full Match Preview)