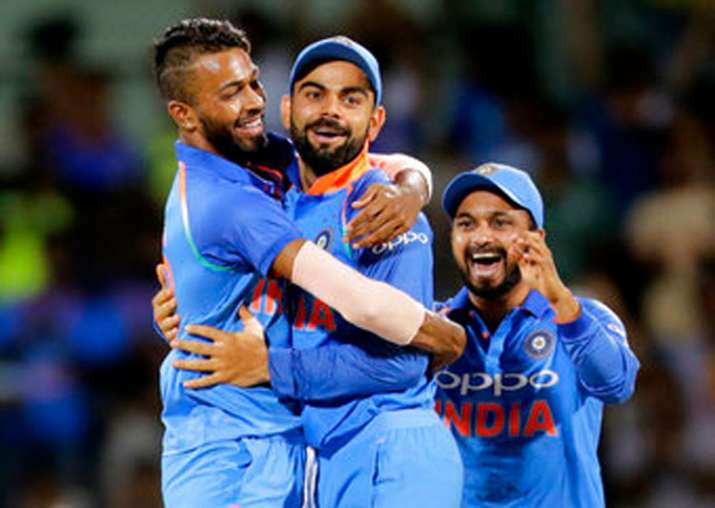 India (252) beat Australia (202) by 50 runs to take a 2-0 lead in the five-match series
Fall of wickets:
43.1 overs: OUT! Bhuvneshwar removes Richardson for 0. Australia all-out for 202. India win by 50 runs.
32.4 overs: OUT! Pandya removes Nathan Coulter-Nile for 8. Caught and bowled! Hardik Pandya breaks the stubborn stand! Comes in and hits the deck hard, gets enough bounce to surprise Coulter-Nile. The batsman is hurried by the it as he looks to pull. Gets a top edge that balloons in the air and Pandya calls for it. He takes it easily in the end. AUS 182/9 in 39.4 overs
32.4 overs: OUT! Kuldeep Yadav takes maiden hat-trick as he removes Cummins for 0. HAT-TRICK FOR KULDEEP YADAV! And the entire Eden Gardens is up on its feet. What a feat for this man, the feeling would be totally different. All his mates barge towards him. Bowls a googly and Cummins lunges forward to defend it. The ball turns away a bit, takes the outside edge and Dhoni behind the stumps doesn't make any mistake. It's the 3rd hat-trick for India in the ODIs. Australia in dire straits now. AUS 148/8 in 33 overs
32.3 overs: OUT! Kuldeep Yadav removes Ashton Agar for 0. LBW! It's two-in-two for Kuldeep Yadav now. All of a sudden the Aussies are falling here like a pack of cards. Bowls a loopy ball, Agar looks to flick it away but the ball dips in and hit him on the pads right in front of the stumps. A loud appeal to which umpire raises his finger, after taking his time. Ashton confers Stoinis if he should opt for the review, his partner says no and gives him the marching order. Can Yadav pick up a hat-trick? AUS 148/7 in 32.3 overs
32.2 overs: OUT! Kuldeep Yadav removes Mathew Wade for 2. Dragged on! Kuldeep Yadav picks up his first and Kohli has something to say to Wade. A banter happened when the skipper was batting and he gives it back. Yadav bowls it short and a bit wide outside off, Wade gets across a long way to push it away but gets an inside edge back onto the stumps. 105 needed from 106 balls.  AUS 148/6 in 32.2 overs
29.5 overs: OUT! Pandya removes Smith for 59. A massive breakthrough for India! The short delivery which is Pandya's surprise factor brings about the downfall. He runs in and bowls a cross-seam delivery on a shortish length outside off. Smith shapes for the pull but the ball comes quicker to him than he expects. He ends up getting a top edge to deep mid-wicket. Jadeja is a bit late to react, perhaps the floodlights make him a bit blinded. However, he adjusts well, runs in and takes a good catch. Smith walks back with a dejected face. He played a good knock but his side needed him to stay till the end. Australia need 121 runs from 115 balls with only five wickets in hand. AUS 138/5 in 29.5 overs
22.5 overs: OUT! Chahal removes Maxwell for 14. Big, big moment in the game! The dangerous Maxwell departs! Smart bowling from Chahal and he does the trick for India. He sees Glenn coming down the track and bowls it around his legs. Glenn gets into a bit of a tangle. He looks to keep it out to the leg side but fails to put bat to ball. It sneaks through and hits his back pad first. Then it deflects to his front pad and lobs towards Dhoni. He is cool as a cucumber, bends and collects it cleanly. AUS 106/4 in 22.5 overs
16.6 overs: OUT! Chahal removes Travis Head for 39. You cannot get a soft dismissal than this! A wicket goes down at the wrong time for Australia. Full toss on middle and leg again, Head who has been struggling to pick the spin takes it on the full. Whips it to mid-wicket but he picks out the sole man, Manish Pandey stationed there who makes no mistake. Chahal has a wry smile on his face. Look at Kohli go. He is all pumped and pumps his fists in the air! India are right back in this contest. AUS 85/3 in 17 overs
4.5 overs: OUT! Bhuvneshwar removes David Warner for 1. This time it is the big wicket of David Warner. He wasn't looking that confident and eventually departs! Fuller length delivery on off, shaping away. Warner pushes at it with minimal foot movement and ends up getting a thick outside edge. Rahane at wide second slip is sharp as a hawk. He watches it all the way, bends low to his right and takes a good catch. Second wicket for Kumar and the Eden Gardens crowd is right behind the Men in Blue. The tourists are in a bit of bother now. AUS 9/2 in 4.5 overs
2.6 overs: OUT! The pressure has resulted in Cartwright throwing his wicket away! Intelligent bowling as well from Kumar. He goes wider of the crease and bowls a fuller length ball around off. It swings in ever so slightly. Hilton goes for an expansive drive but leaves a lot of gap between his bat and pad. He misses it completely to find his stumps shattered. Another failure for the young man. A wicket-maiden for Kumar. AUS 2/1 in 3 overs
India 252 all out in 50 overs
Fall of Wickets: 
49.6 overs: OUT! Yuzvendra Chahal run out for 1. IND all out for 252 in 50 overs. Virat Kohli 92, Ajinkya Rahane 55, Nathan Coulter-Nile 3/51, Kane Richardson 3/55
49.1 overs: OUT! And Pandya gets out off a full toss! Richardson bowls a slower ball full toss outside off, Pandya looks to go over wide long off but the ball travels only as far as Warner there. So Pandya is unable to repeat his last match heroics! Vital wicket at the start of the last over. Richardson has two-in-two now! IND 246/9 in 49.1 overs
48.2 overs: OUT! Cummins removes Kuldeep Yadav for 0. Edged and what a catch that is from Wade! He had a tough day on the field and look what he has just done, mind blowing stuff from Wade! On a length and just outside off, Kuldeep Yadav makes room and looks to dab it away for a single. However, gets a thick outside edge behind where Wade dives full length to his left to take that one. Maxwell barges towards the keeper and pats his back. IND 239/8 in 48.2 overs
47.6 overs: OUT! Richardson removes Bhuvneshwar for 20. Doesn't prove to be very costly as Kumar is gone next ball! A length ball around off and middle, Kumar looks to smash it out of the park again, but ends up hitting it high in the sky. Maxwell, from long on, gets under it and pouches it safely. IND 239/7 in 48 overs
39.1 overs: OUT! Richardson removes Dhoni for 5. The big fish is trapped! Richardson bowls a full ball outside off, Dhoni looks to drive it through covers. Ends up finding Smith there, who takes a good low catch diving to his left. The expression of joy on his face shows how important this wicket is for them. Dhoni walks back without much of a contribution. India in search of a final flourish. Australia have done well to come back since Jadhav's wicket. IND 204/6 in 39.1 overs
37.5 overs: OUT! Kohli plays on! The crowd gets quiet! Coulter-Nile serves a length ball just around off, Kohli looks to guide it towards third man, ends up playing it onto the stumps. This ball stayed a tad low and that is Virat's undoing. The umpires go upstairs to check for a no ball but Nathan seems to be fine there. This is a big wicket for the Australians as the Indian skipper has the ability to cut loose towards the death. A good knock ends, nevertheless. IND 197/5 in 37.5 overs
35.3 overs: OUT! Coulter-Nile removes Kedar Jadhav for 24. Coulter-Nile strikes! Maxwell hardly puts anything down, says Harsha Bhogle on-air. The bowler comes in and drops it on a shorter length outside off. It was there to be hit and Jadhav obliges. He cuts it but much to his dismay the ball travels quickly to Maxwell at backward point, who gobbles it with a reverse cup. A wicket at the right time for the Aussies as these two were looking really good out there. IND 186/4 in 35.3 overs
27.2 overs: OUT! Knocked him over! Pandey fails to play a substantial knock and is out cheaply yet again. Agar lands a quicker delivery around off, the ball straightens after pitching. Pandey looks to cut but misses the ball and finds the stumps shattered. The visitors are ecstatic and why not! IND 131/3 in 27.2 overs
23.4 overs: OUT! Rahane gets run out, of all the ways! Head lands it outside off, Rahane drives it through covers and sets off for a run. Kohli wants a second and Rahane responds. Cartwright from sweeper covers spears in a flat throw to Wade who collects it in front of the stumps and takes the bails off. Rahane puts in a desperate dive. The third umpire is called for. Replays show that he's just short of the crease and hence has to walk back. Ajinkya wasn't keen on the second but responded to his skipper's call. He ran the second run a tad wide and not in straight line, which meant that he had to cover an extra distance. IND 121/2 in 23.4 overs
5.1 overs: OUT! Coulter-Nile removes Rohit for 7. The favourite of Eden Gardens is dismissed by the one who plays for the local franchise! Coulter-Nile bowls a full ball around off, Sharma looks to drive it straight but gets it off the toe end of the bat straight to the bowler, who catches it off his right hand. But the ball slips out and he catches it off the second attempt. Rohit wasn't sure that it was a catch but the Aussies were. The umpire agrees and the batsman has to walk back. Early wicket for the visitors and that would just lift them up! IND 19/1 in 5.1 overs
Hello and welcome to our Live Coverage of the second ODI between India and Australia at Eden Gardens in Kolkata. Virat Kohli has won the toss and opted to bat against Australia. After a convincing win in the first ODI, the men in blue will look to extend their dominance against the world champions in the second ODI in Kolkata on Thursday. Hardik Pandya's all-round brilliance steered India to a comfortable win by 26 runs (DLS method) in the rain-affected first ODI against Australia in Chennai. The 23-year old all-rounder contributed with both bat and ball to keep the Kangaroos in check.
Chasing a revised target of 164 in 21 overs in the first ODI, the Aussies were 35 for four before Glenn Maxwell's power-hitting raised hopes of an unlikely win. But the spinning duo of Yuzvendra Chahal and Kuldeep Yadav didn't allow the Aussie batsmen to take the hold of the situation and sealed the win in favour of the hosts. The form of veteran warhorse MS Dhoni is also a big plus for the Indian team, which desperately wanted its former skipper to fire with all cylinders. Virat Kohli will expect their top order batsmen to make amends for a rare poor show in the series-opener and hope that the spinners continue to torment Australia when the two teams clash in the second ODI at the iconic Eden Gardens. India and Australia will play only their second ODI at the Eden since their TVS Cup final in November, 2003 but a forecast of rain is threatening to spoil the contest. (LIVE SCORECARD)
13.00 IST: TOSS! India win toss and opt to bat vs Australia. India have decided to field an unchanged squad. The hosts are leading the five-match series 1-0.
Playing XIs for India vs Australia, 2nd ODI
India: Rohit Sharma, Ajinkya Rahane, Virat Kohli (C), Manish Pandey, Kedar Jadhav, MS Dhoni (WK), Hardik Pandya, Bhuvneshwar Kumar, Kuldeep Yadav, Yuzvendra Chahal, Jasprit Bumrah
Australia: David Warner, Hilton Cartwright, Steven Smith (C), Travis Head, Glenn Maxwell, Marcus Stoinis, Matthew Wade (WK), Ashton Agar, Kane Richardson, Pat Cummins, Nathan Coulter-Nile
When is the India vs Australia 2nd ODI match?
The second of the five-ODI series between India and Australia will be played on Thursday, September 21.
Where will the India vs Australia 2nd ODI match be played?
The second ODI between India and Australia will be played at the Eden Gardens in Kolkata.
What time does India vs Australia 2nd ODI match start?
The second ODI between India and Australia will start at 1:30 IST and the toss will happen at 1:00 IST. For all the Live updates, tune into www.indiatvnews.com.
Where can I watch India vs Australia 2nd ODI match live?
The second ODI between India and Australia will be broadcast Live on Star Sports Networks. The TV channels that will show the match Live are Star Sports 1 and 3, Star Sports 1 and 3 HD.
 India vs Australia 2nd ODI Live Cricket Score and Updates
Where can I watch Ind vs Aus Live Streaming free?
You can watch live streaming of India vs Australia match online on Hotstar App. You can also follow Live updates and Live Score, Ball-by-Ball Commentary on www.indiatvnews.com.