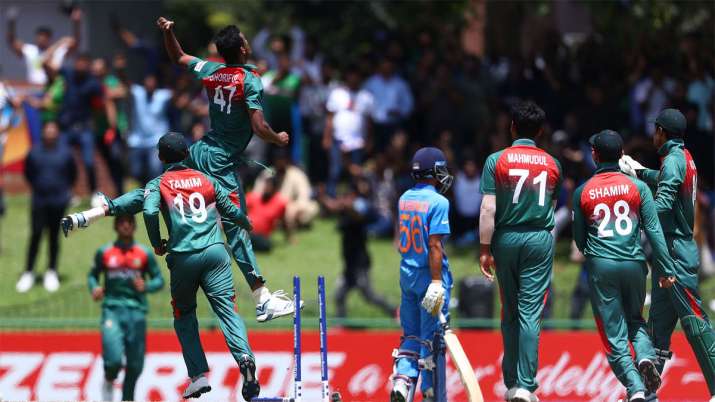 HIGHLIGHTS India vs Bangladesh, U19 World Cup final: That is it from our coverage of the U19 World Cup final between India and Bangladesh live from Senwes Park in Potchefstroom.Gritty Bangladesh stun four-time champions India by 3 wickets via DLS Method to lift their maiden U19 World Cup title at the Senwes Park, Potchefstroom. Follow all the updates of IND vs BAN U19 World Cup final here at indiatvsports.com [IND vs BAN U19 World Cup final]
HIGHLIGHTS Bangladesh beat India by 3 wickets
21.47 IST: Artharva to Rakibul, SINGLE! and the new U19 World Champions are Bangladesh. Bangladesh (170/7) beat India (177) by 3 wickets (DLS method) to lift the maiden title. Emon 47, Akbar 43*
21.40 IST: Sushant to Rakibul, FOUR! It was outside off stump and Rakib guides it easily for four and the match is now out of India's radar.
* Play resumes and the revised target for Bangladesh is 170 runs in 46 overs
21.22 IST: Rain stops play.
21.18 IST: Rain showers arrive as Bangladesh need 16 from 60 runs and are way ahead in DLS method.
21.08 IST: Akash to Rakibul, BYES FOUR! Unlucky for India as it was a very good yorker but the uneven bounce spoiled it and the ball reaches the boundary rope over wicketkeepers head.
21.04 IST: Bangladesh need 29 runs from 78 balls and are 7 runs ahead in DLS method.
20.36 IST: Jaiswal to Emon, OUT! BIG BIG Wicket for India, this might change the course of the game as India is back in the game with Emon's dismissal.
20.30 IST: Bishnoi to Emon, FOUR! It was a good delivery, a googly from Ravi and the batsman gets a thick edge and the ball reaches the boundary rope.
20.28 IST: Jaiswal to Akbar, FOUR! Little bit of width and Akbar cuts it hard and gets an outside edge and the ball races away for a boundary.
20.24 IST: Maiden over from Bishnoi, he is still troubling the Bangladesh batsmen with his spin-web
* Bishnoi returns to attack
20.13 IST: Akash to Emon, FOUR! Poor bowling as the Akash is continuously bowling to Emon's strength and he drives it beautifully through deep extra covers.
.20.10 IST: Akash to Emon, FOUR! Classics shot from the batsman as it was little fullish and the batsman punches it through the covers for a boundary.
19:53 IST: Atharva to Akbar. FOUR! Fullish and down leg side and the skipper drifts it behind for a boundary. 
19:50 IST: Parvez Hossain Emon comes back to the crease. He had earlier left the ground after incurring an injury in the 18th over. 
19:47 IST: OHHH DEAR! First Bishnoi, now Tilak. Bangladesh survive two scares. And finally, Sushant strikes. Dismisses Avishek on 5
19:46 IST: Sushant to Avishek. FOUR! Length ball and punched through point for a four. 
19:41 IST: Bishnoi to Akbar. FOUR, again! Wide googly and the length of the delivery urges the skipper to play the late cut through the slip. 
19:40 IST: Bishnoi to Akbar. FOUR! Widish ball and the skipper leans forward to punch it through covers. 
19:35 IST: A look at the equation - 93 needed off 177 - and Bangladesh are still in the game. But with five dismissals in quick succession, Bangladesh's morale has gone down. Bangladesh should look to rebuild their innings and take things patiently. 
19.31 IST: Sushant to Shamim, OUT! Short ball from Mishra as Shamim tries to put it over the fence for maximum but gets caught in the midway by skipper Priyam Garg.
19.29 IST: Atharva to Akbar, SIX! Beauty, excellent stuff from the batsman as he finds the gap easily.
19.28\ IST: Atharva to Akbar, WIDE and FOUR! poor bowling as it was way down the leg and everybody misses it.
19.11 IST: Bishnoi to Shahdat, OUT! BISHNOI YOU BEAUTY! Supernatural stuff from Bishnoi as he gets his fourth of the match and Bangladesh on backfoot now.
18.58 IST: Bishnoi to Hridoy, OUT! Duck for the batsman as Bishnoi on fire, it was a sharp googly and Hridoy was nowhere to play it and gets plumbed.
18.47 IST: Bishnoi to Mahumudul, OUT! CLEAN Bowled! This might lead the fightback for the Indian team.
18.42 IST: Sushant to Mahmudul, FOUR! Full toss and gets the treatment it deserves as the batsman punches the ball in the gap for a boundary.
18.35  IST: Akash to Mahmudul, FOUR! Elegant Cover Drive from the batsman
18.25 IST: Bishnoi to Tamim, OUT! First wicket for India, as Tamim lofts it in the gives away an easy catch.
18.17 IST: Kartik to Emon, FOUR! Well-timed by the batsman as he punches the ball through extra covers for a boundary.
18.09 IST: Akash to Emon, FOUR! On the pads and Emon flicks it over mid-wicket for a boundary.
17.55 IST: Sushant to Tamim, NO BALL! Poor bowling from Sushant as this is the second beamer of the match and this time even keeper was not able to carry it. 
17.47 IST: Sushant to Emon, FOUR! What a Shot! Probably the best of the match as he sits on the lap and drives the ball through covers for a boundary.
17.43 IST: Kartik to Hasan, FOUR! Excellent start from Bangladesh in the chase as they score 13 runs in the first over.
* Welcome for the chase
17.06 IST: Hasan to Mishra, OUT! ALL-OUT! In the air and the Indian misery is over, Under-19 World Cup, Final: India 177 all-out against Bangladesh in Potchefstroom. Jaiswal 88, Avishek 3/40, Sakib 2/28
16.54 IST: Avishek to Kartik, OUT! Wicket number 9 as even 180 looks difficult for India now.
16.49 IST: Shoriful to Ankolekar, OUT! In the blockhole as one more wicket for Shoriful. 
16.46 IST: Shoriful to Ankolekar, RUNOUT! From bad to worse, Poor stuff from Indian batsmen as Ravi Bishnoi is the latest victim of poor coordination between the stumps.
16.40 IST: Rakibul to Jurel, RUNOUT! Big mix-up and Jurel becomes the victim, It can be considered as the comedy of errors but it's surely a tragedy for India.
16.31 IST: Shoriful to Jurel, FOUR! Short Ball and Jurel pulls it over mid-wicket for a boundary.
16.24 IST: Shoriful to SIddhesh, OUT! Back to Back wickets as Siddesh falls on the very first ball, he was trapped in the front of the wickets.
16.23 IST: Shoriful to Jaiswal, OUT! BIG BIG blow for India as Jaiswal departs on 88. Bangladesh are back on the top of the game.
16.21 IST: Shoriful to Jaiswal, FOUR! Poor bowling as it was down the leg-side and Jaiswal guides for the boundary
16.16 IST: Avishek to Jaiswal, FOUR! Lovely Shot over covers for a boundary as India crosses 150-mark.
16.04 IST: Rakibul to Jaiswal, FOUR! Half-volley from the bowler and Jaiswal gets the much-needed boundary.
15.47 IST: Rakibul to Priyam, OUT! Soft dismissal as the Indian captain departs and the things are not looking good for India now.
* Captain Priyam Garg comes to bat
15.35 IST: Sakib to Tilak, OUT! Big Blow for India as well set Tilak plays it in the air and gets caught on the boundary rope.
15.31 IST: Sakib to Jaiswal, SIX! Magnificent from Jaiswal, first six of the match as it was in the arc of the batsman.
15.28 IST: Hriooy to Jaiswal, SINGLE and Jaiswal reaches his fifty. Now, he will look to convert it into a triple-figure
15.20 IST: Avishek to Tilak, FOUR! Little bit of room from the bowler and Tilkar slashes it hard of point for a boundary.
15.16 IST: Hriooy to Jaiswal, DOT BALL! Excellent over from the off-spinner as the pressure is now mounting on the batsmen.
14.56 IST: Shoriful is back into the attack after a good first spell. Can he get a wicket?

14.55 IST: The fans are having a good time at Senwes Park and the Bangladeshi's have turned up in good numbers


There are a LOT of Bangladesh fans in Potchefstroom and they're certainly making their presence known!#U19CWC | #INDvBAN | #FutureStars pic.twitter.com/tfn04TLGWl

— Cricket World Cup (@cricketworldcup) February 9, 2020
14.50 IST: Shamim to Verma, FOUR! Tilak now joins the party. Gives Shamim the charge and slaps it through covers for a boundary. This is a good over from the Indian perspective. 

14.49 IST: Shamim to Jaiswal, FOUR! Pitched up and dragged down the leg side and Jaiswal slog sweeps it over the vacant mid-wicket area for a boundary. A welcome boundary for India and it also brings up the 50 for the Men in Blue.

14.46 IST: Bangladesh have maintained the pressure on the Indian batsmen. Yashasvi Jaiswal has settled in nicely but the free scoring hasn't happened yet for the southpaw.

14.41 IST: He maintains the pressure. Just two off his first over.
14.38 IST: Rakibul Hasan on now. Spin from both ends.

14.30 IST: Spin introduced for the first time. Shamim Hossain introdcued into the attack.
14.27 IST: Das to Jasiwal, FOUR! Copybook cover-drive from Yashasvi. Leans on to his front foot and drives it past the in field for a boundary. Delightful batting from the southpaw.

14.24 IST: END OF POWERPLAY! Bangladesh have kept the Indian batters on a leash. There have been no loose deliveries and the Indian batsmen have not been able to come out of the pressure.

14.18 IST: Das to Jaiswal, FOUR! Srays down the leg and Jaiswal flicks it off his pads in fine fashion for a boundary. Second four of the innings.

14.16 IST: Verma is up now after prolonged treatment and he will continue.

14.11 IST: Tilak Verma has suffered a bad blow while completing a run. It has hit him right above his knee cap and he has gone down. The Indian physio is out and checking on him. Looks bad now.

14.07 IST: Sakib to Jaiswal, FOUR! Finally a release shot. Another bouncer from Sakib but this time he didn't have the pace or direction right and Jaiswal climbs on to it and pulls it away for a boundary. First boundary of the innings

14.04 IST: Tilak Verma is the new man in at No.3

14.03 IST: Das to Saxena, OUT! He's gone! Finally tries to break the shackles but all he can do is slice it to point. It was a pitched up ball and there to be hit but the placement was not right and all he could do was scoop to point. India lose their first wicket. India 9/1 (6.4 overs) against Bangladesh in Potchefstroom

13.59 IST: Change in bowling as Avishek Das has been introduced into the attack.

13.51 IST: Five overs gone and India are off to a very slow and watchful start but the Bangladesh pacers have bowled really well too. They have hit the right lengths and bowled with pace and agression.

13.41 IST: First runs of the innings comes from Jaiswal's bat.

13.40 IST: Talent recognises talent.


This is going to be a feisty game #INDvBAN #Under19WorldCup

— Ashwin Ravichandran (@ashwinravi99) February 9, 2020
13.38 IST:
This is geating heated now. The bowlers are fired up and bowling real heat and abuses are at full flow. This is proper mental disintegration going on from Bangladesh. Another maiden over.
13.36 IST:
Tanzim Sakib to bowl from the other end to Divyansh Saxena
13.35 IST:
A beautiful first over from Shoriful. Line, length and heat...all on point.
13.32 IST:
Shoriful has started off brilliantly and has been riling on Yashasvi, who has missed the first three balls before defending the fourth with a striaght bat.
13.30 IST:
Yashasvi Jaiswal to take strike for India, Shoriful Islam has the ball for Bangladesh
13.24 IST:
The players are out in the middle for the national anthems.
13.15 IST: Team India starsh wish the juniors ahead of their important final


WATCH: #TeamIndia extends best wishes to the U19 team for the #U19CWC final. 💪👏

Let's get behind our boys as they are just one step away from winning the title. Send in your wishes. 🇮🇳🇮🇳 – by @RajalArora

Full Video here 📽️👉👉 https://t.co/WrLqMNLL0D pic.twitter.com/hTx1qFMPbz

— BCCI (@BCCI) February 8, 2020
13.05 IST: Playing XIs:
India: Yashasvi Jaiswal, Divyansh Saxena, Tilak Varma, Priyam Garg(c), Dhruv Jurel(w), Siddhesh Veer, Atharva Ankolekar, Ravi Bishnoi, Shashwat Rawat, Kartik Tyagi, Akash Singh
Bangladesh: Parvez Hossain Emon, Tanzid Hasan, Mahmudul Hasan Joy, Towhid Hridoy, Shahadat Hossain, Avishek Das, Akbar Ali(w/c), Shamim Hossain, Rakibul Hasan, Shoriful Islam, Tanzim Hasan Sakib


13.01 IST: TOSS! Bangladesh has won the toss and has asked India to bat first.

Brief preview: India will aim to win a record-extending fifth Under-19 World Cup title when they take on Bangladesh in the summit clash at the Senwes Park on Sunday. Defending champions India have been dominant so far in all the matches of the tournament so far. They have beaten Sri Lanka, Japan, New Zealand, Australia and Pakistan on their path to the fina