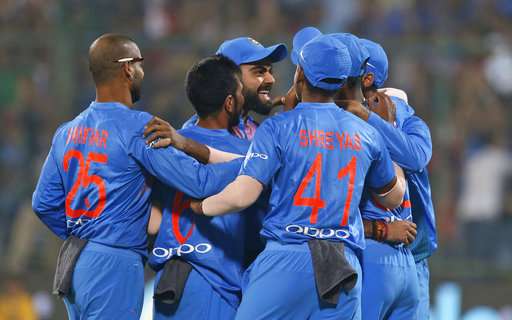 Hello and Welcome to our live coverage of third and final Twenty20 international between India and New Zealand at the beautiful Greenfield International Stadium in Thiruvananthapuram. With series levelled at 1-1, the stage is perfectly set for the series decider as both teams will be looking to give their all in the crunch match. The spectators might not witness full 20-overs each side because the match is under rain threat. The meteorological office here has also predicted that the weather will be generally cloudy with a few spells of rain or thundershowers starting from Sunday till Wednesday.
To clinch the series, India have to display a better show in both batting and bowling department while New Zealand would like to continue with the same momentum. India comprehensively beat the visitors in the first match at the Feroz Shah Kotla Stadium in Delhi. In the second match, New Zealand bounced back in style and defeated India by 40 runs.  Opting to bat first on winning the toss, the visitors rode on an unbeaten quickfire century by opener
Colin Munro
to post 196/2 in their allotted 20 overs. Munro batted through the innings, smashing 109 runs off 58 deliveries. In reply, the hosts could only manage to post 156/7.
Stay tuned for all the live action.
(
LIVE SCORECARD
)
LIVE UPDATES, INDIA VS NEW ZEALAND, 3RD T20I at Thiruvananthapuram
23.00 IST: INDIA WIN BY 6 RUNS! Hardik finishes it off nicely. A short ball outside off, Mitchell slashes hard but gets an outside edge over point. Only a single. A fantastic contest even though marred by rain. But it made for a good match.
22.57 IST: SIX! BANG! That has gone into orbit! A short ball, around off, de Grandhomme pulls this miles over mid-wicket! 11 needed from 3 now! NZ 56/6 in 7.3 overs
22.56 IST: Trouble! Has Hardik hurt himself? The physio has come and now he is going as well. Pandya is fit to bowl. The crowd roars.
HARDIK PANDYA to bowl the last over of the innings, match and series. On whom is the pressure?
Mitchell Santner walks in at No. 8 in place of Bruce.
22.53 IST: OUT! Bruce is gone! A comedy of errors. It is a wide ball and Bruce attempts the reverse paddle but misses. They go for the bye and Dhoni misses his shy at the striker's end. Now Bumrah tries at his end but misses as well. Bruce collides with the bowler, then dives onto the stumps, then gets back. De Grandhomme is straightaway coming back for the second but cannot beat the throw coming in from long on. It is referred upstairs as Dhoni takes the bails off. Gone by a mile. But why wasn't that a wide? The ball was well outside the wide guideline. NZ 49/6 in 7 overs
22.49 IST: FOUR! Yeah... that is what happens when you miss the yorker. It turns into a full toss and Bruce is waiting for it. Gets slightly across and flicks it through backward square leg. Fine leg starts to run to his left but then gives it up. NZ 44/5 in 6.3 overs
TOM BRUCE is now in at number 7, replacing Nicholls.
22.47 IST: OUT! Good running catch! The death bowler brings the game to life again. The ball is full and outside leg, perhaps might have been left alone, but Nicholls gets down and attempts the paddle scoop. Not a safe option with fine leg at the fence. Shreyas Iyer spots the ball and comes running in. For all his fielding throughout the series, this is a fairly difficult chance. But he takes it. Heaves a sigh of relief. 29 NEEDED FROM 11 BALLS. NZ 39/5 in 6.1 overs
22.45 IST: Kohli and MS having a chat. Who bowls the last 2? Chahal comes in to have a participation but does not say a word. Oh... Kohli spots him and asks him his opinion. Now Chahal points to someone. Meanwhile, Kuldeep comes on to bowl. Wait. MS says Bumrah is a better option. And... it will be... the best death bowler perhaps in this age... JASPRIT BUMRAH to bowl the penultimate over.
22.44 IST: Chahal bowls a brilliant over, he give away just 3. Brilliant stuff from the youngster. NZ 39/4 in 6 overs
YUZVENDRA CHAHAL is bowling out now.
22.41 IST: SIX! AUDACIOUS! Full again, outside off, de Grandhomme makes full use of his reach, gets to the pitch of the ball and swings this over long on for a flat six! 10 runs, 2 wickets. Kuldeep has done what the doctor ordered. NZ 36/4 in 5 overs
HENRY NICHOLLS walks in at number 6, replacing Phillips.
22.39 IST: OUT! Two in two! The Kiwis might say bye-bye to the number 1 T20I ranking now. A full ball around off, Phillips gets down and mows this over mid-wicket. For a second, it seems like he has connected well. But near the ropes, Shikhar Dhawan, as cool as a cucumber, takes the catch as easy as it gets. Then does a Kabaddi high-five to the dugout behind. India on a hat-trick. NZ 28/4 in 4.4 overs
COLIN DE GRANDHOMME walks in at number 5, replacing his skipper.
22.37 IST: OUT! DIRECT HIT! Williamson is a goner! Hardik Pandya is the man. He is known to be the one with the golden arm and this time his throwing arm has done the trick. Flighted around off, Williamson comes down the track and looks to whip but skews it off the inner half towards short mid-wicket. Hardik Pandya stops the ball, takes aim and shoots at the non-striker's end. Williamson gives up. The ball hits the stumps and boy, that is a terrific fielding effort. NZ 28/3 in 4.3 overs
Kuldeep Yadav is into the attack.
22.35 IST: FOUR! Edgy but Glenn won't mind! Fuller in length outside off, Phillips goes after it but gets an outside edge past short third man for a boundary. IND 26/2 in 4 overs
22.33 IST: FOUR! He pierces the gap to perfection! A much-needed one. Length ball by Kumar on middle, Phillips lofts it in the gap between deep mid-wicket and long on for a boundary. NZ 22/2 om 3.4 overs
Bhuvneshwar Kumar is back into the attack.
22.30 IST: Chahal drags his length back and pulls it through square leg. The fielder there fumbles and concedes two. NZ 16/2 in 3 overs
Time for spin! Yuzvendra Chahal is into the attack.
22.26 IST: LOVELY BOWLING! A yorker on the toes. Williamson tries to dig it out but losses balance. The ball hits him on the toes and goes down towards fine leg for a leg bye. NZ 11/2 in 2 overs
Glenn Phillips strides out to the middle.
22.24 IST: OUT! Brilliant by Sharma! The fielding by both the teams has been exceptional so far. Bumrah bangs it in short on middle, the ball skids off the surface. Munro goes for the pull but the ball gets to him quickly. He miscues it towards mid on. He must have thought he was safe but Rohit Sharma runs backwards, dives and takes it. Cricket is such a great leveller the centurion in the last game departs cheaply now. New Zealand have lost both the openers. They need 60 from 39 now, not easy on this wicket. NZ 8/2 in 1.2 overs
Kane Williamson walks out to the middle. Bumrah will bowl from the other end.
22.21 IST: OUT! Timber! The knuckle ball by Bhuvnehswar which has swing also has completely done Guptill. He bowls it on off, Guptill swings blindly and misses it completely and the ball hits the off pole. A big wicket and the dangerous Guptill departs. He has had a forgettable tour here in India. A biggie and a wicket in the over. A good one by Kumar. NZ 8/1 in 1 over
22.18 IST: SIX! HUGEEEE! He did something similar in the third ODI against Bhuvneshwar! He comes down the track to the length ball and pulls it over mid-wicket for a maximum.  NZ 7/0 in 0.2 overs
22.15 IST: We are back for the chase. Colin Munro fresh of a hundred in the last game and Martin Guptill walk out with the bat in hand. Bhuvneshwar Kumar will open the bowling for India.
22.10 IST: 
Innings Break! India 67/5 in 8 overs #INDvNZ pic.twitter.com/vfblQefhHD

— BCCI (@BCCI) November 7, 2017
22.08 IST:  Pandya it through mid-wicket. Pandya wants the second but strangely Dhoni says no. INDIA FINISH ON 67/5 in 8 overs
MS DHONI walks in at number 7, replacing Pandey.
22.04 IST: OUT! Watch out...A bird... a plane...it is.... SANTNER MAAANNN! What a fielding effort. Please take a bow, mate. If you just look at the scorecard, you will read only de Grandhomme but this catch has to go into the account of Mitchell Santner. IND 62/5 in 7.2 overs
TRENT BOULT to bowl the final over of the innings. 80 still on?
22.01 IST: SIX! ADMONISHED! Finally an Indian batsman gets hold of one. This is in the arc of Pandya, he gets the ball under his eyeline and khadoosh! Swings it over long on. Massive hit. IND 61/4 in 7 overs 
MITCHELL SANTNER comes in to bowl his second over. Pandya on strike. Interesting battle.
21.57 IST: WHAT A CATCH! Calm down. It is not a catch. Tossed up outside off, Pandey comes down the track and looks to go inside out. He does not time it well and for a second it does seem like Guptill will get to the catch from long off to his left. He dives forward but the ball lands in front. Just a single. Everyone is applauding the effort but such high are the standards that Guptill is angry with himself. IND 50/4 in 6 overs
HARDIK PANDYA walks in at number 6, replacing Iyer.
21.56 IST: OUT! Taken in the deep! Tossed up outside off, Iyer comes down the track and looks to go across the line. However, he is nowhere near the pitch of the ball and miscues this straight up in the air. Martin Guptill calls for it at long off and takes it comfortably. Cannot blame Iyer. This game has done it to him. IND 48/4 in 5.4 overs
21.55 IST: SIX! Magnificent hit! Floated a bit on middle, Pandey gets underneath this and lofts this as clean as a whistle over long on! IND 47/3 in 5.1 overs
21.53 IST: This time Iyer goes over covers. Absolutely no justice to the shot as the slowness of the outfield allows the fielder to get to the ball. Two runs taken. 2-0-13-2 for Southee. Terrific bowling. IND 40/3 in 5 overs
21.49 IST: FOUR! Fine shot. On a length outside off, Pandey backs away and punches it through the covers. The outfield is slow but the ball still makes it to the ropes before sweeper cover can get across.  IND 35/3 in 4.1 overs
Manish Pandey walks out to the middle.
21.48 IST: OUT! Sodhi gets the big fish! Kohli was looking dangerous there! A huge wicket. Sodhi once again bowls it short on middle, Kohli rocks back and tries to pull but does not quite hit the middle. It goes towards Boult at deep mid-wicket, who at first fails to sight the ball but completes a good catch. He would be relived as you don't want to drop Kohli. The umpires ask Kohli to wait to check for the no-ball. Replays show the front foot is fine and Kohli walking back. Three down now India and they are in a spot of bother. IND 31/3 in 4 overs
21.45 IST: SIX! Beautiful! !0 from the first two balls. Tosses it up this time on middle, Kohli just lofts it over the long on fence for a maximum. IND 28/2 in 3.2 overs
21.44 IST: FOUR! A much-needed one! Short to start off by Sodhi. Kohli camps back and pulls it through mid-wicket for a boundary. IND 22/2 in 3.1 overs
Ish Sodhi comes to bowl now
21.43 IST: Another slower ball outside off, wristed down to long-on for a run. Just 4 runs off the over and 2 wickets, brilliant stuff from Southee. IND 18/2 in 3 overs
Shreyas Iyer strides out to the middle.
21.41 IST: OUT! Two-in-two for Southee! The bowling change has worked wonders here! Southee bangs in a short one. Rohit Sharma goes for the pull but does not quite time it well. Santner again in the deep, dives forward and takes a good ow catch. New Zealand on top now. IND 15/2 in 2.3 overs
Virat Kohli, the skipper, walks out to the middle.
21.39 IST: OUT! Southee draws first blood! A very good catch by Santner! Southee again bowls a slower ball on middle, Dhawan comes down the track and tries to go big but miscues it towards point. Mitchell there tracks back, judges it brilliantly and takes it. IND 15/1 in 2.2 overs
Tim Southee is into the attack.
21.37 IST: FOUR! He did not get all off it but still enough to reach the boundary on this damp outfield. Santner fires it on middle, Sharma rocks back and pulls it but not off the middle, through mid on. Williamson puts in a chase, dives but all in vain. . IND 14/0 in 2 overs
Spin from the other end! Mitchell Santner is into the attack. Also the groundsman brought in some saw dust.
21.34 IST: FOUR! This time to the right of Sodhi! Dhawan comes down the track and goes over point and beats the diving Sodhi at third man for a boundary. This should get him going. IND 7/0 in 1 over
21.32 IST:  In the air.... but safe! Dhawan is living dangerously here! Fullish ball on middle, swings away. Dhawan tries to go big but gets an outside edge which goes down to third man. Sodhi there does not get to it but stops a boundary. The batsmen take two. IND 3/0 in 0.4 overs
21.29 IST: So after a long wait, the men who matter are out in the middle. Rohit Sharma and Shikhar Dhawan will open the batting for India. The will hope to give India a blazing start, with only 8-overs per side we can expect some fire-crackers from early on. Trent Boult will open the bowling for New Zealand.
21.27 IST: Teams:
India (Playing XI): Rohit Sharma, Shikhar Dhawan, Shreyas Iyer, Virat Kohli(C), Hardik Pandya, MS Dhoni(w), Manish Pandey, Bhuvneshwar Kumar, Kuldeep Yadav, Jasprit Bumrah, Yuzvendra Chahal
New Zealand (Playing XI): Martin Guptill, Colin Munro, Kane Williamson(C), Tom Bruce, Glenn Phillips(w), Henry Nicholls, Colin de Grandhomme, Mitchell Santner, Tim Southee, Ish Sodhi, Trent Boult
21.25 IST: PITCH REPORT - Simon Doull and Sunil Gavaskar say footprints are visible, hence there will be spin available. They reckon with the revised conditions the spinners might not come in play. Opines the ground and the outfield looks really beautiful.
New Zealand wins the toss, elects to bowl first #INDvNZ pic.twitter.com/mWwN0Yv0YV

— BCCI (@BCCI) November 7, 2017
21.20 IST: Virat Kohli says he wanted to bowl first. He feels it is a damp wicket. He expects it to have moisture. He admits they would come out and hope to bat well and put the opposition under pressure. Informs they have two changes Axar Patel and Mohammed Siraj go out. Kuldeep Yadav and Manish Pandey come in.
21.18 IST: Kane Williamson says they will bowl first. Admits they would want to see how the surface plays. Mentions it is a decider and they will try and pick early wickets to put India under pressure. Informs there is one change in the side, Adam Milne is replaced by Tim Southee as he is a little sick.
21.16 IST: TOSS - New Zealand win toss, opt to bowl first.
21.10 IST: Here's the official update - Toss at 9:15 PM and start at 9:30 PM. It will be a 8 overs per side game. The playing rules have been changed and four bowlers can now bowl two overs each.
21.08 IST: 
Play to start at 9.30 PM IST. 8 overs a side #INDvNZ pic.twitter.com/WvzHDBFS41

— BCCI (@BCCI) November 7, 2017
21.04 IST: 
UPDATE - Toss at 9.15 PM IST #INDvNZ pic.twitter.com/Nkp5JhDx91

— BCCI (@BCCI) November 7, 2017
20.56 IST: Players have started warming up. That's a positive sign - Ravi Shastri, Bharat Arun and a few New Zealand players are near the pitch.
20.49 IST: Inspection confirmed at 9 PM
20.45 IST: 
UPDATE - Inspection at 9 PM IST #INDvNZ pic.twitter.com/D3QuEmSlXB

— BCCI (@BCCI) November 7, 2017
20.40 IST: All the covers have been removed from the ground, both the camps are having a close look at the playing surface.  
20.35 IST: The inspection will take some time as it has been raining since noon. Interestingly, the main square is still under covers.  
20.28 IST: 
UPDATE: The rain has stopped and the covers are coming off now #INDvNZ

— BCCI (@BCCI) November 7, 2017
20.25 IST: GOOD NEWS! Covers are being taken off as the drizzle has finally been stopped.
20.20 IST: 
Love the energy of the ground staff here, actually running to take the covers off. Ensuring that no extra time needed once the drizzle stops

— Harsha Bhogle (@bhogleharsha) November 7, 2017
20.10 IST: 
Huge cheer as ground staff enter the ground. Some of them wave to the crowd too! Still drizzling but good idea to get water off the covers

— Harsha Bhogle (@bhogleharsha) November 7, 2017
20.00 IST: Groundsmen have come back to the field again, armed with buckets and mops. However, the drizzle has reduced, but's it's still on .
19.55 IST: The last time the city of Thriruvanthupuram hosted an international match was on 25 Jan 1988 - an ODI vs WI (India lost by nine wkts). 
19.40 IST: It's still drizzling quite heavily, the cut-off time for a 5-over match is 10:15 PM
19.30 IST: We might lose some overs now as the game has not yet started.
19.25 IST: 
#TeamIndia boys enjoying a game of football as rain plays spoilsport #INDvNZ pic.twitter.com/iHsBBPoDKg

— BCCI (@BCCI) November 7, 2017
19.20 IST: 
Rain delays start of play in the 3rd T20I against New Zealand #INDvNZ pic.twitter.com/p5fXdwrApO

— BCCI (@BCCI) November 7, 2017
19.15 IST: India have never beaten New Zealand in a Twenty20 International series.
19.10 IST: The Indian players are keeping themselves busy with a game of football on the outfield, whereas, the visitors haven't bothered to turn-up as yet.
19.00 IST: Virat Kohli needs 57 runs more to complete 2000 runs in T20 Internationals.
18.56 IST: More covers are coming on other parts of the field, except the square which was kept exposed for all this while. Now, even that is being covered.
18.55 IST: Sehwag to India TV: India will bounce back as a wounded tiger in the 3rd T20I
18.51 IST: Sehwag to India TV - India can play with one more extra bowler. The hosts can play Dinesh Karthik or Manish Pandey instead of out-of-form Hardik Pandya in the 3rd ODI. Dinesh Karthik and Manish Pandey can perfectly play the role in the lower middle order.
18.45 IST: Sehwag to India TV - Jasprit Bumrah, Bhuvneshwar Kumar and Yuzvendra Chahal will play an important role in the series decider.
18.40 IST:
Greenfield Stadium becomes the 19th venue to host a T20I in India #INDvNZ pic.twitter.com/ORPjMf86wS

— BCCI (@BCCI) November 7, 2017
18.35 IST: India TV cricket expert and former India opener Virender Sehwag says India have that strength and power to beat New Zealand in T20 cricket. If India manage to sort out their batting order, we will win the series. India need to play carefully against Trent Boult. 
18.30 IST: 
UPDATE - Toss delayed due to rain #INDvNZ pic.twitter.com/inOG4Y8uf7

— BCCI (@BCCI) November 7, 2017
18.20 IST: The drizzle is still on, resulting in a delay of Toss.
18.10 IST: 
Hard task to beat these two legends in a race. #triedmybest @BCCI pic.twitter.com/FE3PFZXTBS

— Akshar Patel (@akshar2026) November 6, 2017
17.56 IST: 
#HappybirthdayVirat pic.twitter.com/SeFCAxttIG

— BCCI (@BCCI) November 4, 2017
17.55 IST: 
#HappyBirthdayVirat @imVkohli pic.twitter.com/NiryfZNhqP

— BCCI (@BCCI) November 5, 2017
17.45 IST: 
Brief Preview - Mahendra Singh Dhoni's batting position will be under spotlight as India aim to go for the kill against a gutsy New Zealand in the third T20 International despite weather threatening to play spoilsport. The series is levelled at 1-1 and just like the preceding Australia series, where the series decider T20 at Hyderabad was a washout, there are chances that the 'winner takes it all' encounter against the 'Black Caps' could meet same fate with forecasts of rain by the Meteorological department. The Virat Kohli-led India team has been on a roll in recent times but has faced stiff resistance from an enterprising New Zealand, usually known to punch above its weight. 
It will be nearly three decades (29 years) since the city witnessed an international match and it has become all the more significant after calls to replace Dhoni from the shortest format gaining momentum. (READ FULL PREVIEW HERE)