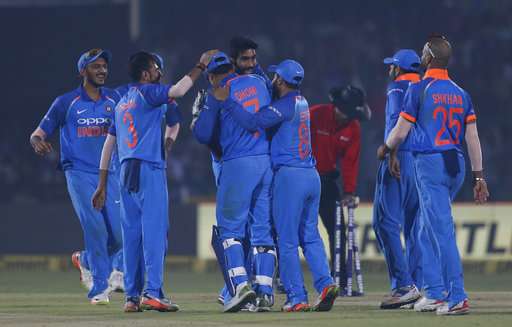 Finally, India broke the jynx as they beat New Zealand to register their first win in T20Is at Feroz Shah Kotla, Delhi on Wednesday.  With this win, India have taken a 1-0 lead in the three-match series. The world no.1 ranked side in Twenty20 internationals New Zealand got outplayed completely by India in the first game of the three-match series in Delhi. New Zealand's bowling and fielding weren't up to the mark which resulted in India posting a massive total on the board. In reply, the visitors lost both their openers cheaply and then there wasn't much fight shown. Once again it was only Tom Latham who looked capable of countering the Indian bowlers as the rest struggled. The Indian spinners, Chahal and Axar, were exceptional under tough conditions and together they hunted down 4 wickets for just 46 runs in 8 overs.(SCORECARD)
HIGHLIGHTS FROM INDIA VS NEW ZEALAND, 1ST T20I AT FEROZ SHAH KOTLA
22.41 IST: 
Farewell to the man of the moment - Ashish Nehra #ThankYouAshishNehra pic.twitter.com/onuPCxU4r6

— BCCI (@BCCI) November 1, 2017
22.35 IST: Ashish Nehra says that he will miss all this and one thing which will be relaxed now is his body. Feels that it cannot get bigger than this. Nehra says he must have bowled most number of last overs and is glad that today it was an easy one, with plenty needed. Goes on to say that cricket has changed a lot from the time he made his debut. Adds that rules have changed, scoring rate and believes that Indian cricket is in good hands. Says that he doesn't want to compare teams he has been a part of and feels it will be unfair. Considers his bowling performance against England in the 2003 World Cup will remain in his mind, also his last over in Karachi, and some will remember his last over against South Africa in the 2011 World Cup (which India lost).
22.32 IST: 
#ThankYouAshishNehra pic.twitter.com/pFqybGkFXJ

— BCCI (@BCCI) November 1, 2017
22.25 IST: Great scenes out there! It's all about Ashish Nehra at the moment. His teammates are shaking hands and hugging him. A great bowler has called it quits. He will be happy to leave on a winning note, a win over the Kiwis, India's first in this format. Nehra is now taking a lap of honour with the Indian players clapping behind. Thank you, Nehra! It's an emotional moment for the local man.
22.21 IST: ALL OVER! Nehra steams in one final time and bowls a low dipping full toss outside off, Sodhi swings and misses. Big smile on Nehra's face! He is being congratulated by the Kiwi batsmen out there and also his teammates. INDIA WIN BY 53 runs!  
Last ball of Nehra's career, the crowd is behind him...
22.19 IST: FOUR! Nicely played by Sodhi. He just gets forward to a full ball and lifts it over mid-off for a boundary. NZ 146/8 in 19.3 overs
Huge roar! It's ASHISH NEHRA to bowl the final over. Can he sign off with a few wickets?
22.17 IST: SIX! Into the stand this time. A full toss by Bumrah and it has been sent packing over long on for a biggie. 16 from the over. NZ 142/8 in 19 overs
22.16 IST: FOUR! Shot! Full in length and on middle, Santner clears his front leg and rockets his heave over mid-wicket. It falls just before the rope as it screams past it. NZ 136/8 in 18.5 overs
22.15 IST: 
How's that for footy skills from our very own Nehraji? What do you make of that @YUVSTRONG12 ;) #INDvNZ pic.twitter.com/YaTeJk5d0t

— BCCI (@BCCI) November 1, 2017
22.13 IST: Played through mid-wicket by the batsman. They run through for a single. 11 runs from the over.  NZ 126/8 in 18 overs
22.10 IST: SIX! Clears the rope this time. It's full and around leg, Santner whips it across the line and sends it towering over square leg for a biggie. Santner having some fun at Kumar's expense. NZ 125/8 in 17.3 overs
Bhuvneshwar Kumar is back on.
22.08 IST: FOUR! Good delivery but it has gone for a boundary. Bumrah angles in a full length ball on off, shaping back in a shade, Sodhi tries to defend but it catches the outside edge and runs fine to third man for a boundary. Another 10-run over! NZ 115/8 in 17 overs
Ish Sodhi walks in next.
22.07 IST: OUT! Edged and gone! Southee once again tries to attack Bumrah's delivery which is on a length outside off. He swings firmly but bottom edges it behind to Dhoni. He is not dropping those sitters. NZ 111/8 in 16.4 overs
22.03 IST: EDGY FOUR! Floated full ball outside off, Southee throws his heart and soul behind that shot and edges it over first slip for a boundary. 10 from the over, along with a wicket! NZ 105/7 in 16 overs
21.59 IST: OUT! Stumped! Final nail in the coffin. A well-disguised googly by Chahal, around off and Latham dances down the track without picking the variation. He swings and ends up missing it completely. MS Dhoni doesn't need a second invitation. India on the brink of winning their first T20I game against the Kiwis! NZ 99/7 in 15.3 overs
21.58 IST: FOUR! A googly outside off, full and turning away, Latham goes hard at it and edges it past short third man for a boundary. He is fighting a lone battle. NZ 99/6 in 15.1 overs
Tim Southee walks in at number 8, replacing Nicholls.
21.56 IST: OUT! Bull's eye from Kohli and Nicholls is a goner! Nothing going right for New Zealand tonight. Nicholls pushes this towards mid off and takes off for what seems to be an easy single. But he took on one of the panthers in the Indian cricket team - Virat Kohli who chased the ball down like a panther tracks its prey. Picks the ball up in a flash and boom. Onto the stumps like an arrow leaves the bow. The LED bails illuminate and Nicholls continues running towards the dressing room. NZ 94/6 in 14.4 overs,
21.55 IST: FOUR! Misfield in the deep by debutant Shreyas Iyer. Short in length and on middle, Henry pulls it across the line in front of square leg. Shreyas Iyer charges towards the ball from deep mid-wicket but it spins away from him at the last moment. He tries to recover but it's all too late. The ball has touched the fence and Iyer signals that to the umpire. Virat Kohli is all smiles, he knows that the young man will be having nerves and will be too eager at the moment. NZ 94/5 in 14.2 overs
21.52 IST: Another dew break. Meanwhile, Jasprit Bumrah is back on.
21.51 IST: Goes down on one knee and sweeps it fine down the leg side for a couple of runs. 6 runs from the over. NZ 90/5 in 14 overs
Henry Nicholls walks in next. He played a handy cameo in the last ODI and is surely capable with the bat. But I'm afraid that he has too big a task ahead.
21.47 IST: OUT! Another one bites the dust! Patel tosses this one in the air and drops it slightly short on middle and off, de Grandhomme goes down on one knee and tries to smoke it over the leg side. But he ends up top edging it towards deep square leg. Dhawan does well to keep his eyes on the ball and catches it safely. It's not easy out there for the fielders. 4-0-20-2, exceptional bowling by Axar! NZ 84/5 in 13 overs
Colin de Grandhomme is the new batsman.
21.45 IST: OUT! Bruce finds Rohit with surgical precision! Axar Patel gets his first wicket in his last over. A flighted full ball on off, Bruce kneels to slog sweep it over the leg side but fails to clear the rope. It falls straight down Rohit Sharma's throat at deep mid-wicket. He makes no mistake and New Zealand continue to struggle. NZ 83/4 in 12.4 overs
21.42 IST: 9 runs from the over but New Zealand need a lot more at the moment. NZ 80/3 in 12 overs
21.40 IST: SIX! Up and over! Chahal drags his length short and Latham goes deep inside the crease with his pull shot. Plays it with the spin and clears the mid-wicket fielder. A biggie for NZ! NZ 77/3 in 11.2 overs
Yuzvendra Chahal is back on.
21.39 IST: 6 runs from the over, the visitors are struggling at the moment to find the boundary. NZ 71/3 in 11 overs
21.35 IST: FOUR! Slapped away! Bruce is already making space by moving towards leg and Pandya delivers it short and wide outside off. Tom chases it and whacks it over point. Nearly goes all the way. Just one bounce into the fence. NZ 65/3 in 10 overs
21.33 IST: FOUR! That's a poor delivery and duly punished. Latham is particularly strong square of the wicket on both sides.  NZ 59/3 in 9.3 overs
Tom Bruce is the new batsman.
21.31 IST: OUT! Hardik Pandya is having a dream time in the international circuit. Whatever he does is producing results. He has already taken a stunning catch in the field and now has hunted down the Kiwi mainstay. Harmless delivery, it's short and outside off, Williamson stands back to force it through the line but gets a thick outside edge behind. Dhoni is alert and does the rest. New Zealand's chase going nowhere at the moment. NZ 54/3 in 9.1 overs, chasing 203 
Hardik Pandya into the attack.
21.30 IST: Good over from Axar, 6 runs from it. NZ 54/2 in 9 overs
21.27 IST: Dropped by Kohli! Poor Nehra, this is the second chance which has gone down off his bowling. A length ball on middle and off, Williamson tries to chip it down the ground but fails to get the desired elevation. Kohli at the edge of the mid off circle times his jump nicely but fails to hold on to the catch. It rolls behind and the Indian skipper chases it down. A couple taken. NZ 48/2 in 8 overs
21.24 IST: FOUR! Good attempt by Axar but all in vain. Short in length and around middle, Williamson gets on top of the bounce and pulls it powerfully behind square leg. Patel runs across to his right in the deep, puts in a dive as well but fails to keep it inside the rope. NZ 44/2 in 7.3 overs
Bowling change. Ashish Nehra is brought back into the attack
Dew break! As we saw in the first innings, the game has been stopped as the groundsmen are clearing the dew on the ground. Not sure how much those ropes help...
21.20 IST: Good first over from Axar Patel, 5 runs from it. NZ 38/2 in 7 overs
Axar Patel to roll his arm now
21.16 IST: Unplayable delivery by the 'King of Swing'...Bowls it on a length around off, nipping away off the seam, Latham tries to flick on the leg side but is beaten by the swing. Beauty to end the Powerplay overs, New Zealand are 33/2 in 6 overs
21.14 IST: SIX! Cheeky by Williamson! You normally don't see him play those shot but it's the demand of this format. Kumar angles it into the batsman, Kane gets down and across before lifting it over short fine leg. The connection made is stupendous and it goes all the way. NZ 30/2 in 5.2 overs
21.12 IST: Excellent over from Bumrah, 6 runs coming off it. NZ 24/2 in 5 overs
21.09 IST: EDGY FOUR! Bumrah is bowling beautifully. Delivers an outswinger to Latham, around off and the Kiwiwicketkeeper-batsmann is lured into the shot. He pokes at it and edges it past Dhawan at slip for a boundary. NZ 23/2 in 4.3 overs
Jasprit Bumrah is into the attack now.
21.07 IST: Length ball angling away from the batsman, Latham drives it off his front foot to covers. Only 3 from the over and a wicket as well. NZ 18/2 in 4 overs
Tom Latham is the new batsman.
21.06 IST: OUT! That's a corker! Kumar has breached Munro's defense with a toe-crusher. It's an accurate delivery, right in the blockhole, Munro tries to dig it out but is late in bringing his bat down. It sneaks right through to light the stumps. Nothing much a batsman can do about that delivery. NZ 18/2 in 3.4 overs
Bhuvneshwar Kumar comes into the attack.
21.01 IST: Pandya drops a relatively easier chance than the last one! Munro serves a short ball wide outside off, Colin advances down the track and throws his bat at it. It flies square of the wicket on the off side, Pandya backtracks from cover-point but fails to hang on to the catch. A single taken. NZ 15/1 in 3 overs
20.59 IST: Top fielding, Chahal! Nehra bowls an off-pace delivery, short and wide outside off, Munro slaps it over extra cover and Chahal gives the chase from the circle. He does well to pull it back just before the rope and saves two runs for his team. NZ 12/0 in 2.4 overs
20.56 IST: Dropped by Dhoni? Nehra angles in a good length ball on middle and leg, Munro charges forward and across to heave it on the leg side but fails to make proper connection. It deflects off his thigh pad and Dhoni behind flies to his right. Fails to hold on and they cross. Given as a run, so maybe there was an inside edge or gloves. Replays aren't conclusive enough. NZ 8/1 in 2.1 overs
20.55 IST: Flighted and on off, defended to the off side from the front foot. 2 runs and a wicket from the over, excellent start by Chahal! NZ 7/1 in 2 overs
Kane Williamson is in at number 3
20.52 IST: Stunner by Pandya! Take a bow, Superman! Chahal provides the first breakthrough but it's more due to this miraculous piece of catching. Tossed up ball on middle, Guptill tries hammering it down the ground but fails to middle it properly. It goes straight up in the air, Hardik Pandya sprints across to his right from long off and puts in an exceptional dive to catch the ball. The crowd goes bonkers. What a catch!  NZ 6/1 in 1.3 overs, chasing 203 
Yuzvendra Chahal to bowl from the other end. A slip in place for Colin Munro.
20.49 IST: Tidy start from Ashish Nehra, 5 came off the over. 5/0 in 1 over
20.47 IST: FOUR! Shot! All power. Nehra keeps it short and outside off, Guptill flat-bats it down the ground, past mid off and it speeds away to the fence. NZ 5/0 in 0.4 overs
20.43 IST: Back for the chase! The Kiwi openers, Martin Guptill and Colin Munro stride out. It's the man of the moment, Ashish Nehra to kickoff proceedings for India from the 'Ashish Nehra End'. A slip in place. Here we go...
20.32 IST: 
Innings Break! #TeamIndia 202/3 in 20 overs (Rohit 80, Dhawan 80) #INDvNZ pic.twitter.com/K0cLOsw7kt

— BCCI (@BCCI) November 1, 2017
20.30 IST: That's a chance missed! Full ball outside off, Virat Kohli looks to finish the innings off with a bang. Doesn't get the desired distance on it and it's falling deep in the cover region. Two fielders there, one from deep cover and the other from wide long off, rush in towards the ball, there's total confusion and nobody ends up taking it. The batsmen take a single and with that, INDIA FINISH ON 202/3 in 20 overs
20.28 IST: SIX! Now MS Dhoni is into the action, wastes no time to get going. Typical of him, he stays back to this length ball and muscles it into the mid-wicket stands for a biggie. IND 198/3 in 19.3 overs
20.25 IST: SIX! Oh Virat Kohli, you little beauty! My word... What a hit! Short of a length on off and Kohli charges towards it like a raging bull. He goes across the line and heaves it high and handsome over the mid-wicket fence for a maximum. IND 191/3 in 19.1 overs
MS Dhoni is the next man in.
20.23 IST: OUT! Rohit Sharma is dismissed! But after a lot of drama. Full ball speared across, Rohit looks to squeeze it square on the off side and there's a noise as the ball passes the bat. Big appeal from the keeper and the bowler as they think there's an edge. The umpire isn't sure, so he checks it upstairs. And replays show that the noise was of the bat hitting the ground. Seemed like Rohit would survive, but then New Zealand are adamant they have their man so they review. And this time Snicko is brought into play. It shows that Sharma has edged it and he's gone. IND 185/3 in 19 overs
20.21 IST: FOUR! Off cutter outside off, Sharma doesn't pick it up but still goes through with the big shot. Gets it off the edge and it goes over backward point for a boundary. IND 185/2 in 18.5 overs
20.18 IST: SIX! What. A. Hit. Shortish ball around off, Virat Kohli stands tall and brings out the pull shot. Hits it very well this time as it skies over the mid-wicket rope for a biggie. IND 180/2 in 18.2 overs
Trent Boult back on.
20.16 IST: In the air... but it's dropped! Seems Guptill has misjudged that. In his defence, it dipped on him quite late. Length ball around off, Kohli lifts it across the line over mid-wicket. Martin runs in from the deep, doesn't judge it well and it bursts through his finger as he dives forward. Single taken. 14 off the over. IND 174/2 in 18 overs 
20.15 IST: SIX! BOOM! Take that, Colin! Virat Kohli taking no time to settle in. Fuller ball on off, the Indian skipper stands firm and clobbers it over the long on boundary for a biggie. IND 171/2 in 17.3 overs
20.14 IST: FOUR! Another top edge and another boundary. Tossed up on middle, Sharma gets low to sweep but gets a top edge which flies behind on the leg side. Over short fine leg's head and away to the fence. IND 164/2 in 17.1 overs
20.13 IST: Short and wide outside off cut square of the wicket for a run. This could be a game-changing over for New Zealand, two runs and two wickets have come in it. IND 170/2 in 17 overs
Skipper Virat Kohli arrives.
20.12 IST: OUT! The dangerous Pandya is gone! Ish Sodhi with his second of the over, a terrific delivery. Lands it on off and gets a lot of turn and bounce, Pandya hangs his bat to defend and the ball takes a feather behind. Latham takes it and appeals. The umpire raises his finger and the Indian all-rounder is sent back. IND 158/2 in 16.4 overs
Hardik Pandya walks in at No.3. He's a hitter, everybody knows that, hence the promotion. He has the license to go berserk.
20.10 IST: OUT! A wicket finally falls and it's Ish Sodhi who's provided the breakthrough. Lovely googly around off, Dhawan is down the track to hit it but it spins away from him and Latham behind the stumps takes the bails off with ease. Dhawan departs, but not before he's played a scintillating knock. IND 158/1 in 16.2 overs
20.08 IST: Another massive over for the hosts, 18 runs from it. IND 158/0 in 16 overs
20.07 IST: FOUR! Boult has been all over the place today, hasn't been let off the hook too. Low full toss around off, Dhawan smacks it straight back past the bowler and gets another boundary to his name. IND 155/0 in 15.5 overs
20.06 IST: FOUR! 150 comes up for India. Off cutter on middle and off, Dhawan moves inside the line and slogs it over the square leg region. Nobody out there and it's gone all the way for a boundary. IND 151/0 in 15.3 overs
20.04 IST: TOP EDGED AND SIX! Think the message from the dugout is clear, either go after it or get out. Length ball on middle and leg, Sharma looks to play the scoop shot and gets a thick top edge. It's enough as it takes it all the way over the fine leg boundary for a maximum.. IND 146/0 in 15.1 overs
20.02 IST: FOUR! Another one! This has turned out to be an expensive over for the Kiwis. Rohit leans into the full ball nicely and drives it sweetly through the covers for a boundary. 15 runs from the over. IND 140/0 in 15 overs
20.00 IST: FOUR! Much more in control this time. Short and flat and Rohit latches onto this with a fearsome pull. Bangs it through mid-wicket and picks up a boundary. IND 135/0 in 14.3 overs
19.59 IST: SIX! Fifty for Rohit Sharma! Slider around leg, and this is a big hit. Rohit Sharma makes room for himself and with all his might, sends it over long on for half a dozen. Pure power, that. IND 131/0 in 14.2 overs
19.57 IST: Another time-out in this game. The players are taking some refreshments as the groundstaff is out working on the dew again. A lot of it out there, only going to get worse as the game progresses. Also, Mitchell Santner is back into the attack.
19.56 IST: SIX! That's right out of the screws! What a hit, stupendous shot! Length delivery going across Shikhar Dhawan, he swings his bat across the line and right from the meat of the bat, launches it into the mid-wicket stands for a maximum. IND 125/0 in 14 overs
Tim Southee is back.
19.53 IST: Tossed up leg-spinner outside off, driven through to sweeper cover for a run to end the over. Good over for India, 14 runs from it. IND 114/0 in 13 overs
19.52 IST: FOUR! Floated up around off, Dhawan kneels down and drags the slog sweep over mid-wicket. Clears the infield and beats the man in the deep to pick up another boundary. With this, Dhawan has now made his highest score in T20 Internationals. IND 110/0 in 12.2 overs
19.51 IST: 
FIFTY! @SDhawan25 brings up his 3rd T20I 50 #INDvNZ pic.twitter.com/1Qp4dBDoEX

— BCCI (@BCCI) November 1, 2017
19.50 IST: SIX! Saw it pitched marginally short, so Dhawan made good use of the depth of the crease to his advantage. Rocked back in jiffy and deposited it over the mid-wicket fence with a pull. IND 106/0 in 12.1 overs
Ish Sodhi to bowl again.
19.49 IST: The 100 is up for India. A good start for India. It's come with a drive to long off for one run. IND 100/0 in 12 overs
19.47 IST: FIFTY! Streaky way to bring it up but he's done it anyway. 3rd T20I fifty for Shikhar Dhawan! Shorter around off, skidding across, Dhawan looks to put bat on ball and gets an inside edge which whiskers past the leg stump towards short fine leg. A quick single is taken to get to the milestone. IND 96/0 in 11.2 overs
19.45 IST: FOUR! That's right in his arc and Sharma dispatches it. Full on the stumps, it's hammered straight back over the bowler's head for a rocketing boundary. IND 94/0 in 11 overs
19.43 IST: SIX! He's hit that with a lot of power, has enough to clear the fence. Length ball on off, Sharma just muscles this down the ground. It's high in the air and has the distance on it this time. Easily sails into the stands for a biggie. IND 87/0 in 10.2 overs
Colin Munro on to have a go.
19.42 IST: Rohit gets close to the pitch and mistimes the drive to long off for one. 6 singles from Sodhi's over. IND 80/0 in 10 overs
19.39 IST: FOUR! That's timed to perfection once more, Dhawan has been doing that all evening so far. Full and fired outside off, Dhawan drives it through the covers and beats the man in the deep. IND 74/0 in 9 overs
19.38 IST: No ball! Another no ball, it's slipped out again. High full outside off, Sharma gets an edge which goes past the keeper and a run is taken. The umpire has a word with Williamson, tells him probably this is the last warning. Colin won't be taken off though, despite it being the second of the over, as it wasn't dangerous to the batsman in any way. IND 70/0 in 8.5 overs
19.36 IST: No ball! That's a beamer! Not intentional though, it just slipped out of his hands. The dew is heavy out there. Goes right over the batsman and the keeper behind, all the way to the boundary line. Five runs in total, a Free Hit on the way now... IND 66/0 in 8.4 overs
19.33 IST: Tossed up delivery outside off, Rohit pushes it into the covers. Brilliant first over from Sodhi, just 3 runs from it. IND 56/0 in 8 overs
Ish Sodhi introduced into the bowling attack.
19.29 IST: So much dew that the groundsmen are out with the big rope and the Super Sopper doing its thing as well.
19.28 IST: FOUR! 50 up for India. Dhawan marches on! Fuller length ball on middle, he gets low and sweeps it through backward square leg for a boundary. IND 53/0 in 7 overs
19.26 IST: DROPPED! Rohit Sharma is the one who gets a life this time 'round. Fuller ball around off, Rohit looks to clear long off but doesn't get the desired distance. Right to Southee who settles under it, but it slips right through his hands. Possibly the dew playing its part already, but now both openers survive a scare. Single taken.
Colin de Grandhomme is on to bowl
19.25 IST: FOUR! Takes the aerial route and gets the desired result. Sharma goes inside out to this fuller ball and lofts it over the covers to end the over with a boundary. 46/0 in the Powerplay, a decent one for the hosts. IND 46/0 in 6 overs
19.22 IST: Signs of life from the wicket! Santner drops it on middle and off, back of a driving length and it turns and grips. Beats the outside edge of Rohit's hanging bat and goes into the keeper's gloves. IND 38/0 in 5.1 overs  
Mitchell Santner is back into the attack.
19.21 IST: Good length delivery aiming the top of off stump, steered straight to point and that'll be the end of the over.  IND 38/0 in 5 overs
19.18 IST: FOUR! That's a lazy effort from Ish Sodhi! Dhawan just places this behind point and it's rocketing off the surface. The leggie at third man runs to his left, slides and gets his hand to it as well, but it still somehow goes under it and touches the rope. Southee is seen shaking his head, rightly disappointed with the effort. IND 36/0 in 4.2 overs
19.16 IST: FOUR! Shot! Boult has been a little expensive so far. It's outside off with some width on offer, Dhawan cuts it nicely past Martin Guptill, who's dive is rendered useless. It goes all the way to the boundary line. IND 30/0 in 4 overs
19.15 IST: FOUR! Dhawan puts away another bad delivery. It's angling down leg on a shorter length, the left-hander pulls it away and across the fine leg fence for a boundary. IND 26/0 in 3.3 overs
19.13 IST: Slightly fullish in length and outside off, Dhawan drives it towards mid off for no run. IND 21/0 in 3 overs
19.11 IST: SIX! Top edge but it's gone all the way! The boundaries here are small so expect a lot of 'em to fly all the way, even if no proper connection is made. Short and well outside off, Rohit Sharma throws his hands at the width and gets a big top edge. Flies towards third man and just about goes over a leaping Trent Boult. Nice effort, timed the jump well too. Went just over him. IND 20/0 in 2.3 overs
Tim Southee into the attack now.
19.08 IST: Back of a length outside off, run down to third man for a single. IND 13/0 in 2 overs
19.07 IST: DROPPED! You've got to take those at this level, should have been taken. Shikhar Dhawan is a dangerous customer and he can make you pay. Short and wide outside off, the southpaw flays it and hits it straight to Santner at point. He tries taking it over his head but can't keep a hold of it. It goes behind and two runs are taken. Virat Kohli was dropped in the ODI series and he made them pay. Will we see the opener do the same here today? IND 12/0 in 1.5 overs
19.06 IST: FOUR! Consecutive boundaries! Just what India needed after a tight first over. Fraction straight in line, that's all Dhawan needs as he flicks it away sweetly through backward square leg for another boundary. IND 10/0 in 1.3 overs
19.06 IST: FOUR! Errs in line and it's put away without any problem. Angling down the leg side, Dhawan just has to get something on it and he puts his gloves into work. It goes off them and away to the fine leg fence for a boundary. IND 6/0 in 1.2 overs
Trent Boult will bowl from the other end.
19.04 IST: Short and flat on middle stump, firmly punched back to the bowler. Tidy start from New Zealand, just 2 runs from the first over. Live Score - IND 2/0 in 1 over
19.00 IST: New Zealand are beginning with the spin of Mitchell Santner. Rohit to take strike. A slip in place. Third man and fine leg inside the ring. Long off in place. All set, here we go...
18.59 IST: It's time to play the game! Shikhar Dhawan and Rohit Sharma are making their way out to the middle.
18.56 IST: Both teams along with the officials have made their way out in the middle for the respective National Anthems.
Proud moment for young Shreyas Iyer as he receives his T20I cap from @RaviShastriOfc #TeamIndia #INDvNZ pic.twitter.com/6Men3m6ciz

— BCCI (@BCCI) November 1, 2017
18.45 IST: Playing XIs
India: Rohit Sharma, Shikhar Dhawan, Virat Kohli (C), Shreyas Iyer, MS Dhoni (WK), Hardik Pandya, Axar Patel, Bhuvneshwar Kumar, Ashish Nehra, Jasprit Bumrah, Yuzvendra Chahal
New Zealand: Martin Guptill, Colin Munro, Kane Williamson (C), Tom Bruce, Tom Latham (WK), Henry Nicholls, Colin de Grandhomme, Mitchell Santner, Tim Southee, Trent Boult, Ish Sodhi
18.35 IST: Captain's corner
Virat Kohli: We would have bowled first as well because of the dew. Feels the outfield is quick and the ball will come onto the bat. Regarding the dew factor, the Indian skipper believes that it will be there from ball one and hence no extra advantage for any team. On this being Ashish Nehra's last match, Kohli replies that he has been a great servant of the game and is a true gentleman who is keen to help the youngsters around. Informs that Shreyas Iyer is making his debut today. On their team combination, Kohli answers that they are going in with two spinners and three fast bowlers with Hardik Pandya and Axar Patel providing the all-round options. Also adds that they are taking a chance by playing one batsman less and one bowler more.
VIDEO: Ashish Nehra given a memento by the team for his remarkable contribution to Indian cricket #TeamIndiahttps://t.co/3itQO1Ov5u pic.twitter.com/orHnyu3eUB

— BCCI (@BCCI) November 1, 2017
Kane Williamson: We are going to bowl, there is quite a bit of dew around. We are playing two frontline seamers and two spinners. It was a really good ODI series. Playing India in this part of the world is a stiff challenge. The boys are looking forward to it.
18.30 IST: TOSS! New Zealand win toss, opt to field vs India in Delhi. Shreyas Iyer handed his international debut
18.25 IST: Pitch Report - Murali Kartik doing the pitch report along with Simon Doull says there are all the makings of a cracker here. States the boundaries are quite small on both sides of the ground. Mentions there's a fair sprinkling of grass, but also feels the surface is a bit cold, tacky, and his nail is going in. Questions if the new ball bowlers and spinners get some purchase. Simon adds he's intrigued to know the combinations, whether the teams will go with two spinners or one. Reiterates that the deck has everything for an absolute whammy.
Brief Preview: Ashish Nehra running into bowl one last time at a place where it all began will form the sub plot as India aim to better their abysmal T20 record against New Zealand in the three-match series starting in New Delhi on Wednesday. The opening match at the Feroz Shah Kotla will be Nehra's last game in competitive cricket and India would look to bid a befitting farewell to the seamer, whose career has been characterised by many injuries and many comebacks. 
It is appropriate that the 38-year-old will be hanging up his boots in front of his home crowd and nothing would be sweeter than an Indian win against a team that has been their Achilles heel in this format. India have so far lost all their matches against New Zealand, the fifth and last one coming at the ICC World T20 in 2016. 
For a team that has stormed its way to the top of world cricket with wins over Australia, England and Sri Lanka, among others, this piece of statistic certainly sticks out like a sore thumb. That aside, India have been on a roll. (READ FULL PREVIEW HERE)