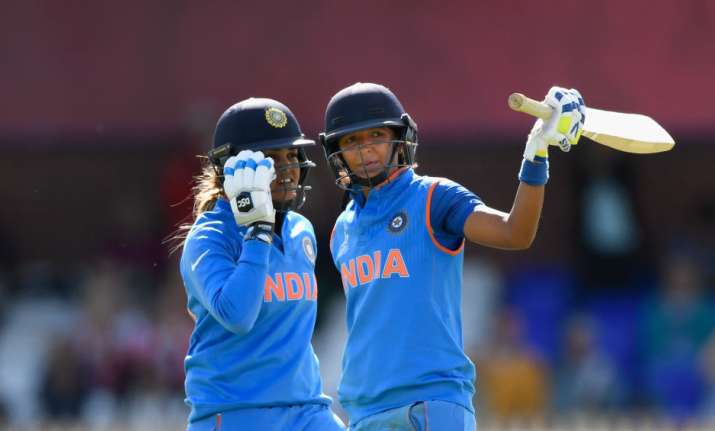 ICC Women's World T20, Match 1 of Group B: India beat New Zealand by 34 runs
India vs New Zealand, ICC Women's World T20, Group B, Match 1:
India announced their arrival in the tournament by scoring the highest total in Women's T20 cricket, 194/5, courtesy of captain Harmanpreet Kaur's blistering century. Along with youngster Jemimah Rodrigues' fifty, India were in cruise control as the duo stitched up a 134-run partnership. New Zealand were off to a quick start, but the Indian spinners saw them off in style as debutant Hemalatha's 3/26 and Poonam Yadav's 3/33 helped the Indian eves restrict New Zealand for 160/9, to win the tournament opener by 34 runs. 
Highlights, India vs New Zealand, ICC Women's World T20 Live from Guyana
23.40 IST: And that's a wrap! India beat New Zealand by 34 runs. A clinical performance by India, starting with Harmanpreet's blistering century, Rodrigues' fifty and with Poonam's 3/33 and debutant Hemalatha's 3/26 restricting New Zealand to 160/9. 
23.24 IST: FOUR! Smashed by Martin. They need 48 off 8 balls. The Kiwis aren't backing down just yet. NZ 147/6 in 18.4 overs
23.16 IST: OUT! Hemalatha removes Green for 2. Her third off the match and all thanks to Deepti with that fantastic catch. New Zealand Women 110/6 in 14.5 overs
23.10 IST: OUT! Reddy removes Bates for 66. India have caught the big fish. Her innings could have guided New Zealand to victory but she falls. New Zealand Women 98/5 in 13.4 overs
23.06 IST: OUT! Hemalatha removes Satterthwaite for 3. Her second in the match. New Zealand Women 93/4 in 12.4 overs
22.59 IST: FIFTY! Bates scores her 6th half-century of 39 balls and also becomes the leading run scorer in Women's T20I cricket. Can she lead Kiwis to a historic win? 9 more overs to play. NZ 81/3 in 11 overs. 
22.45 IST: Bates has been hammering as well. Some sloppy fielding and bowling by the Indian bowlers. She's in her 40's. 
22.39 IST: OUT! Hemalatha removes Peterson for 14. Her maiden T20I wicket as she absolutely dumbfounded Peterson. India Women 52/1 in 6.3 overs
22.38 IST: Sehwag is full off praise for the captain. 
Harmanpreet Kaur , wonderful hundred. Great bat swing in a really zordaar innings pic.twitter.com/lTfG5hsSkD

— Virender Sehwag (@virendersehwag) November 9, 2018
22.18 IST: 11 runs off the first over, including two boundaries. NZ 11/0 in 1 over
22.14 IST: And we're back with the chase. Bates and Peterson are out to open and Reddy will open the attack. Let's get started. 
NEW ZEALAND WOMEN NEED 195 RUNS TO WIN. 
22.04 IST: WOW! Just WOW! This is the highest T20 total in Women's history. Despite all odds, Harmanpreet has just shown the entire world what she is made off. A ton of just 49 balls which included 7 fours and 8 sixes! This will be a tough one for the Kiwis. New Zealand Women need 195 runs to win!  
22.04 IST: India Women 194/5 in 20 overs vs New Zealand Women in Match 1 of Group B. 
22.00 IST: HUNDRED! Harmanpreet Kaur has just done the impossible. Her maiden hundred T20I off 49 balls. What an innings. What a player! IND 193/4 in 19.3 overs
21.55 IST: SIX! A big one to end the over. Kaur is on 97 of 47 balls. IND 187/4 in 19 overs
21.54 IST: SIX! Kaur's in her 90's! This is unbelievable. IND 181/4 in 18.5 overs
21.53 IST: OUT! Watkin removes Rodrgues for 59. India Women 174/4 in 18.2 overs 
21.51 IST: SIX! She has been dealing only in boundaries! And why not! The skipper is fearless at the moment and is in her 80's. IND 172/3 in 18 overs
21.49 IST: FOUR! This has been one performance by Harmanpreet. The skipper leads from the front as she hammers away. IND 165/3 in 17.3 overs
21.48 IST: FOUR! A slow delivery and it's punished with sheer power. Hammered straight down the ground. IND 159/3 in 17.1 overs
21.46 IST: FOUR! Harmanpreet now owns the field. Excellent batting and a brilliant sweep shot. IND 155/3 in 16.4 overs
21.45 IST: FIFTY! Jemimah Rodrigues scores a half century off 40 balls. No one would ever have expected this after the first 7 overs. India Women 147/3 in 16.3 overs
21.43 IST: FOUR! Rodrigues smashes that and a one bounce to cross the fence. 
21.41 IST: 100 partnership for Rodrigues and Kaur. These two have brought on the heat and New Zealand would never have wondered to expect a hammering after collecting three early wickets. 
21.39 IST: FOUR! Tossed up by Kasperek and Harmanpreet on the back foot cuts that for a boundary. IND 138/3 in 15.4 overs
21.36 IST: FIFTY! Harmanpreet smashes a half-century off 33 balls. What an innings. Since her arrival, India have been on the front foot despite losing three early wickets. SHe hammered three 4's and four 6's. IND 122/3 in 14.3 overs
21.33 IST: FOUR! This is an expensive over by Satterwaithe and Harmanpreet is leaving no ball to waste. The fielder can't get to that and it's a boundayr. IND 116/3 in 14 overs
21.32 IST: SIX! Bang! Fourth one for Harmanpreet and she's in her 40's. Fifty partnership comes up for the two batswomen. Brilliant work. IND 112/3 in 13.3 overs
21.31 IST: SIX and 100 up for India! Third one for the skipper and she smashes the delivery. IND 106/3 in 13.4 overs
21.28 IST: FOUR! Cut across by Rodrigues, slices it perfectly as the fielder is just short of saving that. She's in her 40's now. IND 97/3 in 12.4 overs
21.23 IST: FOUR! Lofted to long on, Rodrigues is guiding India here. IND 85/3 in 11.2 overs
21.14 IST: SIX! That is gigantic! Once again the skipper steps in and hammers that. Second maximum of the over. IND 76/3 in 10 overs
21.12 IST: SIX! Smashed and gone! The skipper hammers. The first six of the tournament and the match. IND 67/3 in 9.2 overs
21.08 IST: FOUR! A full toss and that's punished by Rodrigues, fancy footwork as well to hammer that on Kerr's delivery. IND 56/3 in 8.2 overs
21.06 IST: FOUR! Around off, Rodrigues steps up to smash that straight down the ground. IND 50/3 in 7.1 overs
21.04 IST: Indeed a poor start from India, they've lost three early wickets within 6 overs. 
20.59 IST: OUT! Kasperek removes Hemalatha for 15. India Women 40/3 in 5.4 overs
20.50 IST: OUT! Tahuhu gets her second and opener Mandhana returns to the pavilion. Poor start for India. IND 22/2 in 3.2 overs
20.48 IST: FOUR! Rodrigues off the mark. IND 19/1 in 3.1 overs
20.47 IST: Youngster Jemimah Rodrigues comes into bat
20.40 IST: OUT! Tahuhu removes Taniya Bhatia for 9. India Women 9/1 in 1.1 overs
20.36 IST: FOUR! Second boundary of the over. Bhatia has just smashed that and the fielder at long off can't get to that. IND 8/0 in 0.3 overs
20.32 IST: FOUR! Bhatia open's India's account with a four behind square. What a start. IND 4/0 in 0.1 overs
20.31 IST: Bhatia and Mandhana are at the crease to open the scoring for India. 
20.10 IST: India Playing XI
S Mandhana, T Bhatia, J Rodrigues, H Kaur, D Hemalatha, M Raj, D Sharma, V Krishnamurthy, R Yadav, A Reddy, P Yadav
20.01 IST: TOSS! INDIA HAVE WON THE TOSS AND HAVE OPTED TO BAT vs NEW ZEALAND
19.48 IST: Dayalan Hemalatha will make her debut in T20Is!
Congratulations to Dayalan Hemalatha who is making her T20I debut for India today!#NZvIND #WT20 pic.twitter.com/tUZmpbAkX6

— ICC T20 World Cup (@T20WorldCup) November 9, 2018
19.40 IST: Team India's men's batsman Ajinkya Rahane wishes the girls all the best. 
Hey @BCCIWomen hear this message from @ajinkyarahane88. We are all supporting you. ✌🏽#WT20 pic.twitter.com/FGgJ3AY0IV

— BCCI (@BCCI) November 9, 2018
19.35 IST: India A coach and legend, Rahul Dravid sends a special message for the Indian eves. 
19.30 IST: The skipper thanks the Indian fans for their support.
Good luck to our team in the ICC World T20. Go well @ImHarmanpreet & Co.💪 😎 #TeamIndia pic.twitter.com/840F8ulEAs

— BCCI Women (@BCCIWomen) November 9, 2018
Hello and welcome to our live coverage of the ICC Women's World T20 Group stage match between India and New Zealand, live from Guyana. The Toss will take place at 8.00 PM IST and the match will begin at 8.30 PM IST. 
Squads: 
India Women: Mithali Raj, Smriti Mandhana, Jemimah Rodrigues, Harmanpreet Kaur(c), Veda Krishnamurthy, Dayalan Hemalatha, Deepti Sharma, Radha Yadav, Taniya Bhatia(w), Poonam Yadav, Anuja Patil, Ekta Bisht, Mansi Joshi, Pooja Vastrakar, Arundhati Reddy
New Zealand Women: Suzie Bates, Anna Peterson, Sophie Devine, Amy Satterthwaite(c), Katey Martin(w), Bernadine Bezuidenhout, Jess Watkin, Hayley Jensen, Amelia Kerr, KE Ebrahim, Holly Huddleston, Leigh Kasperek, Hannah Rowe, Lea Tahuhu, Maddy Green