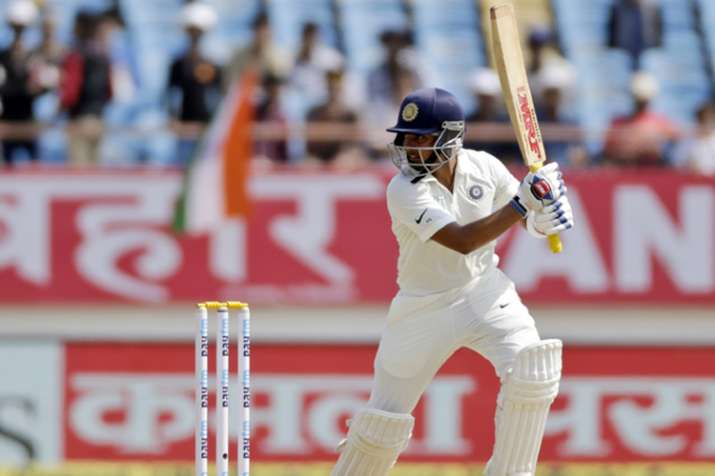 Live Cricket Score, India vs West Indies, 2nd Test, Day 3, Live Match: Hello and welcome to our live coverage of the 3rd day of the 2nd Test being played between India and West Indies at the Rajiv Gandhi International Stadium in Hyderabad. West Indies were 76 for 6 in their second innings at tea on the third day of the second and final Test against India here on Sunday. The visitors are 20 runs ahead overall with just four-second innings wickets in hand. India had scored 367 all out in their first innings in reply to West Indies' 311.Stay tuned with us for all the action for cricket score India vs West Indies 2nd Test. (SCORECARD) (BALL-BY-BALL COMMENTARY)
Live Score, India vs West Indies, 2nd Test, Day 3 from Hyderabad: IND 367 & 69/0, need 3 runs to win vs WI 311 & 127
*A comprehensive victory for India. It's not a frequent occurrence when a team score in excess of 300 in the first innings and still manages to lose the match in 3 days. The Windies opted to bat after winning the toss and the top order failed to get going. But, once again, it was the middle and lower middle order which came to the rescue. Chase and Dowrich made a 50-stand, which was then followed by a century partnership between the former and skipper Holder. Roston Chase went on to score a fine hundred, while Holder made a gritty fifty.​
17.16 IST: FOUR! Prithvi Shaw smashes the ball for a boundary and the young lad lead India for 2-0 series win over West Indies. 
*India need only 3 RUNS  to clinch the series
17.00 IST: FOUR! Runs needed now is below 20! Lovely shot! Slightly short and outside off, Shaw rocks back and punches it through covers for a boundary. IND 57/0 in 11.3 Overs
16.51 IST: FOUR! Rubbing salt to the wound this! Could have had Shaw on the last ball but is cut for four on the next one. A half-tracker outside off. PS cuts it past point and a boundary results.  IND 45/0 in 8.5 Overs
16.51 IST: LUCKY PRITHVI! Missed stumping! A very easy chance missed there Hamilton! Bishoo tosses it above the eye line. Shaw steps down the track and tries to go over long on. The ball turns and beats Shaw who is way down the track but fortunately for him, the keeper fumbles. He though has a second chance but fails to pick the ball again and dislodges the bails with his gloves.
16.46 IST: FOUR! Top edge but a boundary! A low full toss on the leg side, Rahul tries to paddle it but the ball takes the top edge and goes fine down the leg side for a boundary.  IND 39/0 in 7.1 Overs
16.41 IST: NO BALL! Holder has overstepped! On a length and around middle, kept out. IND 30/0 In 6.1 Overs 
16.30 IST: Review time! Prithvi Shaw escapes from LBW appeal from Holder. IND 25/0 in 4.1 Overs
16.29 IST: Excellent running between the wicket, five runs from the Warrican over. IND 24/0 in 4 Overs 
16.20 IST: SIX! All the way! Finally gets to the pitch of it and lofts it over mid off. The timing is such that the ball carries over the fence. India want to end this quickly. IND 14/0 in 2 Overs
16.15 IST: FOUR! Inside edge and FOUR! That was a superb delivery and Holder is just unfortunate here. Targets the top of off stump with a length ball, Shaw comes forward to defend but the ball takes the edge and runs to the fine leg boundary. That was close. IND 8/0 in 0.4 Overs
16.14 IST: FOUR BYES! Poor delivery. Holder spills it way down the leg side, too far for the keeper to reach even with a dive. It races away to the fine leg fence for a boundary. IND 4/0 in 0.2 Overs
*Pretty much India's match now. What a session for the home side. Incredible. They have bowled the Windies out inside two sessions with Umesh Yadav leading the charge again with a 4-wicket haul. He and Ashwin started things off and rocked the visitors early. There was some resistance provided, which involved Hope, Hetmyer, Chase, Ambris and Holder, all at different times of course, but it obvious enough. All the Indian bowlers chipped in with the wickets, with the pacer Yadav standing out as he got a 10-for in this game.
*India need 72 runs to clinch the two-match Test series 2-0 against West Indies.
16.02 IST: OUT! BOWLED! Yes, he can! A 10-fer for Umesh. His first in Tests. Just one ball of his new spell was what it took for him to get it. He bowls it full and outside off, Gabriel swings away from his body. The delivery takes the inside edge and disturbs the furniture behind. WINDIES ARE ALL OUT FOR 127! INDIA ARE GIVEN A TARGET OF 72! WI 127 all-out in 46.1 Overs
15.58 IST: OUT! BOWLED 'EM! There goes number 9 and it falls it Ashwin. The straighter one does the trick as Warrican plays inside the line. The ball goes past the outside edge and uproots the off pole. WI 126/9 in 45.2 Overs 
15.55 IST: FOUR! Frustrating this for the Indians. Short and outside off, Warrican cuts it through backward point for a boundary. WI 125/8 in 44.5 Overs
15.53 IST: FOUR! Back-to-back boundaries! Through the leg side this time. With the angle, Bishoo whips it through mid-wicket and the ball races away.  WI 119/8 in 44 Overs
15.52 IST: FOUR! Up and over! A little too full by Ashwin. Bishoo sees an opportunity to score and goes after it. Lofts it over mid off and a boundary results. WI 115/8 in 43.5 Overs
15.47 IST: Drinks are on the field. WI 110/8 in 43 Overs
15.35 IST: OUT! Three reds and that is plumb! Jadeja gets two in two overs. One would wonder why wasn't he given the ball a lot more. He is just into his 8th over and has got three. This is flatter and slightly shorter around middle. Ambris misreads the length as he tries to pull. The ball sneaks underneath his bat and hits the front pad. The player appeals and the umpire raises his finger. Ambris has no choice but to go for the review. Replays roll in and it shows no involvement of the bat and also, the on-field call is the right one. The last recognized batsman for the Windies is back in the hut after getting a start and the end is nigh for them. WI 109/8 in 38.5 Overs
15.25 IST: OUT! Now we know why the Indians were so confident. There is a spike on Snicko and Holder is given his marching orders. Judicious use of the review by the Indians. Jadeja strikes as he gets his second. The partnership which was starting to build has been cut short. Ravindra bowls it flatter around off, it pitches and straightens a touch. Holder lunges and tries to defend but does not account for the turn. There is a sound as the ball passes the bat. Pant takes it and he appeals as he feels there is an edge. The umpire though feels different. The Indians review immediately and replays show the on-field call has to be overturned. Windies are effectively 52 for 7 now. India would look to take the remaining wickets as quickly as possible as they are into the tail. WI 108/7 in 37 Overs
15.20 IST: Ravindra Jadeja is into the attack in place of Umesh Yadav. WI 106/6 in 34 Overs
15.09 IST! FOUR! Lovely shot! Very delightful to the eye! Holder plants his front foot across and then caresses it through covers for a boundary. The lead now is closing in on the 50-run mark. WI 104/6 in 32 Overs
15.03 IST: FOUR! Too fine! On the pads, Ambris tickles it away down the leg side and the ball races away to the fence. WI 99/6 in 30.3 Overs
14.59 IST: SIX! Boom boom goes Holder! Kuldeep tosses it up around off, Holder's eyes lit up as soon as he saw the flight. He clears his front leg and tonks it over the long on fence for a biggie. WI 95/6 in 29.4 Overs
14.57 IST: A late review for a caught behind. There was not a loud appeal for it, Kohli though asks someone and then signals the 'T'. Could be a masterstroke if the decision is overturned. Ambris is the man in question. WI 88/6 in 29.1 Overs
14.53 IST: FOUR! Nicely played! There was width on offer outside off, Ambris waits for it and then guides it through gully, no one in the deep and the ball crosses the third man fence. WI 85/6 in 28.3 Overs 
14.47 IST: We are back for what could probably be the last session of the game. Sunil Ambris and Jason Holder walk out to resume their innings. The Indians are out in a huddle and they now make their way to the middle. Kuldeep Yadav will start the proceedings for India. Here we go...
*Nothing went right for Windies in this session. They lost Brathwaite on the very second ball and kept losing wickets at regular intervals. There was a brief resistance, of 39, between Hope and Hetmyer but the two Yadavs shut that down too.
14.26 IST: Second Session Over! India in full control of the match after Umesh Yadav fierce spell. WI 76/6 in 27 Overs at TEA
14.25 IST: FOUR! Low full toss and Holder plays it for a boundary. WI 76/6 in 26.5 Overs 
14.20 IST: OUT! The off stump is out of the ground! Beautifully bowled again. Umesh Yadav is on the cusp of taking a hat-trick again and another fifer. The fast bowler bowls it really straight, around off, Dowrich looks to defend but gets a thin inside edge onto his pads, which deflects the ball to knock off the off stump. So WINDIES EFFECTIVELY ARE 14/6!!! WI 70/6 in 26.1 Overs
14.14 IST: OUT! BOWLED! A wicket just moments before Tea! The Windies have lost half their side. Umesh has his second. A length ball, around off, Chase looks to defend but the ball moves in ever so slightly, takes the inside edge, hits the pad, then deflects onto the off stump. Big blow to the visiting side. Chase was one man who could have hung around. WINDIES ARE EFFECTIVELY 12/5. WI 68/5 in 25 Overs
14.13 IST: Bouncer! Ambris pulls it for a single. WI 68/4 in 24.5 Overs
14.04 IST: FOUR! Too straight, Ambris tickles it fine and the ball races away. WI 63/4 in 22.5 Overs
14.02 IST: FOUR! WINDIES GET INTO THE LEAD. A short ball, around middle, Ambris swivels and pulls it behind square leg. Cheteshwar Pujara is stationed at deep mid-wicket and cannot get to the ball. First boundary for Sunil, who moves into 11. WI 59/4 in 22.2 Overs
14.00 IST: Windies are close to India's total and trail by just 1 run. WI 55/4 in 22.1 Overs
*Meanwhile Senior player Gautam Gambhir is celebrating his 37th birthday today.
13.51 IST: PANT IS HIT ON THE GRILL. This pitch is getting more and more difficult to play now. Full and outside off, Ambris gets a big stride forward and looks to defend but misses. The ball hits his front pad, then kicks off to Pant, hitting him on the helmet. Jadeja meanwhile, is confident that is out LBW and even urges Kohli to go for the review. Thankfully for India, the skipper resists. Impact was well outside off. WI 54/4 in 19.5 Overs
13.45 IST: Umesh Yadav is back on attack, 4-2-16-1 so far.
13.38 IST: 2 RUNS! Played to the point region by the batsman. Two runs added to the total. 50 UP FOR WINDIES, a big struggle. WI 50/4 in 16.4 Overs
"Roston Chase walks in at number 6, replacing Hope.
13.27 IST: OUT! Edged and taken! The pitch is not quite exploding but the Windies are imploding. 4 down now. Full and just outside off, Hope looks to defend but while trying to do so, his bat gets stuck behind his pad. As a result, it is not quite able to meet the pitch of the ball. Hence, an outside edge is induced which goes straight to Rahane. Just in case no one has noticed, the deficit has not been wiped out yet. Still 11 adrift. WI 45/4 in 13.4 Overs
*Roston Chase is the new man in with Jadeja to bowl
13.24 IST: OUT! Kuldeep provides the breakthrough. A partnership of 39 has been broken. Hetmyer going for one too many. Spinning away from off, slow through the air, the southpaw is beaten in the flight as he gets an outside edge on his wild slog across the line. It pops up to Pujara at point who takes a simple catch. Timely strike for the hosts. West Indies (311) & 45/3 in 13 overs vs India (367) at Hyderabad. 
13.19 IST: FOUR! Shot. Wonderful stride into the shot as he comes forward and drives it past the diving mid off fielder. The fielder moved to his left but can't get to it. WI 44/2 in 12.2 overs
13.15 IST: Ravichandran Ashwin to Shai Hope, Hope leans into the drive and caresses it through the cover. Pujara hares after it and after a long chase, pulls it back in with a slide. Three runs taken.
13.11 IST: FOUR! A poor delivery from Kuldeep, a loopy full toss and Hetmyer puts it away. Takes a step out and flicks it through mid-wicket for a boundary. WI 35/2 in 10.5 overs
13.10 IST: FOUR! Around the pads, poor line, Hetmyer gets low to this one and sweeps it across the fine leg fence for a boundary. WI 31/2 in 10.2 overs
13.05 IST: The ball seems to have lost its shape as it's confirmed by the umpire after putting it through the 8-shape gauge. A replacement has been called for.
*Kuldeep gets an early introduction with the new ball
13.00 IST: Ravichandran Ashwin to Shimron Hetmyer, Beaten! Spinning away from outside off, Hetmyer goes back to cut but the extra bounce takes it past the edge.
12.55 IST: Umesh looks in some form as he finishes yet another maiden
12.48 IST: FOUR! Beautiful. So pleasing to watch. Full in length and outside off, Hope drives it between extra cover and mid off perfectly. The timing is such that there's no point chasing after it. WI 18/2 in 4.3 overs
Indian bowlers taking three wickets in four balls in Test cricket:

Ravi Shastri v NZ, Wellington 1981
Kapil Dev v AUS, Adelaide 1985
UMESH YADAV v WI, Hyd 2018#INDvWI

— Sampath Bandarupalli (@SampathStats) October 14, 2018
12.47 IST: FOUR! That's a good shot in the end. Full ball attacking the stump, Hope was initially going to flick but then straightened his bat at the last second to drive it right back past the bowler. A boundary. WI 14/2 in 4.1 overs
12.46 IST: Shimron Hetmyer is the new man in.
12.41 IST: OUT! Ashwin removes Powell for 0. It is clean and Powell has to make the long walk. Both openers are back in the dugout now within 4 overs. Loopy and on a driving length around off, it spins away ever so slightly as Powell is forward in defense. It takes the outside edge and goes behind to Rahane at first slip who gets low to his left and takes it. It looks a bit dicey, so the umpire refer it upstairs. Replays show that Rahane got his fingers underneath the ball. Second wicket down for Windies. West Indies (311) & 6/2 in 3.3 overs vs India (367) at Hyderabad. 
12.35 IST: FOUR! Too full and too straight from Umesh, Hope leans ahead and flicks this neatly through mid-wicket to find the fence. Lovely shot. WI 4/1 in 2.5 overs
12.31 IST: Shai Hope walks in at no.3. Ashwin to bowl from the other end.
12.30 IST: OUT! GONE! Umesh draws first blood. Continuing from where he left off in the last innings. Bit fortunate though, as this can be considered as a soft dismissal. Full and down the leg side, Brathwaite looks to tickle it fine. Gets a feather on it and Pant behind the stumps dives to his left and takes a superb catch. WI 0/1 in 0.2 overs
12.15 IST: What can we expect post Lunch? The pitch has already started to crumble and do not be surprised, if the Windies lose wickets quickly. On the flip side, if the tourists manage to get around 150 runs today and then try and reach 200 tomorrow, we could have a game on our hands. Join us back at 1225 local (0655 GMT).
Umesh Yadav will be eyeing to become the third Indian to pick a hat-trick in Test cricket. The other two do so :

Harbhajan Singh v Aus, Kolkata, 2001
Irfan Pathan v Pak, Karachi, 2006#IndiavsWestIndies #IndvWI #INDvsWI

— Chandan Ram (@chan_stats) October 14, 2018
11.50 IST: India will smile a bit on the last wicket fightback but overall, it has been Windies' session.
11.48 IST: OUT! The middle stump is out of the ground. Gabriel ends India's resistance. A length ball just outside off, Ashwin looks to defend but the cherry lands on a crack and then zoots in. Past the bat and crash. INDIA GET A LEAD OF 56! West Indies (311) at Hyderabad. Pant 92, Holder 5/56
11.44 IST: FOUR! Easy runs. A full toss, on middle, Ashwin just clips it through mid-wicket. IND 367/9 in 106.2 overs
11.34 IST: FOUR! TOP EDGE, FOUR! INDIA'S LEAD TOUCHES 50! This last wicket stand is worth 22 from 31 balls. Crucial, useful runs. Not Gabriel's mistake at all. He tests Ashwin with a bouncer and cramps him for room. The batsman goes for the pull but gets a to edge through fine leg which bounces just before the ropes. IND 361/9 in 104.3 overs
11.33 IST: Devendra Bishoo to Shardul Thakur, A short ball, on middle, Thakur pulls it with one hand towards deep mid-wicket. Jomel Warrican in the deep had to cover some distance to his left but India do not run. Probably Ashwin thought they did not have enough time to get two. So a dot ball.
11.29 IST: FOUR! VIOLENCE! Dragged short, Ashwin pulls it behind square leg and gets a boundary! IND 354/9 in 103.2 overs
*Devendra Bishoo is given an opportunity now. 19-4-72-0 so far.
11.25 IST: FOUR! Deft guide! Not a bad shot from Ashwin at all.  The ball is on a length outside off and it comes in, cramping him slightly for room. But great presence of mind from the all-rounder to realize that the ball is not bouncing much. Just opens the face of the bat and guides it over gully to third man! Gabriel smiles. The stand moves to 10 now. IND 349/9 in 102.5 overs
11.23 IST: Okay. So Windies will not be batting in this session, given that 10 minutes are left. However, if the last wicket is not taken by 1130 local, then Lunch will be extended by half an hour. Here is Shannon Gabriel. 18-1-91-2 so far.
11.17 IST: Jason Holder to Ravichandran Ashwin, Yes-yes, no-no. On a length around middle, Ashwin pushes it towards long on. He sets off for a single but Shardul has not taken a start. He then starts to limp across and now Ashwin stops, because he is not sure whether Thakur can make it to the other end before the throw comes in. So he sends his partner back.
Rishabh Pant's last 3 Test innings:

114
92
92

First 5 inns:
24
1
0
18
5#IndvWI

— Bharath Seervi (@SeerviBharath) October 14, 2018
11.13 IST: INDIA'S LEAD READS 30!
Jason Holder last 7 Test innings -
4/49* Vs Ind
6/59 Vs BAN
5/44 Vs BAN
3/30 Vs BAN
2/10 Vs BAN
5/41 Vs SL
4/19 Vs SL
Total 29 wickets @ 8.68#INDvWI

— JSK (@imjsk27) October 14, 2018
*Injured Shardul is the last man out for India
11.08 IST: OUT! Warrican removes Umesh for 2. Caught behind! Warrican has his second. He has been trying endlessly to get batsmen driving and caught behind, and eventually gets one. India 339/9 in 99.2 overs vs West Indies (311) at Hyderabad. 
11.03 IST: Jomel Warrican to Umesh Yadav, Lovely loop! What a change of pace too. Warrican tosses this beautifully, well over the batsman's eyeline, outside off. Umesh's eyes light up, as he looked to play the slog sweep. But the ball is so slow, 65 kph to be precise, that he cannot delay his shot any further and ends up missing it altogether!
11.02 IST: Okay... the camera pans on Shardul Thakur. He is padded up, which means that he will come out to bat if and when the 9th wicket falls.
10.55 IST: Jomel Warrican to Ravichandran Ashwin, FINALLY A RUN AFTER 29 BALLS! The crowd cheers that. The Windies have tied up the runs so anything added to the score is applauded. Around the middle, a tad short helped towards mid-wicket for a single.
*One Yadav replaces another. Umesh comes out at number 10, replacing Kuldeep.
10.48 IST: OUT! Holder removes Kuldeep for 6. Lock, stock and barrel! Holder has five! The good morning continues to get better for the Windies skipper. This is real fast bowling, on a not-so-fast pitch. Holder maintains his line outside off and the length is good as well. Kuldeep looks to defend, thinking that he has covered the line but to his dismay, the ball jags back in off the seam. Beats the bat, beats the pad but does not miss the stumps. Uproots the off stump as if a missile has struck. Terrific. 5th 5-wicket haul in Tests for Holder, 4th in 2018! India 334/8 in 94.4 overs vs West Indies (311) at Hyderabad.
10.45 IST: Joel Warrican to Ravichandran Ashwin, Puts his dancing shoes on but cannot quite meet the pitch of the ball. Another block. THIRD MAIDEN ON THE TROT.
10.37 IST: Drinks break. Probably the best start Windies could have asked for this morning. Have picked up 3 wickets via Jason Holder to make their way back in this contest. Still plenty left, mind. Ashwin is out there with Kuldeep and the pair can bat. Will this partnership add valuable runs or will the tourists wrap the home side up before the end of the session? 
10.33 IST: 
Brilliant from the windies this morning, specially from Jason Holder. Nicely poised this game #INDvWI

— Deep Dasgupta (@DeepDasgupta7) October 14, 2018
Jason holder is the only thing who holds West Indies from becoming a Sri Lanka!!#INDvWI

— Elite Second Father 🦍 (@father_second) October 14, 2018
10.24 IST: FOUR! Gabriel pitches this right up and Kuldeep is expecting this. He drives it through the gap in the covers. Warrican chases it down and tries to pull it back in with a slide, but it seems he can't as he his foot his touching the rope while doing so. Replays confirm the same. Boundary signalled. IND 332/7 in 90.1 overs
10.20 IST: Shannon Gabriel to Ravichandran Ashwin, Tad short, on middle, a half-whip, half-pull from Ashwin through mid-wicket sees him get a couple of runs. IND 327/7 in 88.5 overs
10.15 IST: Three slips in place, along with a gully, for Kuldeep.
10.11 IST: Windies have been bowling to a plan unlike yesterday when they were quite wayward.
*Kuldeep Yadav comes out to bat next. A short leg is in place for him.
10.04 IST: OUT! Gabriel removes Pant for 92. What a superb catch! Rishabh Pant is dismissed for 92, missing out on a hundred again. Oh, dear. How unfortunate for him. Gabriel pounds it in short outside off and Pant rises to punch this aerially on the off side. Can't keep it down and the placement isn't as good as he'd expect. A bit too close to Hetmyer, who still has a lot of work to do. He moves to his right swiftly and takes an excellent diving catch. Windies on top of this game right now. They'll look to clean the tail up ASAP now. India 322/7 in 86.3 overs vs West Indies (311) at Hyderabad.
10.00 IST: Jason Holder to Rishabh Pant, Hits the deck hard and bangs it in short, Pant defends it down in front of covers and wants the run. Too risky, so Ashwin rightly sends him back. IND 321/6 in 86 overs
Each day of this Test, Jason Holder has shown his value: first, winning the toss, then a half century, wickets, followed by more wickets.#IndvWI

— Gaurav Sethi (@BoredCricket) October 14, 2018
9.53 IST: FOUR! Shannon Gabriel to Rishabh Pant, Full and around off, Pant looks to drive through the on side but the ball swings in a touch and goes off the inner half of the bat. Races across the turf and meets the mid-wicket fence. IND 318/6 in 84.3 overs
9.50 IST: Jason Holder to Ravichandran Ashwin, NOT OUT! UMPIRE'S CALL! Ashwin has been saved by a hair's breadth. Holder nearly had three in the over. The second new ball is talking. On a length outside off, Ashwin gets across, looking to tuck but the cherry moves in a long way and misses the bat, hitting the pad. Holder appeals, umpire Ian Gould thinks for a while but then shakes his head.
*R Ashwin is the new man in.
9.46 IST: OUT! Holder removes Jadeja for 0. GONE! Second of the over for Holder and he's on fire here. The new ball working wonders for him and Windies. What a start for them. Once again pitches it outside off and it swings in a long way, Jadeja without much foot movement looks to defend it from the front foot but is caught flush in front of the stumps. A loud appeal and the finger goes up without wasting any time. India in a spot of bother now. India 314/6 in 83.3 overs vs West Indies (311) at Hyderabad. 
*Ravindra Jadeja joins Pant in the middle. Holder is moving it a mile here!
9.43 IST: OUT! Holder removes Rahane for 80. GONE! Will you look at that? A much better line with the new ball and Jason Holder reaps the benefits. Back of a length delivery around off which shoots off the deck, Rahane is taken by surprise and awkwardly fends it away. It goes off the outer half and flies straight to Hope at gully. India 314/5 in 83.1 overs vs West Indies (311) at Hyderabad.
9.40 IST: Shannon Gabriel to Ajinkya Rahane, Width on offer, Rahane cuts this fiercely but it's a fine stop from Shai Hope at short third man. The placement wasn't as good, a bit too close to him, but it came at him fast. He reacted well to his right to make a stop. IND 313/4 in 82.4 overs
*Shannon Gabriel to bowl from the other end and share the second new ball.
9.32 IST: FOUR! Jason Holder to Ajinkya Rahane, First runs of the morning. Fuller in length and outside off, Rahane takes a step forward and plays a punchy-drive through the covers. The fielders give it a chase, but can't get to it in time. IND 312/4 in 81.3 overs.
9.31 IST: Not surprising. THE SECOND NEW BALL HAS BEEN TAKEN STRAIGHTAWAY. Jason Holder to make the first use of it. Rahane to face. Let's play!
9.30 IST: The Windies get into a customary huddle. No Shane Dowrich still, as we see Jahmar Hamilton ready with his keeping gloves. Out come the overnight batsmen - Rishabh Pant and Ajinkya Rahane.
9.22 IST: The away side was no clinical enough, but it did have its moments. Managed to wickets at regular intervals, before the huge (unbeaten) Rahane-Pant stand. Spin kept a check on the leaking, will pace back it up though? A lot rides on it. A couple of early wickets this morning could swing the tide in their favour. We'll see how things unfold
9.21 IST: 
#INDvsWI 2nd Test, Day 2: @imVkohli towers above Asia even after failing to reach 50! pic.twitter.com/EDq5TZ0vKF

— India TV (@indiatvnews) October 13, 2018
Most Test runs as captain from Asia:

4222* Kohli (ave: 65.96)
4214 Misbah (51.39)
3665 Jayawardene (59.11)
3454 Dhoni (40.63)
3449 Gavaskar (50.72)#IndvWI

— Bharath Seervi (@SeerviBharath) October 13, 2018
9.20 IST: Some lacklustre displays on their part has seen the hosts come close to the total they posted on the board. Will they manage to take a big lead today? We shall find out. Hello and welcome, folks, for what should be another entertaining day of Test cricket.
9.15 IST: Day 3, First Session. The tie still lies very much in the balance. You could say India are ahead at the moment, but one or two more wickets could change the complexion of the game. The Windies weren't very good with the ball and in the field, to say the least, on Day 2. 
9.10 IST: Twenty minutes to go for the start of play in Uppal! Pant and Rahane will have their sights firmly set on completing their respective centuries. 
"My first century away from home, so it's a special one for me" – Roston Chase reflects on his 106 against India on Day 2 of the Hyderabad Test.#INDvWI REACTION ⬇️ https://t.co/psj6p9Dqzw pic.twitter.com/LYAlf6nqoH

— ICC (@ICC) October 14, 2018
8.50 IST: Prithvi Shaw, the young opener, said yesterday that he was just trying to play his natural game but couldn't convert it into a big one. Adds he enjoyed it though and it was a good batting surface. States that from U-16 level he's been trying to play the ball on its merit, which is his strength. Stresses that he does not want to get confused by thinking too much and intends to continue playing the way he is. Reckons that Gabriel and Holder were bowling quickly, so he just tried to use their pace and find the gaps as best as he could. On his dismissal, he informs that he was just trying to hit it to the left of the cover fielder but the ball was a little away from him, so he couldn't control it. Wants to learn from that and not repeat the same mistake again. Ends by mentioning that it (his dismissal) was a silly shot, so he won't be repeating it in his next innings.
8.30 IST: Hello and welcome to our Live Coverage of the Day 3 of the second Test match between India and West Indies at Rajiv Gandhi International Cricket Stadium, Hyderabad. Stay tuned as we bring you all the latest updates.
Brief Day 2 Report: 
Rishabh Pant's audacious stroke-play complemented Ajinkya Rahane's patient approach as India reached 308 for four against West Indies on the second day of the second Test on Saturday. India are now only three runs short of West Indies' first innings total of 311. The Caribbeans could add only 16 runs in the morning session after Umesh Yadav polished off the tail with career-best figures of 6/88 in 26.4 overs. While young Pant celebrated his ODI call-up with a second Test half-century, an attractive unbeaten 85 off 120 balls, vice-captain Rahane slogged hard to remain undefeated on 75 off 174 balls.
Together, the duo added 146 runs for the unbroken fifth wicket after India lost in-form skipper Virat Kohli (45) to be reduced to 163 for 4. This was after young Prithvi Shaw lit up the morning, smashing his way to 70 off 53 balls to provide an initial momentum. (READ FULL REPORT HERE)