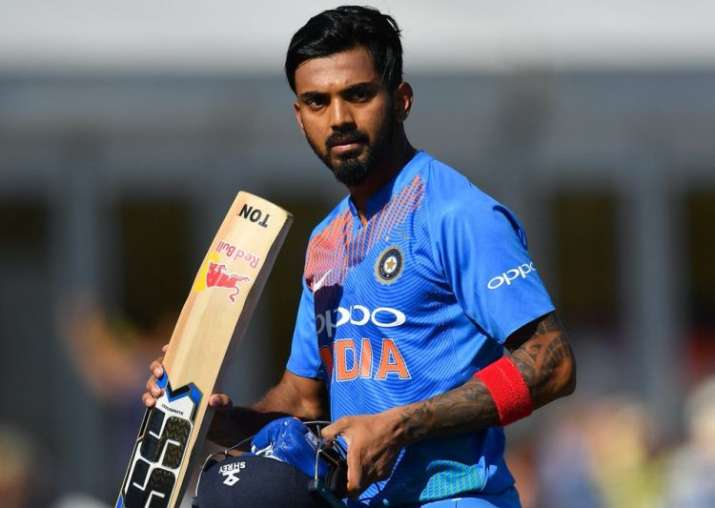 India vs England 1st T20 International Match Highlights:
A mockery is what India have made of this run chase and it is courtesy a brilliant ton by Rahul. He walks off to a standing ovation from the crowd. He along with Kuldeep, who took a fifer, has made this English side look really ordinary. Chasing 160, India lost Dhawan early. Rahul then joined forces with Sharma and the two plundered the bowling. More Rahul than Rohit who was happy to play second fiddle. The duo added 123 in just 71 balls which turned the tide completely in India's favour. Rohit fell 8 shot of his half ton but Rahul continued. He along with Kohli ensured there were no further hiccups. The latter got to his ton while the skipper hit the winning runs in style. The England bowlers had no answers to the onslaught. The pacers were taken to the cleaners and the spinners, from whom a lot was expected, also could not delivery. Rashid and Willey did bowl well but when you are defending a total which is below par you need everybody to chip in which was not the case for England in this game. (
SCORECARD
)
ENGLAND VS INDIA 1ST T20I LIVE UPDATES FROM MANCHESTER:
01.23 IST: India (163/2) beat England (159/8) by 8 wickets in Manchester to take 1-0 lead in 3-match series. Rahul 101*, Rohit 32.
01.18 IST: FOUR! As easy as you like. A length ball on middle and leg, Rahul gets into position and plays the flicks. He gets it to the left of Moeen at fine leg as the ball races away to the boundary. Just two more needed for a well deserving century for KL Rahul.
01.12 IST: Virat Kohli completes 200 T20I runs. David Willey to Virat Kohli, 1 run. Short of a length in line of the stumps, Kohli gives charge and dabs it behind point for another single. This also brings up 2000 T20I runs for the Indian skipper. IND 142/2 in 16 overs. (Read full story)
01.07 IST: Adil Rashid to Virat Kohli, 1 run. Strokes this through covers and runs a single which means Rahul will not be on strike. IND 137/2 in 15 overs. 
00.58 IST: OUT! Rashid removes Rohit Sharma for 32. Gone. A wicket against the run of play. Rohit looks to get into the act as well. Adil tosses this one up outside off, Sharma sees this as an opportunity and plays the lofted cover drive straight to Morgan stationed there. A wicket too late in the context of the game as they don't really celebrate it. A partnership is broken but only 33 more required for India. India 130/2 in 12.4 overs vs England (159/8) in Manchester.
00.49 IST: SIX! IND 123/1 in 11 overs. That is nonchalantly hit by Rahul. A short ball targeting the grille. He swivels once again and packs a punch with the shot. He has timed that superbly as the ball lands straight into the crowd in the square leg stands. 20 off the over. He is getting away with the game now. India need 37 runs in 54 balls.
00.46 IST: SIX! That is dismissive! I have no other word to describe that beauty of a shot. Plunkett bowls a shortish delivery around the hips, Rahul just uses the pace of the ball and guide it over the deep square leg fence. The ball has enough wings to it to go into the elated spectators.
00.45 IST: SIX! I am out of words now. He is making me speechless. A flighted delivery around off, KL comes down the track and lifts it handsomely over the long on fence. The fielder there can only watch it go over the boundary and into the crowd. He is running the show now.
00.43 IST: FOUR! Innovation comes into the fore now. A quicker one on off, Rahul gets into position quickly to play the switch hit. He has thread the needle like a professional. What a star he is.
00.41 IST: FIFTY! KL Rahul hits his 5th T20I half-century off 27 balls. FOUR! Delicate and deft, words one relate with KL Rahul. A quicker ball outside off, KL uses the speed and guides it past the third man fielder for a boundary. With the shot, he brings up his half century as well, second one on the trot. 13 runs off the over as well. India 89/1 in 9 overs vs England (159/8) in Manchester.
00.39 IST: SIX! A rocket! A half tracker and asking for it. Rohit obliges and hits it powerfully over the mid-wicket fence. The bal sails way back in to the crowd.
00.35 IST: SIX! That shows his confident! DROPPED AND SIX! A tough chance for Jordan. Rahul uses his feet and gets to the pitch of it. Tries to clear long on but does not get it off the middle. Jordan there who is very close to the ropes tries to catch it but palms it over the fence. Rahul's luck continues and it has not been a good beginning for Ali. 10 from his first two balls.  IND 70/1in 7.2 overs.
00.34 IST: FOUR! Brilliant by Rahul! The first ball he faces of Moeen Ali, he brings out the reverse sweep, connects it well and hits it fine through the off side for a boundary. So consecutive boundaries for India.
00.33 IST: FOUR! A boundary to conclude the over! Spoils the over completely! This is exactly what England did not need, they needed a tight over here. Rashid bowls a short ball outside off, it was also quicker. Sharma rocks back and cuts it through point for a boundary.
00.28 IST: FOUR! Easy peasy for KL. Another short ball targeting the grille, Rahul hangs back in his crease, swivels and gets it over the fielder at short third man. The ball runs down to the fine leg boundary.
00.25 IST: FOUR! In the air.. but in the gap! Full and it is the slower ball on off, Sharma lofts it but in the gap through extra cover for a boundary. Another expensive over, 10 from it.  IND 48/1 in 5 overs. 
00.23 IST: FOUR! Rohit Sharma gets into the act now! This is very full outside off, Sharma squeezes it onto the ground. The hardness of the wicket is such that the ball bounces over the point fielder and into the fence.
00.20 IST: Another one from the bat of KL Rahul! FOUR! Back-to-back boundaries and India are off to a brilliant start even though they have lost a wicket. 122 more needed. This is another short ball outside off, Rahul slaps it through point and a boundary results. He moves onto 26.
00.19 IST: FOUR! Bread and butter for Rahul! Down the leg side, he helps it on its way, find down the leg side for another boundary. IND 34/1 in 3.5 overs.
00.14 IST: FOUR! Delightful! This guy is in sublime touch! Not a lot wrong with the delivery. Maybe it is a touch too full outside off, Rahul strokes it on the up through covers and there is no stopping those. IND 26/1 in 2.5 overs.
00.08 IST: SIX! WOW! Shot of the match! One would probably pay to watch this shot, that is how good it was. Full and outside off, Rahul leans into it and drives it over covers. The timing is such that the ball goes all the way. IND 14/1 in 1.2 overs.
00.06 IST: KL Rahul walks out to the middle.
00.05 IST: OUT! Willey removes Dhawan for 4. BOWLED 'EM! What do you want when you are not defending a big total? An early wicket and England have got exactly that. David Willey provides it and it is a big one of the dangerous Dhawan. A full delivery outside off, Dhawan goes for the booming drive with no foot movement. The ball takes the inside edge and shatters the stumps behind. Dhawan walks back dejected and the Englishmen are ecstatic. India 7/1 in 0.5 overs vs England (159/8) in Manchester.
00.03 IST: FOUR! Underway with a boundary! Not in a convincing manner but Dhawan won't mind. Willey does get some shape away from the batsman but the length is on the shorter side. Dhawan flashes at it but gets an outside edge past the lone slip fielder and into the third man fence.
00.00 IST: We are back for the chase. The target is not a big one but India would like a good start from their openers, Rohit Sharma and Shikhar Dhawan. The latter is on strike and he will be facing David Willey who will be hoping for some movement. Will he get any? We will come to know as he runs up to bowl the first ball.
23.42 IST: England score 159/8 in 20 overs against India in Manchester. Kuldeep 5/24, Buttler 69. Bhuvneshwar Kumar to David Willey, 2 runs. Angled ball wide outside off, Willey flashes and gets it uppishly to covers. The fielder from the deep runs in but can't stop the batsmen from taking two. End of the England innings.
Innings Break!

A five-wkt haul for @imkuldeep18, England 159/8 in 20 overs.

India need 160 runs to win this game.#ENGvIND pic.twitter.com/mj37djd5en

— BCCI (@BCCI) July 3, 2018
23.35 IST: Liam Plunkett is the new man in.
23.34 IST: OUT! Umesh Yadav removes Jordan for 0. Jordan bags a first ball duck! An unfortunate dismissal you can say! It is a full toss on middle, an inswinging one. Jordan tries to drive but gets an inside edge onto his boot. The ball lobs up back to the bowler who takes it in his followthrough. Can India now bowl England out? England 149/8 in 18.3 overs vs India in Manchester.
23.30 IST: Chris Jordan is the next man in.
23.29 IST: OUT! Kuldeep Yadav removes Buttler for 69. A 5-fer for Kuldeep yada. Buttler doesn't last long. What a start to the tour from the wrist spinner. He has upset Buttler's rhythm it seems and got him out eventually. He flights this one again around off, similar delivery to the dropped catch two ball back. Jos throws his bat again and skies it. England 141/7 in 17.4 overs vs India in Manchester.
23.25 IST: FOUR! Crisp. A beauty from Willey. Kumar is losing the plot here. He strays on the pads once again and David makes him pay. He clips it from there and gets it fine down the leg side for second boundary of the over.
23.23 IST: FOUR! Shot! Makes some room to play the fuller delivery and Kumar follows him. The goes through the shot and pierces the gap between covers and mid off. 12 off 4 already.
23.21 IST: SIX! A gentle gift to Willey first up. Short down the leg, all David has to do is put bat to it, which he does and gets it over the boundary behind the keeper. A maximum after few wickets.
23.18 IST: David Willey is the new man in.
23.17 IST: OUT! Hardik Pandya removes Moeen Ali for 6. Another one bites the dust! England are falling apart here. Moeen Ali now makes his way back to the dug out. It is a short ball from Pandya and it is outside off. Ali tries to drag his pull through the leg side, never a good idea that. He gets a top edge which balloons high up in the air towards Raina at covers who accepts a dolly. England 117/6 in 15.4 overs vs India in Manchester.
23.15 IST: FOUR! But if you get balls like that, the batsman will always put it away. On the pads, Ali flicks it through backward square leg for a much-needed boundary.
23.09 IST: Moeen Ali is the next man in. 
23.08 IST: OUT! Kuldeep Yadav removes Joe Root for 0. England 107/5 in 13.4 overs vs India in Manchester
23.07 IST: Joe Root makes his way out to the middle.
23.06 IST: OUT! Kuldeep Yadav removes Bairstow for 0. Kuldeep yadav, remember the name. What an absolute peach from him. A tossed up wrong'un outside off, it pitches and goes past the flashing blade of Jonny. Jonny throws his bat at it but misses it. MS Dhoni is quick as a hawk and removes the bails in a jiffy. Buttler doesn't even wait for the signals as he knows he dragged his leg out. Two wickets in three wickets and Yadav has pushed the English team back. England 107/4 in 13.3 overs vs India in Manchester.
23.04 IST: Jonny Bairstow is the next man in.
23.02 IST: OUT! Kuldeep Yadav removes Eoin Morgan for 7. A much needed breakthrough for India to say the least. Not a good shot from the skipper, Eoin Morgan. A flighted delivery around off, he goes for the slog sweep but only manages to sky it towards mid-wicket region. Opposition skipper, Virat Kohli, stationed himself there for such shots and takes this catch comfortably. He has a smile on his face. Kuldeep Yadav is looking dangerous for England. England 106/3 in 13.1 overs vs India in Manchester.
22.56 IST: Yuzvendra Chahal comes for a bowl.
22.55 IST: Eoin Morgan is the next man in.
22.54 IST: OUT! Kuldeep Yadav removes Hales for 8. And gone! Hales never looked comfortable against the chinaman. He tosses this one up on leg, Hales moves across to play the slog sweep but misses it altogether. The ball rattles the stumps as England lose their second. England 95/2 in 11.3 overs vs India in Manchester.
22.50 IST: FOUR! Another rocket. He is punishing Pandya here. A shortish delivery outside off, Jos his right leg away from the crease and punches it through covers for another boundary.
22.48 IST: FIFTY! Jos Buttler hits his 7th T20I half-century off 29 balls. SIX! Punished by Buttler. You can't bowl short to him and if you do, he will hit it all day. A similar day in to the body, Buttler moves away from his crease and flat bats it over square leg boundary as the ball sails into the crowd. England 87/1 in 10.2 overs vs India in Manchester.
22.47 IST: FOUR! Nicely done by Buttler here. He was almost decieved by the slower but manages to swat it off the back foot. The fielder from long on runs to his right, puts in the dive but coudn't stop the ball. A boundary.
22.45 IST: FOUR! Welcome to the bowling crease Kuldeep says Buttler. He tosses this up on middle, Buttler with the turn whips it through mid-wicket. It is in the gap and the ball reaches the fence.
22.41 IST: FOUR! Buttler takes all the pressure off! Brilliant by the opener. He brings out the reverse sweep and connects well. Clears the man at backward point for a boundary.
22.38 IST: FOUR! A boundary to conclude the 8th over. A slower full toss in line of the stumps, Buttler swats it behind square leg and earns a boundary, which ruins a good over from Pandya.
22.36 IST: Not OUT! Yuzvendra Chahal to Jos Buttler, 2 runs. Buttler has made his ground quite easily! He slaps this short ball through covers and completes one. The fielder there fumbles and the Buttler calls for a second. His partner obliges. The fielder picks the ball up and fires it to the keeper who collects the ball and whips the bails off. Dhoni appeals but he does not seem to confident. The umpire takes it upstairs. Replays show that Buttler is well in. A couple to end the over, another good one for India, just 6 from it. 9 from the last 2.
22.30 IST: Yuzvendra Chahal is back on.
22.26 IST: Hardik Pandya comes into the attack.
22.25 IST: Alex Hales is the new man in.
22.23 IST: OUT! Umesh Yadav to Jason Roy for 30. Drags it on! Umesh Yadav draws first blood! How much did India need this? A lot at the moment. It was another short one. A length which Roy has not been comfortable with. He goes for the pull but the shot selection is wrong as the ball is not short enough to play it. The ball takes the bottom edge and goes onto hit the leg stump behind. Umesh Yadav is pumped up and so are the Indian players. Roy starts walking back to the pavilion but he has given a brilliant start to England. England 50/1 in 5 overs vs India in Manchester.
22.21 IST: FOUR! You do not need to run for those! Talk about making full use of the Powerplay here. The English batsmen are doing exactly that. It was the slower one from Umesh on middle. Buttler picks it early and lofts it over mid on.
22.19 IST: FOUR! The first over by a spinner has cost 16! Excellent one for England. This is a half-tracker. It had hit-me written all over it. Buttler slaps it through covers and the ball races away.
22.17 IST: FOUR! Roy is on the charge here! He gets into position early to play the reverse sweep. Chahal does a favor to him by bowling a full toss. Roy says thank you very much and hits it over backward point for another boundary. His fifth.
22.15 IST: Spin introduced early! Yuzvendra Chahal is into the attack.
22.13 IST: FOUR! Full marks to the bowler but runs to the batsman! The knuckleball from Kumar. Roy was way too early into the shot. The ball takes the outside edge and clears the man at short third man. Roy now has 22 out of the 26 scored.
22.09 IST: What a start! FOUR! What a shot to get off the mark! Wow! Just shows how confident this guy is! Moves right across and scoops the full ball over the keeper for a one bounce boundary. England off to a flier here. England are 20/0 after 2 overs.
22.08 IST: FOUR! Roy is dealing in boundaries here! His third in the 8 balls he has faced. Slightly short outside off, Roy stands tall and once again plays that punch which he is so good at. The ball reaches to the cover boundary in no time. Looks a belter this wicket.
22.06 IST: Umesh Yadav to bowl from the other end.
22.04 IST: Bhuvneshwar Kumar to Jason Roy, 1 run. Back of a length on off, Roy guides it towards point. The fielder there makes a half stop but can't stop a run. A single to end the over, an expensive first. ENG 11/0 after 1st over.
22.03 IST: FOUR! Back-to-back boundaries! Excellent once again from Roy. He shuffles right across his stumps and flicks the ball over square leg. It bounces just before the ropes and then crosses it.
22.02 IST: FOUR! Pure timing! The slower ball outside off, Roy stands tall and punches it, right off the middle. The ball beats the diving cover-point fielder and the ball races away. First boundary of the game.
22.00 IST: We are all set for the action to get underway. Bright sunshine welcomes the players out. Jason Roy and Jonny Bairstow are the openers for England.
21.50 IST: Pitch Report! Sanjay Manjrekar along with Deep Dasgupta have a look at the pitch. They report that there is no grass on the pitch, it looks brown and a belter of a track. Adds that there's a lot heat as well and it almost feels like Sharjah or Dubai. Dasgupta ends by saying that the boundaries are long on either sides which should aid the spinner.
21.45 IST: England Playing XI: Jason Roy, Jos Buttler (w), Alex Hales, Joe Root, Eoin Morgan (c), Jonny Bairstow, Moeen Ali, David Willey, Adil Rashid, Chris Jordan, Liam Plunkett
21.40 IST: India Playing XI: Rohit Sharma, Shikhar Dhawan, Virat Kohli (c), Suresh Raina, Lokesh Rahul, MS Dhoni (w), Hardik Pandya, Bhuvneshwar Kumar, Kuldeep Yadav, Umesh Yadav, Yuzvendra Chahal
21.30 IST: Toss! 1st T20I: India win toss, opt to bowl against England in Manchester.
#TeamIndia Captain @imVkohli wins the toss and elects to bowl first against England.#ENGvIND pic.twitter.com/HsNU2hWnH8

— BCCI (@BCCI) July 3, 2018
21.20 IST: England are coming into series on the back of 6-0 drubbing of Australia with Buttler, Jason Roy, Jonny Bairstow in fantastic form.
21.15 IST: India are coming into the series with two facile victories over Ireland -- by 72 and 143 runs respectively but Kohli knows too well that England will be a different proposition. 
21.08 IST: Here are the teams for the England vs India, 1st T20I. 
India: Virat Kohli (c), Shikhar Dhawan, Rohit Sharma, KL Rahul, Suresh Raina, Manish Pandey, MS Dhoni (wk), Dinesh Karthik, Yuzvendra Chahal, Kuldeep Yadav, Krunal Pandya, Bhuvneshwar Kumar, Deepak Chahar, Hardik Pandya, Siddarth Kaul, Umesh Yadav
England: Eoin Morgan (c), Moeen Ali, Jonny Bairstow, Jake Ball, Jos Buttler (wk), Sam Curran, Tom Curran, Alex Hales, Chris Jordan, Liam Plunkett, Adil Rashid, Joe Root, Jason Roy, David Willey, Dawid Malan
Brief Preview: Under the captaincy of Virat Kohli, a spirited Indian team will look to start its summer campaign in London with a victory when it takes on Eoin Morgan-led England in the first T20I of the three-match series at the Old Trafford, Manchester, on Tuesday.
With the 2019 ODI World Cup less than 12 months away, there is more than bragging rights at stake as both sides look to fine-tune preparations against an opposition of note. (Read full match preview)