Follow us on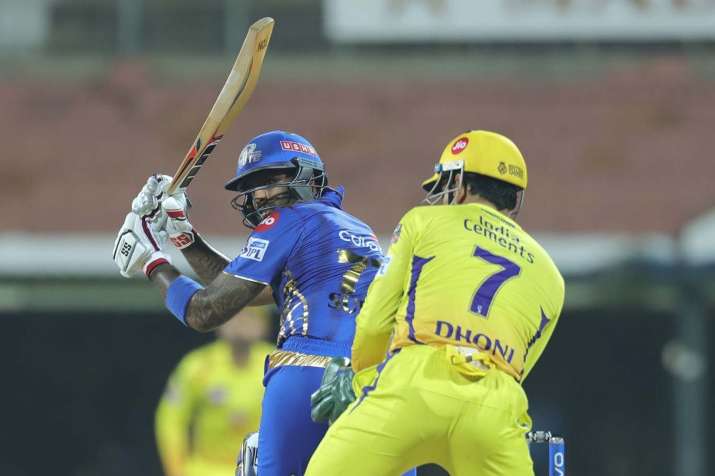 Mumbai Indians (132/4) beat Chennai Super Kings (131/4) by 6 wickets
23.01 IST: Mumbai Indians (132/4) beat Chennai Super Kings (131/4) by 6 wickets in Chennai to enter final. Suryakumar 71*, Tahir 2/33
23.00 IST: Deepak Chahar to Suryakumar Yadav, FOUR! Cleverly done! SKY is a master of this shot. He just loves playing fancy shots behind the wickets. Back of a length ball angling into him, Yadav gets across the stumps and spoons it over the keeper for a boundary.
22.50 IST: Dwayne Bravo to Suryakumar Yadav, Good fielding by du Plessis. A slow full toss on off, Yadav picks it and delays his shot a bit. He then heaves it over wide mid on and du Plessis in the deep does well to stop the ball before the fence. Saves two but it seems that he has hurt his hamstring. Nothing to worry though.
Strategic break. 16 more needed in 4 overs. Mumbai have this in the bag in spite of Chennai bowling really well in the last few overs. They just don't have enough runs on the board to pressurize the blue team.
22.45 IST: Imran Tahir to Hardik Pandya, FOUR! Exceptionally played! Floated delivery, landing full around leg, Pandya doesn't go hard at it and plays a controlled paddle sweep fine down the leg side for a boundary.  MI 115/4 in 15.4 overs
22.41 IST: Ravindra Jadeja to Suryakumar Yadav, DROPPED! Almost a team hat-trick for Chennai! Jadeja delivers a flatter delivery on off, Yadav leans forward to defend but it takes the outside edge and hurries behind to first slip. Watson sticks his left hand out but it brushes his fingers and speeds behind for a FOUR! MI 108/4 in 15 overs
22.40 IST: Imran Tahir to Krunal Pandya, OUT! It is a clean catch and Tahir indeed has two in two. A full ball outside off, Krunal looked to hit it back but while doing so, the bat hit the ground and the ball lobbed off the bottom of the bat back to the bowler. MI 101/4 in 14 overs
Is that a caught and bowled first ball? Tahir has almost run into the umpire in an appeal but Llong calms him down. He walks across to his partner and then refers it upstairs, with the soft signal as OUT. Krunal is walking off as well. But the umpires are still checking...
22.38 IST: Imran Tahir to Ishan Kishan, OUT! Bowled 'em! A wicket against the run of play and Tahir is up and running in celebration. A skidder from Tahir at 95.6 kph, Kishan walks down the track and tries to pull it after that but it goes right through him and pegs the off stump back. The 80-run stand has been broken but that has put Mumbai in the driver's seat. MI 101/3 in 13.5 overs
22.37 IST: Tahir to Suryakumar, FOUR & FIFTY! 7th League fifty for Suryakumar Yadav. Floated leg spinner outside off, Yadav strides forward and then opens the face of the bat late to play it wide of backward point. A boundary results and Yadav reaches his half century. Well batted young man. MI 100/2 in 13.4 overs
22.33 IST: Ravindra Jadeja to Suryakumar, FOUR! Smartly played! Quicker and flatter one, a touch shorter too, SKY stays back and plays it really late to get it away from first slip. Nice timing and it screams away to the fence at third man. 40 more needed. MI 92/2 in 13 overs
22.28 IST: Harbhajan Singh to Ishan Kishan, Mishit! Flatter and shorter outside off, Kishan bottom edges his attempted square cut. It goes behind and one of the two slip fielders stop it.
22.23 IST: Tahir to Suryakumar, FOUR! Wow, every batsman is mastering this shot now where you swing the bat more like a helicopter. MI 79/1 in 10.4 overs
22.21 IST: Tahir to Suryakumar, FOUR! Easy pickings! A full toss on middle, Suryakumar accepts the gift gleefully and whips it over mid-wicket for a boundary. MI 75/2 in 10.3 overs
Stephen Fleming has a chat with Sanjay Manjrekar. The Kiwi says that it is a real crucial time and stresses the need for wickets. Reckons that the game is in the balance. Wishes that the team had scored another 10 extra runs with the bat but feels that a couple of wickets can still turn the game. Admits that the Powerplay with the bat was a poor one and losing Shane Watson on the final ball of that phase was a setback. Agrees that Chennai are behind the game and says that the team will have to find something special to change things.
22.18 IST: Bravo to Suryakumar, FOUR! FANTASTIC! Such good timing. A length ball, outside off, Surya drives this on the up, through the covers. Deepak Chahar dives to his left from mid off but in vain. MI 65/2 in 9.2 overs
*STRATEGIC BREAK. Interesting stage set. Mumbai can be considered as cruising but a wicket or two can set the cat free amongst the pigeons. The pitch is turning square but it is also true that Mumbai have better batsmen against than spin as compared to Chennai.
22.15 IST: Imran Tahir to Suryakumar Yadav, A little short in length on middle at 87 kph, Yadav hangs back and muscles it over wide mid on. Takes a single, wants the second but it's not available.
22.14 IST: Imran Tahir to Ishan Kishan, Floated one, landing a touch short on middle, Kishan moves back and eases it with the spin through square leg for a single.
* Time for some leg spin. Imran Tahir to roll his arm with a slip in place...
22.02 IST: Harbhajan Singh to Ishan Kishan, SIX! Boom! Kishan has sent this one packing over mid-wicket. Lovely extension of his arms as he kneels down to play that shot. He goes against the spin but nails it handsomely. 22 from the last two overs and Mumbai have managed to score 44 in the Powerplay, 12 more than Chennai at this stage. MI 44/2 in 6 overs
22.00 IST: Harbhajan Singh to Ishan Kishan, EDGY FOUR! Flighted off spinner landing full on off Kishan steps out for a big shot but it turns away to take a fat outside edge. Watson flies to his left at first slip but it goes wide of him and speeds behind. Bravo gives the chase in the deep, tries to flick it in but misses and it makes connection with the rope. MI 38/2 in 5.4 overs
21.58 IST: Harbhajan Singh to Ishan Kishan, Beaten! An off spinning delivery from around off, Kishan lunges to defend but it curves away to beat the outside edge.
21.56 IST: Chahar to Suryakumar, FOUR! DROPPED BY VIJAY! A good attempt though. Should have been taken after he got his hands to it. Back of a length delivery outside off, Suryakumar stays back to power it over the infield on the leg side but fails to get enough elevation. It goes flying to the right of mid on where Vijay stretches his hands out but it bursts through and races behind for a boundary. Chahar is not amused. MI 30/2 in 4.3 overs
21.56 IST: Chahar to Suryakumar, FOUR! Easily done. Chahar errs in his line and delivers a length ball down the leg side, Suryakumar picks it up off his pads and tickles it fine down the leg side for a boundary. MI 26/2 in 4.2 overs
* Ishan Kishan is the new batsman. He is known to play spin well and Mumbai need him to fire this evening.
21.51 IST: OUT! A wicket well planned by Harbhajan Singh! Brilliant field setting from MS Dhoni. So good when the plan works out superbly. Bhajji has his arms up in celebration. Even before the ball is delivered, de Kock premeditates his movement by moving back. Harbhajan watches it and then delivers a flighted full ball in the line of the stumps. Harbhajan removes Quinton de Kock for 8. Mumbai Indians 21/2 in 3.2 overs
21.47 IST: Chahar to Quinton de Kock, FOUR! Lovely use of the wrists. Chahar bowls according to his field but it's the sheer class of this batsman. Quinton fetches a length ball from outside off and turns it behind square leg for a boundary. MI 20/1 in 2.4 overs
21.42 IST: Harbhajan Singh to Quinton de Kock, FOUR! Well played! Although it was a shade risky. Shortish and on off, skidding back in, de Kock camps back and plays a late cut shot. It goes very closely past first slip and runs away to the fence at third man. MI 14/1 in 1.4 overs
21.38 IST: Deepak Chahar to Suryakumar Yadav, UPPISH... SAFE... FOUR! Risky way to get off the mark, SKY! Chahar delivers a shortish length ball outside off, Yadav camps back to slap it square of the wicket on the off side but it takes the outside edge and flies wide of first slip and a diving short third man fielder for a boundary. End of an eventful first over by Chahar. MI 8/1 in 1 over
21.35 IST: OUT! Deepak removes Rohit (LBW) for 4. It's hitting the top of the leg stump and Rohit Sharma has to depart. He averages around 14 in the playoffs and bags yet another low score. Perfect delivery by Chahar after conceding a boundary first ball. He hits a length ball around leg and gets it to straighten from there. Sharma is caught inside the crease trying to work it on the leg side. He misses the ball completely and is hit flush on the back pad. The appeal is made and the finger goes up. Rohit takes the DRS after having a chat with de Kock but the replays confirm that Mumbai have suffered an early blow. Mumbai Indians 4/1 in 0.2 overs
21.33 IST: FOUR! This is how you begin your chase! A perfectly timed back foot punch from the bat of skipper Rohit Sharma.
21.32 IST: We are back for Mumbai Indians' chase. Rohit and de Kock are at the crease while Deepak Chahar to start with the new ball.
Chennai Super Kings score 131/4 in 20 overs against Mumbai Indians in Chennai. Rayudu 42*, Chahar 2/14
21.16 IST: Jasprit Bumrah to Ambati Rayudu, Superb. Simply superb from Bumrah. He overstepped on the first ball of the over but did not concede even a single boundary in the entire over. A full toss outside off, Rayudu steps down, trying to heave but can only mistime it to long off for a run. CHENNAI FINISH ON 131/4!
21.12 IST: Jasprit Bumrah to MS Dhoni, Bumrah bangs in a short ball around off, Dhoni tries to get inside it to play the pull shot but the bounce gets big on him. He still goes on with his pull shot and plays it behind square leg for a couple of runs.
21.07 IST: Dhoni has been caught! But has Bumrah overstepped? YES! IT IS A NO BALL! A life to a tiger who already has 18 lives...
21.03 IST: Malinga to Dhoni, SIX! Malinga misses his yorker again, goes full again, gets smashed again! This is around off, Dhoni gets underneath it nicely and hammers it over long on. Much straighter than the previous one. CSK 115/4 in 18.3 overs
21.02 IST: Malinga to Dhoni, SIX! GIGANTIC! WOW! Dhoni has gone big! That is a towering one. What a way to bring up the 50-run stand. Just inches short of a yorker and that is enough for the skipper. This is around middle and off and Dhoni smashes this over long on. CSK 115/4 in 18.3 overs
* Lasith Malinga to bowl the 19th. 2-0-12-0 so far.
20.59 IST: Jasprit Bumrah to Ambati Rayudu, A low full toss, outside off, Ambati looks to play the reverse sweep but the ball hits the sticker on the bat and rolls wide of Quinton de Kock towards Rahul Chahar to short third man. A run taken.
20.54 IST: Bumrah to Rayudu, FOUR! Blasted to square leg, no one present and sails for a boundary. 100 up for Chennai. Rayudu moves across his stumps and Bumrah bowls it short. The Chennai batter pulls it over mid-wicket for a boundary. CSK 103/4 in 17.1 overs
20.51 IST: Krunal Pandya to Ambati Rayudu, A quicker delivery in the line of the stumps, Ambati tries playing the reverse sweep but misses and is hit on the pads. The bowler appeals but to no avail. Probably there was some under edge.
20.42 IST: Hardik to Rayudu, FOUR! A one bounce boundary and CSK are picking up the pace. With mid off up, Hardik bowls a length ball. Rayudu is more than happy to thump it over mid off. One bounce and into the ropes. CSK 88/4 in 14.3 overs
* Hardik Pandya is back on. 1-0-5-0 so far.
20.39 IST: Krunal to Rayudu, SIX! The Dhoni effect has come into play and Chennai is on it's feet. Smashed away by Rayudu. 15 from the over, easily the biggest of the innings so far. Tossed up, around middle and off, Rayudu jumps down the track and swings it massively over mid-wicket! CSK 83/4 in 14 overs
20.37 IST: Krunal to Dhoni, SIX! Smacked away! This is the way to tackle spin on a turning pitch. Use your feet. MS Dhoni wears his skates to shimmy down the track, doesn't allow the ball to spin too much and launches it over the bowler's head for a biggie. The long on fielder stands there and watches it sail over. CSK 75/4 in 13.3 overs
* Strategic break. Mumbai continues to be in a dominant position. They have also successfully dislodged the partnership between Rayudu and Vijay and are applying good pressure on Chennai.
* MS 'Thala' Dhoni is here.
20.29 IST: Chahar to Vijay, OUT! Beaten and Quinton's quick hands remove the bails! The leggie gives his delivery plenty of flight and lands it around leg. Seeing the line, Murali walks forward to play the flick shot but it turns viciously after that to beat the outside edge of his bat. Quinton de Kock does the rest and Rahul continues to impress. Despite of a wicket falling, there is a huge cheer from the crowd, reason? Well, of course. Thala arrives. Chennai Super Kings 65/4 in 12.1 overs
20.28 IST: Jasprit Bumrah to Murali Vijay, Back of a length ball on middle, Vijay goes on his toes and helps it straight to mid-wicket. Rayudu is outside his crease and the fielder has an immediate shy at the bowler's end. Misses.
20.24 IST: Jasprit Bumrah to Murali Vijay, A length ball angling into the batsman, Vijay swings his bat across the line and chips it in the air over wide mid on. It falls safely in the deep and they take a brace.
20.23 IST: Jasprit Bumrah to Ambati Rayudu, Direct hit would have been close! Good length delivery on off, Rayudu plays it towards extra cover and scampers across to the other end.
20.19 IST: Malinga to Rayudu, FOUR! Once again the Free Hit has gone for a boundary. Raina put it away earlier wristily and Rayudu has done exactly the same. CSK 58/3 in 10.3 overs
* NO BALL! FREE HIT COMING UP!
20.17 IST: Lasith Malinga to Ambati Rayudu, Wide! Malinga starts his new spell from 'round the wicket and serves a length ball down the leg side. Rayudu tries to flick but misses.
20.12 IST: Jayant Yadav to Ambati Rayudu, Flighted off-spinner, landing outside off and turning back in, Rayudu pushes it with soft hands to covers and scampers across to the other end. CSK 50/3 in 10 overs
* Strategic break. Chennai are crawling at the moment and are under immense pressure. They have lost the cream of their batting and are now reliant on their middle order to bail them out.
20.07 IST: Krunal Pandya to Ambati Rayudu, Loopy ball on middle, turning away a bit to square up the batsman. Rayudu keeps it out by opening his bat at the last moment. It rolls in the gap at covers and they pinch a single.
* Krunal Pandya is back on.
STAT ALERT - Whenever a side loses three wickets or more in the Powerplay, only thrice has it gone on to win. 10 times it has ended up on the losing side. Massive mountain to climb...
20.02 IST: Chahar to Vijay, FOUR! Beaten in air. Nicely looped up ball just outside off, Vijay with unsure footwork tries to play at it initially and then makes a leave at the last moment. CSK 39/3 in 7 overs
* Powerplay done and the top three batsmen are also done for Chennai. This is the worst possible start they would have imagined.
19.59 IST: Krunal Pandya to Shane Watson, OUT! Watson departs and this is a massive, massive moment in the match. This is as much a wicket for the fielder as it is for the bowler. Short and around off, Watto rocks back and looks to pull, aiming to clear mid on. But he is not quite able to get enough off the bat. Jayant Yadav senses there is a chance at mid on, runs back, keeps his eyes on the ball and takes a spectacular catch. CSK 32/3 in 6 overs
19.56 IST: Krunal o Vijay, FOUR! Boundaries are coming now for Chennai. A tossed up ball landing full on middle, Vijay goes down on one knee and slog sweeps it over backward square leg. It nearly carries all the way. CSK 31/2 in 5.3 overs
19.55 IST: Krunal to Vijay, FOUR! Off the edge and understandably, Krunal is not happy. Full and outside off, Vijay looks to flick but the ball turns away, takes the leading edge and beats Jasprit Bumrah from short third man. CSK 27/2 in 5.1 overs
19.54 IST: Bumrah to Watson, FOUR! Smashed away! Short in length and on middle, Watson stays back to get on top of the bounce and pulls it to deep mid-wicket for a boundary. There was a sweeper on the leg side but he has no chance of cutting it off. 10 from the over, the best one so far for Chennai. CSK 23/2 in 5 overs
19.51 IST: Bumrah to Watson, FOUR! Eased away! This one is drifting down the leg side and Watson works it with good timing behind square leg. The short fine leg fielder gives the chase but the ball wins the race. CSK 17/2 in 4.2 overs
* Will we have the fifth bowler to bowl the 5th over? Jasprit Bumra to bowl
19.50 IST: Jayant Yadav to Shane Watson, Extravagant turn again. Landed around off, spinning down a long way, Watto looks to flick but misses. The ball hits his pads and lobs wide of Rohit Sharma at leg slip.
19.46 IST: OUT! Jayant Yadav removes Suresh Raina for 5. Caught and bowled! Raina, the man in-form, departs as well. Chennai have both their in-form back in the dugout. Massive setback. Mumbai are roaring at the moment. A terrific move by Rohit Sharma to bowl an offie with the left-hander on strike. He serves an off spinning delivery, lands it full and on middle and gets it to spin away a shade. Raina kneels to slog sweep it across the line but gets a big top edge. Chennai Super Kings 12/1 in 3.3 overs
19.44 IST: Jayant to Suresh Raina, FOUR! All timing! Yadav strays on the pads of the batsman and Raina easily lofts it by rotating his wrists. It flies over square leg and finds the fence. CSK 12/1 in 3.2 overs
19.43 IST: Jayant to Suresh Raina, FREE HIT AND FOUR! Smashed down the ground. CSK 8/1 in 1.1 overs
* Jayant Yadav to bowl.
19.41 IST: Rahul Chahar to Suresh Raina, Plenty of turn on this deck already. Tossed up around middle, spins in a long way, Suresh looks to defend but is beaten all ends up as the ball turns in a mile.
19.39 IST: OUT! Wicket number 11 for Rahul Chahar this season. His brilliance continues. What a start for Mumbai! They have got the prized scalp of Faf du Plessis. Chahar delivers it a touch flat and full wide outside off, du Plessis tries to slap it through the line but it spins away with some extra bounce and flies straight into the hands of short third man. Chahar removes Faf du Plessis for 6. Chennai Super Kings 6/1 in 2.1 overs
19.35 IST: Krunal Pandya to Faf du Plessis, FOUR! Nearly a catch! Faf gets lucky! Flighted and full, way wide outside off, du Plessis gets down on one knee before reaching out for this one. He throws his willow at it and it flies off the outside edge and just clears Bumrah inside the ring. It then races away to the fence. CSK 5/0 in 1.2 overs
* Who will bowl from the other end? A spinner or a pacer? It's Krunal Pandya to roll his arm...
19.33 IST: Malinga to Faf du Plessis, A run in the last delivery and one off the over which nearly seemed a maiden. CSK 1/0 in 1 over
19.30 IST: Lasith Malinga to Faf du Plessis, Malinga goes closer to the off stump and once again takes it away off the seam. Du Plessis sticks back and pushes it out with an angled bat to point.
19.28 IST: Time to play the game. Chepauk is buzzing. Mumbai get into a huddle near the boundary line with Rohit Sharma sharing some last minute thoughts. Out come Shane Watson and Faf du Plessis to open for Chennai. Lasith Malinga to bowl. Let's get started!
Chennai Super Kings Playing XI: Shane Watson, Murali Vijay, Faf du Plessis, Suresh Raina, MS Dhoni(w/c), Ambati Rayudu, Dwayne Bravo, Ravindra Jadeja, Harbhajan Singh, Deepak Chahar, Imran Tahir
Mumbai Indians Playing XI: Quinton de Kock(w), Rohit Sharma(c), Suryakumar Yadav, Ishan Kishan, Hardik Pandya, Krunal Pandya, Kieron Pollard, Jayant Yadav, Rahul Chahar, Jasprit Bumrah, Lasith Malinga
IPL 2019, Qualifier 1: Chennai Super Kings win toss, opt to bat against Mumbai Indians in Chennai
Hello and welcome to our live coverage of the Indian Premier League 2019 Qualifier 1 clash between Mumbai Indians and Chennai Super Kings. The TOSS will take place at 19.00 PM IST and play will commence from 19.30 PM IST. Stay tuned for all the live score and updates. 
Brief Preview: Three-time IPL winners Mumbai Indians and Chennai Super Kings will take each other on in Qualifier 1 of IPL 2019 on Tuesday. It is set to be a classic battle of analysis and instincts at the Chepauk -– while Mumbai Indians are loaded heavily with data and strategies, the Super Kings, as Dhoni himself admits, employ a more reactive approach. CSK looked like a hastily-assembled group of individuals in the absence of Dhoni this season. And so, a lot would depend on the master-architect CSK captain when the side hosts Rohit Sharma's men at Chepauk. (READ FULL PREVIEW HERE)