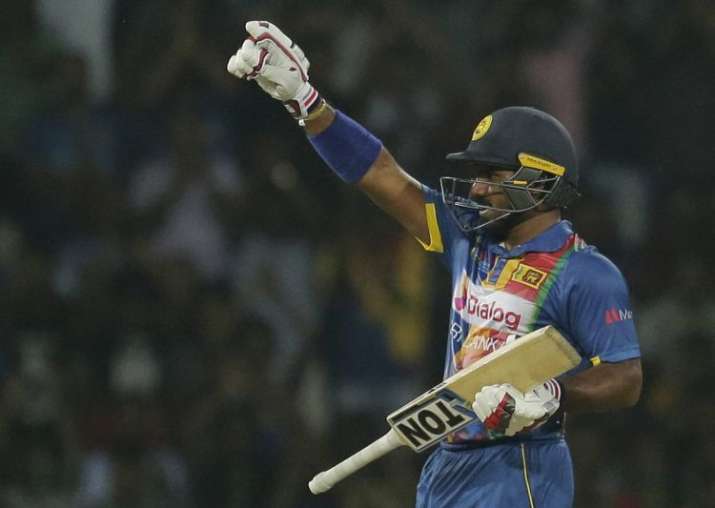 HIGHLIGHTS SRI LANKA VS INDIA, NIDAHAS TROPHY 1ST T20I: Hello and welcome to our live coverage of the 1st T20I match of the Nidahas Trophy between India and Sri Lanka at R.Premadasa Stadium, Colombo. You can catch all the live cricket score online updates and ball-by-ball commentary here with our live blog. Sri Lanka captain Dinesh Chandimal won the toss and opted to bowl first against India in the opening match. All-rounder Vijay Shankar received his maiden India cap ahead of the toss. Amidst an emergency situation on the island, Rohit Sharma-led Indian cricket team is taking on Sri Lanka in the opening match of the tri-nation T20I series, which includes Bangladesh as well. In the absence of star players such as captain Virat Kohli, wicketkeeper-batsman MS Dhoni, Hardik Pandya, Bhuvneshwar Kumar and Jasprit Bumrah, India 'second-string team' will be eager to make a mark in Colombo. During India's much successful home season last year, they faced Sri Lanka in 18 international matches (6 Tests, 8 ODIs and 4 T20Is) in home and away. A yet another face-off between the two will be a sheer delight for both players and viewers in a highly-predictable format. Skipper Rohit didn't hesitate to compare the exciting T20 format with English Premier League, claiming that "any team can win on a given day". Will India start with a win in the tri-series despite missing their star campaigners or hosts Sri Lanka will commence the series on a high? Stay tuned for all the live updates. Catch all the latest cricket scores from the Nidahas Trophy 2018 here. (LIVE SCORECARD)
HIGHLIGHTS INDIA VS SRI LANKA, NIDAHAS TROPHY 1ST T20I AT COLOMBO
22.51 IST: Rohit Sharma, the glum-faced skipper, states that they ended up with a par score and something that was enough to play with. Adds that some more acceleration was desirable towards the end with the bat. Concedes that the start that Sri Lanka got was instrumental in them gunning this total down. Reckons that sometimes things can go wrong and sounds hopeful of his boys learning from this outing. Mentions of having enough experience in their bowling line-up. He states that although the international experience is less, their bowlers are pretty well-exposed to the format and hence the management backs them to do the task. Iterates about having a good depth in the side. Ends vowing to come back stronger in the next games.
22.45: The Man of the Match tonight is Kusal Perera for his belligerent knock. He begins by stating that this was his best innings. Reckons that after injuring himself, he went and played at the club level and got himself ready to the rigors of international cricket. Ends saying that the target was a stiff one but they were confident of chasing this down.
22.26 IST: FOUR! Those are the winning runs! Thisara Perera's blade brings them. This is short in length, Perera pulls it through backward square leg. The ball speeds away to the fence, beating square leg to his left and fine leg to his right.  Sri Lanka (175/5) beat India (174/5) by 5 wickets in Colombo. Kusal Perera 66, Washington Sundar 2/28
Sri Lanka beat India by 5 wickets and won the 1st T20I of #HeroNidahasTrophy. SL 175/5 (18.3 Ovs) Kusal Perera 66, Thisara Perera 22*, Danushka Gunathilaka 19 v IND 174/5 #SLvIND pic.twitter.com/EIztkDpx07

— Sri Lanka Cricket 🇱🇰 (@OfficialSLC) March 6, 2018
22.22 IST: Shardul Thakur to bowl the penultimate over. Will he be able to take the game to the last over?
22.21 IST: WOAH! Here comes another. 10 runs off the last two balls and that should seal the deal for Sri Lanka. This is a low full toss on the stumps, Perera thumps it straight over the non-striker and holds the pose. The ball bounces just in front of the ropes and that brings down the runs required to 8 off the last two overs.  SL need 8 runs in 12 balls now. 
22.20 IST: SIX! Thisara Perera pushes Sri Lanka close to victory. Telling blow? Full on off, Perera gets his front leg out of the way and smites it straight over long off. The ball clears the fence easily. Sri Lankans needed just one big over and this is the one it seems.
22.17 IST: FOUR! A powerful strike from Dasun Shanaka. Shanaka belts this one! Length ball at a normal pace this time. Shanaka backs away and flat-bats it over covers for a boundary. Crucial one, as more 20 runs are needed off 16 balls.
22.16 IST: Jaydev Unadkat to bowl his third over.
22.14 IST: 150 up for the Islanders. Vijay Shankar to Dasun Shanaka, 2 runs. Short and wide outside off, slashed over point for another two.
22.12 IST: Vijay Shankar to Dasun Shanaka, 2 runs. BEAMER! NOT A NO BALL, STRANGELY! Shanaka heaves it towards fine leg for a couple. All eyes are on the umpires but no signal from them. Lucky Shankar?
22.08 IST: SL 140/5 in 16 overs, need 35 runs in 24 balls. Shardul Thakur to Dasun Shanaka, no run. Excellent over from Thakur comes to an end as just 3 came off this. This is banged short yet again, Shanaka is unable to slash it. 35 from 24 needed. The Lankans are 6 runs ahead that where India were at this point.
22.02 IST: Thisara Perera is the next batter in for Sri Lanka. Though the card says 39 off 32 required, with two new batsmen in the middle, it could be anybody's game. A slip in place now.
22.01 IST: WICKET! Chahal removes Tharanga for 17. Woodwork! This is flatter on a length around off, Tharanga hangs on the back foot and looks to heave it over the on side. Ends up missing the ball and finds his off stump pegged back. Chahal has this wonderful character of striking when the attack is on him. Does exactly the same now. Sri Lanka 136/5, need 39 runs vs India (174/5) in Colombo.
21.58 IST: Yuzvendra Chahal is back.
21.56 IST: Tharanga dropped at 14 ! CHANCE DOWN! Rishabh Pant, the name which is associated with this one.
21.52 IST: Shardul Thakur is brought on after his sole over went for 27.
21.50 IST: Dasun Shanaka walks in next. The platform is set for him to get himself in and see his side through.
21.49 IST! WICKET! Sundar removes Kusal Perera for 66. Is this the wicket that turns it around for India? Sundar is the man, who has provided the breakthrough for them. This is floated outside off, Perera comes down the track in search of a big shot. Misses the ball completely and Dinesh Karthik does the rest. This is exceptional stuff from the youngster, considering that he is bowling at a time when the batters are in a murderous mood. 48 more needed off 45 balls.  Sri Lanka 127/4, need 48 runs vs India (174/5) in Colombo.
21.45  IST: SIX! Kusal Perera is audacious. Period. Raina darts it around off, it comes at a good length for Perera. He gets into position early and reverse hits it high and handsome over deep backward point for a biggie.
21.43 IST: 11 overs gone, SL are 114/3. Yuzvendra Chahal to Upul Tharanga, 1 run. Flatter outside off, punched through covers for one. 61 off 54 needed. They are just 61 runs away from victory.
21.42 IST: SIX! What a way to get off the mark. Tossed up delivery outside off, it is the leg spinner. Tharanga picks it up and smites it over deep mid-wicket for half a dozen.
21.40 IST: FOUR! Ahhh! The Indians shouldn't be complaining about such type of runs as Dhawan also got them this way. This is floated down leg, Perera looks to sweep. Gets a top edge and the ball goes through to the fine leg fence.
21.37 IST: Suresh Raina is into the attack.
21.36 IST: Upul Tharanga walks in next.
21.35 IST: WICKET! Chahal removes Chandimal for 14. Chahal gets the skipper. Beautifully bowled by the spinner. Quicker through the air and Chandimal charges down the wicket ending up yorking himself. Tries to flick it on the onside but a gap between bat and pad is enough for the ball to go through at disturb the furniture. Sri Lanka 98/3, need 77 runs vs India (174/5) in Colombo.
21.27 IST: FIFTY! Kusal Perera hits his 8th T20I half-ton. Vijay Shankar to Kusal Perera, 1 run. FIFTY for Perera. Short ball, Perera rocks back and cuts it on the off side for one. He gets there in just 23 balls.  Sri Lanka 89/2, need 86 runs vs India in Colombo.
21.26 IST: Vijay Shankar to bowl for the first time on his debut.
21.17 IST: Dinesh Chandimal is next to bat.
21.16 IST: WICKET! Unadkat removes Gunathilaka for 19. One too many! India get the break through. Slow ball in line of the stumps and Gunathilaka looks to go downtown. He is undone by the pace on that and ends up chipping it in the air. The ball goes towards mid off and Pant gets under it and takes a simple catch. A good catch to end the mayhem. A quick-fire 58-run partnership for Sri Lanka comes to an end. Will India sneak through the line-up now? Sri Lanka 70/2, need 105 runs vs India in Colombo.
21.12 IST: Tremendous batting display. Brings up the 50-run partnership.
21.09 IST: SIX! Perera continues to delight Colombo spectators. It's raining in Colombo. No, not bad news, but it's raining sixes! This is tossed up around middle, Danushka gets down on a knee and smites it over deep mid-wicket for a maximum.  SL 56/1, need 119 to win.
21.05 IST: Shikhar Dhawan, the vice-captain, has something to say and he whispers his ideas to the skipper Rohit Sharma. Will this stop the bleeding?
21.02 IST: Hat-trick of fours by Kusal Perera. What a player! FOUR! Hat-trick of boundaries for Perera. Pitched up and Perera lofts it over mid off for four more.
21.01 IST: FOUR! Back-to-back boundaries for Perera. Uses the pace of Thakur and guides it to the third man region for another boundary.
20.00 IST: FOUR! Starts off with a short ball and Perera pulls this behind square for a boundary.
20.59 IST: Shardul Thakur to bowl his first over.
20.58 IST: Kusal Perera walks in next to bat.
20.57 IST: WICKET! Sundar removes Mendis for 11. Sri Lanka 12/1, need 163 runs vs India in Colombo.
20.54 IST: Washington Sundar will share the new ball from the other end.
20.52 IST: FOUR! Mendis edged, but gets some runs for the team. ALMOST a wicket for India. Length ball moving away from Mendis. He looks to cut this and the ball flies past Raina at slip for a boundary.  SL 5/0 in 0.4 overs.
20.48 IST: With eyes on a huge target of 175 runs, Sri Lanka openers are on the crease. Unadkat to bowl the first ball.
20.37 IST: WICKET! That's all. Shikhar Dhawan's 90-run knock propels India to 174/5 in 20 overs against Sri Lanka. Pant doesn't trouble the scorers much after hitting the previous boundary. Perhaps this signals his troubles in his innings. This is short down the leg side. He gets inside the line and pulls it straight down fine leg's throat. Pradeep there pockets it safely to RESTRICT INDIA TO 174/5!
Innings break: India post 174/5 at the end of 20 overs.
(Dhawan 90, Pandey 37, Chameera 2/33). Target 175.
FB LIVE: https://t.co/683OYYN2c8 #HeroNidahasTrophy #SLvIND pic.twitter.com/LIhERAsSBH

— Sri Lanka Cricket 🇱🇰 (@OfficialSLC) March 6, 2018
20.36 IST: Pant joins in with a FOUR! Finally a boundary off Pant's blade. He last hit one in the 15th over and now here's another. He makes room and spanks it through covers. Succeeds in finding the gap in the deep.
20.35 IST: Here comes another one. Karthik pushing India forward in the last over. This is Dinesh Karthik's boundary all the way. Chameera takes a clue from Perera's previous over and spears it full on the stumps. Karthik is aware to that and flick-digs it over square leg. Once the man in the circle is cleared, the result is clear as well.
20.34 IST: EDGED but runs. It doesn't matter how the runs come as long as they do. This is a slower delivery on a length outside off, Karthik looks to smash it over the off side. Gets a thick outside edge and that enables the ball to run away to the third man fence in a flash. Despairing look on the bowler's face says it all.
20.33 IST: 180 on the cards? Dushmantha Chameera to bowl the last over of the innings.
20.32 IST: Thisara Perera to Rishabh Pant, 1 run. Another full one on off, Rishabh digs it out to long off for one. 5 singles and a double in this one. Very good one from Thisara.  IND 160/4 in 19 overs.
20.28 IST: Thisara Perera back.
20.27 IST: Dinesh Karthik walks in next.
20.26 IST: WICKET! Gunathilaka removes Dhawan for 90. Danushka Gunathilaka gets the big scalp! Dhawan falls 10 short of the triple-figure mark. Gets a nice full floated delivery on off, he looks to go over long off, mindful of the fielder there. Perera sees that the ball is coming straight to him and takes it by keeping his eyes on the ball. Hush! Perhaps Sri Lanka can now get a breather.  Maybe with Pant not able to strike big, Dhawan had to take the onus upon himself and departs in the process. India 153/4 in 18 overs vs Sri Lanka in Colombo.
20.22 IST: Dhawan, now at 89, concludes the 17th over with a SIX! You don't give Dhawan many chances just for this reason. He slinks down the track in a flash and takes it on the full. Bludgeons it straight over the bowler's head for half a dozen. Brings up India's 150.
20.18 IST: SIX! Dhawan continues to delight the Colombo spectators with huge sixes. SIX! Well... Do a Ctrl F and find Dhawan and fine leg. Too many runs there and most of them via top edges. This is short in length, Shikhar moves inside the line in a bid to pull it. The ball takes the top edge and clears fine leg to take Dhawan into the 80s. IND 140/3 in 16.1 overs.
20.17 IST: Dushmantha Chameera is back into the attack.
20.16 IST: SIX! What a shot! Dhawan is in a great shape today. BOOM! Dhawan is in a murderous mood here. Floated on the stumps, Dhawan gets down on a knee and slog sweeps it high and handsomely over mid-wicket.
20.12 IST: Dhawan smashes it to deep mid-wicket. BAMMMM! Dananjaya bowls a half-tracker on middle, Dhawan hangs on the back foot and banishes it over the deep mid-wicket fence for half a dozen. IND 116/3 in 14.2 overs.
20.07 IST: Danushka Gunathilaka is brought into the attack.
20.05 IST: The man in at number 5 for India is Rishabh Pant. Interesting choice this.
20.04 IST: WICKET! Mendis removes Pandey for 37. That's it for Manish Pandey tonight. We all know how dangerous he can be towards the end and hence, no wonder why the Lankans are elated. Seeing the tossed up ball, Pandey slinks down the track to hit it over the bowler's head. Ends up getting off the inner half. The ball travels straight to Gunathilaka at deep mid-wicket who doesn't mess it up. A big partnership comes to an end. Can Sri Lanka build on this?  India 104/3 in 12.4 overs vs Sri Lanka in Colombo.
20.01 IST: Jeevan Mendis is back from another end now.
19.58 IST: Change in field. Long off and long on come in the circle now.
19.54 IST: FIFTY! Shikhar Dhawan hits his 5th T20I half-ton. Dhawan is continuing his good run of form with the bat. Akila tosses this well wide of off, Dhawan gets down on a knee and nails the drive through covers for a boundary. He has done well to hold the innings together after the initial blows. India 89/2 in 10.5 overs vs Sri Lanka in Colombo.
19.51 IST: Jeevan Mendis to Manish Pandey, 1 run. Floated delivery, Pandey hits it through mid on for one. After 10 overs, India are 80/2 with Dhawan (45) leading the charge.
19.45 IST: Two sixes in a row. Dhawan in beast mode right now. The word 'commanding' is nowhere close to this shot. Another effort ball from Pradeep, Dhawan is cramped for room yet proceeds to play the pull. We are waiting in anticipation to see the fielder get under that to pouch that but instead, the next visuals are of the ball sailing over the fine leg fence.
19.44 IST: SIX! Streaky again, but Dhawan would hardly be bothered by the outcome. Pradeep bangs this short on the stumps, Dhawan looks to go for the pull. Goes through with the shot and the ball goes off the top edge and sails over the third man fence for a maximum. This is the first one of the game. That's the 50-run stand between Dhawan and Pandey. Resurrection in progress and going well.
19.41 IST: SIX! Pandey shows some confidence here. Hits it straight over the deep mid-wicket. Huge! Tossed up and Pandey slogs sweeps this over mid-wicket for a biggie.
19.40 IST: NOT OUT! Sri Lanka lose the review. Dhawan survives. Pitches this on leg and Dhawan fails to sweep this one too. The ball goes to hit the pads and after a strong appeal from the players they decide to review this. Replays show that the ball has pitched outside leg. Good decision from the umpire. The batsmen cross between all this. IND 50/2 in 7.2 overs.
19.38 IST: REVIEW! Is Dhawan gone? The Sri Lankans have opted for a review for an LBW decision against Dhawan. They appeal but the umpire gives it not out. Chandimal doesn't think the same and opts for the review. Has this pitched outside leg?
19.37 IST: Jeevan Mendis into the attack.
19.34 IST: FOUR! Short ball, around off, Pandey quickly takes position and works it towards the fine leg region for another boundary.
19.32 IST: Thisara Perera to bowl his first over.
19.31 IST: Akila Dananjaya to Shikhar Dhawan, 1 run. Outside off, Dhawan kneels and sweeps it to square leg for one. 6 overs gone and India are 40/2.
19.24 IST: FOUR! LUCKY DHAWAN! The short ball ploy was initially against Raina but here, against Dhawan, it almost paid dividends. Dhawan is hurried into the pull and gets a top edge. The ball sails over the short fine leg fielder and goes to the fence for another boundary.
19.22 IST: FOUR! Dhawan drives it with sheer grace. Dananjaya's efforts on the third man fence should be lauded, but the result is in India's favour. Pradeep delivers this on a length angling away, Dhawan stands back and guides it towards third man. Akila runs to his right in the deep and puts in the dive. Yet fails to prevent the boundary.  IND 22/2 in 4.1 overs.
19.19 IST: FOUR! And a sweep shot gets some runs for India. A bit shorter this time and Dhawan does not miss it this time. Rocks back and pulls this behind mid-wicket for a boundary.  Dhawan gets all the credit. IND 14/2 in 3.3 overs.
19.15 IST: Akila Dananjaya to roll his arm now.
19.13 IST: Manish Pandey joins Dhawan in the middle.
19.12 IST: WICKET! Pradeep removes Raina for 1 run. BOWLED! Raina misses the full toss and the ball goes and hits the timber. Slower ball, Raina gives room and completely misses the ball trying to cut it on the off side. The ball crashes into the middle stump and sends Raina back to the hut. What a start for the Lankans.  India 9/2 in 2 overs vs Sri Lanka in Colombo.
19.10 IST: FOUR! Around off and Dhawan charges down the wicket and pops it over mid off. The ball races away to the fence for the first boundary for the Indian innings.
19.07 IST: Two runs and a big wicket from the over. Dushmantha Chameera to Suresh Raina, no run. Raina cuts this to the point fielder.  India are 2/1 after the first over.
19.05 IST: Suresh Raina walks in next.
19.04 IST: WICKET! Chameera removes Rohit for duck. Rohit fails to score again against Sri Lanka. Length ball in the line of the stumps and Sharma looks to hit it back of the bowlers head. Hits it just a tad early and the ball gets more height than distance. Jeevan Mendis from covers runs and takes a good catch chasing the ball. Just the start for the home team needed. India 1/1 in 0.4 overs vs Sri Lanka in Colombo.
19.00 IST: Dhawan, Rohit will open the innings for India. Chameera  to start proceedings for Sri Lanka
18.53 IST: Teams come out for the national anthems!
18.50 IST: PITCH REPORT! Brett Lee is down on the field and gives us a report on the pitch. He says that there is plenty of grass on the pitch and also some dead grass. He adds that the weather was hot and humid in the past couple of days and also little rain. He states that there are a bit few cracks on the surface and the ball will skid through. He opines that the bowlers should pitch it up and not be afraid. But says that it is a flat pitch and a good one for the batsmen. If the batsmen get through the start they should get good runs on the board. He reckons that it is a 150-170 track.
18.46 IST: 
India Playing XI: Rohit Sharma (C), Shikhar Dhawan, Suresh Raina, Manish Pandey, Dinesh Karthik (wk), Rishabh Pant, Washington Sundar, Vijay Shankar, Shardul Thakur, Jaydev Unadkat, Yuzvendra Chahal
#TeamIndia Playing XI for first T20I at Colombo #SLvIND pic.twitter.com/H4AjEgn8hB

— BCCI (@BCCI) March 6, 2018
18.43 IST: "Not worried about losing the toss. Looks a good pitch, we need to come out and play good cricket for 40 overs. I want to start the series on a fresh note. It's a perfect opportunity for the youngsters to showcase their skills. They have done well in the domestic tournaments," Rohit Sharma says at the toss.  
18.40 IST: 
Sri Lanka Playing XI: Upul Tharanga, Danushka Gunathilaka, Kusal Mendis, Dinesh Chandimal (wk/C), Kusal Perera, Dasun Shanaka, Thisara Perera, Jeevan Mendis, Akila Dananjaya, Dushmantha Chameera, Nuwan Pradeep
SL XI: WU Tharanga, D Gunathilaka, K Mendis, D Chandimal, MDKJ Perera, D Shanaka, NTLC Perera, J Mendis, A Dananjaya, D Chameera, N Pradeep

— BCCI (@BCCI) March 6, 2018
18.35 IST: "Looks a good pitch. We need to restrict them and get the total in the second half. We are playing seven batters and four bowlers," Chandimal says after winning the toss.
18.32 IST: Sri Lanka have won the toss and opted to bowl first against India in the 1st match.
Sri Lanka wins the toss and elects to bowl in the first T20I against India #NidahasTrophy pic.twitter.com/mgjjnzxhbL

— BCCI (@BCCI) March 6, 2018
18.28 IST: This is how Sri Lanka welcomed India when they arrived in Colombo for the Nidahas Trophy. 
India team arrives in Colombo #HeroNidahasTrophy pic.twitter.com/CYSJXrbWJN

— Sri Lanka Cricket 🇱🇰 (@OfficialSLC) March 5, 2018
18.20 IST: All-rounder Vijay Shankar is set to make his T20I debut. The 27-year-old from Tamil Nadu received the cap from coach Ravi Shastri.
A familiar huddle and some new faces. Time to get The Nidahas Trophy underway. In other news - @vijayshankar260 is all set to make his T20I debut #TeamIndia pic.twitter.com/yhjYR6YZlj

— BCCI (@BCCI) March 6, 2018
18.12 IST: All the three skippers unveiled the Nidahas Trophy on Monday. This is how the glittering trophy look.
That's what the three teams are playing for - The Nidahas Trophy which is all set to begin from the 6th of March 2018 #TeamIndia pic.twitter.com/MO8gGuTdWz

— BCCI (@BCCI) March 5, 2018
18.05 IST: Complete Squads:
India: Rohit Sharma (C), Shikhar Dhawan (vice-captain), KL Rahul, Suresh Raina, Manish Pandey, Dinesh Karthik (wk), Deepak Hooda, Washington Sundar, Yuzvendra Chahal, Axar Patel, Vijay Shankar, Shardul Thakur, Jaydev Unadkat, Mohammad Siraj and Rishabh Pant (wk)
Sri Lanka: Dinesh Chandimal (C), Suranga Lakmal (vice-captain), Upul Tharanga, Danushka Gunathilaka, Kusal Mendis, Dasun Shanaka, Kusal Janith Perera, Thisara Perera, Jeevan Mendis, Isuru Udana, Akila Dananjaya, Amila Aponso, Nuwan Pradeep, Dushmantha Chameera, Dhananjaya De Silva
17.52 IST: The Board of Control for Cricket in India (BCCI) acting president CK Khanna, in an exclusive chat with India TV, has assured that there is no threat to the security of Indian players stationed in Sri Lanka following the ongoing violence in the country which forced the authoritied to declare a 10-day emergency. Police in Sri Lanka imposed a 10-day emergency to quell anti-Muslim violence after mobs from the majority ethnic Sinhalese population burned shops and homes in retaliation for a death that's the subject of a dispute. (Read full story)
17.40 IST: The aim would be to stay on the selectors' radar for next year's World Cup when India's second-string team, led by Rohit Sharma, begins yet another Sri Lankan sojourn by taking on the Islanders in the opening match of the Tri-Nation Nidahas Twenty20 Cup in Colombo on Tuesday. Having faced Sri Lanka in 18 international matches this season (6Tests, 8 ODIs and 4 T20 Internationals) on home and away basis, another face-off can only add to the players as well as viewers' fatigue due to lack of context. (Read full preview)