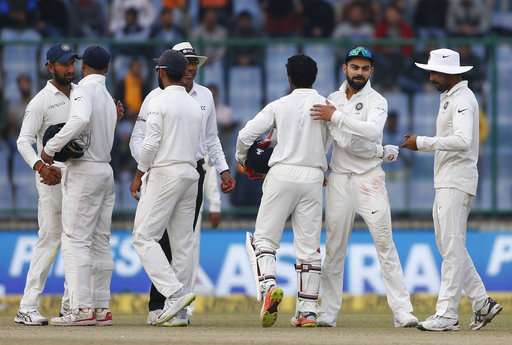 Sri Lanka would be very pleased with their batting on the last day. They will believe that they have won the game even though the results say likewise. Starting with Dhananjaya de Silva, they believed in themselves and carried on throughout the day. Day 1 belonged to India where we witnessed a big hundred from Vijay and a double hundred from Virat Kohli. India went on to score a massive 536/7 after what we can say was an absurd decision - not because of the playing conditions but because of the environmental conditions. The Sri Lankan players were seen wearing masks while taking the field while few of them were also seen throwing up on the field. They cannot be blamed as the conditions were also not up to the mark. Day 2 was a little more media catching for the wrong reasons.
Sri Lanka played well especially the partnership between Angelo Mathews and their skipper Dinesh Chandimal. They never changed the tide towards them but psychologically really changed their approach. India came out with a positive approach in the following day but it really didn't click. They didn't score as quickly as per their liking. They declared their innings and gave Sri Lanka a target of 410 to win. India picked up a couple of wickets at the close of day 4 and would really believe that they could go all the way to win the game from there.
The pitch didn't help the Indian spinners on the final day as they didn't get much purchase from it. They picked up the wicket of Mathews early but Dhananjaya de Silva and his middle order stitched up good partnerships to remove all doubts about another collapse. Indian bowlers tried their best were unable to get the better of the Sri Lankan batters. They had their opportunists with a stumping gone begging and Jadeja's extended stride which caused a no ball. So were India a little too overconfident after the loss of the two early wickets the previous day? Having bowled out oppositions on previous occasions many a times when being in this position. On another given day they would have wrapped up the Sri Lankan innings by Tea but some solid defence by the latter's saved the match. (SCORECARD)
HIGHLIGHTS, INDIA VS SRI LANKA, 3RD TEST, DAY 5 AT KOTLA
16.35 IST: So that's it from us for the Test series. Sri Lanka would be glad about the final 1-0 result, especially after being whitewashed at home by India earlier this year. All the pre-series talks, too, revolved around the hosts steamrolling them. But they have done really well to lose just the solitary game in the series. That's not all from this Sri Lankan tour, though. It is time for the coloured-clothing games to take precedent now. The ODI series begins first. Will the tourists put up a good show then? Or will the home side continue their recent domination on the away side? The first game of the series will be played at Dharmasala on the 10th of December 2017. Join us then at 1130 local time (0600 GMT). We look forward to your company for that game. Till then, adios, take care!
16.30 IST: VIRAT KOHLI, the Indian captain is adjudged as the Man of the Match as well as the Man of the Series for his stellar run in the series. He admits that it was a good series for him personally. Adds that he was hitting the ball well and it was a revelation for him that he could play Tests like he does in the limited overs games. When he wasn't the captain of the side, milestones drove him, but now he realizes that it is about the team. He works on things that benefit the team. States that the team looks upon Rohit Sharma as a game changer and someone who can bat in the lower middle order. Is glad that the batsman grabbed his chance in the couple of games that he played in. He is happy with how his batsmen have shaped up and have scored runs. It isn't a satisfying feeling to not bowl out the opposition and finish the game, he adds. Yet he credits the opposition and feels that their batters applied themselves well and sailed to safety. Feels that the pitch also had its role there as it got tired towards the end. Reckons that if they would have got more runs in the first innings things could have been different but quickly adds that this game isn't about ifs. Asserts they need to work on their slip fielding. About not having Rahane in the slip cordon, he feels that since Ajinkya has been fielding at gully since his initial days, the team trusts him there. Adds that position is the most difficult one to perfect your reflexes. Mentions that they have recognized the personnel who will man the slip cordon and will continue to work on that. Feels that it is a welcome break for him. Adds that last time he took rest it was difficult to handle but now his body needs it as the past couple of years have taken a toll on him and he can't play with low energy levels. Ends saying this is a perfect time to rest and be refreshed before the series against South Africa.
16.25 IST: DINESH CHANDIMAL, the Sri Lankan skipper, says it was a really good series apart from the second game where they didn't do well. Adds that they learnt lessons from the last series and did well here. Lauds his team management and players for their contribution. He states that the entire side looks up to Rangana Herath and Angelo Mathews and when the either of them does well, the team generally does well. Credits Dhananjaya de Silva and Roshen Silva to have battled out through tough conditions. Adds that Niroshan Dickwella played well too. He asserts that before coming on this tour, he worked hard on his technique with his batting coach and is happy that it paid off. Reckons in Sri Lanka they aren't used to such bad weather and hence they struggled on the first two days here. But his message to his team was to forget about that and play the game. Adds that the weather today is fantastic and it feels like it is back home. Evokes cheers from the crowd as he thanks them for their support. Ends by wishing India the best for South African tour.
16.15 IST: Roshen Silva agrees that he was under pressure in the first innings. His aim was to impress the selectors and he thinks he has done that. Adds that the opposition bowlers tough to face and of good quality. His thought process was of attacking the spinners and putting them on the back foot. He had a talk with Dickwella when he walked out to bat and decided that they will play their normal game. About coming good in this innings, he states that it wasn't easy and their batting coach said that if you score runs here the whole world will rate you high. He played on that lines and was confident of his performance as he had done well with the A team and also in First-Class cricket. Ends saying that he wants to do well henceforth and grabs his chance.
16.10 IST: Niroshan Dickwella says that there was a rough available for Jadeja to bowl and Ashwin was bowling well. States that he was playing his normal game. On asking about the batters' intents, he mentions that they were planning to chase this down if they would have got partnerships. Asserts that Dhananjaya de Silva's injury didn't help their cause. Adds further that if the batsman hadn't been injured, they would have still gone for the target. Opines that it wasn't a Day 5 track as there was a flat patch in the middle of the track although rough patches were there outside the stumps towards the corner of the track.
16.00 IST: Dickwella walks down to the non-striker's end. It at first seems that it is some sort of time-wasting tactic. Well, hold on! The batsmen are asking the dressing room about calling off the game... And the signal from the dressing room comes in the affirmative! So it has ended in a DRAW! A moral victory for Sri Lanka nevertheless.
15.59 IST: No, it won't be a maiden! Dickwella punches it through covers for a single. SL 299/5 in 103 overs
15.55 IST: Just outside off from Jadeja, Silva goes back and guides it deftly towards backward point. SL 298/5 in 102 overs
15.51 IST: And again! Dickwella should be careful while playing the sweep repeatedly. Seeing this delivery around off, he gets down to play that shot. Gets a top edge and the ball lies in the vacant square leg region. One run for that. SL 297/5 in 101 overs
15.43 IST: Silva and Dickwella are doing their best to hang on as we enter the last hour of the day. The spinners are doing all they can but nothing seems to be working right now. SL 292/5 in 97.3 overs
15.30 IST: A bit of cat and mouse game going on at the moment. When the field is spinning into the left-hander, Virat Kohli is smartly moving the field back on the off side. He is telling him to play against the spin which is always a difficult thing to do on a deteriorating pitch. While the field is being moved in when Roshen Silva is on strike.
15.26 IST: FOUR! Roshan Silva plays the cut shot with a foot back, times Ashwin's delivery and bam it goes for a boundary. SL 283/5 in 92.6 overs
15.18 IST: FOUR! Easy pickings! Short and wide outside off, Silva rocks back and cuts it through point for a boundary. SL 270/5 in 91 overs
15.14 IST: Risky! Floated outside off, Dickwella kneels and goes for the sweep but misses. That was not from the off pole. Just a single from the over. SL 261/5 in 90 overs
15.10 IST: Virat Kohli has got hold of a kite. Not sure where it has come from but the skipper is having fun with it. The crowd enjoys it. Kohli hands it back to the umpire.
15.05 IST: FOUR! Maiden Test fifty for Roshen Silva on debut! After a duck in the first innings, he would have been feeling nervy when he came out to bat this time, considering the situation of the game. This stroke to reach his fifty sums up his confident knock and showcases the fact that this young man has got a strong temperament. Skips down the track to the tossed up delivery and creams it through covers for an exquisite boundary. Still, he can't afford to relax and needs to continue with the same approach. There is a game to be saved. SL 258/5 in 87.3 overs
15.04 IST: FOUR! The debutant is growing in confidence. Coming in with the arm around off, Silva is nimble on feet and clips it through the gap between mid on and short mid-wicket. Both the fielders, Ashwin at the former position and Pujara at the latter, give up the chase too quickly as the ball rolls to the ropes. Jadeja is not amused one bit. SL 254/4 in 87.1 overs
RAVINDRA JADEJA to replace Mohammed Shami.
15.01 IST: The whole of Kotla erupts! It is Ashwin who has been successful with his dive. Short of a length delivery wide outside off, Silva places it towards point. SL 250/5 in 87 overs 
14.56 IST: No matter what, Dickwella will continue to play his natural game. Shami changes his angle and comes from over the wicket. Bowls it wide outside off, Dickwella leans into it and caresses it to deep point for a single. SL 249/5 in 86 overs
14.52 IST: FOUR! Nice execution. Turns out to be a safe shot in the end. Shami tries to unsettle Dickwella with a short delivery. However, the southpaw remains cool as a cucumber and ramps it over the slip cordon for a one-bounce boundary. The wicket-keeper is enjoying the situation at present. SL 247/5 in 85.3 overs
14.47 IST: Virat Kohli eggs the crowd to cheer for them. The Feroz Shah Kohli is buzzing right now. The Indian needs their backing if they are to break the resistance of the visitors.
14.45 IST: FOUR! Lucky runs! Back of a length delivery outside off, Dickwella looks to force it through covers but gets a thick outside edge in the gap between second slip and gully and the ball races away to the fence. Dickwella is riding his luck but that is the way he played. Nothing working for India at the moment. SL 243/5 in 84 overs
14.41 IST: 4 Byes! Welcome runs for Sri Lanka even though runs don't matter for them. This ball is bowled a little wide outside leg, Silva tries to flick it but misses it. The ball goes past a diving Saha for a boundary.  SL 236/5 in 83 overs
14.37 IST: FOUR! Not in control but will take that as a snack after tea. Ishant bowls this wide outside off at a fuller length. Dickwella tries to drive it but gets a top edge to it and the ball flies to the vacant region towards the wide third man region behind the fence. SL 230/5 in 82.1 overs
ISHANT SHARMA to continue his spell.  
14.35 IST: Full-length delivery around off, shaping away substantially. Roshen points his bat skywards and leaves it safely. Shami bags another maiden to his name. SL 226/5 in 82 overs
14.30 IST: The Sri Lankan pair of Dickwella and Roshen Silva walk out to the middle. The umpires and the Indian team are also out. MOHAMMED SHAMI is given the new ball that is one over old.
... Final Day, Final Session ...
14.19 IST: What did India do? Almost everything possible. Ashwin and Jadeja bowled more overs in a bid to have more balls to get a dismissal. They handed an over each to Vijay and Kohli. They tried changing the pacers' ends and used them in short spells. Finally they have taken the second new ball. This forthcoming passage of play should be interesting. Will the hosts succeed in their mission to win 2-0 with this second new cherry? Join us as the action unravels in just a bit.  
14.15 IST: Wonderful closely contested session! This is what we would have loved to watch the entire series - decent performance from Sri Lanka. Once again it is a passage of play where they haven't lost wickets in clusters and as the batsmen are spending time at the crease, the confidence is getting high along with the runs that flow. This innings so far has belonged to Dhananjaya de Silva.  The youngster wasn't in the side in the first couple of games and here he is, playing a match-saving knock. The job's not done though but his innings has his side just one session away from salvaging a draw which very few would have given them a chance of. It was a chanceless knock till the time Ashwin spilled a hard caught-and-bowled chance. He walked out eventually after what we believe is a muscle-pull.
14.14 IST: 
At Tea on Day 5, Sri Lanka are 373 & 226/5. India need 5 wickets to win the match #INDvSL pic.twitter.com/4hI3RleYco

— BCCI (@BCCI) December 6, 2017
14.11 IST: A big appeal, turned down! India thought they have their man but have to wait. Sharma lands it on a length around off. Dickwella misses the ball and wears it high on the pad. Indians appeal to no avail. Height is the factor definitely. India doesn't opt for the review, rightly. That's TEA, FINAL DAY! SL 226/5 in 81 overs, need 184 runs to win vs IND
14.07 IST:  FOUR! What a wonderful looking shot that! There are times as a fielder wherein you have to take the quick decision in a split second as to whether to dive or chase the ball. This was one such instance. Vijay the man in question. Ishant begins with a fuller length ball outside off, Dickwella gets a stride out and drives it through wide mid off. It came right off the middle of the bat. Vijay rushes to his right and could have saved it with a dive. But he opts for chasing it and comes second best. A boundary results which pleases neither the bowler nor the captain. SL 226/5 in 80.1 overs
The second new ball is due and taken straightaway! Wickets are all that India want and they think the new ball will bring them. ISHANT SHARMA will run in with it first up.
14.03 IST: FOUR! Oh Ashwin! How does he manage to put up a show of such (bad) fielding effort game after game? Silva charges down and turns it past mid on. Ashwin runs to his right and dives, but lets the ball through him. The ball's next destination is the fence. Neither Jadeja nor Kohli is impressed. SL 222/5 in 79.1 overs
14.00 IST: FOUR! This is what Dickwella can do. Even though he was dismissed by Ashwin in the first innings, he won't let the bowler have the rhythm against him. SL 214/5 in 78.3 overs
13.56 IST: FOUR! This is what spending time in the middle can do. Jadeja loops it up around off, Silva charges down and drives it crisply through covers for a boundary. SL 210/5 in 77.3 overs
13.55 IST: Dickwella shows the full face of the bat and defends the ball off the back foot. Just a single from the over. SL 206/5 in 77 overs
RAVICHANDRAN ASHWIN back into the attack. Probably this has something to do with Dickwella at the crease now. India sense an opening.
13.52 IST: Oh dear! This is not looking good for Sri Lanka. Dhananjaya de Silva is seen walking out after that injury is seen hampering him as well as his partner. Roshen Silva had to take into account his partner's struggles and that was a problem, opine the on-air commentators. NIROSHAN DICKWELLA is seen walking out to bat next.
Huge cheers across the ground as VIRAT KOHLI has brought himself on for a bowl. Can he be the man with the golden arm? Remember, he is going through a purple patch with the bat. Can he translate it to his bowling?
13.47 IST: Now the cap is gone from Vijay's head. This ball is flicked away past short leg for a single. 3 runs from the over. SL 204/5 in 75 overs
Guess what! MURALI VIJAY, with one Test scalp to his name, has been called in to bowl. Moeen Ali is his victim. Interestingly, he is bowling with his cap on.
13.42 IST: Jadeja on Day 5 in Test matches has bowled in 16 innings for his 22 wickets. His average is 16.8 in such cases. Today, he has picked up just a scalp, notwithstanding the one that was overturned due to overstepping. Maybe the pitch plays a major part in his success but he has continued to trouble the batsmen even today. Numbers don't lie, do they?
13.41 IST: FOUR! 200 up for the visitors. Dhananjaya has been doing this throughout his outing. Uses his feet to get to the pitch of the ball and hits it over the bowler's head for a boundary. SL 201/5 in 73.2 overs
13.37 IST: The physio has run more than some of the Sri Lankan batters have done for their runs! Has come on again for de Silva who looks uncomfortable. SL 196/5 in 72 overs
13.33 IST: FOUR! Well played. Now Roshen Silva is growing in confidence and taking cue from how his partner is playing. Ashwin lands it on a shorter length outside off, Silva goes back and slaps it through covers for a boundary. SL 193/3 in 71 overs
13.32 IST: FOUR! Not good from Ashwin. Bowls it on the pads and all Silva has to do is get some bat to that. He does so and nudges it off his pads and collects a boundary towards fine leg. SL 189/3 in 70.3 overs
13.29 IST: FOUR! Roshen Silva looks uncomfortable with the over the wicket angle from Jadeja. Looks fidgety and this time he should be relieved to score. Sprayed down leg, Silva gets down and sweeps it fine. The ball goes to the fine leg fence. SL 84/5 in 70 overs
13.25 IST: DROPPED! The one's that come quickly to you are difficult ones but this wasn't as tough. Ashwin loops it up around middle, Dhananjaya charges down and hits it straight back. It flies to the right of the bowler, who is a tad late in reacting and spills the chance. Will this prove costly? SL 178/5 in 68.3 overs
13.20 IST: FOUR! Much better! Floated around middle and leg, de Silva gets down and sweeps it through square leg for a boundary. SL 172/5 in 66.3 overs
13.17 IST: HUNDRED! Classy, clever, confident - the three words that will describe this knock from Dhananjaya de Silva. He gets to his 3rd TEST CENTURY and soaks in all the applause that he gets. He walked in to bat late last evening when Shami was steaming in, in all his glory. Got through that phase and also the spinners then. Now here he is, celebrating a deserving hundred. He punches this length ball through covers. Before Rahane does the mopping, the batsmen get three. Even Rohit Sharma gives him a pat on his back. Well played. But there's still a job to be done - save the game.  SL 168/5 in 65.4 overs
13.15 IST: Dhananjaya moves to 99 with this flick. Gets it through backward square leg and the fielder from fine leg runs to his left. Dives and stops the ball from crossing over and keeps it down to two. SL 166/5 in 65.2 overs
13.10 IST: Time for Drinks! It has been absorbing passage of play so far. India will be pleased to see the back of the Sri Lankan skipper who could have proved to be a thorn in the flesh for them. However, Dhananjaya de Silva is still out there and is only three short of a majestic ton. He is the mainstay for Sri Lanka and he will have to stay till the end if the visitors are to save the game.
13.07 IST: MAIDEN! Loose shot! Fullish delivery outside off, some reverse swing on that. De Silva chases it away from the body and gets beaten. SL 163/4 in 64 overs
13.01 IST: FOUR! Back-to-back boundaries for Sri Lanka! Short delivery outside off, de Silva punches it nicely past Ishant Sharma. The tall man gives it a chase but comes second best. SL 162/5 in 62.1 overs
13.00 IST: FOUR! Great timing! Full delivery on middle and leg, Roshen Silva strides forward and strokes it past mid-on for a glorious boundary. SL 158/5 in 62 overs
12.56 IST: Dhananjaya de Silva is being a paid of lot of attention by the medical staff. He is absolutely vital for Sri Lanka. This can be turning point of his career if he can score a big ton. He gets his arm guard on now as MOHAMMED SHAMI returns for a bowl. A catching silly mid off and mid on in place.
12.51 IST: MAIDEN from Jadeja! Confusion but no harm done! Pressure makes you do funny things. Uses his feet and plays it to mid off. Wants the single but is rightly sent back. SL 152/5 in 60 overs
12.43 IST: FOUR! 150 up for Sri Lanka. Streaky runs but Silva avoids the pair! Around leg stump, Silva gets a tickle on it and it goes through the gap between the keeper and leg slip for a boundary. SL 151/5 in 57 overs
Dhananjaya calls out the physio again. He does his stretching again and has a look of anguish on his face. Meanwhile, the debutant, Roshen Silva comes out to bat. He was dismissed by Ashwin for a duck in the first innings. Can he stick through the tough times?
12.35 IST: OUT! Bowled 'em! Ashwin gets his first wicket of this innings and he is absolutely elated! He bowls this one slower through the air well outside off. Chandimal skips down the track and tries to whip it to the leg side but misses it completely. The ball goes through the gate between his bat and pad and hits the stumps. The brilliant 112-run stand comes to an end. Is that the opening India needed? SL 147/5 in 55 overs
12.32 IST: Out comes the physio to attend to Dhananjaya de Silva. Looks uncomfortable at the moment. Sri Lanka will want him fit as he is playing a brilliant knock. The magic spray is applied. He is fine to continue.
12.29 IST: A bit of room on offer from Ashwin, de Silva stabs it through covers for a couple. SL 142/4 in 53 overs
12.25 IST: Russel Arnold on air makes us aware of a good thing. In an interview, Ashwin had mentioned that when he went to England to play county cricket, he learned a lot as the tracks there don't offer much assistance as compared to the subcontinental ones. That holds him in good stead for the future.
12.23 IST: FOUR! Nicely done! Floated on middle, de Silva kneels and sweeps it through fine leg for a boundary. SL 140/4 in 51 overs
12.20 IST: The 100-run stand is up between the duo! A really vital one and they need to carry on. Around off, nudged behind square on the leg side for a couple. SL 136/4
12.19 IST: FOUR! Brilliantly done! de Silva uses his feet to the flighted delivery and whips it with the angle over mid-wicket for a boundary. SL 133/4 in 49.5 overs
12.16 IST: Chandimal works it down the leg side for a single, 3 runs from the over. SL 126/4 in 49 overs
RAVICHANDRAN ASHWIN to continue his spell.
12.11 IST: FOUR! Fearless cricket from the youngster! Tossed up delivery on off, de Siva is nimble on his feet and drives it hard past Jadeja. The ball rolls down the ground and races to the fence. He has created doubt in the batsman's mind in the first ball after lunch itself. SL 123/4 in 47.1 overs
12.10 IST: We are back for the second session. Will we see the pair of Dhananjaya de Silva and Dinesh Chandimal keep the Indians at bay? Or will the home side trigger yet another batting collapse? Let's find out.
... Day 5, Session 2 ...
11.40 IST: Dhananjaya de Silva was not afraid to play his shots and kept attacking the bowlers. He didn't look like he wanted to save the match by just knocking the ball here and there. Chandimal, on the other hand, was playing a watchful game, picking up singles and hitting the odd ball. But that's not all. He was given a present by Jadeja on the latter's birthday when it should have been the other way round. The Sri Lankan skipper was castled by a peach of a ball from Jadeja but the umpire didn't take any chance this time and went to the TV umpire for the referral. Chandimal was all smiles after seeing the replay on the giant screen, as Jadeja had faltered with his front foot yet again.
What will skipper Kohli have at the back of his mind? How will he try to get the better of the Sri Lankan pair out there? Jadeja clearly looks like the more dangerous bowler out there troubling the batters. Will we see a sudden collapse like the English men did earlier in the day or will de Silva make a big daddy hundred and hang on with his skipper till the sun sets? Do join us back at 1209 local time for post lunch. Until then you can too have your quick bite and continue enjoying whatever you're doing.
11.37 IST: Session highlights - 31 overs, 88 runs, 1 wicket. Figures will tell you it was a shared session.  But Sri lanka will believe they controled the period of play. India will be happier with the initial stages of the day. They got rid of the dangerous Mathews from a smart catch by Rahane at slips. Mathews won't be pleasead after seeing the replay as it was a no ball. Umpire Joel Wilson the culpret behind it. De Silva didn't look like he wanted to save the match by just knocking the ball here and there. He took the attack to the Indian bowlers.
11.35 IST: 
At Lunch on Day 5 of the final Test, Sri Lanka are (373 & 119/4). India need 6 wickets to win the match.

Updates - https://t.co/OKFOpkAcEJ #INDvSL pic.twitter.com/lSybMeF64b

— BCCI (@BCCI) December 6, 2017
11.32 IST: A slight confusion, no harm done! Chandimal eases this towards covers and comes down in search of a run. Rohit Sharma quickly gets to his left, dives and stops it cleanly. This makes the batsmen abort their run-taking plans and go back to their ends for safety. They do so. SL 119/4 in 47 overs at Lunch on Day 5.
11.29 IST: MAIDEN! Another delivery that is safely negotiated with a straight bat. Tidy stuff from Jadeja. SL 117/4 in 46 overs
11.23 IST: Not a happy birthday for Ravindra Jadeja this time as it is a NO BALL! Dear, oh dear! Over-stepping is a crime especially by a spinner when you don't have a long run-up. This time India and Jadeja pay the price for that. First up, it's a beaut of a delivery. Pitches around middle and leg, spins past the outside edge of Chandimal's prodding bat and clips the top of middle stumps. This is enough to send any good batter walking. After the on-field umpire had erred in not looking at the bowler's front foot when Mathews was dismissed, this time he goes upstairs. It is seen that the bowler's front foot is just over the line. Chandimal gets a reprieve. SL 115/4 in 44 overs 
11.20 IST: Chandimal is a goner.... buttt... the umpires are checking for a front-foot no ball. They had missed it the last time in the Mathews dismissal.
11.16 IST: FOUR!  Cheeky but effective! The youngster is here to get some runs against his name and not just prod and block. This delivery was in line of the stumps, Dhananjaya gets down and paddles it away. It was in the air a bit but not near any fielder. The ball rolls away to the fine leg fence.  SL109/4 in 42.1 overs 
11.08 IST: 100 up for the visitors. Oh Puji, well done, Puji! He looks like a car that runs with a handbrake on, Sunil Gavaskar had said on air earlier in the day. This time that car catches up with what it has set to do. De Silva goes back and punches it through covers. Pujara chases it down and saves a run for his side. SL 100/4 in 39 overs
11.04 IST: FOUR!  Low full-toss. Chandimal plays it to the deep square region and it goes all the way past the ropes. The fielder at deep square leg runs to his right but not enough to save the boundary. SL 95/4 in 38 overs
10.59 IST: Another good stand brewing here for Sri Lanka. This one between de Silva and Chandimal is worth 50 now. Chandimal looks to defend it but gets a soft outside edge past slip. The duo get three runs before the ball is returned. SL 87/4 in 37 overs
10.49 IST: FOUR and FIFTY! The Lankans maybe playing for a draw, but Dhananjaya has his own ideas. He's a promising youngster and this innings proves that. The confident shot that he has played to get to his 3rd TEST FIFTY is a joy to watch. Seeing the flight on that delivery, he uses his feet to get to the ball. Gets out the lovely extension of arms and goes over mid-on. The ball bouncer just in front of the ropes and then goes for a boundary.  SL 81/4 in 34.2 overs
10.44 IST: FOUR! Dhananjaya de Silva has looked good this morning. He has been clever with his shot selection, too. Goes with the turn this time. Gets down on one knee and slogs it through mid-wicket for a boundary. SL 77/4 in 33 overs
10.38 IST: FOUR! Chandimal gets his first boundary of the day. Back of length ball outside off, Chandimal slaps to backward point and it goes all the way to the fence. SL 71/4 in 31.1 overs
MOHAMMED SHAMI gets a change of ends. He is back to the Fort end now. Let's see how he goes about with his stuff now.
10.37 IST: Much better. A tad shorter outside off, de Silva goes back and cuts it towards backward point. Then fielder at point gets to his left and makes a half-stop. As the ball rolls towards the third man, a brace is completed. SL 67/4 in 31 overs
10.33 IST: India will be happy with an early breakthrough of Angelo Mathews. They will look to get some more as soon as possible. De Silva is not afraid to play his shorts and Chandimal will make his presence felt. Meanwhile, RAVICHANDRAN ASHWIN gets the ball to bowl his spin.
Time for Drinks!
10.30 IST: FOUR! Good use of the feet! Tossed up delivery around off, de Silva comes down the track and clips it against the spin through in front of square leg. Pujara from mid-wicket sprints but the ball eventually wins the race. SL 64/4 in 30 overs
10.25 IST: FOUR! Not the most convincing of ways but Sri Lanka will take it. Shami bowls this outside the off stump and de Silva pokes at it. It ball takes an edge off the bat and it goes to Rahane at third slip. He gets a hand to it but it's enough to go all the way to the fence. De Silva is playing his shots but was not in control of this one. SL 59/4 in 28.3 overs
10.20 IST: FOUR! The first real bad delivery from Jadeja and it has been punished! Half-tracker around off, de Silva gets quickly into position and pulls it with aplomb past mid-wicket for a boundary. SL 54/4 in 27.2 overs
10.17 IST: MAIDEN from Shami! The carelessness of youth is clearly visible. Shami is testing Dhananjaya de Silva with bouncers and is falling for the bait. He needs to keep his cool otherwise he will lose his wicket. Patience is what matters at this moment and de Silva needs to apply himself. SL 49/4 in 27 overs
MOHAMMED SHAMI replaces Ishant Sharma to get his first spell of the day.
10.13 IST: FOUR! Beautifully played! Tossed up delivery in line of the stumps, de Silva skips down the track and strokes it past the non-striker for a delightful boundary. SL 49/4 in 26 overs
Sunil Gavaskar on air reckons that Kohli might be thinking about bringing Shami from the fort end, the end from which Jadeja is bowling now. The pace bowler was at his mercurial best in his three-over spell last evening and he bowled from the same end. Sooner or later, he will be introduced into the attack.
10.10 IST: On the leg side this from Ishant. De Silva flicks to the fine leg for a run.le at the moment. A herculean effort from him is the need of the hour. Can he play a marathon knock? He will need support from his partners as well. SL 44/4 in 25 overs
09.59 IST: Oh no! The delivery which consumed Mathews was a no ball for overstepping. Joel Wilson didn't spot it. Blunder from the umpire. How much will this cost the Sri Lankans? The umpires usually check for the front foot when a wicket falls.
09.56 IST: FOUR!  Short again and pulled away again. Ishant bowling short but Dhananjaya is up to the challenge. Similar ball, Dhananjaya gets to position and pulls it in front of square this time. The result is the same. SL 43/4 in 22.3 overs
09.55 IST: FOUR! First boundary of the day. Ishant Sharma balls it short trying to exploit those patches but Dhananjaya responds well. He is quick to get on his back foot and pulls it away to deep square leg to the fence. SL 39/4 in 22.2 overs
The skipper, Dinesh Chandimal strides out to bat. His team in deep trouble at the moment. A herculean effort from him is the need of the hour. Can he play a marathon knock? He will need support from his partners as well.
09.53 IST: OUT! The birthday boy is on fire! Excellent catch from Rahane at first slip as well. Jadeja bowls this one around off, gets a bit of drift again. Mathews prods forward to account for the angle but the ball grips and turns away substantially. The ex-skipper ends up getting an outside edge. Rahane at first slip is cool as a cucumber. Moves to his right and takes it like a pro. The slip catching from the Indians was dismal in their previous innings. Shows the importance of having the right men in the slip cordon which is such an important aspect of fielding. Third wicket for Jadeja and India are 6 wickets shy of a victory. SL 35/4 in 22 overs
09.51 IST: Jaffa from Ishant! Good length ball outside off, Mathews looks to flirt with it and the ball misses the edge of his bat. SL 35/3 in 21 overs
09.45 IST:  There was a run on offer but de Silva doesn't go for it. Loopy delivery outside off, de Silva guides it towards backward point and is ball watching. The point fielder had some distance to cover to his left but the lack of intent from the batsmen didn't allow the single. You need to play with positive mindset especially when you are staring down the barrel. SL 34/3 in 20 overs
09.38 IST: MAIDEN! Vicious! Bowled at a quick pace outside off, takes off sharply after pitching. De Silva covers his stumps and lets it through. Saha rises with the bounce and takes it brilliantly. He is one of the best wicket-keepers going around in Test cricket at the moment, a delight to watch! SL 34/3 in 18 overs
RAVINDRA JADEJA to operate from the other end. He has been sensational till now. He has figures of 5-2-5-2. He will definitely pose a threat.
09.35 IST: Well bowled! Good length delivery around off, a bit of away movement. Mathews is opened up in his stance and gets it off the outer half to point. 3 runs from the over. SL 34/3 in 17 overs
09.32 IST: A catching mid-wicket in place now. An uppish stroke past that region prompted this field change.
09.28 IST: We are set to get rolling. ANGELO MATHEWS and DHANANJAYA DE SILVA to resume their innings. The first hour of this morning will be very crucial from the visitors point of view. If they manage to see it off without losing a wicket, their confidence will rise. ISHANT SHARMA to steam in with the ball first up. Three slips and a gully in place. Here we go...
09.25 IST: Rohit Sharma says he is very happy with his current form. Adds that he wanted this before going to South Africa and he feels good to have spent time in the middle as he was playing Test cricket after a long time. Reckons that he was unfortunate to miss out on some game time as he picked up an injury in the series against New Zealand but now he's good to go. About his mental preparation, he hasn't changed it much as he is aware of getting his chances in between due to the five-bowler theory that the team prefers. Adds that hence he is prepared to use whatever opportunity comes his way. Mentions that he was telling Ishant Sharma to bowl in a particular way to Lakshan Sandakan but the Sri Lankan seemed to understand hindi. Hence he told his teammates the need to change their language of communication. Adds that Sandakan said he watches hindi movies and hence knows a bit of the language. About the conditions today, he observes that it still not a fifth day deck as there are no visible cracks and rough patches. Adds that it is due to the weather which hasn't been much sunny over the period of the game. States that the pitch conditions won't matter much as the Indian bowlers rely on their skills and not the tracks. Ends saying that they would look to create pressure on the batters by bowling in disciplined areas and taking the catches that come their way.
09.15 IST: PITCH REPORT - Russel Arnold inspects the pitch and says that the blue skies are out and it's a bit sunny as compared to the other days and also adds that the pitch is looking good. On further inspecting the pitch he sees that there are foot marks of both the batsmen and the bowler but it's not in a area of concern. He comments that if Ashwin bowls in those areas he can get the ball to talk. Arnold then gets the help of Sunny Gavaskar who is standing on other side of the pitch. Sunny says that even the other end of the pitch is good. The cracks have not yet opened up. He continues saying that there are little marks on the pitch but it's on the off side of the wicket. He too opines that if Ashwin and also the quick blowers gets the ball to pitch there they will cause trouble for the batsmen. The little master adds that the pitch is as good as Day 1. After Russel asks Sunny what suggestions does he have for Sri Lanka he answers that they should play the ball on merit and not think too far ahead. He continues saying that they should be aware of the square cut because the ball can keep low and turn. Arnold says that it will be difficult for Sri Lanka to win from here but should look to save the match as it will be as good as a win.
08.56 IST: 
Here's wishing one of #TeamIndia's rockstars @imjadeja a very happy birthday #HappyBirthdayJaddu pic.twitter.com/gdgHwYZfMj

— BCCI (@BCCI) December 6, 2017
08.45 IST: 
#TeamIndia prepping up for the final day of the final Test #INDvSL pic.twitter.com/mYXPVxWa1P

— BCCI (@BCCI) December 6, 2017
Brief Preview: India hurtled towards their ninth successive series victory as they left Sri Lanka precariously placed at 31 for three and staring at another humiliation in the third and final Test in Delhi on Tuesday. The visiting Lankans were set an improbable victory target of 410 to level the three-match series. It will be a miracle if Sri Lanka manage to pull this chase off. 
The 16 overs that they batted during the final 85 minutes of the fourth day's play was with an aim to survive rather than play positive cricket. If the scoreboard is anything to go by, the ploy boomeranged on the visitors, who were again seen wearing anti-pollution masks, the second time in the game. The pitch has not deteriorated much but it is the straighter deliveries from the spinners that are causing maximum damage. Mohammed Shami (1/8 in 3 overs), who was unwell after a three-over burst, bowled a hostile spell and accounted for Sadeera Samarawickrama (5). (Read Full Day 4 Report)