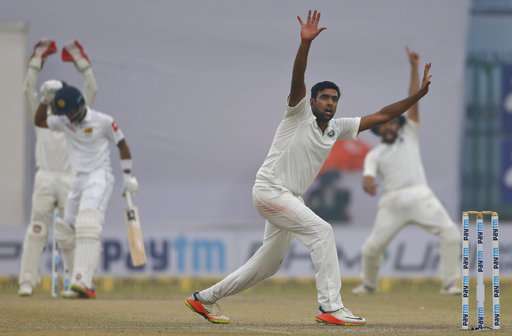 It is often said that only the last mile is the hardest one when you have to cover a long distance. Sri Lanka's progression on Monday stands true to the above sentence. Till the time the Mathews-Chandimal pair batted, it seemed a very benign surface. The Indians used all their tricks up their sleeve yet couldn't break that stand before it was worth 181 runs. After the former skipper's departure, the youngster Samarawickrama combined with his skipper to forge a useful half-century stand.
The Islanders lost three wickets in the space of 17 balls to concede the upper hand to the home side. Their long batting order couldn't help them keep the Indians at bay for long. All the Indian bowlers made merry while the opportunity was ripe to add a few numbers to their wickets column. Saha's glovework will still be the highlight of the Indian fielding. The diminutive wicketkeeper pulled off a stunner to send Sadeera packing and added one more athletic diving catch to end Lakmal's stint. Yes, that doesn't hide the home side's vulnerable slip cordon but it can at least be a solace. Often matches are turned or won by individual flashes of brilliance. But the heart of the sport is the team work. Chandimal would be ruing the fact that his batters aren't supporting him in keeping the hosts on the field for longer durations. He is unbeaten with a valiant 147, to add to his fifties in both the innings of the previous test. How long can he manage to be there? A Test 150 beckons. His best score in the format isn't far either - 162. Will he go past that? Join us tomorrow to know more. 0930 local time (0400 GMT) is the time that matters. (SCORECARD)
HIGHLIGHTS, INDIA VS SRI LANKA, 3RD TEST, DAY 3 AT DELHI
16.41 IST: Russel Arnold catches up with Angelo Mathews on the sidelines. He admits that this wasn't one of his most fluent knocks and he had to work extremely hard. There is a sense of pleasure and relief after the knock as in the end runs matter, he opines. Adds that he was hitting the ball well and was disappointed to not have continued after getting to a 50 in Kolkata. He enjoys challenges and the pressure that come with representing the nation. When asked whether he remembered his dismissal on 99, when he was batting in the 90s today, he responds saying that it was a one-off occasion when that happened and with experience, the jitters go away. Admits he is a bit disappointed with the state that his side is in as some more wickets in hand would have been a happier thing. He praises Dinesh Chandimal by saying that it is a pleasure watching him at from the other end. He reckons that the pitch isn't taking turn viciously as of now and won't be an issue batting last on a track that is still decent for batting.
16.27 IST: And once more the light meter comes out of the umpire's pocket. This time the reading seals it. The light doesn't permit further play and hence it is STUMPS, DAY 3! SL 356/9 at stumps, trail India (536/7) by 180 runs. Chandimal 147*, Mathews 111, Ashwin 3/90
16.23 IST: SIX! Chandimal is playing cleverly here. Attacks the initial deliveries of the over and then moves to the other end. Seeing the the flight on offer, he slinks down and hits it over deep mid-wicket. The umpire is unsure whether it is a four or a six and hence goes upstairs. Replay shows that the ball hit the ropes on the full. A maximum it is to bring up 350 fir Sri Lanka. The trail is down to 181.  SL 355/9 in 129.1 overs
16.18 IST: FOUR! Chandimal is up for a fight. Seeing some flight on this delivery, he charges down and hits it through mid-wicket for a boundary. SL 348/9 in 128 overs
The last man in for Sri Lanka is LAKSHAN SANDAKAN.
16.13 IST: OUT! It is umpire's call but that means Gamage has to continue his walk back to the pavilion.   Another time when Kohli's bowling change reaps rewards immediately. Jadeja fires this at 89kmph around middle, Lahiru looks to defend. Misses the ball completely and the ball makes contact with the front pad. Looked plumb to the naked eye and hence when the Indians appealed, the umpire upheld that. Gamage, however, opts for the review straightaway. The Hawk Eye shows that it would have gone on to clip the middle stump. SL 343/9 in 126.5 overs
16.11 IST: Gamage is a goner! Not as easy as it is though, as the batsman chooses to review it immediately. It is against an LBW decision and it looks plumb unless an inside edge saves him.
RAVINDRA JADEJA to roll his arm over.
16.07 IST: FOUR! The ball continues to follow Vijay Shankar. Shami lands it on a length around middle and leg, Chandimal hops and clips it off his pads. The ball races through backward square leg. The fielder in the deep runs to his left but doesn't have a chance of cutting that off. SL 342/8 in 125 overs
16.02 IST: FOUR! The follow-on has been avoided, though I am not sure it would have been enforced by India. On a length outside off, Chandimal hangs his bat at that. The ball flies through the gap between the gully and the second slip fielder off the edge of the bat for a boundary. SL 338/8 in 124.1 overs
16.01 IST: Chandimal slaps it through cover-point to jog to the other end. 3 runs from the over. SL 334/8 in 124 overs
15.57 IST: The floodlights have been switched on.
15.56 IST: LAHIRU GAMAGE walks in at number 10. Can he hang on with his skipper? Fading light is a factor, remember.
15.55 OUT! Oh dear! This is all coming downhill for Sri Lanka. Chandimal is losing partners quickly than small children rush on the sight of toffees! The bowling change works for India. Shami is brought back and he lands a length delivery around off from over the wicket. Lakmal pokes at it from the crease. The ball kisses the outside edge and flies to the right of Saha. He dives to his right and grabs that with both hands. Sri Lanka still haven't avoided the follow-on, technically. They trail by 205. SL 331/8 in 122.4 overs
MOHAMMED SHAMI back for another burst.
15.51 IST: FOUR! Will this be a confidence booster for the no.9? It is a slider on a shorter length just outside off, Lakmal goes back and thrashes it through covers for a boundary. SL 330/7 in 121.3 overs 
SURANGA LAKMAL makes his way out to the middle next. The free-flowing innings that he played towards the end of the last game seems to have earned him this promotion.
15.41 IST: OUT! Another one bites the dust! Ashwin gets his third and boy, he is up and running at the Kotla. He undercuts this one and lands it around off. The length was a tad shorter and that made Dickwella go back to cut. The ball goes straight on and he ends up missing it completely. Sadly for him, it has gone on to remove the off stump from its position. You give an inch to the Indian and they grab a mile. They are all over the Lankans on this side of the Tea break as 3 wickets have fallen in the space of 17 balls. Sri Lanka still trail by 214, 15 runs adrift of avoiding the follow-on.  SL 322/7 in 119.2 overs
15.37 IST: FOUR! Beautifully driven! Sharma hurls it full outside off, Chandimal gets his stride forward and drives it through covers. The ball races to its destination in no time. SL 322/6 in 118.4 overs
15.29 IST: OUT!Silva departs for a duck in his first international innings. Another one goes down in quick succession. Ashwin tosses this one up nicely around off and gets it to spin in sharply. The debutant prods forward to account for the turn but only manages to get an inside edge. The ball lobs straight towards Shikhar Dhawan at short leg who accepts it gleefully. The wheels are coming off for Sri Lanka now. They are still behind by 218 runs and need 19 more to avoid the follow-on. SL 318/6 in 117.4 overs
The debutant, Roshen Silva strides out to bat. He has a very good first-class record. Can he deliver at the highest level?
15.25 IST: OUT! That's a stunning catch! Take a bow, Saha! Well-deserved reward for Ishant Sharma as well. He has had catches dropped off his bowling but this time he gets the reward. Back of a length delivery in the zone of apprehension, holding its line. Samarawickrama is guilty of fishing at it away from his body and ends up getting a healthy outside edge. Wriddhiman Saha remains composed, dives full length to his right and grabs it in his right glove. Mind you, those are difficult takes. Saha showed great technique and slid his hands on the ground which made the catch possible. SL 317/5 in 116.4 overs
A wonderful point made by Harsha Bhogle on air. He says that the highlights package of Test matches show only the shots played. They don't have the defensive shots in them. But those attacking shots are possible only after you defend a certain number of deliveries. He adds that an ability of a batsman isn't about how many big shots you play but is about being aware of where your off stump is. Brilliant.
15.06 IST: Shortish on middle and leg, Chandimal jumps back and clips the ball past first slip to retain strike. 3 runs from the over. SL 305/4 in 113 overs
14.59 IST: FOUR! 300 up for the visitors. The edges are coming. Tossed up around off, stays low. Chandimal pushes at it but gets an outside edge past the slip fielder and through to the ropes. Sri Lanka trail by 236. SL 300/4 in 110.1 overs 
14.58 IST: FOUR! Streaky but effective! Tossed up delivery, Samarawickrama uses his feet and has a hoick at it but gets it off the inner half towards square leg. It teases Shankar there and goes past him to the fence. SL 296/4 in 110 overs
14.52 IST: FOUR! Samarawickrama is on the attack mode! Short delivery outside off, the batsman cuts it past point and the ball races to the fence.  SL 292/4 in 108 overs
14.47 IST: MAIDEN!  Rash! Slow through the air outside off, Sadeera steps out to whack it over mid-wicket but is deceived in the flight. Gets rapped on the pads and the ball rolls to the off side. SL 284/4 in 106 overs
14.43 IST: Chandimal is struggling at the moment. He has been batting for a long time and is having cramps in his left hand. The physio runs out and attends to him. Seems to be fine now.
14.40 IST: FOUR! This time it is the floater from Ashwin. Samarawickrama picks up the natural variation and cuts it through covers to pick up a boundary. SL 284/4 in 104 overs
14.37 IST: HUNDRED! There it is! 10th Test ton for Dinesh Chandimal, also his second against India. A big moment for the Sri Lankan Test skipper! Tossed up delivery around off, Chandimal eases it to covers for a brisk single. Roars in delight and has a big smile on his feet. The entire dressing room is up on its feet. He deserves every bit of it. Still, he remains the main link for Sri Lanka and needs to carry on. SL 280/4 in 103.1 overs
14.35 IST: FOUR! Back-to-back boundaries! Half-tracker outside off, Samarawickrama rocks back and cuts it with aplomb through point for another boundary. SL 279/4 in 103 overs
14.33 IST: FOUR! Well played! Samarawickrama has started off nicely. A bit short in length outside off, the batsman waits for it and dabs it deftly through third man to find the fence. SL 275/4 in 102.4 overs
14.32 IST: Tight single! Chandimal must be itching to get to the three-figure mark quickly. He steps down the track and knocks it towards Shankar at mid off. He attacks the ball and has a shy at the bowler's end but misses. The skipper would have been safe even if it hit. He moves to 99.
14.31 The prospect of CHANDIMAL getting to his 10th Test ton welcomes us to this session. He strides out confidently with the young SAMARAWICKRAMA for company. RAVINDRA JADEJA has the ball in hand.
... DAY 3, SESSION 3 ...
14.20 IST: Another session that belongs to Sri Lanka! They owe it to their mainstays Mathews and Chandimal who put on a tall stand of 181 runs. The former got to his 8th Test ton, thanks to the generous Indians who gave him 4 lives, 2 of them being as easy as they come. The visiting skipper is still unbeaten on 98. He had looked the part in the previous game as well before throwing it away. This time, he has ensured and played chanceless innings so far.
India had been left searching for a wicket all day long and it came off the bowling of Ashwin. Finally, an Indian bowler was helped by a fielder in catching what was offered from the blade of Mathews. The seamers weren't off colour. It's just that they weren't supported on the field as they would have wanted. The final session of the day beckons. Sri Lanka are showing a semblance of right now. This is what the entire cricketing world would want - more competing teams. This is what even India would like - being tested before tougher away tours
14.15 IST: 
That's Tea on Day 3 with Sri Lanka on 270/4, trail India 536/7d by 266 runs.

Updates - https://t.co/OKFOpkiBg9 #INDvSL pic.twitter.com/cbNqKU9VEt

— BCCI (@BCCI) December 4, 2017
14.12 IST: Flatter on the pads, Samarawickrama opts to pad it away. The ball lobs off it to Rohit at leg gully who catches that and appeals. Kohli thought about a review before deciding against it.  SL 270/4 in 102 overs at Tea on Day 3
14.09 IST: FOUR! Samarawickrama if up and running with a boundary. Jadeja fires it outside off, Sadeera cuts it through point. The ball speeds away to the fence in a jiffy. SL 269/4 in 101 overs
14.04 IST: FOUR! When in the 90s, it doesn't matter how the runs come as far as they are coming. Jadeja bowls a half-volley outside off, Chandimal looks to drive. ends up getting a thick outside edge well past slip for a boundary. He moves to 96 as the Lankan deficit comes down to 276. SL 260/4 in 99 overs
SADEERA SAMARAWICKRAMA is the next man in. Earlier today, he was cleared to bat and here he is now. How will he go about with his thing?
14.01 IST: OUT! Is this the breakthrough India needed? The change of ball has done the trick though. Ashwin is the man who manages to break this stubborn 181-run stand. Ashwin continues round the wicket and lands it around the middle. The ball goes straight on after pitching. Mathews closes the face of his bat in a bid to flick it away and pick up a single with the supposed turn, but there isn't any. There is a think edge and Saha behind the stumps makes no mistake in taking that.  SL 256/4, trail IND (536/7) by 280 runs  
13.55 IST: Served around off from Jadeja, Mathews looks to block it. The ball takes the outer edge of the bat and rolls towards short third man for a run. SL 254/3 in 97 overs
Jadeja runs in to bowl but aborts. Gets down, rubs the soil and gets back to his mark.
13.51 IST: And again! The ball is given to the umpires for a look. Wonder what the issue is. The Indians don't seem happy with it.
13.48 IST: FOUR! Chandimal seems to be winning the battle against Ishant. Banged short around middle and leg, the Sri Lankan skipper expects it and plays the pull shot in response. Gets it fine down the leg side. Vijay Shankar runs to his right, puts in the dive but fails to prevent the boundary. Perhaps he started a bit late there. 250 up for Sri Lanka. The trail comes down to 285 now. SL 251/3 in 95.1 overs
13.44 IST: Length ball around middle and leg, Mathews taps it next to the pitch on the leg side and takes a couple of steps for a run. Seeing Ishant get to the ball, he aborts the plan.  SL 246/3 in 94 overs
13.42 IST: The on-air commentators observe a pattern of Mathews vs the seamers. From the pitch map, it is seen that when the ball is pitched on a good length area outside off, Mathews isn't sure of his footwork and more often than not ends up poking at those. He misses almost all of them too. The Indians need to take this into account and bowl accordingly.
13.35 IST: Watching this shot, nobody would believe that Mathews is batting over a hundred runs. Shami bangs it short around middle and leg, Mathews goes for the pull. Gets it off the under edge towards fine leg for a run. SL 244/3 in 92 overs
13.32 IST: The ball is put through the 8-shaped gauge to check it as Ishant Sharma isn't happy with the safe yet again. The umpires are satisfied with it and return it to the bowler.
13.25 IST: FOUR! This is all about timing! Length ball on the shorter side outside off, Chandimal hops up and just pushes it through covers. The ball bisects the gap between mid on and covers and races away to the fence for a boundary. SL 241/3 in 89.2 overs
13.23 IST: Dropped Again! FOUR! Angelo Mathews gets another life! Yes, you read that right! Jadeja induces the false shot from the former Sri Lankan skipper. Tossed up delivery around off, Mathews looks to go over mid off by making use of his feet. The ball spins and hence the batsman gets it high on the bat. The ball flies over Vijay Shankar (sub) at that position. He jumps, gets both the hands to it but fails to close them when the ball is in. Allows the ball to go through to the fence. A boundary is the desired result for the batter but not the way he would have liked. SL 237/3 in 89 overs
13.18 IST: For the number crunchers, here's something. The duo of Mathews and Chandimal is the first visiting pair to stitch a partnership of over 400 balls in Tests against India in the last five years. Meanwhile, RAVINDRA JADEJA is brought into the attack.
Drinks are on the field now! Another period of play passes where Sri Lanka have come out unscathed. Though, that isn't the entire picture. There was an offering - that of Mathews to Rohit - but the latter was too gratuitous to let that one go abegging. Where do India look now? All their four bowlers have bowled in this hour without any success. Hope this drink break gives them some fuel for thought.
13.15 IST: Short ball around middle and leg, Chandimal looks to pull but only manages to gets some gloves on it. The ball rolls towards fine leg and only a run results. Again Mathews isn't running the right way. He is holding the gloves with his right hand and the bat with the other. So he isn't in a position to make quick movements. SL 232/3 in 88 overs
13.05 IST: FOUR! That shot should answer Ishant for whatever he had said to him a ball ago. Sharma bowls it short outside off. That is enough for a well-set Chandimal to cash on. He hangs back and smashes it through cover-point for a boundary. The bowler is dejected and rightly so. The deficit is down to 307 now. SL 229/3 in 86 overs
13.00 IST: The 150-run stand between Chandimal and Mathews is up! The entire team looks upto them in tough situations and this time they have come good. Shami bowls it on the pads, Chandimal misses the flick. The ball goes off his pads towards backward square leg and a leg bye is taken. SL 225/3 in 85 overs
12.56 IST: Fullish delivery, tailing in nicely. Chandimal prods forward to block it but gets it off the inner half to the vacant mid-wicket region. A run was taken. SL 224/3 in 84 overs
12.51 IST: FOUR! Second in the over! Fuller outside off, Chandimal drives it through cover-point. The ball runs away to the fence for another boundary. SL 220/3 in 83 overs
12.47 IST: FOUR! Shami strays on the pads, making it easy for Chandimal to flick it away through square leg for a boundary.  SL 216/3 in 82.3 overs
MOHAMMED SHAMI to bowl from the other end.
12.43 IST: HUNDRED!  There it is! 8th Test hundred for Angelo Mathews. What a way to get to his first ton in India. Ishant bowls it on the pads, Mathews flicks it through square leg for a run.  He looks heavenwards and thanks his stars. Revels in the applause that he gets and fist-pumps it in the air. Well played, lad. Turned up among the runs when his side needed it the most. SL 211/3 in 81.3 overs
12.41 IST: DROPPED! The second slip conundrum continues for India! It's Mathews who is living a charmed life here. Gets a second life and it's the same spot where he was dropped earlier, although the person was different then. Sharma hurls the second new cherry on a length outside off, Mathews, on a nervous 98, pokes at it away from his body. The ball takes the thick outer edge and flies to the right of Rohit Sharma at second slip. He gets both hands to that but fails to cling on. What's more, the ball rolls towards third man that takes Mathews to 99. Unacceptable fielding standards by India here. SL 209/3 in 81.1 overs
12.40 IST: Action time for the fourth umpire! He has to run into the field to hand over the SECOND NEW BALL to the umpire as INDIA HAVE OPTED TO TAKE IT. It will be made use of first by ISHANT SHARMA.
12.37 IST: Good news for Sri Lanka! Russel Arnold on air informed us a while back that Sadeera Samarawickrama is declared fit to bat in this innings.
12.33 IST: MAIDEN! On the stumps from Jadeja, Mathews blocks it off the front foot. Another maiden from the left-armer. SL 205/3 in 79 overs
12.31 IST: India are an over away from getting the second new ball. It is a doubt whether they will take it immediately.
12.27 IST: FOUR! Lucky Mathews! But a hard taskmaster may call it as a dropped chance! Jadeja drops it flat around off. The ball spins after it pitches. Mathews plays for the initial angle and gets squared up a bit due to the turn. He was also deceived by the low bounce. The ball takes the outside edge and goes through Saha's legs and rolls to the fence behind. A very hard chance that. Mathews moves to 97 with that.  SL 200 up for Sri Lanka. SL 203/3 in 77 overs
12.19 IST: NOT OUT! It is sliding down leg indeed! Ashwin tosses it up around the middle, the ball spins in a bit. Chandimal misses the flick and hence the ball strikes him on the front pad. The Indians appeal only to see umpire Joel Wilson unmoved. Kohli consults with his teammates and opts to review that. Remember, Ashwin always is eager to review the on-field calls. Hawk Eye shows the ball to be missing leg stump by a mile! India waste a review in desperation here. SL 197/3 in 74 overs
12.18 IST: India desperate for a breakthrough? Chandimal is rapped on the front pad and India put an appeal for LBW due to this. The umpire denies it. Kohli opts for DRS. Seems to be sliding down leg...
Interesting! The on-air commentators remind us of Mathews' highest Test score in India - 99. He was run out in that innings, being the last man dismissed. He is currently on 92. Can be get to his first ton on Indian shores?
12.16 IST: MAIDEN! Tight over to start with from Jadeja, a brilliant one to start with. SL 195/3 in 73 overs
Spin twins in operation. RAVINDRA JADEJA will bowl from the other end and will continue his spell. A silly point stands close to the batter apart from the slip.
12.13 IST: Chandimal flicks it to mid-wicket, where Rohit misfields and allows a run to be taken. 3 runs from the over SL 195/3 in 72 overs
12.10 IST: The men concerned make their way out to the middle. MATHEWS and CHANDIMAL will look to continue their 117-run stand. RAVICHANDRAN ASHWIN will start off the session with the ball. A slip and a leg gully in position...
12.08 IST: We're back! Sri Lanka would be breathing easy at the moment, literally. Yesterday, post this point of time, the pollution levels shot up causing great inconvenience for the tourists. They had to take field with face masks covering their noses and mouths. How will it be today? So far it hasn't hampered their batters out there. Only Chandimal seemed in some discomfort on one occasion.
... DAY 2, SESSION 2 ...
11.40 IST: The Indian pacers started off well this morning although there isn't much assistance off the deck. They had the batsmen hopping around in the crease but much to their dismay, they didn't taste any success. Jadeja is getting a good amount of purchase but he was negotiated well by the current batting pair. Ashwin was brought into the attack later than we would have liked. So, what do we have in store next? Will it be another session where the batsmen dictate terms? Or will the Indian bowlers come out all guns blazing? To find out join us back to catch all the action from the post-lunch session...
11.38 IST: A wicketless session for Sri Lanka! The first time in the series they have managed to do so. Not a run following session but more important for Sri Lanka they didn't lose a wicket. Mathews and Chandimal are playing some stubborn cricket and not giving away their wicket. Mathews is on his nervous 90s while Chandimal gets his third 50 of the series.
11.35 IST: 
At Lunch on Day 3 of the final Test Sri Lanka are 192/3, trail India 536/7d by 344 runs.

Updates - https://t.co/OKFOpkiBg9 #INDvSL pic.twitter.com/E3CNSzxtQH

— BCCI (@BCCI) December 4, 2017
11.32 IST: Slower through the air, Chandimal takes a couple of steps down the track and blocks it right under his eyes. THAT'S LUNCH ON DAY 3! SL 192/3 in 71 overs
11.30 IST: That's a Jadeja special! On a flatter trajectory and quick through the air on middle. It pitches and takes off with extra bounce. The turn is substantial as well which has Mathews in a tangle. He pokes at it but gets beaten. It hits him on the back arm and dies down on the track. In fact, the Snicko shows a spike as it brushed the glove and then the back arm. Fortunate for the ex-lankan skipper that it didn't deflect to the keeper.
11.27 IST: MAIDEN! Spinning in sharply into Chandimal who skips down the track and bunts it to mid-wicket. SL 191/3 in 70 overs
11.19 IST: No ball! Jadeja has overstepped this time, a rare thing for a spinner to do so. Darted in, played with soft hands to mid-wicket. SL 190/3 in 67 overs
Ravindra Jadeja is back on!
11.15 IST: FOUR! Well played! Floated down the leg side, Mathews kneels and sweeps it through fine leg to find the fence. SL 189/3 in 65.3 overs
11.11 IST: FOUR! Third consecutive fifty for Chandimal and his 16th in Test cricket!  He is in good form and is making it count. Well played, skipper! Full-length delivery outside off, Chandimal goes at it with hard hands but gets a thick outside edge past the diving Ashwin at gully. Runs away to the fence. The Sri Lankan dressing room is up on its feet. He has played really well but knows that needs to score a big one. SL 183/3 in 65 overs
11.04 IST: Tossed up delivery around off, played with soft hands in front of cover for a single. That brings the century-stand between Chandimal and Mathews. These two have batted with a lot of grit and determination but still have a long way to go as they trail by 361. SL 175/3 in 63.1 overs
Finally, R Ashwin comes into the attack. There is a huge cheer from the crowd.
11.02 IST: That was a sharp short ball at 142kph. The rib-tickler and Chandimal tucks it very fine. Luckily, got it fine of the man at leg gully and the ball rolls to fine leg for a single. SL 174/3 in 63 overs 
10.59 IST: Rahane is standing moves to a straighter position at leg gully. Most of the tucks are flying from this position and this has prompted this subtle change.
10.55 IST: FOUR! Lovely stroke! Full-length delivery around off, Chandimal leans into it and caresses it past Murali Vijay at covers. Once it goes past him, it is destined to reach the fence. SL 170/3 in 61.3 overs
Change of ends for Mohammed Shami. He was fierce in his first spell this morning in which he bowled 4 overs. There is only one fielder close in on the off side. Can he break this flourishing stand?
10.52 IST: FOUR! Short again, looks like they have some plan for Mathews but its not working out. On the leg side, and Mathews pulls it to the square leg boundary. SL 165/3 in 61 overs
10.43 IST: Back of a length again, Chandimal opens the face of the bat and plays it to the point region for a single. 2 runs from the over. SL 159/3 in 59 overs
10.39 IST: A catching leg gully in place now. Ishant Sharma comes around the wicket as well. The ploy will be to pepper Mathews with the short delivery.
Time for Drinks!  The Sri Lankan batsmen have looked solid and in no trouble. The Indian have not really troubled the batsmen. Mathews and Chandimal continuing from they left yesterday and looking like they will play for more time.
10.32 IST: That's a brute of a delivery! Quick through the air and on a shorter length on middle and off, Mathews prods forward to defend it but is foxed by the substantial away turn and bounce.  SL 157/3 in 57.5 overs
10.30 IST: Virat Kohli and Mohammed Shami are back on the field. Must have gone back to the dressing room to take a breather. SL 156/3 in 57 overs
10.27 IST: Virat Kohli has gone off the field. We do not know what the reason is exactly. Meanwhile, Nigel Llong has given an official warning to Ishant Sharma for running on the danger zone. Hang on, it is Mathews who has been warned. Indeed, he was the one who was running on the danger area. He has a habit of doing this. The umpire has rightly reminded him about it.
10.24 IST: Very full on the stumps, Mathews drives it to the left of Jadeja who fails to stop it cleanly and parries it behind. Concedes a single, rare to see Jadeja fumbling. SL 154/3 in 56 overs
10.20 IST: Good intent from the Sri Lankan batsmen. There was a single on offer and they didn't miss out. Plays it to mid on and quickly moves to the other end. Now, this is the highest score by a Sri Lankan player in this series - 68. SL 153/3 in 55 overs
Ishant Sharma comes into the attack. Meanwhile, Shami is seen walking out of the field.
10.15 IST: FOUR! 150 up for Sri Lanka. Streaky runs! Floated outside off, drifting away as well. Chandimal uses his feet to play it through covers but gets a thick outside edge that goes past cover-point. SL 152/3 in 53.2 overs
10.13 IST: Shami has his tail up and is beating the bat often. On a track which is not offering much to the seam bowlers, he has bowled with a lot of intensity and venom. Last evening, he got the ball to tail in prodigiously and he has been on the money again this morning. He is hitting the right channels often and is catching the batsmen off guard. Good to see a pace bowler making life difficult for the opposition.  SL 148/3 in 53 overs
10.06 IST: The physio comes running in with a drink and provides it to Chandimal. There is smog around in the air today as well. The reserve player is wearing a mask. Seems like the Sri Lankan skipper is having issues with breathing. Yesterday, Lakmal threw up and Gamage was struggling as well. Hopefully, the Sri Lankan skipper is alright. It has been a testing Test match for the visitors so far.
10.02 IST: Change of length from Shami. He bowls this fuller and to the leg side, Mathews flicks it to square leg for a run. SL 147/3 in 51 overs
10.02 IST: The Sri Lankan team staff is seen standing near the sidelines. Yesterday they were all geared up to take the field due to the lack of substitutes. It is unlikely that a situation will arise today with Sri Lanka batting. However, the pollution levels in Delhi are a matter of concern.
09.57 IST: FOUR! Beautiful stroke! Tossed up delivery around leg stump, Chandimal clears his front leg and whips it against the turn through mid-wicket to find the fence. SL 146/3 in 49.4 overs
JADEJA to replace ISHANT. A slip and short leg in place.
09.54 IST: MAIDEN! Just short. Perfect length, Chandimal looks to push that one and gets an edge to that. It just falls short of the fielder at second slip. SL 141/3 in 49 overs
09.51 IST: OUCH! Didn't judge the ball there and Chandimal is hit on his bicep. Back of a length ball, Chandimal tries to duck and is hit on his arm. No damage done. SL 141/3
09.44 IST: FOUR! Well played! On a length on the hips, Mathews gets inside the line and tickles it through fine leg. The fielder is squarer and hence, has no chance to cut it off. SL 140/3 in 47 overs
09.41 IST: Change in field. Extra cover is taken out and a catching mid-wicket comes in place. Meanwhile, Llong has a chat with Mathews regarding running on the pitch. He does this on a consistent basis and the umpire warns him. The experienced campaigner needs to be careful.
MOHAMMED SHAMI to replace Jadeja.
09.38 IST: Mathews punches it off the backfoot by the batsman. They pick up a single. 2 runs from the over. SL 134/3 in 46 overs
ISHANT SHARMA to ball from the other end. Two slips and a gully in place.
09.32 IST: Coming in with the arm, the Sri Lankan skipper tucks it to mid-wicket for a run and will retain strike. First runs of the morning. SL 132/3 in 45 overs
09.29 IST: The umpires and the players are ready to take the field. The Sri Lankan pair of Mathews and Chandimal are out to battle it against the Indian bowlers. Jadeja will resume his over - 3 balls left in the over. A slip and a short leg in place.
09.10 IST: Update on Sadeera Samarawickrama - He's expected to have a net session in an hour's time and then a decision will be taken regarding his further participation.
09.15 IST: PITCH REPORT - Russel Arnold doing the pitch report says that it's a chilly morning and the sky is blue in color. Seeing the partnership between Mathews and Chandimal last night he added that the pitch played well throughout yesterday and should most likely stay the same today as well. His counterpart Sunny Gavaskar says that the grass is getting a bit drier since the start of play and the bowling marks still not clearly visible. He further opines that the odd ball will keep turning but will still remain a good batting pitch. Arnold suggest that the Sri Lanka should not look to dominate the entire but have an average day, score 250-6 and get the game to the last day and then try to see if they can save it or win it from there. His major concern is the variations in the pitch which could test the Lankans batting but he feels that they can still bat throughout the day.
09.10 IST: Murali Kartik has a chat with Bharat Arun before the start of play today. The Indian bowling coach says that the pitch is still batting-friendly. States Mohammed Shami has been outstanding in the series and that the weather is pretty good for bowling at the moment. Asserts that there are plans in place to bowl to Mathews, who was fishy at times, and also for others and it's just a matter of executing them. Reckons it is important for the spinners to be disciplined and try using the crease and bowling from different angles to unsettle the batsmen. Ends saying that Ishant Sharma, whose wrist position he has worked on, has been a revelation in this series and the way he is bowling, the signs look encouraging.
08.56 IST: 
Hello and welcome to Day 3 of the final Test with Sri Lanka on 131/3, trail India 536/7d by 405 runs

Updates - https://t.co/OKFOpkiBg9 #INDvSL pic.twitter.com/rHX0Qk1Byy

— BCCI (@BCCI) December 4, 2017
08.45 IST: 
VIDEO: #TeamIndia Captain @imVkohli makes an admission to @cheteshwar1 and challenges him for a game of badminton.

Watch the full interview on https://t.co/CPALMGgLOj pic.twitter.com/NZNE6pZLnU

— BCCI (@BCCI) December 3, 2017
Brief Preview: Skipper Virat Kohli's magnificent 243 was overshadowed by unprecedented scenes of mask-wearing Sri Lankan players, who halted proceedings thrice, complaining of poor air quality, on day two of the third Test in Delhi. The unrelenting Lankans forced India to declare their first innings at 536 for seven as the drama unfolded in the post-lunch session during which play was halted for 26 minutes due to pollution concerns. 
However, the visiting batsmen had no complaints about air quality when they came out to bat after India's declaration. A fired-up Indian attack reduced them to 131 for three at stumps and they are still trailing by a massive 405-run margin. It could have been worse had Kohli not dropped Angelo Mathews regulation catch at second slip off Ishant Sharma. Ishant (1/44), Mohammed Shami (1/30) and Ravindra Jadeja (1/24) shared the spoils as the visiting batsmen continued to struggle in negotiating the Indian attack. (Read Full Day 2 Report)