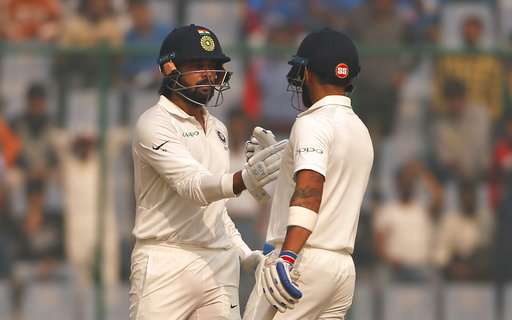 Good comeback by Sri Lanka towards the close of the day's play. One way traffic otherwise in the game. It all started with the Indian openers. Shikhar Dhawan and Murali Vijay gave India the quick start they needed. Dhawan fell to a sweep shot at deep square leg. Pujara will be disappointed with his lazy shot and well-planned field placement of Sri Lanka. But then came the counter-attack of Kohli and Vijay. They added 283 runs with both scoring 150+ runs. Kohli got his 20th while Vijay got his 11th hundred. They looked at they would end up playing the entire day without losing another wicket. But Sandakan had other plans. Good length balls and two wrong one's got the better of Vijay and Rahane. Dickwella with some Dhoni like stumpings. Rahane will be disappointed with his shot selection as this was his opportunity to score some big runs on a good batting track.
Sri Lanka would be happy ending the day picking up two wickets. But still, have a lot of work to complete. They will be hoping Sandakan gets similar spin and bounce on day two and gets few more wickets. Other than that Day 1 exclusively belonged to India. Their captain continuing from where he left at Nagpur and looking good for another double ton. He will hope he gets support from the other end and will look to post a huge total on the board. That's it from us today. Do join us tomorrow at 0930 local time (0430 GMT) for what would another exciting day of cricket. (SCORECARD)
HIGHLIGHTS, INDIA VS SRI LANKA, 3RD TEST, DAY 1 at DELHI
16.27 IST: MAIDEN! Sandakan slips in a googly on middle, Rohit reads it well and smothers it expertly. IND 371/4 in 90 overs at stumps on day 1.
Last over of the day coming up...
16.32 IST: FOUR! Nicely done! Outside off from de Silva, Sharma hangs back and cuts it behind point to find the fence. IND 370/4 in 88.2 overs
Rohit Sharma is the new man in. Suddenly Sri Lanka are on the prowl. Can they sneak in another wicket before end of day's play?
16.27 IST: OUT! What a brilliant piece of bowling and keeping! Sandakan has once again outsmarted a top batsman. Bowls this one slower through the air from over the wicket and it is the wrong one. Keeps it well outside off, drawing Rahane into the drive. He falls into the trap and goes for a half-hearted push. Ends up missing it and Dickwella behind the stumps is sharp as a hawk. He collects it and whips the bails off in a jiffy. Is the back foot out of the crease? It is taken upstairs. Replays show that the foot is on the crease. Rahane's struggle in this series continues. IND 365/4 in 87.3 overs 
16.26 IST: Another nervy moment for the Indians. Dickwella is once again confident and is claiming that he has caught Rahane short of his crease. It has been referred upstairs. Seems out to the naked eye. The body language of Rahane also suggests so.
16.25 IST: Rahane plays it to mid-wicket region by the batsman. The batsmen have run through for a single. IND 365/3 in 87 overs
Ajinkya Rahane strides out to the middle. A tricky phase of play awaits him. He has been short of runs in this series. Perhaps the right time for Sri Lanka to attack him.
16.21 IST: OUT! Brilliant piece of bowling and keeping from Sri Lanka. This is an earned wicket for them. Something to cheer for them after a hard fought day. Sandakan bowls this at a perfect driving length and invites Vijay for the drive. It's a wrong one from Sandakan, Vijay drives and misses it, is beaten by turn and bounce. Dickwella does the rest. Quick hand movement and takes off the bails in a flash. IND 361/3 in 86 overs
16.19 IST: Third umpire has been referred to for a stumping appeal against Vijay. Should be close but Dickwella looks confident.
16.14 IST: 8th 150-plus score for Virat Kohli! The way he is playing it seems like he is having a net practice. Sighting the ball like a football. Shorter in length, Kohli rocks back and punches it towards sweeper cover. The fielder does well to stop the ball from crossing the fence. Three runs taken. Another double century in sight for the Indian skipper. IND 357/2 in 84.3 overs
16.08 IST: 
150 runs for @mvj888 #INDvSL pic.twitter.com/XxLMQuqcVJ

— BCCI (@BCCI) December 2, 2017
16.07 IST: The runs continue to flow from Murali Vijay's bat. 4th 150 plus score for the elegant right-hander in Test cricket. The entire dressing room is up on its feet applauding his brilliant knock. IND 349/2 in 82 overs
16.03 IST: FOUR! Hit away with disdain! A rank long hop on hop, Kohli lines it up and smashes it over the leaping fielder at short mid-wicket. No protection in the deep and the ball races to the fence. IND 346/2 in 81.1 overs
The second new ball is available now but it has not been taken.
16.00 IST: This is Sandakan's fourth no-ball. This one a little marginal but a no-ball is a no-ball. Played through mid-wicket and Kohli comes to the non-striker's end. IND 337/2 in 80 overs
15.56 IST: Vijay clears his front leg and knocks this down to long on for a single. The 250-run stand comes up between the duo. What an effort and they continue to play freely. IND 328/2 in 79 overs
15.55 IST: Well played! Drifting away from Kohli. He waits for it and guides it past first Mathews at first slip. The veteran hares after it and keeps the ball in play. Saves a run for his side IND 327/2 in 78.5 overs 
15.45 IST: Length again from Gamage, Kohli drives it to mid-wicket for a single. With that he reaches to 3000 runs as captain in Test cricket. IND 316/2 in 76 overs
15.44 IST: FOUR! This is class from Vijay. Soft hands using the pace of the bowlers and runs it down to third man for a boundary. Length ball outside, opens the face of the bat and neatly plays it, the ball runs to the fence to add four runs to the total. IND 315/2 in 75.3 overs
15.41 IST: Uppish but safe! Slow through the air on off, Kohli looks to ease it down the ground but ends up chipping it just wide of the bowler on the off side. Perhaps signs of the track being two-paced? IND 310/2 in 75.2 overs
15.33 IST: A chirpy appeal for an LBW is turned down! Tossed up on middle and leg, spinning down. Vijay looks to keep it out but misses to wear it on the pads. Sandakan is confident but Dickwella is not quite sure. Chandimal has a look at his bowler but they don't go for the review this time. Right thing to do as it would have missed the leg stump.IND 302/2 in 71.4 overs
15.25 IST: 300 up for India as Kohli and Vijay's partnership might just go on till the end of the day as both of them have seemed to have found their rhythm after their respective tons. IND 300/2 in 71.2 overs
"Sadeera Samarawickrama got hit on the grille of his helmet earlier in the day. He was taken off the field as well. The on-air commentators tell us now, that he had been taken to the hospital for some precautionary scans. He is safe and not in any danger they add".
15.18 IST: FOUR! Powerful sweep from Kohli. Onto his knees and places it to perfection to the deep mid -wicket region. There was a fielder at deep mid-wicket and fine leg but it was in between them. IND 296/2 in 69.1 overs
15.09 IST: FOUR! Reverse sweep from Vijay and it gets him a boundary. Delicately done by him. The player from slip runs to stop the ball from going to the fence but fails. IND 283/2 in 66 overs
15.07 IST: 200-run stand up between Kohli and Vijay! IND 278/2 in 65.2 overs
15.00 IST: Not Out! A review goes down the drain! Tossed up delivery around middle and leg, spinning down.  Kohli tries to flick it away but misses and gets rapped on the pads. Perera is really confident and so is Dickwella but the umpire stays unmoved. Chandimal has a look at his bowler and finally decides to challenge the decision. Time for the Snickometer. It doesn't spot any deviation. The Hawk Eye rolls in. Oh ho! The ball has pitched outside leg and that puts the argument to bed. A review lost due to desperation. IND 273/2 in 63.2 overs
14.57 IST: Review time! Finally some excitement among the Sri Lankan players. Kohli is the man in question and it is regarding an LBW decision. Seems to be spinning down the leg side but you never know.
14.56 IST: 
The run machine continues. Three consecutive 100s for @imVkohli #INDvSL pic.twitter.com/sevr4oLuid

— BCCI (@BCCI) December 2, 2017
14.48 IST: 20th Test ton for Virat Kohli, his 13th as captain. What a player! He has scored this one without breaking a sweat. Colourful array of strokes all around the park and he has achieved this in a rapid pace. Looks like a man in complete control of himself and he has pummeled the opposition into submission. Coming back to the delivery, it is on fullish length on the pads. Kohli clips it to deep mid-wicket for a run. Lifts his helmet and sinks in all the applause from the crowd. The run-machine continues to grow in stature. IND 264/2 in 61.1 overs
14.44 IST: FOUR! Glorious timing from Vijay. He really looks in good nick. This ball is served up around off and Vijay picks the length quickly and drives it to the cover point area for a boundary. Doesn't bother running for it. IND 259/2 in 60.2 overs
14.42 IST: FOUR! This time he maneuvers the field with perfection. He has played that with a lot of authority. Tossed up delivery in line of the stumps, Vijay makes room and creams it through covers for an exquisite boundary. When he is in full flow, he is an absolute joy to watch! IND 254/2 in 60 overs
14.35 IST: Quicker in pace and on a flatter trajectory on leg stump from Perera, Vijay helps it through mid-wicket for an easy run. IND 247/2 in 58 overs 
14.32 IST: We are back for the last session of the day. The players and the umpires are out in the middle. Vijay and Kohli are back to resume their innings. How long will Kohli take to get to his ton? Dilruwan Perera to bowl first up.
... DAY 1, SESSION 3 ...
14.20 IST: Sri Lanka didn't capitalize on the wicket of Pujara and let things slip out of their hands. The spinners have been leaking way too many runs for their liking and seems to be going according to plan. They need to break this partnership as soon as possible or else will have to toil it out for another session. What will Chandimal have to tell his players during the break? Join us soon after the break.
14. 18 IST: Well then! 129 runs from the session and it completely belonged to the Indian team. 167 run partnership from Vijay and Kohli and they are looking solid out there in the center. After the loss of the two wickets, Kohli started counter-attacking the Lankan bowling attack. Got to his fifty in just 52 balls and has got the majority of his runs through boundaries. Vijay, on the other hand, has been in sublime form getting to his 11th Test century and third back-to-back First class ton.
14.15 IST: 
At Tea on Day 1 of the 3rd Test, India are 245/2 (Vijay 101*, Virat 94*).

Follow the game here - https://t.co/OKFOpkiBg9 #INDvSL pic.twitter.com/Vbc8StgmZJ

— BCCI (@BCCI) December 2, 2017
14.14 IST: A touch fuller around off, Vijay defends it towards mid off. A maiden to end the session. That's TEA, DAY 1! IND 245/2 in 57 overs
14.11 IST: Interesting celebration! After Vijay got to the triple-figure mark, he and his skipper brought out the dab after signalling something towards KL Rahul. This had the youngster in splits.
Last over before Tea. Kohli on 94 now. Can he get to triple figures before the break?
14.10 IST: 
Two consecutive centuries for @mvj888. This is his 11th Test 💯 #INDvSL pic.twitter.com/7igFLIW8ks

— BCCI (@BCCI) December 2, 2017
14.09 IST: FOUR! Can the local lad stay quiet when his partner is mustering the runs? Nope. He won't. Kohli goes back to this shortish delivery and smashes it through covers for a boundary. Moves to 94 with this. IND 245/2 in 56 overs
14.07 IST: HUNDRED! FOUR! 11th Test hundred for Murali Vijay! He has looked at ease from the moment he walked in. In the previous game, a loose shot brought his downfall when he looked set for a long stint at the crease. This time he seems focused to not let the chance go. Sandakan drops it short outside off, Vijay goes back and slaps it through covers for a boundary. He gets out a jig as he celebrates his milestone. IND 240/2 in 55.2 overs
13.57 IST: Lakmal had to abort bowling this one. As he ran in to bowl that, the towel tucked in his pant fell off. This distracted Vijay, who moved away from his position. Earlier in the day, such an instance hadn't resulted in the bowler aborting delivering the ball.
14.04 IST: IND 236/2 in 55 overs
13.52 IST: 150-run stand up between Vijay and Kohli.
SURANGA LAKMAL back on.
13.51 IST: Flatter on the pads from Sandakan, Vijay goes back and flicks it through short fine leg. Karunaratne chases it down, slides and keeps the ball in play. The batsmen pick up three runs before the ball is returned. The umpire goes upstairs to see if the boundary is saved. It is indeed, as confirmed after having a look at numerous replays. IND 227/2 in 52 overs
13.42 IST: Vijay plants his foot forward and nudges a single down to long-on. 3 runs from the over. IND 220/2 in 51 overs
13.39 IST: Tight over from Silva, just a single from it. IND 210/2 in 49 overs
DHANANJAYA DE SILVA is given the bowl now. He has been on the bench for the first couple of games and should be largely unaffected by the on-field fatigue then. Can he provide the Lankan's the breakthrough?
13.29 IST: 200 up for India. Virat has flicked the ball off his pads. One run added to the total, two from the over. IND 201/2 in 46 overs
13.25 IST: Virat Kohli's key to success against the spinner has been the stride that he gets. He does so and converts the good length deliveries into fuller one and collects runs. He is seen picking up lengths early and hence when the delivery is slightly short, he is quick to go back and play it. Good to see, helpful for a young player to watch and learn.
13.20 IST: FOUR! Wow! All this while, Kohli went back and flicked such deliveries to the man at deep mid-wicket. This time brings his wrists into play a bit more to get it squarer. The ball rushes through square leg. The fielder in the deep rushes to his right but fails to prevent the boundary. IND 192/2 in 43 overs
13.12 IST: Drinks are on the field. Vijay and Kohli are just carrying on from where they left in the previous game. Their 103-run stand off 124 deliveries has just been full of strokes. Looks as if there is a competition of sorts and that's why both of them are matching each other stroke for stroke. Sri Lanka already seem to run out of ideas just half a day into this game. More than a refreshing drink, a fresh thought is what would help them.
13.08 IST: 100-run stand completed between Vijay and Kohli.  This journey has been only of 121 balls so far and is as chance-less as it looks. Vijay eases this through the cover region for a single. IND 178/2 in 40.3 overs
13.06 IST: FOUR! Kohli fulfills the desire of the ball wanting to be at the cover boundary, says the witty Harsha Bhogle as he lavishes praise on this shot. Sandakan drops it short around off, Kohli goes back and slaps it through covers. The real estate on that part of the ground leaves the ball unhindered as it makes its way to the fence. Kohli is soon catching up with Vijay as far as personal scores are concerned. IND 177/2 in 40 overs
13.03 IST: Poor bowling by Gamage. Even after conceding so many runs, he strays on the pads yet again. Vijay flicks it through backward square leg. Before Lakmal in the deep does the clean-up job, a couple results. IND 171/2 in 39 overs
12.56 IST: Matthew Hayden on-air discusses about not going far ahead of the moment. He says that on days when you are striking the ball well or when things are going your way, you often tend to forget about the bigger picture. Adds further that in the sport it is about only that one delivery that can often consume the batsman. So the batsmen need to be careful more so when in full flow.
12.54 IST: FOUR! Often the movement and the body language of the players show how good and at ease a batter has looked. Banged on a shorter length around off, Kohli pulls it with disdain through wide mid on. The player at mid on didn't bother moving or, well, he didn't stand a chance of doing so. IND 165/2 in 37 overs
12.52 IST: FOUR! Over-correction from Gamage results in another boundary that brings up Kohli's 15th Test fifty off just 52 balls. On the previous occasion, there was width. Here the bowler angles it on a length on the pads. Easy peesy for the Indian skipper who whips it through fine leg. The fielder in the deep runs to his left and dives but is unable to prevent the Indian no.4 from getting to his landmark. IND 160/2 in 36.2 overs
12.51 IST: FOUR! I think we need to put off all the superlatives away, because we might be guilty of overusing them, says Harsha Bhogle on air. Pretty much sums up the way Virat Kohli is playing. We have seen him play such strokes in white-ball cricket and here he is doing so in the red-ball game. Gamage bowls it full outside off, Kohli leans into the shot and drives it through covers for a boundary that takes him to 47. IND 156/2 in 36.1 overs
12.43 IST: FOUR! Another one in the over! This one is dangerously cheeky though. Flatter outside off, Kohli goes back and looks to guide it past slip. Ends up getting it just past Mathews at slip who fails to get hand to it. The desired result is achieved by Kohli who moves to 41 off just 42 deliveries. IND 148/2 in 34 overs
12.40 IST: FOUR! Kohli just feasts on spinners and here is another proof of that. Perera loops it around off, Kohli gets low and plays the inside out drive through covers. Once he times that well, there's no stopping that. IND 143/2 in 33.1 overs
12.35 IST: FOUR! Wrists all the way! How does he manage to look so good with those flicks! Perera loops it up around off and middle, Kohli lunges ahead and uses his wrists to play it through mid on for a boundary. The Indian skipper is in the ODI mode already. IND 139/2 in 32 overs
5000 and counting... #KingKohli @imVkohli pic.twitter.com/Mn2uRCzad7

— BCCI (@BCCI) December 2, 2017
12.32 IST: FOUR! 5000 Test runs for the Indian skipper, 4th fastest Indian to the mark. He is unstoppable when he is in such good a flow that he is right now. An over-pitched delivery outside off, Kohli leans ahead and drives it through covers. Bisects the gap between the cover fielder and the mid off fielder to get a boundary. IND 135/2 in 31 overs
12.27 IST: The physio is on the field. Samarawickrama is seen holding his forehead and this doesn't look good. After a bit of a mini-conference, he is seen walking off the field. Hope this isn't too series.
12.25 IST: FOUR! 50-run stand between Vijay and Kohli! This has come in quick time. These two have combined well after India had lost a couple of wickets before even putting 100 on board. Lakmal bowls it on a length outside off, Kohli hangs back and slaps it through cover-point for a boundary. IND 130/2 in 30.1 overs
12.24 IST: Kohli crosses over to the other end by driving it through mid on. 2 runs from the over. IND 126/2 in 30 overs
12.17 IST: FOUR! Not a good way to start for Lakmal. Vijay is as pristine as ever with his timing. Lakmal spears it straight on a length around off and middle, Vijay gets his stride forward and times the flick through mid-wicket. The mid on fielder ran after the ball, only to retrieve it back from the fence. Wonderful leg position and head position from the opener. IND 121/2 in 28.1 overs
SURANGA LAKMAL will steam in from the other end. Strangely, he has looked off-colour after the first Test.
12.15 IST: Vijay goes back and punches it down to long on for one. Just a single from the over. IND 117/2 in 28 overs
12.10 IST: Here we are after the Lunch break. India have begun well in spite of a couple of setbacks. As the saying goes, well begun is half done. The Vijay-Kohli combo has got going with a fluent 38-run stand off just 40 deliveries. Sri Lanka will have to break this stand before it gets out of hands. Out come their players followed by the Indian batsmen. DILRUWAN PERERA it will be, who will start the proceedings with the ball. A slip and a bat-pad catcher in place.
... DAY 1, SESSION 2 ...
You can do your bit for the Armed Forces and contribute to the #ArmedForcesFlagDayFund here - http://164.100.158.73/donateaffdf.htm pic.twitter.com/5fLI36iMnu

— BCCI (@BCCI) December 2, 2017
11. 45 IST: Perera and Sandakan have been bowling short on most occasions. That has allowed Vijay and Kohli to score freely. The former has scored an eye-catching fifty and is looking ominous. The odd ball is keeping low and there is also some turn on offer. The visitors' spinners ought to utilize that. The duo will be aiming to play in the same manner and on the other hand, Sri Lanka need to keep chipping away at the wickets. If the tourists don't do so, the No.1 ranked side in the world will run away with the show. Join us for the second session in a while.
11. 41 IST: Dhawan was in the mood to play attacking cricket and that resulted in his downfall. He fell attempting a sweep shot which has become his weak link and gifted his wicket to Perera, who reached the landmark of 100 Test wickets, being the quickest to do so. Pujara departed in quick succession and it was a rare failure for him. Got to give credit to Chandimal for keeping a leg gully in place.
11.38 IST: Session highlights - 27 overs, 116 runs, two wickets. It has been India's morning and they continue to march on in this series. Chilly conditions and a tinge of green on the surface set up a good prospect for watching some exciting seam bowling on display but the the two Indian openers, Vijay and Pujara started off in a positive manner. They didn't let Lakmal and Gamage to settle down, scoring at every possible opportunity and that prompted Chandimal to bring in Perera early into the attack.
11.35 IST: 
At Lunch on Day 1 of the 3rd Test, India are 116/2 in 27 overs.

Updates - https://t.co/OKFOpkiBg9 #INDvSL pic.twitter.com/aZQhnz7b4I

— BCCI (@BCCI) December 2, 2017
11.32 IST: FOUR overthrows! 16th Test fifty for M.Vijay. What a way to get to the landmark! Length dilevery by Lakmal and Vijay opens the face of the bat and plays it towards the point region for a quick single. Debutant Roshen picks up the ball and has a shy at the stumps. Vijay reaches the other end, needless throw, the ball hits the stumps and races away for an overthrow for a boundary. He gets five runs to get to the fifty. IND 116/2 in 26.2 overs
11.29 IST: FOUR! How easy to the eye was that shot from the Indian skipper, in complete control. Fullish in length around off, Kohli clears his front leg and drives it elegantly through covers to find the fence. IND 110/2 in 26 overs
11.21 IST: FOUR! Bowl to Kohli's strengths and he will keep milking you all day long. Full-length delivery on middle, angling in. The Indian skipper brings those wrists into play and clips it with a lot of command. Gets it past short mid-wicket and the ball reaches the fence in a jiffy. 100 up for India. IND 104/2 in 24 overs
11.18 IST: FOUR! Vijay is focusing on timing and he is getting the desired results. He has already produced a colourful array of strokes. Fullish in length and angling into Murali. He clips it beautifully through mid-wicket for a glorious boundary. IND 95/1 in 23 overs
11.10 IST: FOUR! That came right out of the textbook! For all the kids watching, this is how you should play a cover drive. Length delivery around off, holding its line. Vijay takes a confident strides forward and just pushes it. Such is the timing that there is no chance for any fielder whatsoever and away she whistles to the boundary. IND 82/1 in 21 overs
VIRAT KOHLI comes in to bat next. He is out there on the back of a well made double hundred.
11.07 IST: OUT! Pujara has fallen to a well-planned Sri Lankan move. Gamage bowls to his field. Length ball on the pads, Pujara tries to flick it away. He couldn't keep the ball down and hits it staright to the fielder at leg gully. A sharp catch by Samarawickrama there, ends Pujara's stay at the crease. It's very unlikely from Pujara, as he never plays areil shots so soon in his innings. The move to have a leg gully has worked for Sri Lanka. Clever Captaincy from Chandimal and Sri Lanka have picked up their second wicket. IND 78/2 in 20.2 overs
11.03 IST: FOUR! Rank long hop and it has been hit away with disdain! Around off stump, Pujara rocks back and flat-bats it through the mid off region for a rocketing boundary. The Sri Lankan spinners need to bowl on much fuller lengths to make it challenging for the batsmen. IND 78/1 in 20 overs
10.59 IST: FOUR! Pujara won't miss out on these balls. He picks up the length quickly and drives it beautifully to mid off region for a boundary. After continuous short balls he gets a fuller ball and plays it beautifully. Classical Pujara. IND 72/1 in 19 overs
10.56 IST: Defensive field setting from the Sri Lankans. Not the ideal thing to do. Pujara is using his feet and that has prompted Chandimal to keep a long on in place. You don't send the right message to your bowler when you do that. And that too, with Perera bowling, who is the go-to-man in the absence of Herath.
10.54 IST: FOUR! Poor delivery and duly punished!  Short and spinning down, Pujara tucks it past square leg who sprints after it but fails to keep the ball in play . IND 66/1 in 18 overs
10.52 IST: FOUR! Shot! Shorter in length, turning in. Pujara makes good use of the depth of the crease and turns it through backward square leg to pick up a boundary. IND 62/1 in 17.3 overs 
10.51 IST: Some chin music for the batsman, Pujara lets that bouncer through to the wicket-keeper. IND 57/1 in 17 overs
10.43 IST: MAIDEN! A rush of blood from Pujara! It is rare to see him play that way. He is usually cool as a cucumber. Short and width on offer, Pujara slashes at it but the ball goes under his bat and sails into the gloves of the keeper. IND 55/1 in 15 overs
Lahiru Gamage returns for a bowl. Two slips and a gully in place.
10.39 IST: Good shot and good fielding as well! Shorter in length outside off, Pujara rocks back and cuts it through cover-point. Sandakan hares after it and makes a spirited save near the ropes. Saves a run for his side. IND 55/1 in 14 overs
Time for Drinks. India will be happy with the way things are going so on far. Going at a lengthy run rate. They have lost the wicket of Dhawan but other than that they look solid. Vijay not wasting time to get his runs and is looking good for a big score. Sri Lanka, on the other hand, have not really been disciplined in their bowling. Lakmal not at his best.
#TeamIndia sport the Armed Forces Flag badges to commemorate the Armed Forces Week #ArmedForcesFlagDay pic.twitter.com/EjJfHjagNY

— BCCI (@BCCI) December 2, 2017
10.32 IST: 50 up for India. Fuller length ball from Lakmal, on middle and leg stump, Vijay pushes it to mid-wicket and goes to the other end. IND 51/1 in 13 overs
10.24 IST: FOUR! What a shot! Tossed up delivery on off, Vijay strides forward and drills it past the diving mid on fielder and the ball races to the fence. IND 47/1 in 11.1 overs
Cheteshwar Pujara strides out to bat. He has recently moved to No. 2 in the ICC Test batting rankings. Will he score back-to-back centuries?
10.17 IST: OUT! 100th Test wicket for Perera! He becomes the third Sri Lankan spinner after Muralitharan and Herath to achieve this feat! Dhawan throws his wicket away after a promising start. That was a loose shot early in the innings and he pays the price for it. Slow through the air, drifting in towards the leg stump. Dhawan kneels and goes for the sweep but ends up top edging it. There is a lot of haze around as the ball skies towards Lakmal to deep square leg. The pacer almost loses it in the background, crouches forward and slips a bit. However, he keeps his cool and takes a fine catch to his right. His left shoe came out in the process but in spite of being off-balanced, he did really well to hold onto it. IND 42/1 in 10 overs
10.14 IST: FOUR! Deft! Dhawan is looking ominous at the moment. Perera comes from around the wicket and bowls an arm ball outside off. Dhawan camps back, watches it closely and guides it past the keeper for a boundary. IND 40/0 in 9.1 overs
10.08 IST: FOUR! Easy pickings! Short delivery outside off, spinning away. Dhawan eyes light up. He rocks back and cracks it through cover-point to pick up another boundary. IND 35/0 in 8 overs 
Spin has been introduced early. Dilruwan Perera to roll his arm over now. He is just one shy of 100 Test wickets. Let's see what kind of purchase he gets from this surface. A slip and a short leg in place. The crowd is making a lot of buzz at the moment.
10.04 IST: FOUR! Good length ball outside off. Vijay plays it with a soft bottom hand and it goes between third slip and gully region for a boundary. Intentionally done by Vijay. Playing positive cricket and getting quick runs. IND 28/0 in 7 overs
09.59 IST: FOUR! Exqusite! Harsha Bhogle on-air mentions that there is something about a batsman when he plays a shot and doesn't move after that. Full-length delivery outside off, Dhawan leans into it and punches it firmly through covers for a boundary. Timing and grace written all over that one. 23/0 in 6 overs 
09.55 IST: Length ball from Lakmal, on middle and leg stump, Dhawan plays it to the mid on region and runs for a quick single. IND 18/0 in 5 overs
09.51 IST: MAIDEN! Gamage goes fuller this time, allowing the ball to swing away a bit. Vijay prods forward and eases it to mid off. Fullish lengths should be the order of the morning. Need to make use of the new ball and the helpful conditions. IND 17/0 in 4 overs
09.45 IST: FOUR! Fuller in length again, around off and Dhawan drives it towards cover region for his first boundary. Glorious looking shot by Dhawan, he held his pose and the ball raced to the fence. IND 17/0 in 2.1 overs
09.43 IST: FOUR! Elegance at its best! That is a shot of a man who believes in his abilities and is oozing confidence. Full length ball on middle, not much nibble in the air. Vijay strides forward and just strokes it past his partner for a delightful boundary. IND 13/0 in 2 overs
LAHIRU GAMAGE to bowl from the other end. Two slips and a gully in place.
09.37 IST: FOUR! Fuller on the pads from Lakmal, Vijay plays it on the leg side for another boundary. India are up and running here in Delhi. Lakmal not bowling the perfect length like he did in the two Tests. These are welcome runs at the start of the innings for India. Lakmal should not be wasting the new ball and bowl it in good areas. IND 8/0 in 1 over
09.35 IST: FOUR! Length ball outside off, Vijay opens the face of the bat and guides it to the off side for the first boundary. Good start by Vijay. He looks in control. IND 4/0 in 0.3 overs over
09.30 IST: So... The anthems are done and dusted. Play is set to get underway. Out walk the Indian opening batsmen MURALI VIJAY and SHIKHAR DHAWAN. The former is coming off a wonderful hundred while the latter is back in the side after being out for personal reasons. Sri Lanka hand the new red rounded shiny object to SURANGA LAKMAL. Three slips and a gully to begin with. Let's roll...
09.25 IST: India haven't lost a Test at this venue in the last 30 years. This would keep the hosts in good stead. Are the numbers pointing against the away side even here? Maybe, but a game of cricket isn't won on statistics alone. Meanwhile, the players and the umpires line up for the national anthems. It will be Sri Lanka's first followed by India's.
09.20 IST: 
#TeamIndia Playing XI for the 3rd Test #INDvSL pic.twitter.com/h6TsLnXC5z

— BCCI (@BCCI) December 2, 2017
09.15 IST: 
All set! #INDvSL pic.twitter.com/iHbqNTU07o

— BCCI (@BCCI) December 2, 2017
09.10 IST: Sri Lanka (Playing XI): Sadeera Samarawickrama, Dimuth Karunaratne, Dhananjaya de Silva, Angelo Mathews, Dinesh Chandimal (C), Niroshan Dickwella (wk), Roshen Silva, Dilruwan Perera, Suranga Lakmal, Lakshan Sandakan, Lahiru Gamage
India (Playing XI): Shikhar Dhawan, Murali Vijay, Cheteshwar Pujara, Virat Kohli (C), Ajinkya Rahane, Rohit Sharma, Ravichandran Ashwin, Wriddhiman Saha (wk), Ravindra Jadeja, Mohammed Shami, Ishant Sharma
09.05 IST: DINESH CHANDIMAL says that they would have batted first as well although the toss isn't under anybody's control. Aims to restrict the opposition to as minimum as they can. After the previous game, they assessed the need to change their approach to batting. Informs that Rangana Herath, Lahiru Thirimanne and Dasun Shanaka make way for Lakshan Sandakan, debutant Roshen Silva and Dhananjaya de Silva come in. He adds that the newcomer has scored well in domestic circuit and hopefully will do well in this game.
VIRAT KOHLI says it looks like a decent wicket to bat on. Opines that the first session will offer something to the bowlers and the batters are up for the challenge. States that they would have liked more grass covering for sure but will take whatever is on offer. They would like to take the challenge of batting first in bowler-friendly conditions, he adds. Reckons every game is important and they aren't taking any opposition lightly. Adds further that even in South Africa, it is more about conditions than the opposition. States the two changes that India make for this game - Umesh Yadav makes way for Mohammed Shami and Shikhar Dhawan comes in for KL Rahul.
Captain @imVkohli wins the toss and elects to bat first in the 3rd and final Test against Sri Lanka #INDvSL pic.twitter.com/OvQh9fTPxO

— BCCI (@BCCI) December 2, 2017
09.00 IST: TOSS - Heads is the call from Chandimal... It comes down as TAILS. INDIA WIN THE TOSS AND BAT!
08.56 IST: Pitch Report: Russel Arnold says that it's a bit cold and nippy right now but should warm up later. Observes that the track is a bit different than at Kolkata and Nagpur. Sunil Gavaskar agrees and states that the fair covering of grass on the pitch should help seamers initially. The cooler conditions should help the bowlers bowl longer spells, he opines. He goes on to add that the cracks might open up as the match progresses and should help spinners from Days 2 and 3. He reckons that it is a bat-first pitch as the grass covering shouldn't make much difference to GOOD opening batsmen. On being asked by Arnold about the similarities with the Protea conditions, he opines that this is a far cry from the South African conditions as even the quality of the opposition is different. Advises the batters to counter the initial movement and then bat comfortably. Arnold reckons that a score of about 300-350 should make it competitive. Ends saying do the hard work early and reap rewards later.
08.45 IST: 
With a 1-0 series lead #TeamIndia is here in Delhi for the third and final Test against Sri Lanka #INDvSL pic.twitter.com/mmK5PtaIPD

— BCCI (@BCCI) December 1, 2017
08.30 IST: 
🏆 @Paytm Test series #INDvSL
📅 Dec 2 | ⌚ 9.30 AM IST
📱💻🎥📷🔢 https://t.co/CPALMGgLOj
📺 @StarSportsIndia pic.twitter.com/p6kxNTnzi7

— BCCI (@BCCI) December 2, 2017
Brief Preview: An infinitely superior India will be eager to carry out yet another demolition act on a below-par Sri Lanka when the two teams clash in the third and final Test starting on Saturday.  After the batting debacle in the first innings of the first Test, Indian openers Shikhar Dhawan and KL Rahul enjoyed fruitful second innings with scores of 94 and 79 respectively. 
Murali Vijay, who was surprisingly kept out of playing XI for the first Test, came into the side in the second game in Dhawan's absence to score 128. Now with Dhawan back in the squad, it is indeed a happy problem for skipper Virat Kohli, who has to choose two quality openers among three. Had Kohli himself opted out of the third Test, then it would have been easier to fit in all three knowing that Rahul can also play at the No.4 position. (Read Full Preview)