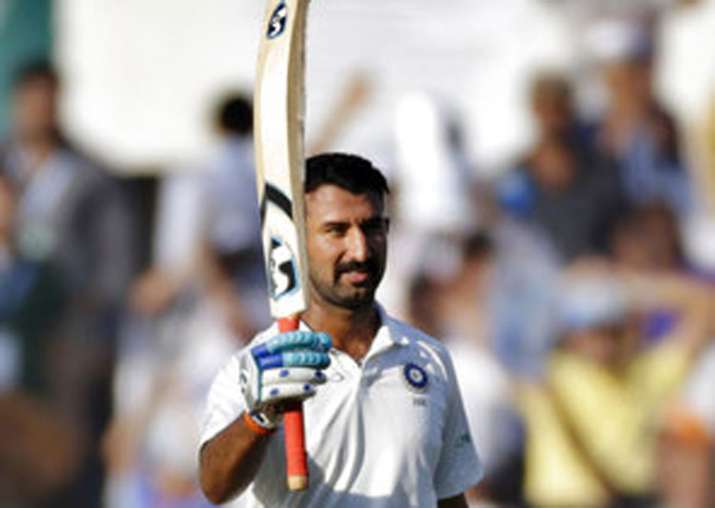 The Sri Lankan players' glum faces act as a good indicator who this day has belonged to. 301 runs for the loss of a wicket off the 90 overs speaks about the dominance of the hosts on the second day of Nagpur Test. India have been as commanding as the pundits had expected them to be even before the series began. After the loss of Vijay, which was mainly due to a loss of concentration, Kohli and Pujara have ensured that the momentum stayed where it should. The 96-run stand off 135 deliveries shows the free-flowing nature of the runs that have been scored.
Earlier Murali Vijay and Cheteshwar Pujara began the day with authority. They didn't allow any bad ball go unpunished. Notwithstanding the two chances that Vijay got, well three, if you count a drop and a run out of a single delivery as two different ones, he made the tourists pay with a wonderful 10th Test century. The latter is still unbeaten after his well-composed 14th one in the longer format. Then Kohli came into the picture and smashed a quick fifty to ensure no other wicket fell. (SCORECARD)
HIGHLIGHTS, INDIA VS SRI LANKA, 2ND TEST, DAY 2 at NAGPUR
16.56 IST: Simon Doull has a chat with M Vijay on the sidelines. The opener says that it feels great to score runs, especially after coming back to the side from a wrist injury. States that it was tough to start by then with became easier as he spent time in the middle. Admits that he had a tough time with the injury and the rehabs. About his stand with Pujara, he reckons that the way Pujara plays suits his game and helps him a lot as he maintains a good tempo. Ends having a laugh about his hair which he is trying to grow.
16.45 IST: 
And that brings the end of Day 2. #TeamIndia 312/2 with Cheteshwar Pujara on 121* and Virat Kohli going strong on 54*. India lead by 107 runs #INDvSL pic.twitter.com/GG8qziHjdr

— BCCI (@BCCI) November 25, 2017
16.43 IST: Kohli negotiates the final delivery of the day by defending it off his front foot. That's STUMPS, DAY 2! IND  312/2 in 98 overs, lead SL (205) by 107 runs.
16.41 IST: FOUR! Earlier we were talking on the lines of Kohli being in absolute command against spinners. This one drives home the point. Well, it's a full toss and most batters wouldn't miss out on this. Kohli flicks it through mid-wicket and helps himself to a boundary. IND 312/2 in 97.4 overs 
16.36 IST: FIFTY for Virat Kohli! Here it is - 15th Test fifty for Virat Kohli! He has looked attacking today and gets to his landmark in just 66 balls. He hits it through point to raise huge cheers from the crowd. IND 306/2 in 96.2 overs
16.32 IST: FOUR! 300 up for India! This morning we saw Vijay play such a drive and here is Kohli now. Perera should be bowling it in and around off. But he tosses it up very wide outside off, Kohli reaches out and drives it through covers. Like the office goers rush to go home after work, the ball speeds away to the fence. IND 302/2 in 95.1 overs
16.30 IST: Kohli plays this one through the vacant point region to retain strike. 2 runs from the over. IND 298/2 in 95 overs
LAHIRU GAMAGE to have another burst.
16.23 IST: Pujara ends the over with another forward defence. Just a single from the over. IND 292/2 in 93 overs
RANGANA HERATH comes into the attack now. A final voodoo?
16.20 IST: FOUR! In the air but safe! Dilruwan loops it up around off, Pujara skips down the track and flicks it through mid-wicket. It was a touch aerial and not too far from the leaping fielder there. Goes away to the fence in no time. India lead by 86 now. IND 291/2 in 92 overs
16.14 IST: FOUR! Shot! The balance that Kohli maintained in playing was just perfect. Shanaka bowls it on a length in line of the stumps, Virat hops up and just pushes it through mid-wicket. The timing is so good that the ball goes to the fence. Lead goes to 79!  IND 283/2 in 90.1 overs
16.10 IST: FOUR! What's the point of having so many fielders on the boundary, if you are to concede runs even then. This is wasting the new ball that's about nine overs old. Perera serves this around off and middle, Pujara gets down and sweeps it to the fine leg fence. IND 277/2 in 89.3 overs
DILRUWAN PERERA comes in to bowl with 9 overs left in the day.
16.07 IST: Change of style? Perhaps. Seems like Rohit Sharma has given up hopes of getting a chance to bat in this Test. The pitch is looking extremely flat and wicket-taking does not seem to be easy. So, Rohit is now practising bowling. Rohit seems to be imitating Jasprit Bumrah's bowling action.
15.59 IST: Pujara shows the full face of the bat and defends the ball off the back foot. The batsmen have run through for a single. IND 265/2 in 87 overs
15.57 IST: 
14th Test 100 for @cheteshwar1 and 4th vs Sri Lanka #INDvSL pic.twitter.com/OSglC0nRVd

— BCCI (@BCCI) November 25, 2017
15.56 IST: HUNDRED! 14th Test century for Cheteshwar Pujara, 4th against the Lankans! He continues to wow us with one solid knock after the other. Seldom does he miss out on feasting over attacks and here he is. Raises his helmet to acknowledge the huge round of applause that engulfs the VCA Stadium. He taps it towards gully, where Perera dives and parries it towards covers. Seeing this, the no.3 batter, who was haring across for a single turns back and returns for another to get to the mark. IND 264/2 in 86.2 overs, trail SL (205) by 59 runs
DASUN SHANAKA to have a bowl now. He has conceded 31 runs off his 10 overs so far. Would be interesting to see if he can swing the new ball. A deep backward point in place. So swing? Forget it!
15.55 IST: Kohli punches off the back foot by the batsman. The batsmen have run through for a single. IND 261/2 in 86 overs
Gamage is seen walking out of the field. Lakshan Sandakan is the substitute fielder on for him.
15.49 IST: Four runs, not a boundary this! Kohli taps this delivery in front of point and sets off for a run. Spotting a slower Pujara come to that end, the fielder fires a wild throw at the striker's end. IND 257/2 in 85 overs
15.44 IST: FOUR! Not this time! Pujara doesn't let the fielder come into play here. Fuller delivery around middle and leg, Pujara flicks it away with the angle. The ball rolls towards the deep mid-wicket fence, leaving no chance for Gamage to come close to that. IND 253/2 in 84 overs
Drinks are on the field. Russel Arnold on air ponders the tactic of persisting spin against Kohli. It is actually bizarre. Why is Dilruwan bowling to Kohli? The Indian captain averages 44.15 against pace while it is 62.02 against spin. Dissecting further, it is 74 against left-arm spinners while it comes down a touch, 59.03 against offies. Still, that is pretty good. Baffling... Live Score - IND 245/2 in 82 overs
15.32 IST: The commentators on-air discuss about Kohli's love for the left-arm spinners. He averages over 82 and has scored 496 runs against them. So, a right option to bring in Herath against him?
15.30 IST: Russel Arnold on-air informs us that Sadeera Samarawickrama who coped a blow a while back on the ribs earlier has been taken to the hospital for some precautionary x-ray. Let's hope that he's fine...
15.29 IST: FOUR! He has drilled that one! Tossed up outside off, Kohli makes room and absolutely nails the drive through covers for a boundary. IND 244/2 in 81.1 overs
The second new ball is available now and Sri Lanka waste no time in tasting the new cherry. Can the change in ball bring about the change in fortunes for them?
15.23 IST: FOUR! That's sizzled away says Manjrekar on-air! Perera overpitches it on middle, Kohli clears the front leg and smashes it straight down the ground for a boundary. IND 237/2 in 80 overs
Herath and Chandimal have a talk. The latter was supposed to bowl this over but after discussing something with the skipper, he takes his cap from the umpire and goes to his fielding position. Maybe, he wants a change of ends? Anyway, DILRUWAN PERERA comes back into the attack.
15.16 IST: FOUR! Kohli is off the mark! Fuller on leg, Virat just uses his powerful wrists and gets it through mid-wicket for a boundary. IND 229/2 in 78 overs
15.11 IST: FOUR! Easily done! Fuller on the stumps, Pujara advances down the track and drives it back down the ground through mid on for a boundary. IND 220/2 in 76.2 overs
15.09 IST: VIRAT KOHLI is the next man in. A wicket has fallen and you expect the crowd to go silent but here the scenario is completely different. They are excited to see this lad bat.
15.07 IST: OUT! Tame, tame dismissal that! Murali Vijay departs on a full toss and he is down on the ground and doesn't want to leave the field. But Sri Lanka rejoice, they have picked up a wicket at least today and who else has provided the breakthrough? It's Herath! He bowls a loopy full toss on middle and leg, Vijay gets down to sweep but gets a top edge instead. The ball goes straight into the hands of Perera at short fine leg who takes the catch this time. The mammoth 209-run stand comes to and end, India lead by 11. IND 216/2 in 75.3 overs
15.04 IST: Poor Rangana Herath. The ball seems to be following him so the commentators are keeping a close eye on his reactions. A couple of overs before he had to put in the long yards to save a boundary and then he had to bowl an over. In Dilruwan's last over, Pujara had flicked one between the two fielders placed at mid-wicket. He was standing at long leg. The moment he saw the ball was not coming towards him, he immediately turned his back and started to drink water from the 12th man who was standing beside him beyond the ropes. The commentators share a laugh about that. It is a hot day and he is certainly not the youngest on the field. IND 216/1 in 75.1 overs
14.56 IST: SCORES LEVEL. IND 205/1 in 72.5 overs
14.55 IST: 
1000 Test runs for @cheteshwar1 in the year 2017 #INDvSL pic.twitter.com/L1NCff9bHA

— BCCI (@BCCI) November 25, 2017
Cheteshwar Pujara has reached 1000* runs in 2017
14.51 IST: 200 up for India! Murli Vijay and Cheteshwar Pujara's 192 run partnership has helped India chase the scoreline set by the Sri Lankans on the board as they trail by 5 runs. IND 200/1 in 70.5 overs
14.45 IST: What happened there? Sadeera Samarawickrama is down in agony. It has struck him flush on the ribs, never easy to field at the bat-pad position. The physio is out and the entire Sri Lankan team encircles him. Vijay looks a worried man too and goes to see if the fielder is okay. That's not good for the visitors, Sadeera is trudging off the field. Hope that he's fine. Dimuth Karunaratne has been asked to replace him at that place...
14.43 IST: FOUR! Deft! The last time Vijay tried to play the reverse sweep he got a top edge! Angles it away from around the wicket, Murali Vijay gets into the position and deftly connects the reverse sweep. Beats Mathews at first slip and races down to the third man fence for a boundary. IND 193/1 in 68.3 overs
Spin from both the ends. DILRUWAN PERERA to have a go from the other end.
14.33 IST: MAIDEN! A shout for an LBW! Slower through the air, landed on middle, Cheteshwar comes forward to defend but it hits his pads. Herath appeals long and hard but the umpire shakes his head. Replays show there was a thick inside edge. IND 185/1 in 66 overs
14.28 IST: Out walk both the set batsmen - PUJARA and VIJAY. It will be HERATH to start off with bowling proceedings. A slip and short leg in place...
Welcome back for the final session of the day. Still 33 overs to go so one thing is for sure that India will get into the lead by the end of the day. It remains to be seen how much can they stretch it to. Will Sri Lanka manage to pick up a wicket or will the India juggernaut continue to roll on?
... DAY 2, SESSION 3 ...
14.23 IST: Unless the tourists come up with a way to separate the 2nd wicket stand, hard to imagine any other storyline in the last session. Technically, Sri Lanka are still ahead by 20 runs. Hopefully, a good hot tea and some snacks would set the thought machines running in the visitors' dressing room. Will this daily-soap like proceedings change? Join us soon to know.
14.20 IST:  The 178-run partnership between Vijay and Pujara shows to which side this session has belonged. The duo has continued to march on, bringing up their respective milestones - century for the opener and a half for the one-drop. The former had a scare as he was given another life on 61 (by Perera) to add to one that he got in the first session. Sri Lanka, who looked very good in the first game, have looked to run out of ideas already. Apart from these minor blips, their fielding largely has been good.
14.15 IST: 
.@mvj888 & @cheteshwar1 stitch a 178-run partnership as India go in for Tea on 185/1. Trail Sri Lanka (205) by 20 runs #INDvSL pic.twitter.com/fyxOmMpOFx

— BCCI (@BCCI) November 25, 2017
14.11 IST: Gamage comes round the wicket for the last ball before tea and delivers it on a length wide outside off. Vijay still goes after it as he looks to cut that. Misses it. That's TEA, DAY 2! IND 185/1 in 65 overs, trail SL (205) by 20 runs.
14.08 IST: FOUR! A surprise short delivery doesn't catch Pujara by surprise entirely. It is bowled around Pujara's left shoulder, he swivels and pulls it. Gets it off his gloves as he didn't seem in control of that. The ball goes down to the fine leg fence on a couple of bounces. The trail comes down to 21 now! IND 184/1 in 64.4 overs
.@mvj888 celebrates as he brings up his 10th Test ton. This is his first against Sri Lanka #INDvSL pic.twitter.com/fBqe3TqaCA

— BCCI (@BCCI) November 25, 2017
14.01 IST: Pujara whips it through mid-wicket and that fetches him one run. 4 runs from the over. IND 177/1 in 63 overs
13.51 IST: CENTURY! There it is! 10th Test hundred for Murali 'Monk' Vijay, his 7th at home. This is his comeback game and yet this innings shows that he was always playing with the team and wasn't away from the game. Began watchfully before unleashing his delightful strokes. How did he get to his milestone? Placed it down the ground towards mid off and hared to the other end. Raises his bat and helmet and soaks in the moment IND 173/1 in 61 overs
Mind games galore! Seeing Vijay, who is on 98, at the crease, Perera comes into the delivery stride and aborts bowling. Probably it is an attempt to see what's going through the batter's mind.
13.42 IST: Pujara shows the full face of the bat and defends the ball off the back foot. 3 runs from the over. IND 164/1 in 59 overs
13.35 IST: The partnership keeps rolling on - is worth 150 now! Fuller around middle from Shanaka, Vijay flicks it through mid-wicket for a brace. IND 158/1 in 57.2 overs 
13.33 IST: FOUR! Perera isn't going through a nice spell already and this boundary adds salt to his wounds. He fires it flatter down leg, Pujara gets down and paddles it to the fine leg fence. The trail down to 49 now! IND 156/1 in 57 overs
13.30 IST: Length around off, Pujara taps it in front of mid on and takes on. 8 runs from the over, another good one for India. IND 152/1 in 56 overs
13.27 IST: FOUR! Shot! 150 up for India, trail down to 55! Length delivery outside off, the opener got the width that he wanted. Guides it past backward point for a boundary. Vijay moves into the 90s with this. IND 150/1 in 55.2 overs
DASUN SHANAKA is brought back to have a bowl. He hasn't been too effective with his dibbly-dobblies as of now. Will he change it?
13.25 IST: FOUR! Wow! Vijay didn't look in control of that shot yet gets a boundary. Perera drops it just outside leg. Vijay gets down and pulls out the reverse paddle. Seems like he got it off the top edge of the bat as the ball rolls over Mathews at slip and rolls away to the third man fence. IND 144/1 in 55 overs
13.18 IST: Time for refreshments. The Indians continue to boss this game. They have scored runs at a good rate and it seems like another wicketless session is on the cards. Perera put down Vijay at silly mid on and that was the only chance that was given in this hour of play. Pujara has just reached his fifty and is set to get a big one. Can Sri Lanka strike before the tea break?
13.17 IST: FIFTY for Pujara! 17th Test fifty. No stopping him, he will take his time and continue to score. Well played, Che! Shortish on middle and leg, tucked through mid-wicket for a single. Just a raise of a bat from him and Vijay gives him a pat on the back. IND 136/1 in 54 overs
13.14 IST: FOUR! Boom! It's struck powerfully by Pujara! Lakmal serves a gently half-volley outside off, Pujara leans a bit and bashes it right through cover-point for a boundary. On 49 now! IND 135/1 in 53.3 overs
13.07 IST: Hint of reverse now for Lakmal! Fuller and nipping back in on middle, Vijay gets across and clips it towards mid-wicket for a single. IND 125/1 in 52 overs
13.02 IST: SIX! Down the track and away she goes! High and handsome! Herath gives it loop, lands it outside off, Vijay dances down the track, gets to the pitch of the ball and lofts it cleanly over long off for the first maximum of this innings. IND 123/1 in 51 overs
12.58 IST: Outside off from Lakmal, Pujara shoulders his arms to that one. Just a single from the over. IND 115/1 in 50 overs
12.51 IST: FOUR! Shot! Looks good when the batsman rides the bounce! Lakmal once again shortens his length, Pujara stands tall and nails the back foot punch through point and picks up a boundary. IND 114/1 in 48 overs
12.47 IST: 100-run stand comes up between the two now! The crowd likes it, they are right behind them now. Lakmal begins his spell with a loosener, bowls it short and wide outside off, Vijay places it between cover and point. Two fielders hare after it and manage to save a run for their side. IND 107/1 in 47.1 overs
SURANGA LAKMAL is brought back into the attack. Silly mid-on still in place. Vijay needs to be careful.
12.42 IST: MAIDEN! Fourth maiden on the trot. Make it 26 now! Another superb fielding effort, this! Length delivery outside off, pushed towards the right side of Samarawickrama at backward point. Vijay wanted a single but Sadeera dives full length and then immediately releases the ball towards the bowler. IND 102/1 in 46 overs
12.34 IST: DROPPED! The move to have silly mid on nearly paid off for Chandimal here. Vijay played a similar shot in the previous over of Gamage and fetched a boundary then, this time survives a scare. Fuller in length outside off, Vijay clears the front leg and chips it uppishly down the track. Perera at silly mid on reacts quickly as he moves to his left but the ball bursts out off his palms and he nearly takes Pujara down as well. Another big moment in the game this could be. Vijay is living a charmed life. IND 102/1 in 44 overs
12.25 IST: FOUR! Down the ground! Even the 100 is up for the hosts! Pitched up outside off, Vijay drills it back down the track. Was in the air but safely races away past mid on for a boundary. IND 102/1 in 41.4 overs
12.22 IST: Pujara takes a stride ahead and buries it into the ground. Tidy over from the veteran again. Just a single from the over. IND  98/1 in 41 overs
RANGANA HERATH, with figures of 9-3-15-0 to bowl from the other end! A slip and bat-pad in place...
12.18 IST: MAIDEN! Fuller outside off from Gamage, an uppish drive but finds Chandimal at mid off. A maiden to start off with. IND 97/1 in 40 overs
12.12 IST: Hello, folks we are back. It's time to get rolling. Usually when the sun is out in all its glory, the pitch seems to flatten out thereby making batting a bit easier. These are good signs for India but not for the Lankans. They need to come up with plans and for that, they need wickets in heaps. Let's see if they can do so. PUJARA and VIJAY are set to resume. The fielders take their positions. GAMAGE to kickoff with the ball. Here we go...
... DAY 2, SESSION 2 ...
11.40 IST: The only positive for Sri Lanka this session was a period of play before drinks where they made Vijay appear fidgety. Credit to Herath for that. But post that, the bowlers failed to exert any control. That Perera couldn't settle in because both the batters attacked him, didn't help Sri Lanka's cause. They have bowled 15 overs an hour, a good over-rate. But absence of wickets just nullifies that goodness. See you at 1214 local time (0644 GMT) for the resumption. Will the story be any different then? Can the tourists turn the tables on the hosts? They need to do the latter as the TRAIL is still 108.
11.37 IST: India's session in its entirety! Vijay and Pujara are known for many a patient and grafty knocks but this isn't one of them. Yes, they have negotiated well but they were hardly tested by the Lankan bowlers. Vijay survived a tough chance, well, two in a single delivery. After a catch went down, the missed run-out attempt meant that he could get to his 16th Test fifty. Pujara has come into his own towards the end, being swift-footed against spin and guile against pacers.
11.35 IST: 
At Lunch on Day 2 of the 2nd Test, India are 97/1 (Vijay 56*, Pujara 33*), trail Sri Lanka (205) by 108 runs #INDvSL pic.twitter.com/kcPJ0GmNH6

— BCCI (@BCCI) November 25, 2017
11.33 IST: Vijay taps this length delivery from Lakmal in front of cover-point to see off the last ball before LUNCH, DAY 2! IND 97/1 in 39 overs
Last over before lunch!
11.28 IST: That one stayed low! Fuller outside off, Pujara gets his front foot forward to shoulder arms. It stays a touch low and goes on the bounce to Dickwella. IND 95/1 in 38 overs 
11.17 IST: FOUR! Doesn't matter what has happened the previous day, you've to live every day afresh. This philosophy of life equally applies to sport. Even though he was in trouble a ball before, Pujara uses his feet to shimmy down the track. Gets to the pitch of the delivery and punch-drives it through mid off for a boundary. IND 92/1 in 35 overs
11.15 IST: Pujara and Vijay have the best partnership averages among the Indian pairs to have scored over 2000 runs. They average 70.24 and the next best is 62.69 between the Kohli-Rahane duo.
11.10 IST: FOUR! 16th Test half-century for Murali Vijay! He hit the first delivery of the day to the fence and gets to his milestone now with another. Shanaka bowls it fuller outside off. Vijay's wrists come into play as he plays the on drive to take the ball past mid on. The next destination of the cherry is the fence. The monk has played a good knock. Typical. Watchful at the start, free-flowing as he progresses. IND 86/1 in 33.1 overs
11.08 IST: FOUR! Good use of the depth of the crease. Pujara goes deep and punches it through covers off the back foot. It is so well timed that it speeds away to the fence. IND 82/1 in 33 overs
11.04 IST: Vijay pushes it back down the ground. Dasun gets down to his right in his followthrough and gets some hand onto it. Deflects it onto the bat of the non-striker. IND 77/1 in 32 overs
10.57 IST: FOUR! The aim of both these batters is to not let the spinners settle down. They arent't shy of using their feet to the spinners. Pujara does so and clips it through mid-wicket for a boundary. That went all along the ground to the fence. IND 72/1 in 30.2 overs
10.55 IST: There is a comparison of the bowling action of Ravindra Jadeja and Rangana Herath done by the on-air commentators. Jadeja has a high-arm action while Herath's is more round armish. This means that the former imparts more revolutions on the ball than the latter who undercuts the ball more.
10.52 IST: FOUR! Change the bowler, Vijay will still play the drive to get the desired results. Often a sign of how comfortable a batsman is, is evident from how his feet moves. Perera tosses this wide outside off, Vijay gets his stride out and drives it graciously through covers for a boundary. IND 61/1 in 28.1 overs
Spin from both ends now. DILRUWAN PERERA to roll his arm over replacing Shanaka after just one over for the latter.
10.48 IST: FOUR! Once again! Vijay and the wonderful drives is a wonderful love story. Shanaka delivers a full ball outside off, Vijay leans forward and strokes it through covers for another boundary. Moves to 34 now. IND 55/1 in 27 overs
10.45 IST: FOUR! Width outside off - tick. A stride forward - tick. Drive - tick. Glorious shot - tick. Vijay has looked gracious and confident today with his front foot drives and does so yet again. Length ball outside off, driven confidently through covers for a boundary. IND 51/1 in 26.2 overs
Bowling change. DASUN SHANAKA is handed the ball now. He had the happy knack of snaffling up wickets in the previous game. This is a lesser helpful track though. Encore?
Drinks are on the field. Vijay and Pujara started off the day on a good note, scoring runs freely but the last half an hour the Lankans came back well. They bowled maidens after maidens and that made the batsmen itch to get off the strike. Herath is getting good purchase as he is getting the ball to grip. He has troubled Vijay on quite a few occasions already. Can Lanka strike early after the break? Or will the duo of Pujara and Vijay break the shackles?
10.32 IST: Fuller and outside off from Herath, Pujara drives it hard by coming down the track but finds the man at cover. IND 43/1 in 24 overs
10.19 IST: MAIDEN! Indians are finding it hard to score against the Lankan veteran spinner.  IND 42/1 in 20 overs
10.11 IST: In the air... dropped. Chance of a run out too! In the end Vijay survives! Two opportunities there. Herath tosses it up on the stumps, Vijay comes down the track to flick but gets an inside edge on the pads as the ball lobs towards short leg at Sadeera Samarawickrama. IND 40/1 in 18 overs
10.08 IST: FOUR! Nicely done! Fuller in length, angling in on the pads, Pujara flicks it towards mid on. Herath the man there tries to stop it with a dive but by the time he did the ball already went past him. A boundary results. 27 runs have already been score this morning. IND 38/1 in 17 overs 
10.04 IST: This one dips into the batsman, it's flicked straight into the hands of short mid-wicket. A maiden for the Rangana Herath. IND 34/1 in 16 overs
09.59 IST: Russel Arnold on air feels that Herath will be the key for the Lankans. Yesterday he observed that, Jadeja was continuously varying his pace. He bowled a couple of deliveries at 90 kmph and then all of a sudden slowed it down and reaped huge dividends for doing so...
09.56 IST: FOUR! Good use of the feet. Gavaskar on-air wants to see more of that. While doing the pitch report this morning he emphasized the same thing. The more you use the feet, the more successful you will be. Herath tosses it on the stumps, it dips in as well. Pujara dances down the track, takes it on the full and flicks it neatly through square leg for a boundary. IND 33/1 in 14 overs
Enough of pace this morning says Chandimal. And as a result, he brings RANGANA HERATH into the attack. A slip and a short leg in place.
09.53 IST: A brisk single! Punches this length ball towards wide of Chandimal at mid off and scampers through for a run. The Lankan skipper has a shy at the bowler's end but misses. First run for Pujara today. IND 28/1 in 13 overs
09.48 IST: FOUR! Glorious! Touch fuller outside off, Vijay sees this as another opportunity to score. Presses forward a tad and caresses it through the gap in the covers for a boundary. IND 26/1 in 12 overs
09.39 IST: Gamage sprays it around the pads, Vijay loves to have it there. Works it beautifully through mid-wicket and picks up another couple of runs. IND 20/1 in 10 overs 
09.36 IST: The commentators on air discuss Murali Vijay's need as an opener in the team. He is someone who can adjust in any format of the game. He has played some aggressive T20 innings, he has shown immense patience when it comes to traditional cricket. So, to sum it up he is someone a team can rely on...
LAHIRU GAMAGE to continue from the other end. Same field placement for him as well. Vijay is unhappy with some movement behind the bowler's arm and hence a bit of a delay...
09.34 IST: Short and aiming in at the body, Pujara arches back and leaves it alone. IND 16/1 in 9 overs
09.32 IST: FOUR! Vijay doesn't need second invitation. Such a confident looking shot that is. My colleague just reminded me that, KL Rahul began the Indian innings with a boundary and today Vijay does the same off the first ball of the day. Lakmal offers it full and a bit wide outside off, Murali leans ahead and presents full face of the bat to pierce it through covers. It races away to the fence in a jiffy. IND 15/1 in 8.1 overs
09.27 IST: We are all set to get underway. The umpires and players have made their way out to the middle. CHETESHWAR PUJARA AND MURALI VIJAY will continue from where they left off. It shall be SURANGA LAKMAL to start off with the bowling proceedings.  Two slips and a gully in place...
09.15 IST: PITCH REPORT - Sunil Gavaskar says there is a bit of grass on the wicket which will keep the pacers interested in the first hour. Further adds the cracks might start to open up as the game progresses. He adds the best way will be to use your feet, get to the pitch of the ball and counter whatever is thrown at you. Simon Doull agrees and states that it's a beautiful day for batting and the batters need to take full toll of it as the pitch will start to take more and more turn later on.
09.04 IST: 
Captain @imVkohli's love-affair with dogs continues. pic.twitter.com/uTJJwmTmoh

— BCCI (@BCCI) November 25, 2017
08.56 IST: 
Sharing a light moment with man's best friend - Captain @imVkohli before the start of day's play. pic.twitter.com/q7KcRd5VpB

— BCCI (@BCCI) November 25, 2017
08.45 IST: 
After dismissing Sri Lanka for 205 runs, India are 11/1 at Stumps on Day 1 of the 2nd Test (Vijay 2*, Pujara 2*) #INDvSL pic.twitter.com/C1m7azol1B

— BCCI (@BCCI) November 24, 2017
Brief Preview: Skipper Virat Kohli's decision to play only four specialist bowlers was vindicated as India bundled out a defensive Sri Lanka for a paltry 205 on the opening day of the second Test on Friday. At stumps, India were 11 for 1 with KL Rahul (7) back in the pavilion, being played on to a Lahiru Gamage delivery.
With no demons on a sporting track where stroke-play wasn't too difficult, the visitors never got going as spinners Ravichandran Ashwin (4/67) and Ravindra Jadeja (3/56) along with comeback-man Ishant Sharma (3/37) shared the spoils.
After the completion of first innings, Ashwin now has 296 wickets in his 54th Test. He will get another innings in this game plus the Delhi Test to get the remaining four scalps and break Dennis Lillee's (56 Test) record fastest to 300 wickets. (Read Full Day 1 Report)