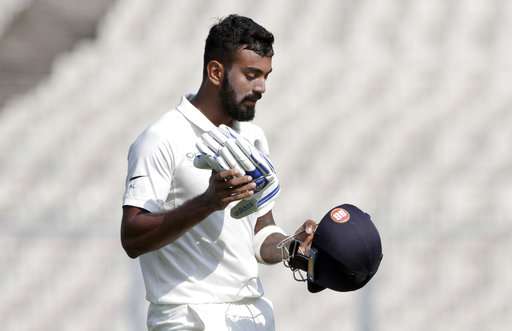 India's day, by a distance. They would have liked to go in without losing a wicket but will not be too unhappy with the proceedings. 11 runs have been knocked off Sri Lanka's 205 and the Lankans already look deflated. Things were not looking so bad for the visitors when they were 160/4. But they were blown away by India's spin twins - R Ashwin and Ravindra Jadeja. Dickwella's wicket just triggered a collapse after tea and then it was just one-way traffic.
Skipper Chandimal and Karunaratne were the only ones to cross the 50-run mark but in reality, as many as 5 batsmen got starts. Cannot waste those, especially having won the toss. Do Sri Lanka have a chance tomorrow? Well, perhaps a score around 300 might have kept them in the game. But as far as this game is concerned, one good partnership for India and one solid knock should give India a handy lead. Right then! The pitch is already showing signs of being up and down. Batting is certainly not going to be easy on this track and the Indians will hope to bat once and bat big. Do join us at 0930 LOCAL (0400 GMT) for all the action from Day 2. (SCORECARD)
HIGHLIGHTS, INDIA VS SRI LANKA, 2ND TEST, DAY 1 at NAGPUR
16.45 IST: Ishant Sharma is ready for a chat. He says he is really satisfied with the way he bowled today. Informs he was in good rhythm in the domestic circuit and that has helped him today. Further says keeping it fuller on the stumps is his stock ball and is working really hard to bowl it consistently there. States that the wicket seems to be two-paced and that batting on this pitch wouldn't be an easy task. Ends by saying, he didn't mind bowling an extended spell but his skipper asked him to take rest.
16.37 IST: Switches the angle again, goes back to over the wicket. Drops it on a back of a length outside off, Pujara pushes it away from the crease towards point. THAT'S STUMPS ON DAY 1! IND 11/1 in 8 overs vs SL (205)
16.32 IST: Wow. Matthew Hayden at his poetic best. Perhaps he must have been observing this when the likes of Glenn McGrath, Jason Gillespie and Brett Lee would have been bowling during his hay days. He studies Lakmal and Gamage and opines that the outswinger should be pitched outside off and then swing away in a curve. This should be done repeatedly, almost like a spider makes its web. Wow. Guess that can be done by the likes of those great bowlers but not quite sure everyone can get that right.
16.27 IST: MAIDEN! Vijay gets right behind the line and defends it down gently. A maiden from Gamage, he is not giving anything away. IND 8/1 in 6 overs
16.23 IST: Sprays a bit on the hips, clipped behind square on the leg side for a single. Vijay gets off the mark with that one. IND 8/1 in 5 overs 
CHETESHWAR PUJARA arrives at no. 3., replacing Rahul. The crowd gives him a warm welcome by chanting his name at the top of their voices.
16.17 IST: OUT! Dragged on! Lahiru Gamage strikes! He bowled exceedingly well in the U.A.E but looked out of sorts in the first Test. And now he draws first blood today. Serves a length delivery, a bit wide outside off. KL Rahul could have left it alone but for some reason tries to play it away from the body. Like the way Sadeera Samarawickrama did in the second innings of the first Test. Gets a thick inside edge and the middle stump is disturbed. Rahul is guilty for playing it away from the body and now has to walk back for a cheap score. IND 7/1 in 3.5 overs
16.12 IST: MAIDEN! Touch fuller outside off, Murali Vijay doesn't even bother looking at that one. IND 7/0 in 3 overs
16.08 IST: Sprayed wider outside off, KL Rahul is happy to leave it alone. A decent start from Gamage, just 2 from it! IND 7/0 in 2 overs
LAHIRU GAMAGE to share the new ball from the other end. He had a tough outing in the previous game. Can he come up with a better plan this time?
16.03 IST: Lakmal serves a length delivery outside off, Murali has got nothing to do with that one. IND 5/0 in 1 over
16.00 IST: FOUR! Fine start to the innings! A half-volley dished up to the batsman, Rahul comes forward, covers the outswing nicely and drives it through mid off. As seen in the last game, there is no man in that position and it is a boundary! IND 4/0 in 0.1 overs
15.59 IST: The Indian openers out there at the crease. Suranga Lakmal on top of his mark. Three slips and a gully in place.  
INDIA INNINGS
15.56 IST: Ashwin got 4, Jadeja picked up 3 while Ishant Sharma bagged a 3-fer too. Sri Lanka will rue the fact to throw it away yet again. They were good in patches but only Karunaratne and Chandimal showed stomach to fight. Both scored their respective fifties but perished soon after. Dickwella hung around for a bit but apart from them nobody else stood up. They now have to come out and bowl 9 overs. Can they do what the Indians did? Or will India dominate and take the day in their favor? Join us back in a while for India's reply...
15.55 IST: A brilliant bowling performance from India has seen them bundling out the Lankans for a paltry, 205. They lost an important toss but have done exceedingly well to restrict the visitors. They were without their two strike bowlers and haven't let their team miss their absence. Ishant Sharma and Umesh Yadav bowled with a lot of heart with the former being in terrific rhythm. Then the spin duo of Ashwin and Jadeja took over then reins and Sri Lanka found it really tough to counter them.
15.52 IST: 
Innings Break! Sri Lanka all out for 205 in 79.1 overs #INDvSL pic.twitter.com/mgIhZNCCed

— BCCI (@BCCI) November 24, 2017
15.49 IST: OUT! And Ashwin wraps it up! 4-fer to him and a much satisfying performance from him, considering that he went wicket-less in the last game. Sticks to around the wicket and nicely loops it up outside off. Herath comes forward to run it down but ends up guiding it straight into the hands of Rahane at first slip. SRI LANKA BOWLED OUT FOR 205 vs IND
LAHIRU GAMAGE is the last man in.
15.47 IST: OUT! Yes, there's and edge and Lakmal starts to walk back. Brilliant bowling this from Ishant Sharma. It's his third of the match. He hurls a length delivery outside off, Lakmal stays back to defend but the ball straightens a touch, takes a faint outside edge and settles into the mitts of Saha behind. India are on course to bowl the Lanka out today itself. SL 205/9 in 79 overs
15.45 IST: FOUR! Lakmal is playing handy innings. Back of a length delivery on middle, Lakmal stands tall and pulls it over mid-wicket for a boundary. How long can he throw his bat around? SL 205/8 in 78.4 overs
ISHANT SHARMA is called back into the attack. With the second new ball due in 2 overs, Kohli has asked his pacer to come and have a warm-up before having a go at the new cherry.
15.40 IST: 200 up for Sri Lanka. Ashwin bowls a carrom ball around off, Herath gets down and paddle sweeps it behind square on the leg side. Ishant in the deep does well to moves across to his right and stop it. Two added to the total. SL 201/8 in 77.2 overs
15.38 IST: FOUR! Takes the aerial route and it nearly goes the distance! Jadeja serves it full around middle, Lakmal clears the front leg and goes bang over wide mid-on. The ball just bounced before going into the boundary rope. SL 199/8 in 77 overs
15.32 IST: FOUR! Lakmal decides to use the long handle and it comes off in this instance. Clears his front leg and smashes it through wide mid on. Ishant runs to his right but fails to prevent the boundary. Maybe had he dived, things could have been different. SL 195/8 in 75 overs
Drinks are on the field. India has continued to make further inroads into the Lankan line up. India have managed to bowl 15 overs in this hour and have picked up 4/39. Partly the shot selection is to be blamed like in Chandimal's case. He had a big score for the taking. But instead of shepherding the tail, he fell to a poor shot. Can the tourists see the day off?
15.23 IST: FOUR! Of all the ways and areas to get runs, this is one! Jadeja serves it around middle and leg, Lakmal looks to go inside out. Gets a thick inner edge and the ball rolls through his legs into the fine leg fence for a boundary.  SL 189/8 in 73 overs
15.19 IST: OUT! India use the review system to their advantage now to see the back of the Sri Lankan skipper. Chandimal falls for an atrocious shot, which he would be rueing in the dressing room. Ashwin loops it up around off, Dinesh gets down and misses his reverse sweep attempt. The ball strikes him on the right pad. India appeal but the umpire doesn't think that's out. Ashwin knows he has his man. Asks about the impact to Saha and then says that he himself feels it's very close. This convinces Kohli to go upstairs. Hawk Eye signals the end of Chandimal's innings by returning three red marks. India hastening the end now.. SL 184/8 in 71.3 overs
15.14 IST: OUT! Jadeja gets his man! This is as easy a decision can get. Jadeja fires this at 90kmph on a length around off. Perera goes back to clip it away to the leg side but gets beaten for pace. The ball hits him on the front pad which is right in front of the stumps. The umpire gives him marching orders. Yet he has a talk with his skipper and opts for the UDRS. Ball Tracker returns three reds to end Perera's stay at the crease. He takes a review with him, too. SL 184/7 in 70.4 overs
15.08 IST: SIX! Hello, oh hello! Forgetting what happened a delivery ago, Dilruwan decides to take on the bowler. Jadeja floats it around off, Perera slinks down the wicket and hits it straight over the bowler's head. Clean as a whistle. This is his 12th six this year, second in the list of most biggies hit.. SL 174/6 in 68.3 overs
15.05 IST: Saved by the review! Jadeja's swing hits the pads of Perera and the umpire raised the finger. Perera seems to have been caught adjacent in front of the stumps. Indians' appeal is upheld by Richard Ketleborough. Perera, however, takes the DRS immediately. The DRS is in place to avoid howlers like these. It looked out to the naked eye though. SL 168/6 in 68.1 overs
15.04 IST: Dropped! A good swing bu Aswin to Perera and the rebound is missed.SL 168/6 in 67.5 overs
14.56 IST: DILRUWAN PERERA replaces Shanaka at the crease.
14.55 IST: OUT! Ashwin removes Shanaka for 2. SL 165/6 in 65.2 overs
14.51 IST: Sanjay Manjrekar observes that when Ashwin bowls the arm delivery, it is easier to pick. When Jadeja bowls the arm delivery, it isn't easy to pick as it creates the impression that it will spin away. This is what caught Mathews off guard. He played for the non-existent turn to get out LBW.
14.49 IST: Shanaka gets an inside edge agonizingly past the leg gully fielder for a run. The extra bounce on that occasion made him edge that. SL 164/5 in 64 overs
DASUN SHANAKA comes in at the fall of the fifth wicket. He had a game to forget with the bat in the previous game. Will he able to make amends now?
14.41 IST: OUT! Dickwella commits a blunder! Tries to take Jadeja on but the move doesn't pay off. He floats it around off, the wicketkeeper-batsman charges down the track and looks to go big on the on side. Ends up getting a leading edge which makes the ball go a long way up in the air. Ishant settles under it at mid off and pouches it safely. Once more Niroshan has failed to make his start count. Sri Lanka lose half their side now. SL 160/5 in 61 overs
14.39 IST: FIFTY! 14th Test fifty for Dinesh Chandimal. Came in when Sri Lanka had lost an experienced Mathews and steadied the ship with some clean hitting and smart batting. He needs to make it big here. He goes back and punches it towards long off for a run to bring up the milestone. SL 160/4 in 60.5 overs
RAVINDRA JADEJA to bowl from the other end.
14.35 IST: FOUR! Not expected from Jadeja - a misfield. Dickwella smashes it towards him at covers, he gets to his right but fails to stop it despite the dive. Before he can recover and retrieve the ball, it makes contact with the fence. SL 157/4 in 60 overs
14.33 IST: Chandimal and Dickwella walk out with the bat. Both have looked positive so far and will look to carry on in the same vein. Both are good players of spin and hence pose a sterner task for the Indian spin twins. ASHWIN will begin the proceedings for the session. A slip and a leg slip in place. Let's roll...
14.32 IST: Welcome back for the final session. We have 31 overs left in the day's play. If Kohli persists with Ashwin and Jadeja for most parts of this session, there's no reason why they won't be bowled today.
... DAY 1, SESSION 3 ...
14.20 IST: This session - 32 Overs, 104 Runs and 2 Wickets! A session shared by both the sides. The Indian spinners, Jadeja and Ashwin started the session right on the money. The former removed Mathews early and the visitors were in a spot of bother. Skipper Chandimal and Karunaratne then got together, saw off a few nervy moments and knitted a 50-plus stand. The latter, scored a fifty and departed soon after, courtesy Ishant Sharma's disciplined lines and lengths.
At Tea on Day 1 of the 1st Test, Sri Lanka are 151/4 . Follow the game here - https://t.co/wUkt7m6A9C #INDvSL pic.twitter.com/ZbuDgVlMY3

— BCCI (@BCCI) November 24, 2017
14.15 IST: A bit short and outside off, Chandimal stands tall and punches it towards Pujara at cover-point. TEA ON DAY 1! SL 151/4 in 59 overs
14.11 IST: FOUR! 150 up for Sri Lanka. What a fabulous shot that is! Yadav in his quest to attack the stumps, once again ends up bowling it a bit too full outside off. The Lankan skipper leans into it and drills it through the covers. No bother running after that one. SL 151/4 in 58.4 overs 
14.10 IST: FOUR! Classical from Dinesh! Umesh serves a half-volley on off, Chandimal takes a little stride forward and drives it neatly off the middle of the bat. Has enough to beat mid off and race away to the fence down the ground. Moves into the 40s now. SL 147/4 in 58.2 overs
14.07 IST: FOUR! Slapped powerfully! Jadeja drops it short outside off, Dickwella makes room and flays it through covers. Pujara gives it a chase but never for a moment it seemed like he would cut that one off. SL 145/4 in 57.2 overs
RAVINDRA JADEJA is back on!
14.02 IST: FOUR! How effortless was that? Yadav bowls a length delivery outside off, Niroshan reaches out to that one and drives it square of the wicket on the off side. Connects it off the meat and is able to split the gap through point to pick up another boundary. SL 136/4 in 56.1 overs
14.01 IST: MAIDEN! Brilliant over once again from Ashwin, he pitches it outside leg, Chandimal pads it away for no run. SL 132/4 in 56 overs
13.55 IST: Around middle and leg, Dickwella paddles it fine down the leg side. Ishant in the deep does well to stop the ball but then he falls after doing so. In the meanwhile, the batsmen are aware of this and they take three. SL 131/4 in 54 overs
13.47 IST: FOUR! Nicely done! Short of a length delivery outside off, Dickwella stands tall and packs a punch behind point for a boundary. No protection in the deep and he gets going now! SL 126/4 in 52.2 overs
NIROSHAN DICKWELLA is the new man in. Remember, he got into the nerves of the Indians on the final day of the first Test. Can he do the same by giving support to his skipper?
13.42 IST: OUT! The decision stands! Ishant Sharma provides a much-needed breakthrough. He comes running in and drops it on a length around middle and leg. The ball nips back in just a touch and hits Karunaratne on the pads who tries to flick it across the line. A loud appeal follows and umpire Kettleborough after taking his time, raises the dreaded finger. The southpaw slowly walks down the track and after a chat with Chandimal takes the DRS. The front foot is fine. There is no bat involved either. And the Ball Tracking shows it's pitching in line and it clips the top of off stump. So, the umpire's call stays! Sri Lanka lose Karunaratne but they regain the review. SL 122/4 in 51 overs
13.41 IST: A loud shout for an LBW against Karunaratne and umpire Kettleborough has given it OUT. Where is it pitching? Is it pitching outside leg? Dimuth walks to his partner and takes the DRS...  
13.33 IST: There he gets to the milestone but not in a convincing manner! Who cares as long as you are safe out there. 1K runs for the southpaw in the calendar year. Becomes only the second Lankan to do after the great, Sanath Jayasuriya. Flighted delivery, dipping in, DK looks to work it away but gets and inside edge past short leg. He didn't know the ball has gone fine and Chandimal asks him to cross over. SL 120/3 in 49.3 overs
13.30 IST: Sloppy from Rohit! Sharma angles it full and on the pads, Chandimal wrists it towards short mid-wicket where Rohit fumbles and lets the ball through. But then he quickly gets up and gives it a chase. The ball stops near the rope and Rohit shows good presence of mind to pick the ball when he didn't touch the rope. Saves a run for his side. SL 118/3 in 49 overs
13.23 IST: On a length and outside off, Dimuth covers the line and offers a straight blade. SL 112/3 in 47 overs
13.20 IST: 14th Test fifty for Dimuth Karunaratne! He continues his good run in the calendar year! But if his side needs to post a good total, he needs to get a big one here. Back of a length delivery outside off, tapped in front of point for a single. Gets a hug from his skipper as well. Agreed, he has got reprieves but then you need to play well.  SL 111/3 in 46.2 overs
13.19 IST: FOUR! Shot! And the 50-run stand comes up between the two! Sri Lankan innings coming back on track? Ishant goes around the wicket and offers ample with outside off. Dimuth stands tall and cuts it exquisitely through backward point for a boundary. Moves to 49 now! SL 110/2 in 46.1 overs
ISHANT SHARMA is recalled into the attack.
After an hour of play after Lunch, DRINKS are on the field! Sri Lanka are crawling ahead with the game. The run flow can well be credited to Chandimal as he has looked to score from the outset. From the time he has walked out, he hasn't been afraid to attack the spinners. The 45-run stand between him and Karunaratne, who is close to his fifty, is flourishing and India will look to end it as soon as they can.
13.12 IST: FOUR! 100 up for Sri Lanka. 3000 Test runs for Chandimal! What an authoritative stroke to get there. Length delivery outside off, Chandimal dishes out the cover drive. Ashwin from mid off runs after it but stands no chance of cutting it off with his speed. SL 105/3 in 45 overs
13.06 IST: FOUR! Karunaratne is looking in good touch and now moves into the 40s. Fuller outside off, Dimuth strides forward and drives it with pristine timing through covers for a boundary. SL 94/3 in 43 overs
13.02 IST: FOUR! Commanding shot that! Jadeja serves it fuller around off, Karunaratne moves across the stumps and chips it aerially over mid-wicket for a boundary. He has got a couple of lives and has also survived some close calls but he's making the most of them and playing well here. SL 89/3 in 42 overs
12.52 IST: Length delivery on the shorter side outside off from Umesh, Karunaratne finds the real estate through cover-point with his punch. Jadeja runs after it from point before which the batsmen get a brace. SL 82/3 in 39 overs
12.48 IST: Rohit's love affair with the spider cam continues! He's having fun with it when it is lowered down. Meanwhile, UMESH YADAV back into the attack. Live Score - SL 78/3 in 38 overs
12.42 IST: MAIDEN! India's spin twin are bowling in tandem here and giving nothing away at the moment. SL 76/3 in 36 overs
12.29 IST: The on-field call stays! NOT OUT it is and Karunaratne survives yet again! Ashwin floats it around off, Dimuth gets forward to block but misses to wear it on the front pad. Ashwin and co go up in unison but the umpire stays put. SL 62/3 in 31 overs
12.27 IST: It's all happening! The Indians appeal ecstatically for an LBW against Karunaratne. Will he survive again?
Skipper DINESH CHANDIMAL walks in to the middle next. He has this knack of playing counter-attacking innings from such situations. Will he do so? Or is his grafting game coming to the fore today?
12.23 IST: OUT! Mathews departs! Jadeja bowls it from round the wicket and lands it around off. Mathews strides forward and looks to block. But the ball goes straight on and strikes him on the front pad. The Indians appeal and the umpire signals in affirmative. Mathews has a chat with Karunaratne and then signals a 'T'. Snicko doesn't show the presence of an edge as the bat and the pad are well away from each other and the ball was far from the inside edge too. Hawkeye shows that the ball would have clipped the leg stump. Mathews has to walk back but the review is retained. SL 60/3 in 30 overs 
12.21 IST: Mathews is gone! He has been ruled out LBW by the on-field umpire. However, he has a chat with his partner and uses the DRS. Looks to be in trouble.
12.18 IST:  FOUR! Much better and very much in control. Mathews is a good player of spin and he takes the aerial route on this occasion. Takes it on the up and hits it over mid on. Almost goes the distance. The umpire on-field isn't sure and hence goes upstairs to check whether it is a four or a six. Replays shows that it bounces just in front of the ropes. SL 60/2 in 29 overs
12.16 IST: FOUR! Lucky, very lucky is Mathews here! Ashwin bowls it flatter outside off, Angelo looks to play the cut. Gets an under edge that bounces just short of Rahane's left and runs away to the third man fence. SL 55/2 in 28.3 overs
RAVICHANDRAN ASHWIN to bowl from the other end.
12.14 IST: FOUR! Well played. Why look for unconventional shots when the orthodox ones fetch you runs? SL 51/2 in 28 overs 
12.10 IST: We're back! After a sumptuous meal, the players will have that added vigor to put up a good show. Well, as cricket enthusiasts, we can hope for a delicious passage of play to pan out. Sri Lanka have been moving at a slow pace and they would look to increase their pace now. KARUNARATNE and MATHEWS will resume their battle. RAVINDRA JADEJA will start off with the ball.
... DAY 1, SESSION 2 ...
11.40 IST: Sri Lanka could have lost another wicket had Jadeja not overstepped in the only over he bowled before lunch. Karunaratne is lucky to be still out there, as he was dropped by Pujara before going on to survive a stumping scare. His side would be hoping that he makes the most of the reprieves once the play resumes. The Indian spinners are getting some purchase off the deck and it would be a task in front of the batsmen to counter them. They were kept quiet at the Eden Gardens but it won't be the same as this surface is a bit dry as compared to that one. So, will Sri Lanka take their own time to score or will there be a change in approach? Join us back for the post-lunch session...
11.37 IST: An eventful first session comes to an end. The Indians lost the toss but they wouldn't be complaining of their efforts so far. They haven't let Sri Lanka off the hook and mind you, they have done that in the absence of their two strike bowlers. Ishant Sharma, set the tone up by removing Samarawickrama first while Umesh Yadav kept the dot ball pressure from the other end. Both bowled on the trot till the drinks break and then Kohli brought Ashwin into the attack. The offie was very disciplined. He pitched the ball in the right areas and also broke the stubborn stand between Thirimanne and Karunaratne.
11.35 IST: 
At Lunch on Day 1 of the 2nd Test, Sri Lanka are 47/2. Follow the game here - https://t.co/wUkt7m6A9C #INDvSL pic.twitter.com/QIf50WLarV

— BCCI (@BCCI) November 24, 2017
11.32 IST: Lovely delivery to end the session! Ashwin tosses it up outside off, Mathews goes back to play for the turn but the ball zips through to beat the outside edge. Saha fails to collect it cleanly and that's also LUNCH ON DAY 1! SL 47/2 in 27 overs
Last over before lunch.
11.29 IST: NO BALL! STUMPED OFF A NO BALL! Would you believe it? Ravindra Jadeja has overstepped and a spinner doing this is a crime. Karunaratne survives a scare here and the Indians can't believe this. Jadeja bowls it slower through the air outside off, Dimuth Karunaratne takes a good stride forward to defend but fails to put bat on ball. The keeper collects it and takes the bails off. He is confident and appeals long and hard. They refer it upstairs. It's shown that Jadeja has overstepped so that's the end of the story. On seeing further, it's seen that Dimuth has his foot outside the crease. SL 47/2 in 26 overs
11.27 IST: Drama again in the middle. Saha has whipped the bails off quickly and he feels that the batsman was well outside the crease. Let's wait and see as the umpire has gone upstairs...
ANGELO MATHEWS steps out to bat next, replacing Thirimanne. Also, there is a bowling change as RAVINDRA JADEJA is asked to roll his arm over. Let's see how he goes about with his thing. With 6 minutes to go for lunch, it'll be interesting to see how Sri Lanka will take care of him.
11.25 IST: OUT! Bowled 'em! Ashwin strikes for the first time in the series. The Indians have broken the stubborn stand at last. Ashwin tosses it up outside off, Thirimanne sinks low to sweep this one but the ball doesn't turn. It skids off the surface, beats the outside part of the bat and crashes into the timber behind.  SL 44/2 in 25 overs
11.12 IST: A shout for an LBW but nothing from the umpire. Sharma bangs in a short ball on middle and leg, Thirimanne takes evasive action but this one doesn'r rise than he expected it to be. Wears it on the right side of the shoulder. Replays show it would have gone over the stumps. So a good call from the umpire. SL 39/1 in 22 overs
11.07 IST: In the air... dropped! It's that man, Pujara once again in the picture. Seems like the cherry loves him today. He took a great catch early today, scored a direct hit but to no avail and now drops one but a good effort nonetheless. Ashwin floats it up outside off, Karunaratne says enough of blocking it out. He steps down the track and tries to go big. Gets it off the inner half but aerially towards mid on. Pujara stationed there waits for the ball and tries to leap but the timing isn't good enough. The ball bursts through his fingers and rolls further down towards long on. A couple of runs taken but Kohli appreciates the effort. SL 38/1 in 21 overs
10.59 IST: NOT OUT! Karunaratne is safe! But lovely fielding from Pujara, this. Simply outstanding! Ashwin drops it a bit short on middle, Dimuth goes back and punches it towards mid on. He takes Pujara on and sets off for a single. Cheteshwar quickly charges towards the ball, picks it up and scores a direct hit at the bowler's end. They all appeal and it's taken upstairs. Replays show DK did well to drag his bat. A brisk single picked up. SL 34/1 in 19 overs
10.57 IST: Direct hit from Pujara now. He has been in thick of the things. He believes he has got his man and so do his teammates. The umpire refers it upstairs...
10.56 IST: MAIDEN! Good length ball outside off, Thirimanne is happy to block that one out. The runs seem to have dried up completely. Maiden after maiden is what the Indians are bowling! SL 33/1 in 18 overs
As expected Umesh Yadav is given some rest and ISHANT SHARMA is called back into the attack. He found good rhythm in his first spell and has already opened his account. Can he get one more?
10.51 IST:  Some turn there for Ash but the length is short. It gives ample time for Dimuth to go back and push it towards point. SL 33/1 in 17 overs
10.35 IST: MAIDEN! Around off, a bit fuller, pushed off the front foot and into the ground. SL 32/1 in 13 overs
Spin time! RAVICHANDRAN ASHWIN is into the attack. He had a wicketless game in the previous game, not often do you see that from him in India.
10.32 IST: Drinks are on the field now. Just 12 overs have been bowled in this hour. SL 32/1 in 12 overs
10.27 IST: Rohit Sharma seems to be having some fun! The spider camera that gives us wonderful close up pictures of the players, had come low. Rohit's love for the cam seems evident as he just doesn't want to let go of it even as the camera is taken up for an aerial view.
10.25 IST: Around middle and leg from Ishant, flicked defensively towards mid-wicket. SL 31/1 in 11 overs
10.15 IST: FOUR! Shot! The straight drives is one of the glorious shots to watch in the sport and here it is. Sharma lands it on a fuller length around off, Karunaratne gets his front foot forward a bit and just times his push down the ground perfectly. Ishant tries to stop it in his followthrough but is unable to do so. A boundary results. SL 27/1 in 8.3 overs
10.11 IST: What that early fall of wicket has done is that it has eased the work for the Indian bowlers. Both the batters at the crease now are lefties and that makes it slightly easy in terms of the lines to bowl. A right-left combination is always hard to contend with.
10.07 IST: And again... India aren't entirely happy with the ball and take the issue to the umpires yet again. This time they call for the change of ball and it is changed. Would you change a ball that has just got you a wicket?
10.04 IST: Karunaratne flicks it away with a wristy shot. The batsmen have run through for a single. SL 21/1 in 6 overs
09.57 IST: LAHIRU THIRIMANNE makes his way out next. The half-century in the previous game would make him feel confident enough to face the Indian attack on this surface. Two slips to welcome him.
09.56 IST: OUT! Excellent catch by Pujara at first slip! Samarawickrama doesn't stop playing away from the body and pays the price yet again. In the previous game it resulted in him playing on, and now, he offers a catch to the slip cordon. Ishant bowls it on a driving length outside off, Sadeera is lured into the shot. Plays at it with minimal feet movement and gets a thicks outside edge. The ball goes low to the left of Cheteshwar at first slip who gets low and grabs it inches above the surface. The on-field umpire wants to check if the catch is clean and hence refers it upstairs, with the soft signal being OUT. The catch is clean indeed. SL 20/1 in 4.5 overs
09.55 IST: Samarawickrama is a goner! The on-field umpire wants to be 100 percent sure and hence refers it upstairs. The soft signal is OUT.
09.46 IST: Ishant lands it on a length just outside off, Karunaratne has a feel for that but misses. 3 runs from the over. SL 13/0 in 3 overs
09.42 IST: Ishant Sharma isn't happy with the ball and has thrown it to Richard Kettleborough. So soon in the game? The umpires check it with the help of the 8-shaped gauge and deem it alright to continue.
09.38 IST: FOUR! Magnificent shot that. The balance that Karunaratne maintained there was just perfect. Yadav hurls in a full inswinger around off and middle, Dimuth had to get his bat down quickly. Does so and times the flick through mid-wicket perfectly. The ball speeds away to the fence in not time. SL 10/0 in 1.2 overs
The local lad, UMESH YADAV, will share the new ball from the other end. It's his first Test at this venue and he would want to have an immediate impact.
09.35 IST: FOUR! First runs on the board, courtesy a boundary! Samarawickrama would breathe a bit more easy after getting that away as openers generally love to get off the mark as soon as they can. SL 5/0 in 1 over
09.32 IST: Already a pause! Samarawickrama isn't happy with the movement near the sightscreen and is getting it adjusted. The spectators in that area need to be careful.
09.30 IST: The anthems are completed now. After a small huddle near the fence, the Indians rush out to the centre. Looks like the comeback man ISHANT SHARMA will steam in with the ball to bowl the first over of the game. He's been in decent form in the Ranji Trophy and would love to emulate that run here. SADEERA SAMARAWICKRAMA and DIMUTH KARUNARATNE will open the batting. Looks like a good combo as one is a natural attacking player while the other is known for his stoic defence.
09.25 IST: Blue and green are the colours on show at the venue. The clear skies wear a blue drape while the playing surface has a tinge of green. All are pointers to the making of a good game of cricket. In this backdrop, the players stride out for the national anthems.
09.20 IST: 
#TeamIndia is all set to take on Sri Lanka in the 2nd Test at Nagpur #INDvSL pic.twitter.com/c31cD63e0R

— BCCI (@BCCI) November 24, 2017
09.10 IST: The last Test match at the Vidarbha Cricket Association Stadium - India vs South Africa in 2015 - saw 33 out of the 40 wickets fall to the spinners. That shouldn't be the case this time as we have a greenish looking surface on offer. India are looking beyond just this series and are on course to prepare for a tougher South African tour and hence such a surface. 
09.07 IST: Teams:
India (Playing XI): Murali Vijay, Lokesh Rahul, Cheteshwar Pujara, Virat Kohli (C), Ajinkya Rahane, Rohit Sharma, Wriddhiman Saha (wk), Ravichandran Ashwin, Ravindra Jadeja, Umesh Yadav, Ishant Sharma
#TeamIndia Playing XI for the 2nd Test #INDvSL pic.twitter.com/MzEwalZe7E

— BCCI (@BCCI) November 24, 2017
Sri Lanka (Playing XI): Sadeera Samarawickrama, Dimuth Karunaratne, Lahiru Thirimanne, Angelo Mathews, Dinesh Chandimal (C), Niroshan Dickwella (wk), Dasun Shanaka, Dilruwan Perera, Rangana Herath, Suranga Lakmal, Lahiru Gamage
09.03 IST: Virat Kohli feels that the first session should offer something for the quicks as there is grasson the good length area. States that even they would have batted first as they wanted to challenge themselves. Opines that the surface is pretty hard and would tend to slow down as the game progresses. He says that if the batters apply themselves, they will get runs while if the bowlers prolong bowling on consistent lengths, they'll get success. On the team changes, he states that Mohammed Shami is out with a side niggle and hence ISHANT SHARMA comes in, Bhuvneshwar Kumar is replaced by ROHIT SHARMA, for whom the team aims to give some game time and the obvious change of MURALI VIJAY, who replaces Shikhar Dhawan.
Dinesh Chandimal: "We will bat. Looks like a good Test pitch and we have to make the maximum out of this. There's grass cover but it's dry underneath. We played good cricket in the first Test apart from the last session, so we have chatted about how to bat in the second innings. We're playing the same team."
Sri Lanka wins the toss and opts to bat first in the 2nd Test at Nagpur #Paytm #INDvSL pic.twitter.com/SIOPJYjGVQ

— BCCI (@BCCI) November 24, 2017
09.00 IST: TOSS - HEADS is the call from the Sri Lankan skipper... and heads it is! Sri Lanka win the toss and chose to BAT first. Interesting choice.
08.56 IST: PITCH REPORT - Matthew Hayden observes that although there is a grass covering on the pitch, this one is a dry surface and there is no moisture on it like Eden Gardens. The previous Test here vs South Africa was a dustbowl and this isn't so, observes VVS Laxman. He is of the view that as the game progresses the cracks will widen and hence the spinners will come into play. Reckons it will be tough for the batsmen.
08.51 IST: 
Tak a look at the pitch on Day 1 of the Nagpur Test. Win the toss and ? pic.twitter.com/BojzmlJBVd

— BCCI (@BCCI) November 24, 2017
08.45 IST: 
50 Not Out and in the mood - @imVkohli #INDvSL pic.twitter.com/R1fufOmDQX

— Ravi Shastri (@RaviShastriOfc) November 24, 2017
08.40 IST: 
Vijay Shankar has been consistent and has earned his spot in the squad - Virat Kohli on India's latest addition in the squad #INDvSL pic.twitter.com/fqvjfVVFkP

— BCCI (@BCCI) November 23, 2017
08.30 IST: 
#TeamIndia is here at Nagpur for a training session ahead of the 2nd Test against Sri Lanka #INDvSL pic.twitter.com/A7vjrVf9Qv

— BCCI (@BCCI) November 23, 2017
Brief Preview: Denied by the weather gods in the opening Test, a supremely confident India are set to make some strategic changes to ensure that their dominance of Sri Lanka continues unchallenged in the second match starting in Nagpur on Friday. Having earned the psychological edge by blowing the Sri Lankan top and middle order during the final session of the drawn first Test in Kolkata, the hosts will once again play on a green track at the Vidarbha Cricket Association (VCA) Stadium in Jamtha. 
The hint of grass on the pitch is in keeping with the team's preparation for the gruelling South African tour which starts next month. A decent cover of green on the match strip is a marked departure from what has been a traditionally low and slow batting belter over the years. However, till the first ball is bowled, it will be difficult to presume the kind of bounce that will be on offer.(Read Full Preview)