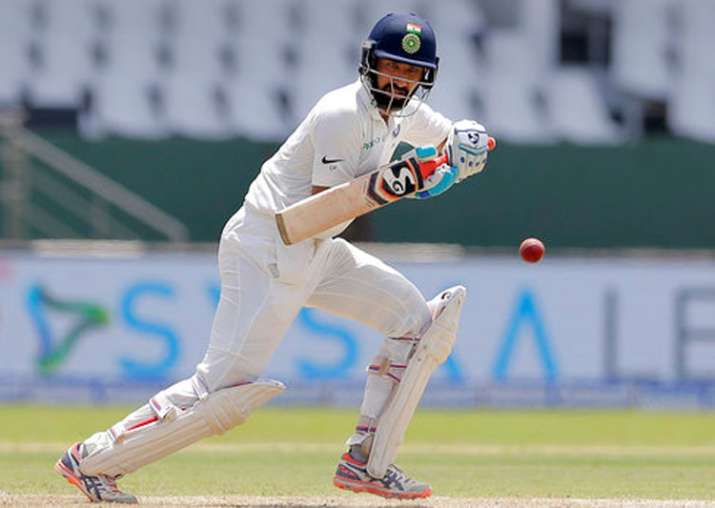 Opting to bat first after winning the toss, India finished day 1 at 344/3 in 90 overs with Cheteshwar Pujara (128 not out) and Ajinkya Rahane (103 not out) on the crease in the second Test against Sri Lanka at the Sinhalese Sports Club in Colombo. Rahane and Pujara walk off to a standing ovation from the dressing room. A hundred from both of them have ensured India are right on top in this match. They did not lose a wicket in the third session and have managed to add 106 runs. After winning the toss and opting to bat this the ideal situation they would have wanted to be in.
Sri Lanka on the other hand, have found it very difficult to apply any kind of pressure on the Indian batsman. They were too short and bowled way too many bad balls. To make matters worse Nuwan Pradeep walked of holding a hamstring and if he cannot bowl in this game it is going to be a crucial blow for the hosts. India tomorrow will try and bat Sri Lanka out of the game. Whereas, the Lankans will need a few early wickets to get back into the game. Do join us for all the action from the 2nd day of the Test at 1000 local (0430 GMT). Till then, cheers and take care! (SCORECARD)
HIGHLIGHTS FROM INDIA VS SRI LANKA, 2ND TEST, DAY 1 at COLOMBO
17.04 IST: A couple of runs on last ball of the day, Pujara shuffles across to work it through mid-wicket. IND 344/3 in 90 overs. Pujara 128*, Rahane 103* STUMPS ON DAY 1!
Last over of the day. Herath to bowl it for Sri Lanka.
17.01 IST: Just a single from Dilruwan Perera's over. IND 341/3 in 89 overs
16.57 IST: Instant review from Rahane. He's caught leg before and given out. Indicates there's an inside edge and is very confident of it. It's taken upstairs. Not out! Rahane knows best! There was bat involved. Flat and short on the stumps, keeps a little low as Ajinkya is back to defend. Is caught on the pads and an appeal goes up, to which the umpire raises his finger. Rahane wastes no time in taking the review and replays show why. He did get a big inside edge before the ball hit the pad and so, he's safe. Not sure how the umpire missed that, to be honest. IND 340/3 in 88 overs​
16.54 IST: MAIDEN! Dilruwan Perera bowls a tidy over. IND 339/3 in 87 overs
16.49 IST: HUNDRED for Rahane! This is his 9th Test hundred, second against Sri Lanka. India's best overseas player in Test cricket at the moment, you can see why. Has delivered once again on foreign soil. Leans ahead and taps it in front of point as he steals a single. Lovely knock.  IND 338/3 in 85.2 overs
16.45 IST: 200-run partnership comes up between Pujara (124) and Rahane (99). IND 333/3 in 84.1 overs
16.39 IST: FOUR! Brilliant shot from Rahane for a boundary. Here comes the inevitable freebie from a Lankan bowler. Their problem all day. Short on middle, Rahane off his back foot pulls it with power through mid-wicket for a boundary. IND 329/3 in 83 overs
16.36 IST: Just 3 runs came off Herath's over IND 324/3 in 82 overs
Nuwan Pradeep, the only new ball bowler Sri Lanka have, is walking off the field. Only bowled 4 balls and he's already off. Seems there is a hamstring issue troubling him.
Pacer Nuwan Pradeep is back into the attack
Second new ball has been taken. The reviews have been restored as well.
16.24 IST: Sri Lanka have taken another review. it's for another lbw appeal, with Ajinkya Rahane the man in the spotlight. Looks comfortably safe in real time. Not out! Never in doubt. Think it was just a tactical review, given how it's anyway going to be refreshed after this over. Flighted around off, turning away, Rahane kneels to sweep but misses and is caught on the back pad. Loud appeal turned down, so the review is taken. Replays confirm impact is outside the line of off stump, so Jinx is safe. IND 317/3 in 80 overs
16.22 IST: FOUR! Excellent shot from Rahane off Herath for a boundary. Tossed up outside the line of off stump, Rahane drives it through extra cover and sends it all the way for a boundary.
16.13 IST: 300 up for India with a single from Pujara off de Silva.
16.10 IST: FOUR! Short and outside off from Pushpakumara and Rahane cuts it through square for a boundary. IND 299/3 in 76 overs
15.57 IST: FOUR! Rahane hits de Silva for a boundary. Rahane comes down the track and hits it over mid off for a one bounce boundary. He has played with great intent here. IND 288/3 in 73 overs
15.47 IST: FOUR! Pushpakumara bowls it too short on off, Rahane rocks back and punches it through covers for a boundary. IND 277/3 in 70 overs
15.40 IST: FOUR! Shorter in length, Pujara camps back and pulls it through square leg for a boundary. It is so easy for him. This is the highest 4th wicket partnership against Sri Lanka at this venue. IND 270/3 in 68 overs
15.38 IST: Pushpakumara bowls it on the stumps, Pujara flicks it through square leg for a couple. He also brings up his hundred. This has been very good knock by him. He has been patient and he deserves this. Pujara hits 13th hundred - 3rd in Sri Lanka. India 266/3
Mr. Consistent - @cheteshwar1 brings up his 13th Test ton #SLvIND #TeamIndia pic.twitter.com/4QNedfg7qc

— BCCI (@BCCI) August 3, 2017
15.30 IST: Another good over from Pushpakumara. Just a single off it. IND 260/3 in 66 overs
15.25 IST: FOUR! Beautiful shot from Rahane! Half volley from Pradeep and Rahane drives him through extra cover for an elegant shot.
15.22 IST: Fifty for Rahane off 83 balls. Rahane's wife stands and applauds in the crowd. This is Rahane's 13th Test fifty! India 254/3 in 64 overs
15.19 IST: Nine runs off the Perera over. IND 252/3 in 63 overs
15.16 IST: FOUR! Short stuff from Perera and Rahane hits him through square leg for a boundary.
15.15 IST: Pushpakumara bowls a good over, gives away just a single. IND 243/3 in 62 overs
15.05 IST: Perera bowls a brilliant over with just 1 run given. 239/3 in 59 overs.
15:03 IST: Batsmen Cheteshwar Pujara and Ajinkya Rahane step on the field after tea to continue the match 238/3 in 58 overs.
14.42 IST: India 238/3 at Tea. Pujara 39*, Rahane 41*
14.39 IST: NOT OUT! The on-field calls stays! Poor review in hindsight, to be honest. Looked to be safe in real time itself. Length delivery jagging back in from outside off, Rahane plants his front foot across to block but is caught on the front pad. Loud appeal and the umpire says no. Chandimal talks with his teammates and decides to review it. Replays show that the impact is outside the line of off stump and so that's that.
14.33 IST: 100-run partnership between Pujara and Rahane off just 104 balls . IND 233/3 in 56.3 overs
14.23 IST: FOUR! Boundary to end the over. Dropped short, ample amount of time for Pujara to go back and slap it past the diving extra cover fielder. Picked his spot and executed the placement to perfection. IND 225/3 in 54 overs
14.20 IST: FOUR! Poor ball to bowl, especially with third man up in the circle. Short and wide, Pujara cuts it away across the boundary line. 
14.18 IST: FOUR! The Indian batsmen, in particular Cheteshwar Pujara, has used his feet well so far. Excellent shot. Got to the pitch in a jiffy and wristed it between mid on and mid-wicket for a boundary. IND 215/3 in 53 overs
14.13 IST: FOUR! Sweet timing, beautiful to see. Ajinkya Rahane with a shimmy down the ground just pushes it past Herath at mid off and gets a boundary to his name.
14.08 IST: 200 is up for India with a single from Rahane off de Silva!
14.07 IST: Dhananjay de Silva is introduced into the attack!
14.06 IST: FOUR! Good timing. Met the ball well at its pitch and drove it through the line past the sliding mid off fielder, who couldn't stop it moving to his left. Super shot. IND 199/3 in 50 overs
14.02 IST: SIX! Wrong line and length to bowl. Very wrong. Malinda drops it short, on middle and leg, Pujara rocks back and with a powerful pull clears mid-wicket for a maximum.
13.57 IST: A single and here comes the fifty for Pujara off 112 balls. IND 178/3 
13.56 IST: FOUR! Little short from Malinda and that's enough for Rahane to put it away. He goes back, swivels and pulls it through mid-wicket to send it across the rope.
13.52 IST: FOUR! That's a lovely shot. Rahane is afraid to take the attack to the opposition. Skips out watching the flight and lifts it over mid-wicket for a boundary. IND 170/3 in 46 overs
13.47 IST: FOUR! Good use of the feet from Rahane as he comes down the track and hits Pushpakumara on the up for a boundary to long on.
13.40 IST: Drinks are on the field! Sri Lanka have come back into the game by using the conditions well. Picked up a couple of wickets and clogged the run flow effectively. This next phase of play will be quite important for both teams.
13.37 IST: FOUR! Pushpakumara bowls it shorter outside off, Pujara cuts it through point for a boundary. IND 153/3 in 43 overs
13.34 IST: 4000 Test runs for Pujara. He is the joint third fastest Indian to get to this landmark. IND 147/3 in 42 overs
13.33 IST: FOUR! Brilliant use of the feet! Pujara comes down the track and drives it through covers and the ball races to the fence. 
13.32 IST: FOUR! Herath drags his length back on middle, Rahane whips it through mid-wicket for a boundary. Ajinkya gets off the mark.
13.22 IST: OUT! BIG WICKET! Herath removes Kohli for 13. Angelo what you beauty. A great reflex catch by the ex-skipper. Flatter and outside off, Kohli tries to cut it but gets an outside edge which flies to Mathews at first slip who takes a brilliant catch diving to his right. Kohli is not happy with himself. That was too close to cut maybe. Never the less, a big wicket for Sri Lanka and they are right back into the game now. IND 133/3 in 38.5 overs
13.19 IST: FOUR! Fuller in length from Pradeep, swinging away from the batsman. Pujara gets it off the outside edge through backward point and the ball races to the fence. IND 133/2 in 38 overs
13.15 IST: FOUR! Loopy ball outside off from Herath and Kohli leans into it and drives it through covers for a boundary. He has played some great shots uptil now. IND 129/2 in 37 overs
13.09 IST: FOUR! Kohli hits Pradeep to long on for a boundary. Easy pickings for the Indian captain. IND 125/2 in 36 overs
12.59 IST: FOUR! Pujara plays the sweep thorugh backward square leg to great effect and collects a boundary. IND 118/2 in 33 overs
12.55 IST: Here's KL Rahul's last 6 Test innings: 90, 51, 67, 60, 51*, 57
When KL Rahul made 199 against England at Chennai in Dec 2016, he then had 4 100s & 1 fifty in Tests.
Now he has 4 100s, 8 fifties!#SLvInd

— Mohandas Menon (@mohanstatsman) August 3, 2017
Sixth consecutive fifty for KL Rahul, equals the Indian record of most consecutive 50s with Gundappa Viswanath & Rahul Dravid.#SLvIND

— Rajneesh Gupta (@rgcricket) August 3, 2017
12.50 IST: OUT! KL Rahul run out for 57. A brilliant innings comes to a disappointing end! Yes, No, Yes, No and a run out. A big misunderstanding between the two batsmen. Tosses it up on off, Rahul pushes it towards covers and sets off for a run. Pujara first obliges but then stops in between the pitch and sends Rahul back who also was half way down. Chandimal is quick to the ball and fires in a throw to Dickwella who collects the ball and whips the bails off. Rahul is well short of his ground. He is not happy at all. He walks back dejected. He fails to covert it big once again. He is run out for the first time in his Test career. India have lost both their openers now. IND 109/2 in 31 overs. Captain Virat Kohli walks out to bat.
12.45 IST: Fifty-run stand comes up between Pujara and Rahul. Great batting from these two.
12.44 IST: Herath starts with a single off the first over post lunch. IND 102/1 in 29 overs
12.40 IST: Welcome back to the post-lunch session on Day 1 of the second Test between India and Sri Lanka. Chandimal has a huddle even as Pujara and Rahul make their way out. Herath to kick-start the afternoon session.
12.20 IST: Lunch Report: India 101/1
Lokesh Rahul celebrated his comeback with a half-century as India posted 101/1 at lunch on the first day of the second Test against Sri lanka at the Sinhalese Sports Club in Colombo. Rahul was batting on 52 with the in-form Cheteshwar Pujara unbeaten on 14 at the other end when the teams went in for the break.
In-form opener Shikhar Dhawan was the only wocket to fall in the morning session. Dhawan made a quick 35 runs off 37 balls before being trapped leg before by off-spinner Dilruwan Perera.
Perara, the only successful bowler among the hosts so far, returned figures of 1/11 in his four overs.
Shikhar Dhawan, who had narrowly missed out on the maiden double century of his career, seemed to be in excellent form here as well. Dhawan and fellow opener Lokesh Rahul handled the Lankan bowlers quite comfortably and saw India off to a superb start.
Dhawan was a bit tentative in the opening over and enjoyed a reprieve when Lankan pacer Nuwan Pradeep managed to find his outside edge. 
The ball however, fell just wide of the slip cordon and went for the first boundary of the match. The Delhi left-hander edged another delivery, this time off Rangana Herath in the second over, the ball falling short off the slip cordon once again. 
But he soon recovered his composure and made an excellent comeback by charging out of his crease to smash the fifth ball of the over into the stands. The Indian openers continued to bat comfortably with the run rate consistently hovering around the five per over mark.
Just like in the first Test, the Lankan bowling attack did not seem too formidable although the pitch had a slight bit of bounce. Dhawan who seemed set for a big score, fell off the first of the 11th over when he missed an attempted sweep and the ball straightened enough to hit him on the pads.
The umpire had initially ruled not out but the Lankans decided to call for the review and were rewarded when the third umpire overturned the decision. Pujara and Rahul however, ensured tha tthe visitors lost no more wickets til lunch.
And that will be Lunch as #TeamIndia get to 101/1 with @klrahul11 on 52* and @cheteshwar1 on 14* #SLvIND pic.twitter.com/zkaRC2m2uK

— BCCI (@BCCI) August 3, 2017
12.15 IST: Despite the loss of Shikhar Dhawan early in the morning, this is still India's session. Scored 101 runs in 28 overs as Rahul and Pujara have done well with the bat. Kept the scoreboard ticking and the former has gone on to score a fifty. Sri Lanka couldn't do much in this session but the ball is already turning and this will surely encourage them. The afternoon session should make for an interesting viewing. Join us back shortly for that.
12.00 IST: India 101/1 at Lunch against Sri Lanka. KL Rahul 52*, Pujara 14*, Dhawan 35 
11.56 IST: FOUR! That's just adding to Lanka's woes. Rahul advances down the track and lofts it over mid off. It falls just inside the rope and that'll be a boundary. KL Rahul hits 6th consecutive fifty in Tests. IND 101/1 in 26.5 overs 
11.55 IST: NOT OUT! Rahul survives. But an excellent delivery from Herath and equally impressive glovework from Niroshan Dickwella. Slightly quicker through the air, turns and beats the outside edge of Rahul's hanging bat. He's a touch off balance too and this provides Dickwella the opportunity to whip the bails off and does so in a flash. It's taken upstairs and replays show that he's just managed to plant his back foot back in time.
11.50 IST: Great over from Pradeep, just a single off it. IND 97/1 in 26 overs
11.38 IST: Another maiden here from Herath! IND 94/1 in 23 overs
11.26 IST: That has got to hurt, blow on the helmet is never good. Rahul goes back and smashes the pull straight at Mendis positioned at short leg. The youngster turns to avoid it but it stuck on the side of his helmet. KL could have been out as the ball lobs back and falls just short of the fielder at mid-wicket. Close call. Mendis has his helmet off and fortunately, looks okay to continue. Has a big smile on his face. Good to see. IND 91/1 in 20 overs
11.22 IST: FOUR! Rahul uses his feet and sweeps Herath for a boundary to mid wicket. IND 90/3 in 19 overs
11.20 IST: FOUR! Just short from Pushpakumara and KL Rahul pounces on it and pulls him towards mid wicket for a boundary. IND 84/1 in 18 overs
11.17 IST: Herath concedes 3 runs. IND 80/1 in 17 overs
11.14 IST: Rangana Herath is back into the attack!
11.11 IST: FOUR! Rahul hits Pushpakumara to deep extra cover for a boundary! Pushpakumara gives it a lot of flight and seeing this, Rahul uses his feet well. Gets to the pitch and lofts it over extra cover for a boundary.
11.09 IST: FOUR! Pujara loves to come down the track against a finger spinner. This time he hits Perera to long on for a boundary. IND 70/1 in 15 overs
11.04 IST: Drinks break! India started off well but the Lankans have come back with Dhawan's dismissal. A wicket or two now and they present themselves with the opportunity to have a firm position in this game.
11.03 IST: Great first over in Test cricket from Pushpakumara, concedes just a single run. IND 63/1 in 14 overs
11.00 IST: Debutant Malinda Pushpakumara comes into the attack! 
10.57 IST: JUST FALLS SHORT! Tosses it up outside off, Pujara plays for the spin but the ball goes on with the arm and he gets an outside edge towards Mathews at first slip. He dives to his right and the ball falls just short of him. He makes a half stop and the ball rolls towards short third man. Pujara wants a single but is sent back by Rahul. 
10.55 IST: Good over from Karunaratne, just two off it! IND 60/1 in 12 overs
10.47 IST: OUT! Perera removes Dhawan for 35! A successful review from Sri Lanka this time. The bowling change has worked wonders. The danger man Dhawan has to depart. Bowls it full on middle, the ball straightens a little. Dhawan tries to sweep but misses and is struck on the pads. The Lankans appeal and this time the umpire gives it not out. Chandimal after a chat with his teammates decides to review. They go upstairs. Replays show that there was no bat involved. The ball has pitched in line, strikes him in line and is clipping the stumps. Three reds the umpire has to overturn his decision again. Big wicket for the home side. Dilruwan is ecstatic. IND 56/1 in 10.1 overs. Cheteshwar Pujara, who is playing his 50th Test, makes his way out into the middle. He will look to make it count. 
10.46 IST: Dilruwan Perera introduced into the attack!
10.45 IST: Four runs off the Karunaratne over! IND 56/0 in 10 overs
10.42 IST: NOT OUT! KL Rahul survives as third umpire reverses on-field umpire's LBW decision! A brilliant review from him. The ploy to bowl with the part timer almost paid off for Sri Lanka. Bowls it on a length on middle, jags back in a touch. Rahul tries to flick but misses and is struck on the pads. The Lankans appeal and the umpire gives it out. Lokesh walks down to his partner and after a chat he decides to review it. They go upstairs. Replays show that the ball has pitched in line and hits him in line but is missing the stumps. The on-field call has to be overturned.
10.37 IST: FOUR! Rahul brings up India's fifty with a boundary off Pradeep. India are racing here at the moment.  It is raining boundaries in Colombo. Bowls it on the pads, Rahul flicks it to the fine leg fence for a boundary. IND 52/0 in 9 overs
10.35 IST FOUR! Dhawan at his best! He hits Pradeep through extra cover for a boundary! 
10.33 IST: Karunaratne concedes four runs off his over. IND 42/0 in 8 overs
10.30 IST: An unlikely bowling change as Dimuth Karunaratne is introduced into the bowling attack. 
10.24 IST: FOUR! Rahul is growing in confidence here. Pradeep bowls a fuller delivery in length outside off, Dhawan leans forward and drives it through covers and the ball races to the fence.
10.22 IST: Back-to-back boundaries for Rahul. Dances down the track and hits it towards mid off where De Silva slips while running to his right and lets it through for another boundary. IND 32/0 in 6 overs
10.21 IST: FOUR! Herath gives it air outside off, Rahul square drives it for a boundary.
10.19 IST: FOUR! Pradeep bangs it in short on middle, Dhawan pulls it through square leg for a boundary. That made a cracking sound off the bat. IND 23/0 in 5 overs
10.16 IST: What a good over that was from Rangana Herath, bowls a maiden! IND 18/0 in 4 overs
10.13 IST: FOUR! Dhawan nails the cut shot this time. Pradeep bowls it shorter outside off, Shikhar camps back and cuts it through backward point for a boundary. IND 18/0 in 3 overs
10.07 IST: SIX! Just a little hint of flight from Herath and Dhawan dances down the track and hits him over long on for a huge six! This is only the second over of the match, by the way! IND 14/0 in 2 overs
10.05 IST: Well, well... What do we have here? Spin right from the start. Rangana Herath will be bowling from the other end.
10.03 IST: FOUR! Dhawan gets off the mark with a boundary off Pradeep. Pradeep lands it on a length just outside off, Dhawan pokes at it and gets an outside edge past the diving Kusal at third slip for a boundary. The slip should have been a little closer. A good over by Pradeep. IND 4/0 in 1 over
9.55 IST: We are ready to get underway. The players and the umpires are out in the middle. Shikhar Dhawan and Lokesh Rahul will open the batting for India. Fast bowler Nuwan Pradeep to start the proceedings for Sri Lanka. Here we go...
9.40 IST: Playing XIs:
India: Shikhar Dhawan, Lokesh Rahul, Cheteshwar Pujara, Virat Kohli (c), Ajinkya Rahane, Ravichandran Ashwin, Wriddhiman Saha (wk), Hardik Pandya, Ravindra Jadeja, Mohammed Shami, Umesh Yadav
Sri Lanka: Dimuth Karunaratne, Upul Tharanga, Kusal Mendis, Dinesh Chandimal (c), Angelo Mathews, Dhananjaya de Silva, Niroshan Dickwella (wk), Rangana Herath, Dilruwan Perera, Malinda Pushpakumara, Nuwan Pradeep
9.38 IST: Dinesh Chandimal - Much better now. Was a tough time for me and my family, the last 10 days. India played really good cricket in Galle but you just have to take the positives out of the game. As a batter, if you get a start, you need to score big guns, like Shikhar did in the first game. Bowlers need to stick to their plans. Looks like a dry surface but looking forward to keeping them to a minimum. We have three changes: myself, Malinda Pushpakumara will make his debut today, and Dhananjaya de Silva.
9.35 IST: Virat Kohli - Always feels good to win the toss. We will bat first. The surface looks nice and rolled in, plus some grass to keep it together. We have recovered well and understood the importance of rest too. The practice sessions have been short and sharp, and we are very well prepared going into this Test. Abhinav Mukund misses out, and the rest we are playing the same team. KL is our champion opener but Abhinav understands the dynamics of how a team works.
9.30 IST: TOSS! India captain Virat Kohli win toss, opts to bat against Sri Lanka.
Brief Preview:
Skipper Virat Kohli is faced with a problem of plenty in the opening slot but that is unlikely to come in the way of India's rampaging run when they attempt to seal the series against Sri Lanka in the second Test starting in Colombo on Thursday. India were without the services of regular opener K L Rahul in the opening Test at Galle as he was laid low by a viral fever. However, his absence didn't affect the team's performance and the visitors won the match by a massive 304 runs to open with a bang in the three-match series. 
Rahul has recovered amply and if he is successful in proving his fitness for the energy-sapping humid conditions predicted during this Test, the toss up will be between Shikhar Dhawan and Abhinav Mukund for the second opener's slot. 
Dhawan had smacked his fifth Test hundred at Galle, scoring 190 off 168 balls, a knock that put India in command on day one itself. 
Mukund did score his second Test half-century in the second innings, but it could be a case of too little, too late for the Tamil Nadu opener. 
If Rahul is fit, Mukund will be expectedly left out, a strange happenstance because he was the original back-up opener in this Test squad ahead of Dhawan. (Read Full Preview)