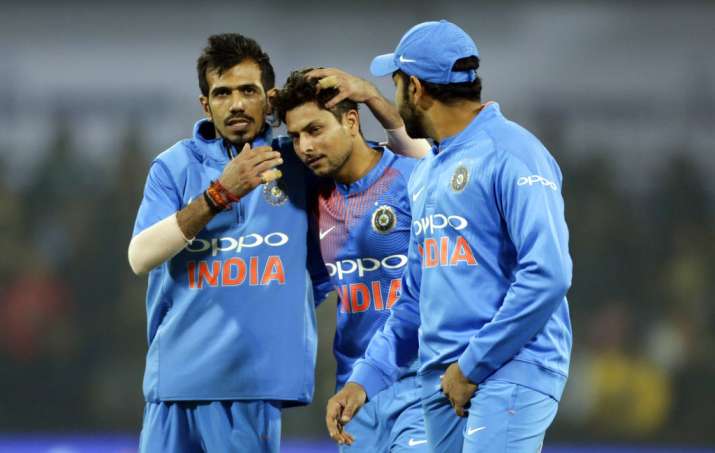 To be honest, a real cricket fan would have never doubted this result but for once, Sri Lanka gave some fight. However, that can also mislead you. When Kusal Perera was going great guns, it did seem that we could have a close game. It started well for the Lankans, with Dickwella going great guns. Kusal Perera then came in at no. 3 and started blasting the ball from the word go, obviously with nothing to lose. He kept the viewers interested, the neutral ones of course, threatening to take the game till the very end. He and Tharanga added 109 for the second wicket in just 53 balls and be it the slightest, India did start to worry.
The wrist spinners were being taken away for plenty tonight. Before Tharanga got out, Chahal and Kuldeep had joint figures of 5-0-75-0. Enough to send any fielding skipper panicking. But Rohit backed his boys and they delivered. Chahal got rid of Tharanga and that was the end of the fight. Sri Lanka slipped from 145/1 to 172/9, losing 8/27 in 25 balls. Ouch. Just 3 batsmen managed double figures. The next highest scorer was Mr. Extras - 9.(SCORECARD)
HIGHLIGHTS, INDIA VS SRI LANKA, 2ND T20I at INDORE
22.25 IST: 
Game, set and match! #TeamIndia wrap the 2nd ODI with a comprehensive 88-run win. That's all we have from Indore. Over to Mumbai for the finale #INDvSL pic.twitter.com/rOZDDc6ZQT

— BCCI (@BCCI) December 22, 2017
22.20 IST: OUT! That is the end of the game. India win the match and the series. Sri Lanka fall 88 runs short. Hardik bowls an off cutter, around off, Chameera looks to turn it to the leg side but misses and the ball knocks the leg stump out of the ground. 2-0 to India. One more match left for Sri Lanka to end their misery. SL 172/9 in 17.2 overs
22.14 IST: OUT! Fourth wicket for Chahal. Can he get a fifer? The googly outside off, Dananjaya looks to go over the top but only succeeds in finding Hardik Pandya at long on.  SL 170/8 in 15.5 overs
22.12 IST: OUT! Stumped off a wide. Chahal floats this wide outside off, Samarawickrama comes down the track and is nowhere near the pitch of the ball. Swings but misses. Dhoni doesn't.  SL 164/7 in 15.2 overs
22.10 IST: OUT! Another one goes. Landed on middle, Chaturanga looks to play the reverse sweep but is cramped for room and ends up dragging it onto the stumps.  SL 162/6 in 15.1 overs
22.08 IST: OUT!Stumped! MS Dhoni is seldom wrong. Full and flat outside off, Gunaratne looks to sweep but misses. In the process, his back foot is dragged out of his crease. Dhoni whips off the bails in a flash and appeals, reckoning he has his man. Replays confirm. Third wicket in the over! SL 161/5 in 14.5 overs
22.06 IST: OUT! Caught. Second wicket in the over. Full and outside off, Kusal comes down the track and looks to go over the top but finds Manish Pandey at long off. Simple catch to end an outstanding innings. At least he offered some fight in this run chase.
22.02 IST: OUT! A golden duck for the skipper. Full and outside off, Perera slogs across the line and gets a top edge. Hardik runs across to his right like a panther and catches his prey at the ropes. Then he jokingly mocks Manish Pandey at long off saying that he should have got there instead! SL 156/4 in 14.2 overs
21.57 IST: SIX!  Full and outside off, Perera swings it with all his might over mid-wicket. SL 155/2 in 13.5 overs
THISARA PERERA comes in at number 4, ahead of Asela Gunaratne.
21.56 IST: OUT!  The 109-run stand is broken. Finally an Indian spinner takes a wicket. Full and slow, on middle, Tharanga looks to slog but gets a top edge. The ball goes straight up in the air and Chahal calls for it, taking it cleanly. SL 145/2 in 13.2 overs
21.52 IST: FOUR! Another cracking shot. Kusal puts on his dancing shoes again and smashes it straight back over the bowler's head for a boundary. SL 142/1 in 13 overs
21.51 IST: SIX! FETCH THAT! Kusal is putting some batting display here. Comes down the track and sends it sailing over mid-wicket! SL 136/1 in 12.3 overs
KULDEEP YADAV is back on.
21.48 IST: FOUR! Lovely batting again. Short and outside off, Perera blasts it over covers and gets a boundary! SL 126/1 in 12 overs
21.47 IST: SIX! Terrific shot. Full and outside off but Perera waltzes down the track and sends it sailing over mid-wicket! SL 121/1 in 11.4 overs
21.45 IST: SIX! Pandya is furious with himself. Full and on the pads, Perera swings it over mid-wicket and hits it into the second tier! SL 112/1 in 11 overs
21.41 IST: SIX! Second of the over! Full and on the pads, Tharanga comes down the track and swings it over long on for another biggie! SL 102/1 in 10 overs
21.39 IST: SIX! Heave-ho! It is short and around middle, Tharanga rocks back in a flash and pulls it over mid-wicket for a biggie! SL 93/1 in 9.4 overs
More spin. YUZVENDRA CHAHAL to bowl now.
21.37 IST: FOUR! Gets a boundary. Hardik persists with that line and length outside leg and this time Kusal pulls it wide of the man at fine leg for a boundary. SL 86/1 in 9 overs
21.34 IST: SIX! But totally miscued. Kusal comes down the track a year in advance and Kuldeep bowls it very slow, on the pads. Perera goes through with his swing and is clearly early. Mistimes it but such is his power that the miscue takes the ball over long-on! SL 77/1 in 8 overs
The ropes are back again. Every 7 overs they come sweeping the ground, to relieve the bowlers of the dew.
21.31 IST: Perera backs away to the leg side, Hardik follows him, bangs it in short and Kusal pulls it to deep mid-wicket for a run. 5 runs from the over. SL 66/1 in 7 overs
India's golden man, with golden strands on his hair, HARDIK PANDYA comes on to bowl now.
21.25 IST: SIX! Ho ho ho! He does it again! Almost an action replay of the previous ball, just that the destination is a different one. Kusal comes down the track once again, perhaps a second early and Kuldeep spots it. Bowls it flatter and wider outside off but the southpaw gets to the pitch of the delivery and swings it cleanly over long on. SL 61/1 in 6 overs
21.24 IST: SIX! 50 up for the visitors. Terrific shot! Now Kusal uses his feet. Dances down the track and swings this brilliantly over long off. SL 54/1 in 5.4 overs
21.23 IST: FOUR! CLASSY! What a shot. This guy can make tough shots look effortless. Sashays down the track, gets to the pitch of the ball and lofts it beautifully over covers for a boundary. SL 47/1 in 5.2 overs
21.21 IST: FOUR! Nice shot. Full and outside off, Tharanga swings it straight back over the bowler's head for a boundary! SL 42/1 in 5 overs
KUSAL PERERA walks in at number 3, replacing Dickwella.
21.18 IST: OUT! One wicket down. A length ball on the pads, Dickwella swings it with all his might but perhaps the ball comes slowly off the surface. The timing is totally off and he ends up skewing a simple catch to Hardik Pandya at deep square leg. Possibly the best chance for Sri Lanka would have been Dickwella firing. But... SL 36/1 in 4.3 overs
21.15 IST: How is that not a boundary? Tharanga clips this through backward square leg and takes the single. Now, Lokesh Rahul has to cover a good distance to his left from square leg and does get to the ball. However, while picking the ball up, he loses his shape and balance. To the naked eye, it does seem like he has touched the ropes. Even one of our senior colleagues, Khalid, whose age is not lesser than a golden jubilee, spots that flack. But they do not refer it upstairs and replays show that Rahul indeed touched the rope. Just the two runs awarded as the batsmen take one on the throw. 9 runs from the over. SL 36/0 in 4 overs
21.10 IST: Dickwella backs away a long way and Unadkat smartly follows him with a slower delivery that cuts in, knocked to the left of mid-on and Dickwella retains strike with the single. SL 27/0 in 3 overs
21.08 IST: FOUR! Short and outside off, cut over point for boundaries in succession! SL 24/0 in 2.3 overs
21.07 IST: FOUR! Lovely shot. Backs away a touch, Unadkat shortens his length and bowls it wide. But Dickwella is upto it and slashes it with his left leg in the air and gets it over cover for a boundary. SL 20/0 in 2.2 overs
21.06 IST: SL 16/0 in 2 overs
21.03 IST: SIX! First of the innings! A short ball, down the leg side, Dickwella just helps it with a pull over fine leg!  SL 13/0 in 1.3 overs
JASPRIT BUMRAH to bowl from the other end.
21.00 IST: Oopsy. What was that? ND attempts a paddle scoop but mistimes it towards mid-wicket. A single taken. 5 runs from the over. SL 5/0 in 1 overs
20.56 IST:  Interesting shot, poor running. Full and straight, Dickwella gets down and paddles it over the keeper. Gets more height than distance but luckily for him, Kuldeep Yadav does not get to it from the short fine leg. A single taken. SL 1/0 in 0.1 overs
20.55 IST: We are back! Was that even a break? Well, seems so. Jaydev Unadkat to start off proceedings. Two Sri Lankan batsmen are out as well. Surprising. Can they prove their mettle? Time will tell. Niroshan Dickwella and Upual Tharanga are their names. Here we go... Dickwella to face.
20.46 IST: Good final delivery to end the innings. This has been a good over from the Sri Lankan captain. Yorker on off, Karthik digs it out in front of cover-point and takes a single. INDIA FINISH ON 260/5 in 20 overs! It's the joint-second highest total in T20I cricket.
20.45 IST: FOUR! Length ball on the pads, slower in pace, Karthik flicks it away through backward square leg for a boundary. The fielder in the deep hares to his right but can't reach it. IND 259/5 in 19.5 overs
20.44 IST: OUT! BOWLED 'EM! Thisara is right on the money with that. Full on off, Dhoni in an attempt to slam it out of the park swings across the line but misses. The off stick is knocked over and that's the end of Dhoni's breezy cameo. IND 255/5 in 19.4 overs
20.42 IST: OUT! He's gone! Iyer knew that, so the review was probably for namesake. Fuller and slower on the stumps, Iyer misses the shot and is caught flush on the pads. Appeal from Thisara, the umpire raises his finger. It's taken upstairs and replays show that Shreyas is gone. He started walking even before the decision came in, the third umpire actually to ask the on-field umpire to stop him. Anyway, Iyer is gone and the Lankan captain has this wicket. IND 254/4 in 19.2 overs
20.40 IST: OUT! No hat-trick for Sadeera! Back of a length around off, Pandya just throws his bat at this. Gets a big top edge towards covers where Sadeera backpedals and takes a good reverse cup catch. IN 253/3 in 19 overs
20.38 IST: SIX! That's an insane shot! Superbly done by Hardik Pandya! Full and wide outside off, Pandya carves it over backward point and to the crowd in the stands. They're having some catching practice, more than the visiting team IND 253/3 in 18.5 overs
Hardik Pandya walks into the middle next.
20.35 IST: OUT!  A rare positive instance in this innings for Sri Lanka. That's a brilliant take from Niroshan Dickwella. Full around off, Rahul looks to go big down the ground but edges it behind. It's travelling fast, but Dickwella dives superman-like to his right and takes a one-handed stunner. Lovely take, something for the Lankans to smile about.. IND 243/2 in 18.3 overs
20.34 IST: SIX! That's as flat as an F1 race track. What a hit! Low full toss on the pads, Rahul flicks it over square leg. Gunaratne out in the deep has a chance to catch it, but he maybe loses it somewhere in the lights. Goes over his head and over the boundary. IND 243/2 in 18.2 overs
20.33: KL Rahul smashes another delivery for a SIX! IND 236/1 in 18 overs.
20.30 IST: SIX! IND 230/1 in 17.3 overs. Chameera bowls it with some real pace, but Rahul hits it with double power straight back. Really full on middle, Rahul goes deep inside his crease and hammers it straight back down the ground. The ball has disappeared deep into the stands, no idea where. But it's gone high somewhere.
20.27 IST: SIX! Maximum to end the over! Too full from Dananjaya, Rahul leans ahead a bit and lifts it so comfortably over long on for a biggie. IND 223/1 in 17 overs
20.25 IST: SIX! Dhoni has found his groove! Tossed up on middle and leg, Dhoni kneels down and slog sweeps it over mid-wicket for a biggie. The fielder in the deep is only a spectator. IND 216/1 in 16.4 overs
20.23 IST: SIX! That's MS Dhoni for you, makes everything look so easy. Full and in the slot, he smokes it over long off and in the 2nd tier. IND 208/1 in 16.1 overs
Akila Dananjaya is back.
20.21 IST: NOT OUT!  Poor review, really. But it's probably done more out of desperation than anything else. Maybe wanted to waste time as well? Possibly. Anyway, coming to the ball. Length delivery angling back in, Dhoni is caught on the pads as he looks to work it away on the leg side. Gets hit on the pads and there's an appeal. The batsmen cross over as the umpire doesn't bother with it. The Lankans review it, in whatever hope, and their hopes are crushed when the replays roll in. They show that the ball is going down leg and height is also an issue.  IND 200/1 in 15.4 overs
20.19 IST: A review for an lbw against MS Dhoni is taken upstairs by Sri Lanka.
Thisara Perera brings himself back on.
20.17 IST: SIX! The back-of-the-hand slower one doesn't work, KL Rahul picked that up quite early. Positioned himself well for the hoick and went bang over square leg for half a dozen. IND 196/1 in 15 overs
Meanwhile, @klrahul11 gets to his half century as well. Second one on the trot for the opener #INDvSL pic.twitter.com/Jk7gGkwHrD

— BCCI (@BCCI) December 22, 2017
20.12 IST: FIFTY! FOUR! That's just inside the rope. Consecutive fifties for KL Rahul, his 3rd in this format. Length ball there to be hit, Rahul lofts it over mid-wicket. Looks like it's going to go all the way but the ball falls just inside the rope. Replays confirm that. KL has been in fine touch since coming in the side, has taken full advantage of the chance given to him. IND 182/1 in 14.2 overs
20.05 IST: FOUR! Back-to-back boundaries for MS Dhoni! He swings and swings hard, clears the full ball over wide mid off and sends it across the rope, beating the fielder in the deep.  IND 174/1 in 13.2 overs
20.04 IST: FOUR! Overpitched from Akila and that's dispatched. On the stumps, Dhoni drills this through mid on and away to the boundary line. IND 170/1 in 13.1 overs
MS Dhoni walks in at No.3.
20.03 IST: WICKET! ROHIT SHARMA IS GONE! An imperious knock comes to an end. Short ball outside off, Rohit looks to loft it over short third man but finds Akila Dananjaya there who takes a good catch. The Indian skipper then waits as he thinks it's a no ball for height, but the umpire doesn't signal anything. He has to walk back, but he's done his job, to say the least. The Indore crowd has been thoroughly entertained as Rohit Sharma walks back to a loud cheer. Thoroughly deserved.
20.00 IST: SIX! That's outta here! Rohit Sharma, take a bow, my man! Low full toss on the stumps, Sharma just lofts it over mid-wicket and that's another maximum. Played that with so much ease.  IND 165/0 in 12.3 overs
19.56 IST: 
35 balls, 100 runs. Stand up and salute THE HITMAN #TeamIndia #INDvSL pic.twitter.com/itPzE8WdoB

— BCCI (@BCCI) December 22, 2017
19.55 IST : HUNDRED! Rohit Sharma slams joint-fastest T20I hundred off 35 balls. 2nd T20I hundred for Rohit Sharma! Fastest century by an Indian, joint-fastest overall. If there was any Indian who could equal David Miller's record, it was surely going to be him. What a way to bring it up. Fuller length ball outside off, Sharma smacks this on the up and pierces the gap in the covers for a boundary. Sensational knock, he removes his helmet and celebrates in joy. Now for a possible double ton?
19.52 IST: SIX! Three in a row! That's 26 off the over! He's seeing the ball like a football. Sees the ball full outside off, Rohit sends it sailing high and handsome over the cover fence and picks up another maximum to his name. This is a crazy knock from the Indian skipper, can't believe what's happening here. IND 143/0 in 11 overs
19.51 IST: SIX! Two in a row! Full and wide, outside off, Sharma just throws his bat wildly at this. Clears the point fence and that's into the stands again. IND 137/0 in 10.5 overs
19.49 IST: SIX! BANG! Take that, Thisara! Full on the stumps, right in his arc and Rohit punishes this. Smashes it down the ground, over long on by clearing his front leg and earns another maximum. IND 124/0 in 10.3 overs
19.47 IST: FOUR! Wlhat was to be a good over is ruined by a boundary on the last delivery. Low full toss on leg, Sharma works it through the left of the short fine leg for a boundary. IND 117/0 in 10 overs
19.42 IST: FOUR! Man has decided to let it fly here! His accelerating abilities are on show again. Crossed fifty and then go boom. With the full face of the bat, he drives it sweetly through the covers, beating the two men in the deep to the boundary line.  IND 108/0 in 9 overs
19.40 IST: SIX! That's gone a loooooonnnggg waaayyyy! Straight into the third tier. Gentle loopy ball on the stumps, Rohit Sharma slog sweeps it deep into the mid-wicket stands for half a dozen. What a hit, son! IND 100/0 in 8.4 overs
19.39 IST: SIX! 13th T20I fifty for Rohit Sharma! Length delivery on middle and off, Sharma camps back and muscles the pull over mid-wicket for a maximum. Brings up his fifty for that and that's another captain's knock with that. He's going to want to make this big now. IND 94/0 in 8.3 overs
19.36 IST: SIX! Shot, KL! Shot! Wears his dancing shoes to get to the pitch of this delivery, lofts it cleanly and clears the fence straight over the bowler's head. IND 87/0 in 8 overs
19.35 IST: FOUR! This is poor, should be doing much better given the runs are anyway flowing for the Indians. Sharma cuts this towards point, the fielder there dives to his left but can't stop it. It wasn't too far away from him so he should have the batsmen down to maximum a single. Instead, it goes past Perera too at the short third man who can't stop it. Boundary results. IND 79/0 in 7.2 overs
19.34 IST: FOUR! He, too, is welcomed with a boundary! Rohit Sharma looking his aggressive best here. Tossed up from around the wicket outside off, Rohit smacks it over extra cover and finds the boundary with ease. IND 75/0 in 7.1 overs
Chaturanga de Silva will have a go with the ball.
The groundsmen are out now to take care of the dew. A lot of it already out there, expect more of it as the evening progresses.
19.32 IST: FOUR! Full ball, Rahul says thank you and puts it away. Just an extension of the arms as he lofts it over wide mid-off and sends it across the rope on one bounce. IND 71/0 in 7 overs
19.31 IST: FOUR! Shot. Excellent placement. Sees nobody's out there, picks his spot beautifully. Wide outside off, the Indian skipper cuts it hard through cover-point for a boundary. IND 66/0 in 6.4 overs
Thisara Perera returns to the attack.
19.28 IST: Turns it to mid-wicket with his wrists and picks up a single. India end the Powerplay at 59/0. Good recovery from the home side after a relatively slow start in the first couple of covers.16 runs from Akila's first over. IND 59/0 in 6 overs
19.26 IST: SIX! Another miscued hit from Rohit Sharma, and another maximum. The boundaries are short here at the Holkar Stadium so expect a lot of these this evening. Fuller outside off, Sharma swings and clears extra cover. While doing that, clears the rope as well with ease. SL 57/0 in 5.4 overs
19.24 IST: FOUR! Welcomes him with a boundary! Rohit uses his feet to Akila and takes it on the full. Pierces the gap in the mid-wicket and sends it across the boundary line, beating the man in the deep. IND 47/0 in 5.1 overs
Akila Dananjaya to roll his arm over.
19.23 IST: SIX!  Downtown! Played an excellent straight drive earlier, did something similar now but took the aerial route. Lofted this right over the bowler's head for a biggie. IND 43/0 in 5 overs
19.21 IST: FOUR! Poor line, all Rahul has to do is help it on its way. Picks it off his pads and works it fine down the leg side, beating short fine leg for a boundary.  IND 37/0 in 4.4 overs 
19.20 IST: SIX! Rohit didn't time that shot well but it's gone all the way! Back of a length delivery on off, Rohit Sharma stands tall and pummels it in his favourite area. Pulls it over mid-wicket and gets a maximum to his name. IND 32/0 in 4.1 overs
19.17 IST: SIX! What a shot! Wow. KL Rahul with an absolute bomb of a shot. Brute force, this. Stands firm to this length ball outside off and hammers it over long off. In the upper tier so that's a massive biggie. Unbelievable hit that from KL Rahul, most wouldn't be able to even dream of hitting it like that. IND 26/0 in 3.4 overs 
19.14 IST: Rahul played it to the point region. The batsmen have run through for a single. 3 runs from the over. IND 18/0 in 3 overs
19.11 IST: Dropped! That was a dolly. Should have... Should have taken it. In and out straight! Short and wide, Rahul flays it straight to Sadeera Samarawickrama at backward point. He gets low, but the ball pops right out of his hands. Poor, that. Could very well pay for that mistake, Sri Lanka. IND 15/0 in 2.2 overs 
19.09 IST: Some zip off the track, on middle and off, played off the inner half wide of mid on for a quick run. 7 runs from the over. IND 15/0 in 2 overs
19.08 IST: FOUR! Good ball, but that's a seriously good shot. Bit fullish on middle and off, Rahul with a perfectly straight blade punches this straight back down. No point in mid off going after that, he's never going to catch up with it. IND 14/0 in 1.5 overs
Dushmantha Chameera will bowl from the other end.
19.04 IST: FOUR! Rubbish ball! Short, with no pace at all, gives ample time to Rohit Sharma to go back and pull it over wide mid on. Clears the infield with ease and sends it all the way for a boundary. Good over for India.  IND 8/0 in 1 over
19.02 IST: FOUR! That's gone in a flash! A little room outside off, can free his arms so Rohit Sharma flays it over backward point. A couple of bounces and it's away for a boundary. IND 4/0 in 0.3 overs
19.00 IST: Time to play the game! The Indian openers, KL Rahul and Rohit Sharma stride out to open the innings. The stadium is echoing with the chants of Rohit! Rohit! Rohit! The skipper has become a real star now and is loved by one and all. KL Rahul to face first ball. It will be Angelo Mathews to kick-off proceedings. A slip in place. Here we go...
18.56 IST: Time for national anthems. The players from both sides are out in the middle to sing their respective anthems. Excellent crowd has come to watch this contest, in spite of this series being a one-sided affair. They want to watch the home team's dominance, don't they?
Sri Lanka have won the toss and will bowl first. #TeamIndia are unchanged for the 2nd T20I #INDvSL pic.twitter.com/9QTyaIGERH

— BCCI (@BCCI) December 22, 2017
18.45 IST: Teams: 
 India (Playing XI): Rohit Sharma (C), Lokesh Rahul, Shreyas Iyer, MS Dhoni (wk), Manish Pandey, Dinesh Karthik, Hardik Pandya, Kuldeep Yadav, Jaydev Unadkat, Jasprit Bumrah, Yuzvendra Chahal
Sri Lanka (Playing XI): Niroshan Dickwella (wk), Upul Tharanga, Kusal Perera, Angelo Mathews, Sadeera Samarawickrama, Asela Gunaratne, Thisara Perera (C), Chaturanga de Silva, Akila Dananjaya, Dushmantha Chameera, Nuwan Pradeep
18.40 IST: Rohit Sharma says winning the match is the most important thing. Adds what they do on the field matters the most. Feels the conditions are good to bat on and wants to play the way they did in the first game. Continues saying they have to post a good total first and then bowl well later. Emphasizes that every game is important and they don't want to get complacent at any point. States that they want to finish well and end the series on a high. Ends by saying the team is unchanged.
18.35 IST: Thisara Perera says they would like to bowl first. Mentions the boundaries are small so wants to chase. Informs there are two changes - Sadeera Samarawickrama and Chaturanga de Silva are in for Vishwa Fernando and Dasun Shanaka.
18.32 IST: TOSS - Sri Lanka win toss, elect to bowl vs unchanged India in Indore.
18.15 IST: Sri Lanka have an uphill task as they stare at another series defeat unless they change the course of the game with a win today at Indore. With the Indian batsman in hot form, the Lankan bowlers wouldn't like to get hammered the same way they were at Cuttack.
18.10 IST: 
Time for the 2nd T20I to get underway in a few minutes. Hello and welcome to Indore #TeamIndia #INDvSL pic.twitter.com/HwE8BmVEnn

— BCCI (@BCCI) December 22, 2017
18.00 IST: 
1-0 up as #TeamIndia seal the 1st T20I in Cuttack by 93 runs #INDvSL pic.twitter.com/oNKyphLV2p

— BCCI (@BCCI) December 20, 2017
Brief Preview: A dominant Indian team is expected to maintain its stranglehold on a miserable Sri Lanka and wrap up the three-match series when the two mismatched teams face off in the second Twenty20 International at Indore. There seems no end to the woes of the visitors, who slumped to a heavy 93-run defeat in the series-opener in Cuttack. 
While the Indian youngsters have put their hands up to deliver the goods, the Lankans are going through a terrible phase of transition during which they are badly in need of reliable performers. The result has been a lack of contest and one-sided results, prompting many to question the very logic of India playing such a weak side again and again. This series has hardly proved to be a good preparation for the challenging South Africa tour that awaits India next month, considering the home team's domination in the absence of a good opposition in favourable conditions. (Read Full Preview Here)