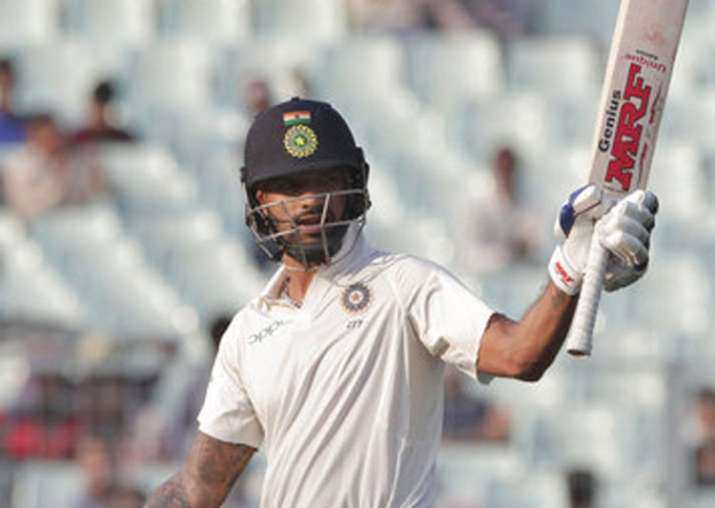 A decent day for both sides. Excellent reply from India. They have won the major part of the day. They started off well but then Herath put them off guard. However, the 166-run opening stand has quelled any further doubts about India being in trouble. Dhawan and Rahul played a perfect game. Not letting anything loose get away and then leaving the odd good ball alone. Rahul went into a shell after getting a half-century while the southpaw accelerated after getting to 50. However, he was unlucky to miss out on a ton.
Sri Lanka took totally different from the side which bowled in the first innings. The track looks flat, the ball is not seaming nor is it turning. The question for India is - do they go for broke against a weak-looking bowling attack and put them under the hammer? Make a sporting declaration with a target of say 200? The Lankans will hope to keep picking wickets tomorrow. None of the bowlers were impressive today and they will hope for some assistance tomorrow. (SCORECARD)
HIGHLIGHTS, INDIA VS SRI LANKA, 1ST TEST, DAY 4 AT KOLKATA
16.51 IST: Interview done, day done, we are done too! Not many thought that this game could go into Day 5 but here we are - Rain and a competitive Sri Lanka have taken the game this far. Draw seems to be the most likely result but in India and in Test cricket, anything is possible. We could see India throw it away in pursuit of quick runs while it could so happen that Sri Lanka might need to see off a session but then get bowled out. Either ways, hopefully, we get an exciting final day's play rather than a dull draw. Do join us at 0915 LOCAL (0345 GMT). Until then, Adios! Take Care!
16.45 IST: SHIKHAR DHAWAN is happy that he scored runs. Disappointed that he missed out on a century but is happy for himself and Rahul and for making a game out of the situation. Praises Sri Lanka for bowling well in the first innings but this time the ball was coming on nicely. Adds that the batsmen just used that to their advantage. Does not want to look too much into the dismissal and says that is the way he plays. On attacking Rangana Herath, he says he knows Herath is going to pitch it up to him and Dhawan backs himself to go over the top. Further says that the pitch is not spinning at all and hence was comfortable hitting him through the line. On the team's lead now and the approach tomorrow, he says that India will aim for a win by giving Sri Lanka a decent target. On reviewing his dismissal, Shikhar says that he did not feel the nick, so he wanted to take a chance.
End of day's play. An entertaining day of Test cricket comes to an end. Sri Lanka 294, #TeamIndia 171/1 in the 2nd innings. S Dhawan 94, KL Rahul 73*, Pujara 2* #INDvSL pic.twitter.com/WiCVoMcUUQ

— BCCI (@BCCI) November 19, 2017
16.35 IST: Official then. Chandimal was going on chatting with the umpires and both the officials are seemingly irritated. Things are heating up a bit and eventually umpire Nigel Llong signals STUMPS ON DAY 4. IND 171/1 in 39.3 overs, lead SL (294) by 49 runs.
16.32 IST: The umpires get together again. AND THE PLAYERS WALK OFF DUE TO BAD LIGHT. Almost opposite scenes as compared to yesterday. Sri Lanka wanted to go off, while Kohli wanted to be on the field. Now, Chandimal wants more balls to be bowled to the new batsman but India are happy to be spending some time in the dressing room.
The light meters are out now. The umpires getting together. Play continues for now. The stadium lights have been switched on.
16.23 IST: Wicket Maiden from Shanaka!  IND 166/1 in 38 overs
CHETESHWAR PUJARA walks in at number 3, replacing Dhawan.
16.18 IST: OUT! There is a nick! Dhawan misses out on a ton. What a decision from Nigel Llong. Hardly was there any noise. That too with the crowd making so much noise. A length ball outside off, Dhawan comes down the track and swings hard but misses. Dickwella collects and appeals while Shanaka seems to be certain he has his man. Llong raises his finger and now Dhawan takes the review. Snikcometer shows a spike. So India lose a review. Perhaps Dhawan might not have felt the nick. Well played though. IND 166/1 in 37.1 overs
16.16 IST: Dhawan caught behind? Dear O Dear! Has he missed his century? He reviews. Tick Tock Tick Tock Tick Tock....
16.15 IST: FOUR! Into the 90s moves Dhawan! Can he get a century tonight itself? The light is fading pretty quickly and won't be surprised if the light meters are out soon. Full and outside off, Dhawan gets down and sweeps it powerfully over mid-wicket and gets a boundary. The lead is 44 now. IND 166/0 in 37 overs
More time waste. Pretty much understandable from Sri Lanka's point of view. They do not want to bowl much today hence taking their own sweet time. More drinks coming in. Umpire Nigel Llong seems to be a patient and considerate man.
16.07 IST: MAIDEN! Defended off the front foot by Dhawan as he presents the full face of the bat. IND 157/0 in 35 overs
15.56 IST: DILRUWAN PERERA is back on. Sri Lanka need some control.
15.55 IST: FOUR! 150 up for India in style. CRASH! Literally toying. Short and down the leg side, Dhawan pulls it to the fine leg fence! 12 from the over, 23 off the last 2! 150 PARTNERSHIP COMES UP. The lead is now 30. IND 152/0 in 32 overs
Drinks are on the field. India's hour entirely. Both the openers have looked commanding and have been hardly troubled by whatever is thrown at them. Sri Lanka would hope for some divine intervention and hope that they have some magic potion in this break. India lead by 18 at the moment.
15.46 IST: SIX! Another one, dismissed from his presence. Herath floats this one around middle, Dhawan gets down and slog-sweeps it over deep mid-wicket for a maximum. My colleague says that he didn't look in control but the result doesn't say so. IND 140/0 in 31 overs
15.37 IST: SIX! What a way to erase the deficit and get into the lead! Herath tosses it around middle and leg, Dhawan, for the umpteenth time, makes use of his feet to get to the pitch of the ball and smashes it high and handsome over long on for half a dozen. The first of the innings. INDIA LEAD BY 4! IND 126/0 in 29 overs
15.30 IST: FOUR! This seems to be the celebratory technique from both these batsmen. Rahul did the same after getting to his fifty and now Dhawan does the same. Only difference being Rahul's shot was all along the ground. Dances down the track and decides to take the aerial route over mid off for one-bounce boundary. The on-field umpires goes upstairs for confirmation and then signals a boundary. IND 116/0 in 27 overs
RANGANA HERATH to bowl now. He has had very little to bowl so far in the game. With the other bowlers failing to exert control, will the veteran stand up again?
15.26 IST: 4th Test fifty for Shikhar Dhawan! Even he has rectified for the first innings failure and is looking good for more. He has looked assured with his footwork and has been cautious with his off side play. This ball - flicked away to deep mid-wicket for a run. IND 110/0 in 26 overs
 15.23 IST: FOUR! Dhawan seems to have ample time as he plays this shot. He could well cook himself a meal and hit that on any day. Perera serves it on a shorter length outside off, the southpaw goes back and plays the square cut to perfection. Earns him a boundary. IND 107/0 in 25.1 overs
Murali Kartik talks about Dilruwan Perera's bowling style. He observes that the latter is very late to get his head up and therefore have a sighter of what the batsman is doing. This makes it tough to see when the batsman is charging down at you. Often bowlers adjust their lengths when they see the batter approach but in Perera's case, it becomes difficult.
15.16 IST: 100 up for India. deficit down to 22! Dhawan flicks it through square leg for a single to bring the 100th run. IND 100/0 in 24 overs
15.09 IST: Not Out! What's worse, Sri Lanka exhaust both their reviews so soon. Perera floats it around middle and leg, Dhawan gets down to sweep but seems to have struck on the front pad. Naturally, Sri Lanka put in a huge shout only to see the umpire as still as a stone. IND 97/0 in 22 overs
15.07 IST: Huge shout for LBW against Dhawan. The umpire shows no interest but the Lankans have risked using their second review so early in the innings. Looks close to the naked eye.
15.04 IST: FOUR! Now Dhawan gets into the act. Lakmal offers him width from round the wicket, Dhawan is too good to miss out. Cuts it past a diving backward point for a boundary. The trail is down to 27 now. IND 95/0 in 21 overs
15.00 IST: FOUR! Now the confidence is glaringly visible. Time and again he has talked about taking a liking to the spinners and with this shot he has just walked the talk. Uses his feet to get to the pitch of the ball and drives it all along the ground through the covers for a boundary. Good to see. IND 90/0 in 20 overs
14.59 IST: There it is. 9th fifty for KL Rahul in his last 11 innings. Gets to his 10th Test fifty with a flick towards deep mid-wicket. He has really looked good. Controlled shots and not getting carried away is the key. IND 85/0 in 19.4 overs, trail SL (294) by 37 runs
14.56 IST: FOUR! Irony! If Rahul was in absolute control of the previous shot, here he is absolutely lucky. Lakmal bowls a straighter line and lands it on a length around off. Rahul's feet go nowhere as he pushes at that from the crease. Fortunately, the inside edge on this occasion takes the ball quickly to the fine leg fence and not onto the stumps. IND 83/0 in 19 overs
14.53 IST: FOUR! He just looks fluid, says Harsha Bhogle on air. That is as apt as it gets. If you see this shot, you'd imagine a liquid flowing on the surface of a table. Fuller outside off, Rahul nicely leans into that and drives it through covers. Gets the result that he desires - a boundary. IND 79/0 in 18.4 overs
14.46 IST: FOUR! Take all the time in the world to set your field, if the bowling is not in the right areas, runs will flow freely. Perera overpitches this outside off, Rahul leans forward and drives it past covers for a boundary. IND 74/0 in 17.1 overs
14.45 IST: The men concerned make their way out to the middle. Rahul and Dhawan stride out refreshed due to the break. The former has got a life courtesy a tough caught and bowled chance that went down off Gamage's bowling. Wickets, wickets and only wickets would be in the visitors' minds. The hosts would want a wicketless hour as a stepping block to a clean session. DILRUWAN PERERA to begin proceedings in this session, with a slip and a short mid on in place. A mid-wicket is in place too.
Welcome back! 41 overs remaining in the day's play, although I would be fibbing if I say it seems a possibility. With pacers bowling most of the overs in the game, the pace has been a touch slow for cricket in the subcontinent.
DAY 4, SESSION 3 ...
14.40 IST: Coming back to the current scene, with Sri Lanka gaining that psychological advantage, one expected them to go for the kill but they were pretty happy to sit back and watch the Indian openers go about collecting those singles. Even the boundaries weren't hard to come by. One would hope that this break would do well for the visitors. Do join us at 1448 local time (0918 GMT) for another grafting session of play.
14.35 IST:  Attritional session of Test cricket. One wouldn't be faulted for believing that this game is being played on an altogether different track suddenly. The Indian openers have largely looked untroubled and have managed to string in a yet-unbroken 50-run stand. They have done well to bring the deficit down to 52 runs. The Lankan seamers have failed to be as menacing as they were in the first innings.
Earlier in the session, the tourists were bowled out for 294, gaining a healthy lead of 122 over the hosts. Herath was the man who provided impetus to the lower order as he enjoyed his midas touch to get to his 3rd Test fifty. For India, Kumar and Shami both ended up picking 4 wickets apiece.
14.30 IST: Dhawan plays inside the line and lets the ball pass safely as it's TEA, DAY 4! IND 70/0 in 17 overs, trail SL (294) by 52 runs.
14.26 IST: FOUR! Caressed! Dhawan is timing those sweetly. Lakmal spears it full outside off, the southpaw drives it through covers for a boundary. IND 70/0 in 16.3 overs
With two minutes to go for Tea, SURANGA LAKMAL is brought in to bowl. Will he make some difference?
14.20 IST: Not Out! What has Chandimal done here? Don't really know whom he consulted before taking the DRS. Perera angles it on the pads, Dhawan looks to flick but the ball goes off the pad to short leg. Sri Lanka seem as excited as you should be for an obvious wicket. On seeing the umpire not agreeing, they take it upstairs. Replays show a whole country between the bat and the ball. As per the protocol, the LBW is also checked and it is seen that the ball pitched outside leg and went further down. Sri Lanka lose, well, waste a review. IND 61/0 in 15.1 overs
14.18 IST: A review taken. Wasted? Maybe. It is for a caught at short leg decision against Dhawan. Seems not out to the naked eye.
14.13 IST: Rahul does well to tap it in front of point and cross over for a run. Don't know why the visitors aren't stopping these easy singles. IND 57/0 in 14 overs
Spin time, with 15 minutes left for Tea. DILRUWAN PERERA it will be. Remember, he got a couple of wickets in the first innings on a track that was much greener then.
14.08 IST: Around off, Rahul turns it through mid-wicket. Poor 'young' Herath runs all the way towards deep mid-wicket in pursuit of the ball but the guy in the deep runs to his left and restricts the runs to just two. 6 runs from the over. IND 54/0 in 13 overs
14.02 IST: Lakmal cannot bowl for another 15 minutes owing to his time off the field. Will have to see how much it affects the Lankans as without him, they are just looking a bit flat.
14.01 IST: FOUR! Trashed! Gamage bowls it outside off, Dhawan bashes it through covers for a boundary. On watching the replays, my colleague opines that it looks like a punch-drive that is so well timed. IND 48/0 in 12 overs
13.57 IST: Dropped! A tough one you have to admit as it was in the followthrough. Gamage bowls it full around off, Rahul drives it back aerially. Lahiru gets his right hand out but fails to catch that. Parries it towards mid off. IND 43/0 in 11.2 overs
13.56 IST: FOUR! Why is there no mid off, Chandimal? The 'V' is pretty empty and the openers are making use of the opportunity to collect runs from that area. This time, Dhawan shimmies down the track and hits it down the track. The ball wastes no time in going to the fence. IND 43/0 in 11 overs
13.52 IST: Full ball around off, driven nicely by Dhawan to the man stationed at cover. IND 36/0 in 10 overs
Suranga Lakmal is seen walking back into the field.
13.47 IST: Huge appeal, turned down! Shanaka bowls it on a length outside off, in fact very much outside off. KL Rahul walks across and decides to shoulder arms. The ball moves in a bit to rap him on the front pad. The Lankans put in a huge appeal but to no avail. They think for sometime about taking the review. Interesting that the bowler and the keeper didn't brush off the thought immediately. The Hawk Eye shows that the ball wouldn't have been even near the stumps. Thank goodness better sense prevailed in the end. IND‌ 34/0 in 9 overs
13.45 IST: Nigel Llong has just given a friendly warning to Gamage for treading on the danger area on the pitch. It's the third innings of the game and time that the umpires will start getting fidgety about these things.
13.42 IST: This delivery is blocked off the front foot by Rahul onto the ground. IND 33/0 in 8 overs
13.40 IST: FOUR! Rahul looks elegant when he gets going. Gamage hurls it on a length outside off, the batsman gets nicely forward and drives it through point for a boundary. IND 33/0 in 7.4 overs
13.36 IST: Dhawan seems good with his back foot punches so far. Plays this one through covers for a brace. IND 29/0 in 7 overs
A short mid-wicket comes in now. Maybe plugging the areas from where the batsmen got runs... Ball following?
13.27 IST: A slight misfield but no harm done. Dhawan punches this towards covers, where the fielder gets a bad bounce and lets it through. Chandimal from mid off gets across soon enough to prevent a run. IND 23/0 in 5 overs
Dasun Shanaka is brought into the attack. Surprising move actually, unless a change of ends might be the idea. In fact, Lakmal is out of the field. Not sure what the issue is.
13.23 IST: FOUR! Authoritative! Gamage offers a short ball just outside off at 121 kmph. Dhawan camps on his back foot and pulls it through mid-wicket for a boundary. IND 22/0 in 4 overs 
13.16 IST: FOUR! Shikhar Dhawan gets going with a boundary now. Lakmal serves it on a fuller length outside off, the southpaw gets a stride forward and drives it through covers. The fielder there gives a valiant chase but comes second best. IND 17/0 in 3 overs
13.12 IST: FOUR! Third one in the over. Gamage had been given this end in the first innings and he largely struggled from here. Again he doesn't seem entirely at ease and is leaking runs. Hurls in another full ball outside off, Rahul gets his stride forward and drives it through covers, beating the man there to his left. The ball races away to the fence. 12 off this over. Rahul and India are off to a fluent start. IND 13/0 in 2 overs
13.11 IST: FOUR! And another one. Two-in-two. Gamage, in search of some swing, bowls it full again around off. Rahul just times his push past mid off perfectly. There was no one manning that area and a boundary results.  IND 9/0 in 1.3 overs
13.10 IST: FOUR! This is what a full-flow Rahul can do. Play classical shots and get runs. Overpitched outside off, KL leans into it and drives it classically through covers. IND 5/0 in 1.2 overs
LAHIRU GAMAGE to share the new ball from the other end. Three slips in place. They had four in the first innings when they began.
13.08 IST: This ball is defended from within the crease. A decent start from the seamer. Just a single from the over. IND 1/0 in 1 over
13.04 IST: KL Rahul survives the first ball! Lakmal steams in from over the wicket and lands it on a length around off and middle. KL stays put in the crease and defends it with a straight bat.
13.01 IST: Not a bad passage of play for Sri Lanka again. 31 runs since Lunch in less than 10 overs. Swelling the lead close to a quarter past 100.
How will India respond? Will they go after the bowling and try to knock off the deficit as soon as they can? Try and see whether a competitive target can still be set? Or is it safety first and get some batting practice? The answer is around the corner. Sri Lanka well, of course, will be hoping for wickets... stay tuned.
12.56 IST: 
Innings Break - Sri Lanka finish their first innings on 294 with a lead of 122 runs #INDvSL pic.twitter.com/FnW7l5QvI9

— BCCI (@BCCI) November 19, 2017
12.55 IST: OUT! Knocked him over! The Lankan innings ends at least. Not surprising as to what happened with Lakmal. He had complete freedom to try and get a century in 30 balls and he was going after everything. The ball was slightly short of full and outside off. Lakmal through his bat at it but his feet were stuck in cement. Normally the feet should move, unless you have luck like Herath's. Else, the ball generally tends to either beat the edge or take it. This time it went off the inside edge and knocked the off pole. SL all-out for 294, lead IND (172) by 122 runs.
12.51 IST: FOUR!  More runs. Full and wide outside off, Lakmal looks to drive but gets a thick outside edge. It goes all along the ground past third slip and races to the fence.. SL 294/9 in 83.1 overs
LAHIRU GAMAGE is the last man in. How long will this partnership last?
12.48 IST: OUT! The contract is over. Herath has been dismissed and his luck has run out. A short ball outside off, Herath places it nicely over point. For once, India have fielders in positions where the ball can travel. Mohammed Shami does not have to do much and takes the catch with ease. Virat Kohli eggs the crowd on and pumps his fists. But... in reality, he will be disappointed with what has transpired in this match so far. A terrific 67 from Herath and another crucial stand of 46 come to a close. Sri Lanka are effectively 118/9. Well played, sir SL 290/9 in 82.3 overs
12.45 IST: FOUR! Another slice of luck. A bouncer, around middle and off, Herath thinks to hook but then tries to bail out of the shot. The ball takes the top edge and flies over the keeper to the fine leg fence! SL 290/8 in 82 overs
12.41 IST: FOUR OVERTHROWS! Things happening. In fact, many things. A short ball, Herath, with confidence as high as the sun currently on the sky in Eden Gardens, pulls it with brute force. The timing is so good that the ball travels like a rocket but straight to another rocket - namely Jadeja. He collects it on the bounce and then quickly sees that Lakmal is in his own bus, looking for a single. Herath is smart to understand that his timing is so good that he will not get a single and sends Lakmal back. He puts in a tumbling dive but Jadeja's throw misses the stumps. There is more. Ravichandran Ashwin is backing up but he puts in a very, very, very lazy effort to his right. Just like we slide onto the bed when we get tired. The ball goes through and reaches the fence. That is the third time that an overthrow has resulted in a boundary this innings. Shami is not happy while Kohli is furious. SL 285/8 in 81.1 overs
MOHAMMED SHAMI to bowl now.
12.33 IST: FOUR! What a shot. He is just batting on another planet. Banged in short, outside off, Herath pulls it through mid-wicket and beats the fielder running to his right in the deep. The stand is worth 33 now... SL 278/8 in 80 overs
12.27 IST: FOUR! FABULOUS! Third Test Fifty for Herath! And I daresay, this could be one of his most important knocks. He has done an outstanding job again, this time with the bat. Gets a half volley and drives it through the covers for a boundary. What has been impressive is his strike rate as well. Kept India on the back foot and now the LEAD CROSSES THE 100-MARK. SL 273/8 in 78 overs
12.23 IST: CLOSE! Lady Luck seems to have made a booking with Herath today. Whatever he is doing, it is paying off. The ball is landed outside off and Herath goes back to cut. But the ball cramps him for room, takes the inside edge. However, it misses the stumps. On another day, he would have chopped it on. A single taken. SL 268/8 in 77 overs
12.19 IST: Outside off, fuller and inviting, Herath slashes but misses. Ashwin now has Lakmal on strike from the very first ball. SL 266/8 in 76 overs
UMESH YADAV to share the attack with Ashwin.
12.14 IST: There comes that sweep shot, a bit aerial but wide of the man at short mid-wicket. There is a man at deep square leg and but the time he gets to the ball, two runs are taken. The stand is now worth 21 from 33 balls.  SL 265/8 in 75 overs
12.10 IST: The players are back out in the middle. It will be RAVICHANDRAN ASHWIN to continue after Lunch. Herath to face.
Welcome back after a fine opening session. There was aggression, some drama and then a counter-punch. All that has seen Sri Lanka take the momentum away from India and in likelihood, steered themselves to safety. Hard to see them losing from here unless they collapse very badly in the fourth innings. On the other hand, if they add another 40-50 runs, they could start dreaming about that rare Test win in India...
DAY 4, SESSION 2 ...
11.40 IST: How well has Herath played? Only this morning the great Sunny Gavaskar was comparing him with Ravindra Jadeja in terms of bowling and batting and boy, has he respected his words or what! He has faced 67 balls but his counter-attacking 43 has kept the Indians at bay and Kohli thinking. Not that they have not done well but plenty of edges went past the slips. Midas Herath has ridden his luck.
11.37 IST: India started off the day in tremendous fashion, taking three wickets in the space of 10 overs. Sri Lanka were reeling at 201/7 with the lead reading 29. Dilruwan was then adjudged LBW but he took a controversial review, after getting a signal from the dressing room. That hurt India as he stuck at the crease along with Herath, adding a crucial 43 which halted India's momentum.
What an exciting session of play! 28.2 overs, 98/4. Sri Lanka have managed to gain some ascendancy in this match. The momentum has been swinging like a pendulum but as of now, they will be the happier side heading into the break.  
11.35 IST: 
At Lunch on Day 4 of the 1st Test, Sri Lanka 263/8, lead India (172) by 91 runs #INDvSL pic.twitter.com/A059gP54py

— BCCI (@BCCI) November 19, 2017
11.33 IST: FOUR! Lucky Herath again. Short and wide outside off, Herath flashes hard but gets a top edge. Luckily for him, it flies over the slips to the third man fence. SL 263/8 in 74 overs
11.28 IST: MAIDEN from Ashwin! SL 254/8 in 73 overs
Time for Ravichandran Ashwin to roll his arm over.
11.25 IST: FOUR! 250 up for the visitors. Another short one from Bhuvneshwar, Lakmal has a good retort. Slams the pull away, uppishly through the mid-wicket region for a four. SL 254/8 in 72 overs
11.20 IST: SL 249/8 in 71 overs
11.15 IST: RUN OUT CHANCE MISSED! Herath continues his charmed life. A couple of events on this ball. First he gets a short ball which has not been troubling him at all this innings. Pulls it comfortably through mid-wicket and all the way through, it seems like a boundary is written all over it. However, Ravindra Jadeja chases it like a cheetah chasing its prey, from mid-wicket to his right. He sticks out his right hand and then pushes the ball away. Gets across the boundary rope and then recovers to come back in. Picks the ball up and has a rocket-like shy at the striker's end. Poor Rangana, he is just halfway through for the second run when the throw is coming in. The keeper gets ready for the catch and Herath seems to be a goner. But Saha fumbles. Jadeja is furious. SL 247/8 in 70 overs
SURANGA LAKMAL walks in at number 10, replacing Dilruwan. 20 minutes to go for the scheduled lunch break.10 minutes of Lankan batting will ensure India do not bat before the break. Can the Lankans take the lead to 100?
11.10 IST: OUT! Caught behind! That is a jaffa. Could have got out any quality batsman. Shami lands this on a length in the corridor of uncertainty and that makes Dilruwan play at that. He does not do much wrong, gets behind the line of the ball to defend but then that cherry moves just that shade away - just perhaps 0.1 percent and takes the outside edge to Saha. More movement could have perhaps saved him. India appeal and the umpire raises his finger. No review from Dilruwan this time. End of a stubborn innings but a very crucial stand. Sri Lanka now lead by 72. SL 244/8 in 69 overs
11.04 IST: STOP THE PRESS. Dilruwan scores. He faced 13 dots on the trot before this. Moves to 3 from 31 balls now. Dogged effort. Outside off, steered behind point for a single. SL 240/7 in 68 overs 
Change of gloves for Rangana Herath. Kolkata is usually pretty humid, so there will be sweat. Add to it, the sun has been shining on the ground and the Lankans so far.
11.00 IST: Outside off by Shami, Herath plays it behind point for a single. SL 238/7 in 67 overs
Isn't Dilruwan supposed to be a better batsman than Herath? This seems like Rangana is batting with the tail! No guesses that Dilruwan is struggling but perhaps he is trying to survive for Herath.
10.56 IST: MAIDEN! Another play and a miss. A length ball outside off, Perera pushes but misses. SL 237/7 in 66 overs
10.52 IST: BHUVNESHWAR KUMAR gets the ball back as well. India need to wrap this up quickly. The runs are coming thick and fast.
10.51 IST: FOUR! Outstanding timing! A full toss, swinging in from outside off, Herath does two things in one go. First he counters the swing by getting his bat down in time and then manages to push it through the covers. Finds the gap and boundary. Herath is now 30 from 45 balls. 5 boundaries in that. SL 237/7 in 65 overs
10.48 IST: FOUR! That is a terrific shot. Banged in short around off, Herath, who has not been troubled much by that length today, pulls it wide of mid on for a boundary. The lead is now 61, the stand moves to 32! SL 233/7 in 64.3 overs
MOHAMMED SHAMI is back on.
10.45 IST: FOUR BYES! Useful runs for Sri Lanka. Actually, that should have been siganlled wide. It was pitched around leg and outside from around the wicket, Herath had no interest in playing at that and then the ball deviates further down. Poor Saha has no chance even with a dive.  SL 229/7 in 64 overs
No idea as to why Kohli bowled that over. All thought it might have been a change of ends for Umesh or Jadeja.
10.41 IST: FOUR! THE LEAD CROSSES 50! A friendly full toss on offer, on the pads, Herath just flicks it through squarish mid-wicket. Lokesh Rahul starts to give it a chase from fine leg but the timing of that shot beats him. The stand is worth 23 now. Herath is on 20! SL 224/7 in 63 overs
Interesting. Virat Kohli is bowling! The crowd notices that and starts to cheer...
10.38 IST: TOP EDGE, SAFE! Luck is with Rangana. A length ball, around off, Herath goes for the pull but gets a top edge. There is a possibility of a catch but Cheteshwar Pujara cannot get to it from deep mid-wicket. Simon Doull notices an interesting thing. He observes that Pujara is wearing his shin pads beneath his trousers. Now, that will definitely affect the speed, won't it? Perhaps Pujara could have keep somewhere close by. A single taken. SL 219/7 in 62 overs
10.34 IST: Outside off, Herath played through point for a single. SL 218/7 in 61 overs
Ravindra Jadeja comes into bowl. Good call, considering he does well on tracks where there is variable bounce.
Time for Drinks! Although India have managed to pick up three wickets in this hour, Sri Lanka have clawed ahead to a 45-run lead. India could have had Perera's scalp as well if not for a potentially controversial review. The visitors would look to swell the lead to as much as they can and the hosts would look to avoid just that.
10.25 IST: FOUR! Short, wide, punished. Yadav gives Herath ample room outside off, the latter doesn't think twice before freeing his arms. Gets it through cover-point for a boundary. Hard to understand why Kohli doesn't have a man to man that region considering the number of boundaries that we have seen today through there. SL 214/7 in 59.3 overs
 Umesh Yadav to roll his arm over now. Yesterday he seemed to lack control and so it would be interesting to see if he manages to do so, like Kumar and Shami have done so far. Now Shami is seen walking off the field for some reason. Deserving break considering he has bowled his heart out.
10.22 IST: The batsman was beaten and missed the line of the delivery. Just a single from the over. SL 210/7 in 59 overs
10.18 IST: Perera gets on the front foot and blocks it solidly. 1 run from the over. SL 209/7 in 58 overs
10.14 IST: Not Out! Better late than never, goes the saying and it is apt in this scenario. Shami spears it on a length outside off, the ball comes in after pitching. Perera plays for the initial line and dails to account for the inward movement. The ball strikes him on the back pad. The Indians are pretty sure and begin celebrating while appealing. The umpire answers in the affirmative. Perera has a look at Herath and walks back without thinking about DRS. Strangely, he decides to take the review and turns around and makes the 'T' sign. Replays roll in. Hawk Eye shows that the impact is outside off and since he was offering a shot there, he is saved. A good use of the review one can say. But further replays show that he actually looked in the direction of the dressing room before opting to review. Now this isn't in the spirit of the game. But the Indians and the umpires seem to have missed this. Perera survives and is ready to carry on. SL 208/7 in 57 overs
Perera's a dead duck! He seems to be struck right in front of the stumps and he feels so too. Yet he opts to belatedly take the review.
10.08 IST: Confidence? Nonchalance? Cluelessness? Whatever you call it, that's something Herath can avoid. Kumar bowls it full just outside off, Herath looks to flick it away from the crease but misses. Again the ball passes close to the bat. SL 207/7 in 56 overs
10.04 IST: FOUR! Sri Lanka's batsmen would now have realised that there are boundaries for the taking if you play it around Ashwin. Fuller delivery around middle and leg, Herath clips it through mid-wicket. Being fair to Ashwin, this was really well-timed. The ball races away to the fence. SL 206/7 in 55.2 overs
10.03 IST: Herath gets a leading edge through covers as he looks to flick it away. One run taken. He's off the mark with that. SL 202/7 in 55 overs
The ageless wonder Rangana Herath strides out to the centre.
10.00 IST: OUT! Gone this time! The ball doesn't fail to miss the edge of the bat this time and the Indians are hopping in joy as if small kids have been handed chocolates in plenty. Shami serves it full outside off and it swings away further. Chandimal looks to drive that but only manages a nick to Saha who doesn't make any mistake. Sri Lanka's batsmen are walking to the dressing room like children in a school. The lead still 29. SL 201/7 in 54.2 overs
09.56 IST: Dilruwan Perera walks to the middle at the fall of the 6th wicket.
09.55 IST: OUT! Yes he is gone! Plumb as it gets. Often one brings two and here's the second! Kumar serves an inswinging length ball just outside off. Shanaka doesn't anticipate it in so much and opts to let that go by shouldering his arms. The ball comes in and he gets hit on the knee-roll. The Indians go up in unison. The umpire takes ages to raise that dreaded finger. Dasun takes the DRS straightaway. Since he wasn't offering a shot, the impact was never a question. Hawk Eye shows the ball to be clipping the top of middle. That signs Shanaka's fate although they don't lose the review. SL 201/6 in 53.3 overs
09.54 IST: Is he a goner? Shanaka is pinned right in front of the sticks. The umpire upholds the appeal but he chooses to take the DRS. Only the height can save him.
09.51 IST: All-rounder Dasun Shanaka is the next man in for Sri Lanka. This is a good time for him to get some confidence in Test match cricket as the Indians are on the back foot and it could be easier to score.
09.49 IST: OUT! Mohammed Shami gets India the breakthrough. Dickwella gets tentative this one time and that ends his breezy knock today. Shami lands it on a length around off, from over the wicket. Dickwella plays inside the line anticipating some inward movement. But there wasn't any. The ball takes the thick outside edge and goes to Kohli at second slip who takes it reverse-cupped right in front of his face. Replays show that the batter playing it with an angled bat let him down. Sri Lanka have lost half their side and are effectively 28/5.  SL 200/5 in 53 overs
09.47 IST: FOUR! 200 up for Sri Lanka! And there's that boundary that Sri Lanka are scoring almost every over. This is short, this is wide. Dickwella is too good to miss out on such opportunities. Slaps it through point for a boundary. SL 200/4 in 52.3 overs
09.43 IST: FOUR! Beautifully driven. Chandimal has been beaten by Kumar on numerous occasions yet he hasn't let that affect him. Gets to the pitch of the ball and bisects the small gap between mid off and covers. It is so well timed that the ball speeds away to the fence. SL 196/4 in 51.4 overs
50-run stand between Chandimal and Dickwella.
09.41 IST: FOUR! Dickwella goes aerial and connects. His plan to unsettle the Indian seamers early in the day seems to be working so far. Kumar bowls it full around middle and leg, the keeper-batsman just lifts it over wide mid-on. The ball goes to the fence on a couple of bounces. SL 187/4 in 51.1 overs
09.37 IST: FOUR! Sometimes, the fielder chasing the ball can reveal the result of the shot. Speared around off and middle, Chandimal flicks it through mid-wicket. Ashwin from mid on runs after it but he knows it is well timed and hence gives up the chase. SL 183/4 in 50.3 overs
09.35 IST: Edged but runs. Such has been Sri Lanka's luck that the edges aren't going to hand. This one goes past the slip cordon and Niroshan gets another brace. SL 179/4 in 50 overs
09.30 IST: That takes Sri Lanka into the lead. Shortish delivery, Dickwella pulls it to the man at deep mid-wicket for a single. SL 173/4 in 49 overs
09.27 IST: FOUR! More timing than power and placement. Shami angles it in on a length around off. Dickwella just whips it uppishly over mid-wicket. The ball has enough legs to roll to the fence. Scores level now. SL 172/4 in 48.2 overs
09.25 IST: MAIDEN! This ball is blocked by Chandimal showing the full face of the bat.  SL 168/4 in 48 overs
09.23 IST: Kumar is making the ball talk early in the day. Bowls it just around off, the ball moves away after pitching. Chandimal is forced to play at that but the movement means that the ball almost kisses the edge of the bat. Excellent stuff. SL 168/4 in 47.3 overs
Now three slips and a gully in place for Chandimal. Probably this is keeping in mind his habit of slashing away from his body at times.
09.21 IST: Dickwella isn't in control of the pull shot yet gets away with that one. Shami runs in from round the wicket and bangs it short around off. Niroshan stays in his crease and gets a top edge towards deep backward square leg. A run is all he gets. SL 168/4 in 47 overs
Good News! A fit and fine Mohammed Shami to bowl from the other end. Two slips and two gullies in place for him.
09.17 IST: Bhuvi comes around the wicket and spears it on a length outside off. Dickwella covers the sticks and points his bat skywards as he lets it go. SL 165/4 in 46 overs
09.15 IST: David Boon rings the bell today at the Eden Gardens to signal the start of the day today. The players and the umpires stride out to the middle, with the sun beating on them. There has been a pattern in the game so far - that of bowler's beginning the day with the pending over. Bhuvneshwar Kumar will do so today. Niroshan Dickwella will be facing him first up while Dinesh Chandimal is at the other end.
09.12 IST: 
The huddle talk ahead of Day 4 #INDvSL pic.twitter.com/BIOBzkvx83

— BCCI (@BCCI) November 19, 2017
09.10 IST: Sri Lanka have to owe their position in the game largely due to the 99-run stand between Lahiru Thirimanne and Angelo Mathews. Both of them should have got to their centuries. While the former got a difficult delivery which he couldn't negotiate, the latter would be deemed guilty of throwing it away. Now Dickwella and the skipper Chandimal have started well and would look to extend their stand in a bid to put the game beyond the hosts.
09.04 IST: Murali Kartik has a chat with Umesh Yadav before the day's play, who states that India's plan is to not give away easy runs. They will look to put pressure on Sri Lankan batsmen and then watch how they go about it. He is of the opinion that the bowlers could get some help early in the morning.
08.56 IST: Pitch Report - Sunil Gavaskar says that the Sri Lankan batsmen showed good application as they put pressure on the Indians from the start. Lauds Thirimanne and Mathews for their innings. Feels that the first 30-45 minutes could be crucial and Chandimal will have to counter that phase. Simon Doull observes that the track looks brown in colour, a significant departure from the green tinge for the first three days. Reckons that it could be pretty good for batting. Opines that a couple of quick wickets in the first hour could help India's cause.
08.45 IST: India's pattern under Kohli points to some things which could provide some assistance in reading this game. In the 28 games that he has led India before this, the side has conceded lead 5 times and haven't gone on to win even once. In fact, they have lost thrice in such a scenario. So that makes it even more interesting to keenly watch the proceedings today. I'm sure you wouldn't want to miss the action on this moving day. 
08.35 IST: 
Hello and welcome to Day 4 of the 1st Test here at Eden Gardens #INDvSL pic.twitter.com/yymezbTkep

— BCCI (@BCCI) November 19, 2017
08.20 IST: 
That's it from Day 3. The play has been called off earlier than normal due to bad light. India 172, Sri Lanka 165/4 with U Yadav & B Kumar bagging two each #INDvSL pic.twitter.com/TTq0Bazhor

— BCCI (@BCCI) November 18, 2017
Brief Preview: Sri Lanka reached 165/4 in its first innings to trail India by only seven runs at stumps Saturday on Day 3 of the first Test at Eden Gardens, Kolkata. Bad light forced an early end just after 4 p.m. local time with 24.2 overs remaining. Dinesh Chandimal was unbeaten on 13, while Niroshan Dickwella was 14 not out. 
India was earlier bowled out for 172 runs in its first innings of the three-Test series. The hosts lost their last five wickets in the morning session as bad weather that had washed out most of the first two days finally gave way to sunshine. Sri Lanka reached tea at 113/2 and Lahiru Thirimanne (51) and Angelo Mathews (52) extended their third-wicket partnership after the interval to 99 runs. Thirimanne reached his fifth test half-century off 86 balls. (Read Full Day 3 Report)