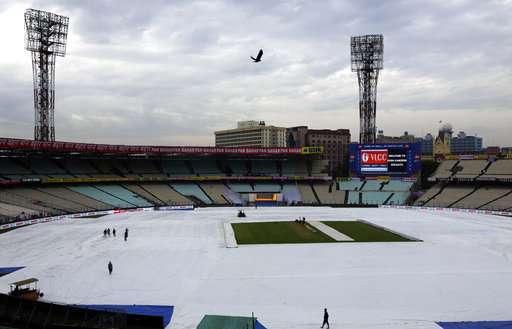 The hosts would count themselves fortunate to have got away with this as rain once again played spoilsport for the second consecutive day. The game is heading towards a draw as close to two days had been washed out. In the limited time for which play was possible, Sri Lanka's seam bowlers continued to make life tough for the Indian batters. If Day 1 belonged to Lakmal, Friday it was Dasun Shanaka who snaffled the two wickets to fall in the day. Like yesterday, Pujara is still unbeaten, holding one end up. Hopefully, tomorrow is a better day with respect to the weather. Do join us then at 0915 local time (0345 GMT) for what could be a longer day. Till then, adios, take care!. (SCORECARD)
HIGHLIGHTS, INDIA VS SRI LANKA, 1ST TEST, DAY 2 at KOLKATA
14.45 IST: 
That's all folks. No more play possible due to the rains here in Kolkata. #TeamIndia 74/5 at the end of Day 2 #INDvSL pic.twitter.com/DvDaQQMyYt

— BCCI (@BCCI) November 17, 2017
​
14.40 IST: That's it for the day today. It's STUMPS, DAY 2! Something that the farmers look forward to but not the cricket stakeholders has ensured that there is no further play in the day today after the tourists had the hosts on the mat. India would count themselves fortunate to have got away with this. In fact, close to two days getting washed out could mean that the game could head towards a draw.
In the limited time for which play was possible, Sri Lanka's seam bowlers continued to make life tough for the Indian batters. If yesterday it was Lakmal, today it was Shanaka who snaffled the two wickets to fall in the day. Like yesterday Pujara is still unbeaten, holding one end up. Hopefully, tomorrow is a better day with respect to the weather. Do join us then at 0915 local time (0345 GMT) for what could be a longer day. Till then, adios, take care!
14.30 IST: This is the scheduled time for TEA, DAY 2! The whole of Sri Lanka may be saying 'rain, rain, go away,' but the Kolkata rain just refuses to relent. It's continuing to shower heavily and believe me, it's very dark out there. Without looking at the watch, you wouldn't be defaulted for believing it to be night there.
14.10 IST: The drizzle is still on keeping the groundsmen away from performing their duties. The tea break might not be far away either.
13.10 IST: There's no great improvement in the weather as such. The super soppers are moping the water accumulated on the covers. It is pretty gloomy out there. Unless the light improves drastically, there's hardly any chance of play resuming once again.
12.40 IST: The drizzle is still on, it isn't heavy though at the moment. The super soppers are in operation as the cleaning process continues.
12.10 IST: 
Under wraps the Eden Gardens post lunch #INDvSL pic.twitter.com/fxS8MZuW5a

— BCCI (@BCCI) November 17, 2017
12.07 IST: The rain continues to pour down at the Eden Gardens and I'm afraid it threatens to eat away most of today's play as well. Not sure if Sri Lanka would be really happy with this considering their position in the game. Knowing Kohli though, he wouldn't have minded India continuing the fight as he isn't someone who likes to let go without a fight. The weather forecast is as dark as the climate in Kolkata. Stay with us for further updates.
12:00 IST: Not good signs for the cricket fans as the post-lunch session is far away from any kind of a restart. It is raining heavily here in Kolkata and the entire ground has been covered.
It's an early lunch at the Eden Gardens with India on 74/5 (Pujara 47*, Saha 6*) https://t.co/ln05So6Mox #INDvSL pic.twitter.com/gskupV9D73

— BCCI (@BCCI) November 17, 2017
11.25 IST: Lakmal found good support today from Gamage and Shanaka. All the three bowled nagging lines and lengths. Shanaka, especially, was consciously trying to bowl fuller lengths in a bid to exert whatever aid the track is providing. That he banged a couple of deliveries short took the batsmen by surprise. The visitors will want to come back with the same vigor and deal some more crucial blows. For India, this break should give them time to do some soul-searching. They'll want to keep the Sri Lankans at bay for as far as possible. Do join us at 1200 IST for the second session.
11.20 IST: So that's LUNCH, DAY 2! It has been Sri Lanka all the way. They have been successful in inflicting misery on the hosts. Rahane was the first to depart after looking fidgety for a while. Ashwin too failed to spend considerable time at the crease before departing too a very loose shot, something that he could have done away without. Pujara is the only one standing between the tourists and an Indian batting collapse. He has largely looked untroubled which bodes well for India, who are in a mush.
11.03 IST: 
UPDATE - Play has been interrupted due to rain #INDvSL

— BCCI (@BCCI) November 17, 2017
11.01 IST: Oh dear... it's here... the thing that we didn't really want... the rain! It isn't too heavy at the moment but enough to force the players off. The covers are called on the field and the pitch and the central area are covered long before we realise. Such swift work, I say.
Sunil Gavaskar observes that the a couple of wickets that have fallen today are as a result of the batsmen going at the ball. He opines that on such a track, the batsmen should let the ball come to them rather than rushing towards the ball.
10.56 IST: That's a good effort by Gamage, considering the fact that he's bowling from the other end. Dimuth strays on the pads yet again and Pujara clips it fine. Lahiru rushes to his right, puts in the dive and keeps the batters down to two. 12 off this over, an expensive one given the conditions. IND 73/5 in 32 overs
10.55 IST: FOUR! Now Saha gets into the act. Gets off the mark with a boundary. Karunaratne bowls it on a shorter length around off, Saha goes back and punches it through point. The ball speeds away to the fence. IND 70/5 in 31.4 overs
10.53 IST: FOUR! Tripe! Pujara isn't someone who will let a freebie pass by especially when he is set. Karunaratne, at his pace, cannot imagine himself to be a Steyn. He does so and bangs it short. Pujara has ample time to go back and pull it through deep mid-wicket for a boundary. IND 65/4 in 31.1 overs
10.52 IST: A leg cutter outside off from Gamage, Saha pokes his bat at that but misses. IND 61/5 om 31 overs
Slight drizzle... Hopefully not heavy enough to force the players off. But the umbrellas in the stands open up, cautioning the groundsmen who might have dozed off, maybe.
10.48 IST: This ball is punched off the back foot from Saha towards covers. 5 runs from Karunaratne's over. IND 60/5 in 30 overs
10.44 IST: FOUR! After countering all the better bowlers early on, this is a gift for Pujara. Short and wide outside off, Pujara goes back and slaps it powerfully through covers for a boundary. IND 59/4 in 29.1 overs
Dimuth Karunaratne comes on to bowl. A medium pace bowler, will he be able to generate the assistance that the others have generated? A couple of slips, a gully and a short mid-wicket in place.
10.43 IST: Shanaka bends his back and bowls it on a back of a length. The pitch aids him with some extra bounce. Saha looks to block it but it strikes him on his fingers before dying down. That must have hurt. IND 55/4 in 29 overs
10.38 IST: MAIDEN! Full outside off from Shanaka, Saha crouches low to cover his stumps and then shoulders arms to let that go. IND 54/5 in 28 overs
10.33 IST: FOUR! Learn it from Cheteshwar Pujara! Of all the batsmen who have played so far, he has really looked solid out there. Perhaps the county experience helping him more in India! Whatever is the case, he's countering it well. Full length ball outside off, he leans into the shot and drives it through wide mid off for a boundary. IND 54/5 in 27 overs 
Drinks are on the field now. India continue to slip further and barring Pujara nobody seems to be up there for a fight. The Lankan bowlers' consistent lines and lengths have reaped rewards and have helped in rocking India back. Wriddhiman Saha walks out to bat now. These are home conditions for him as he is the local player.
10.26 IST: OUT! Mind games are a thing in the sport and it shows. Shanaka created some doubts by banging an odd delivery short and also copped a blow to Ashwin. Here Ashwin was hanging on the back foot and sensing that Dasun hurls in a fuller delivery around off. Ashwin looks to drive it and gets it off the outer half straight to Karunaratne at backward point who makes no mistake. The umpires check for the front foot no-ball but the bowler is just fine there. So, his persistence with fuller deliveries has again reaped rewards. Though this is a poor shot from the no.6. He played away from the body and that has brought his downfall. He walks away with a forlorn face but he is himself to be blamed here. India slip further, half the side back in the hut. IND 50/5 in 26 overs
10.25 IST: 50 UP FOR INDIA! Angled in to the batsman, Pujara tucks it through backward square leg and takes a run. Herath runs there from mid-wicket and keeps it down to just one. IND 50/4 in 25.4 overs
10.22 IST: FOUR! Beautifully played that! Fuller delivery outside off, Pujara gets a small stride forward and just caresses it through covers. There's no stopping that. IND 49/4 in 25.1 overs
10.21 IST: MAIDEN! Lahiru angles this into the batsman, Ashwin pushes it to mid on. IND 45/4 in 25 overs
The physio is out there. He uses the magic spray on the injured part and Ashwin looks good to go now.
10.17 IST: Ouch! That's nasty and Ashwin looks to be in some pain here. Gamage bangs it short around off, Ashwin looks to hop and punch it away. Finds that the bounce is too steep to do so and looks to withdraw his bat but is late in doing so. Cops a blow on his right thumb. The ball looks to roll over to the stumps but Ash is alert to the situation and kicks it away with his right foot. IND 45/4 in 24.2 overs
10.14 IST: Four Byes! Look at the amount of inswing on that. Shanaka delivers it around middle and leg and the ball goes down the leg. It moves more and beats the dive from the keeper after beating Pujara who looks to flick it. Runs away to the fine leg fence. IND 45/4 in 24 overs
10.10 IST: There's certainly something in this end. Gamage bowls it on a length outside off, the ball nips away after pitching. Ashwin plays inside the line to end the over. IND 41/4 in 23 overs
Bowling change. Lahriu Gamage is brought back on. Can he maintain the intensity that Lakmal did from this end?
10.06 IST: Bad news on the way... There's a light drizzle there and that's enough to set the ground staff up and running to get to their positions, just in case.
10.05 IST: Here's another lovely delivery! Shanaka bowls it with a scrambled seam on a length around middle. The ball straightens after pitching. Ashwin looks to block it from the crease but gets squared up and ends up missing it. The ball wasn't too far from the outer edge of the bat there. Ashwin knows he has had a close shave there. IND 40/4 in 22 overs
10.00 IST: MAIDEN from Lakmal! No Ashwin, that's not how you play in such a situation! He has a wild slash at a length ball well outside off. The ball just misses the edge of the bat. Another good over by Suranga. IND 39/4 in 21 overs 
09.55 IST: Full delivery outside off from Shanaka, Pujara drives it yet again. Gets it straight to the man at mid off this time. There was nobody there earlier, which made it simpler for Che to pick boundaries through that region. IND 39/4 in 20 overs
09.52 IST: FOUR! Aah! Glorious! It seems Pujara is batting in altogether different conditions than the other Indian batsmen. Shanaka serves a full delivery around off, Pujara drives it through mid off for a boundary. Replays show that he got it off the inner half as he looked to go a bit more towards covers. IND 39/4 in 19.1 overs
09.51 IST: Lakmal is bowling really good lines here. He lands this on a fuller length around off, Ashwin presents a full face of the bat as he plays it towards point. IND 35/4 in 19 overs
09.47 IST: FOUR! That's a lollypop, says Sanjay Manjrekar on-air about this ball! IND 34/4 in 18 overs
09.44 IST: OUT! Shanaka strikes to end Rahane's misery. All through this morning, Rahane didn't look comfortable against the moving ball. So much so that he was troubled even by the ones that didn't move. This was a fuller delivery swinging away just a bit. Rahane looks to drive it away from the body. The extra bounce on that means that all he manages to do is get a thin edge to that which is happily gobbled by Dickwella. The Lankans are ecstatic and why not! India in deep trouble here. IND 30/4 in 17.2 overs
Pujara has some disturbance with the sightscreen. Hence Lakmal had to abort his run-up.
09.41 IST: Pujara gets on the front foot and defends it solidly. Another Maiden from Lakmal. IND 30/3 in 17 overs
09.35 IST: Hurled outside off, Pujara covers his stumps and leaves it alone. Just a single from the over.  IND 30/3 in 16 overs
09.31 IST: FOUR! First runs off Lakmal's bowling! And it's a boundary that gets it. Though Rahane wasn't in control of that. This is bowled outside off, Ajinkya plays it away from the body and gets it through point. The ball has enough legs to go to the fence. Rahane gets off the mark with this. IND 29/3 in 15 overs
09.25 IST: FOUR! One brings two! Is this end jinxed? Yesterday Gamage struggled from this end and today Shanaka. Bowls a full delivery outside off, Pujara drives it through mid off a la yesterday and helps himself to another boundary. He's on 16 now and all runs have been due to boundaries - unlike Che.  IND 25/3 in 14 overs
09.23 IST: FOUR! First runs of the day, in the form of a boundary. Shanaka delivers a half volley around off, Pujara drives it towards covers. Chandimal there dives to his right and gets some hand to it and parries it to the long off boundary. IND 21/3 in 13.4 overs
Change of bowling early in the day! Dasun Shanaka is brought in to bowl.
09.20 IST: Lakmal bowls this outswinger closer to the batsman. Rahane this time reads it early and points his bat skywards and lets the keeper do the rest. Lakmal is really working him over here. IND 17/3 in 13 overs
The star of Day 1, Suranga Lakmal to steam in from the other end. He has bowled 6 overs so far and all have been maidens. They have three slips for him, coming down from the four slips that they had yesterday, apart from a gully.
09.15 IST: Gamage starts off with a 136 kmph straight delivery outside off on a fuller length. Pujara watches that closely and lets it go. IND 17/3 in 12 overs
09.12 IST: We are all set to get underway. Matthew Hayden rings the bell at the Eden Gardens today.  Sri Lanka are in a final huddle to discuss their final plans - much of which could be pace related. They run out to the centre to take their respective places on the ground. The Indian batters Cheteshwar Pujara and Ajinkya Rahane walk out to bat. They have their tasks cut out. Remember, 98 OVERS have to be bowled today. Lahiru Gamage will run in to bowl a delivery that'll complete the over.
09.0 IST:
What do you reckon the pitch has in store on Day 2 of the 1st Test? #INDvSL pic.twitter.com/z54a3FgwLG

— BCCI (@BCCI) November 17, 2017
09.00 IST: Pitch Report - Simon Doull doing the pitch report says that the track is still grassy albeit a bit of it is trimmed and it will be tough batting conditions. With sun expected to come later on, batting could be easier then. The moisture on the surface will play it's role, given it is an early start, opines Sunil Gavaskar. He goes on to add that it is important for the Sri Lankan bowlers to get the batsmen committed to the front foot as that's where more chances of getting the edge lie. Thus, pitching it further up to the batsman is the key he feels.
08.56 IST: 
A quick pep talk for the boys as we get close to the start of Day's play #INDvSL pic.twitter.com/gGSScSbMAc

— BCCI (@BCCI) November 17, 2017
08.45 IST: 
Day 2 of the 1st Test - Hours of play #INDvSL pic.twitter.com/cxtNr4ev1m

— BCCI (@BCCI) November 17, 2017
08.35 IST: 
Day 2 of the 1st Test - #TeamIndia will resume their first innings at 17/3 #INDvSL pic.twitter.com/KOjfMSV3hk

— BCCI (@BCCI) November 17, 2017
Brief Preview: India struggled with rain, bad light and Sri Lanka's bowlers as it went to stumps at 17/3 on Day 1 of the first Test of the three-match series in Kolkata. Only 11.5 overs were bowled in Kolkata in just 60 minutes of play overall. Suranga Lakmal (3/0) bowled an exceptional six-over spell — all maidens. The pacer took all three wickets as India's top-order collapsed on a green, moisture-laden pitch after Sri Lanka won the toss.
Cheteshwar Pujara (8 not out) and Ajinkya Rahane (0 not out) were the unbeaten batsmen at the close of play. Lahiru Gamage has 0/16. After an early tea was taken, India tried to rebuild its innings from 17/2. But Lakmal trapped Virat Kohli (0) lbw on the eighth ball after the interval. The batsman was ruled out despite DRS review.
Earlier, Lokesh Rahul (0) was caught behind off the very first ball, becoming the sixth Indian batsman to be dismissed off the first ball of a test. Shikhar Dhawan (8) played on and was bowled off Lakmal in the 7th over. (Read Full Day 1 Preview)