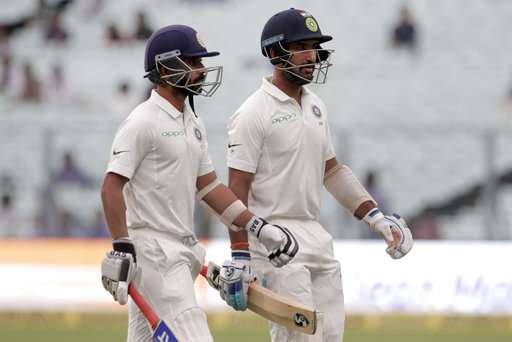 Today's play gave a feeling as if the long commercials robbed us of a wonderful blockbuster. Right from the toss to almost having India on the mats, everything went right for Sri Lanka. Suranga Lakmal, by appearance, doesn't even come close to the pace bowling greats that the sport has witnessed yet he has done something that nobody imagined.In helpful conditions, Lakmal began on the right note by snapping KL Rahul right off the first delivery of the Test match. With his confidence sky high, Lakmal, literally and figuratively, made the ball talk and had the Indian batsmen hopping and shoving. Apart from Shikhar Dhawan, who perished to a shot that he could have done without, the other two wickets were a result of persistent lines and lengths. India would be shell-shocked with what has transpired till now.
Owing to rains, that ate away most of the day, we could only have 11.5 overs of play. The hosts would look to come with greater resolve and intent tomorrow and look to put up a respectable total on the board. The forecast for Day 2 doesn't look too promising as well. Do join us for what promises to be another wet yet exciting day of cricket. Till then, take care! (SCORECARD)
HIGHLIGHTS, INDIA VS SRI LANKA, 1ST TEST, DAY 1 at EDEN GARDENS
16.20 IST: 
Day's play has been called off due to bad light with India on 17/3 #INDvSL pic.twitter.com/9SNDZ0w8ys

— BCCI (@BCCI) November 16, 2017
16.03 IST: The covers are coming on, although it's not raining. The light has not improved and it looks unlikely that we will get any more play today.
15.45 IST: Bad light has stopped play. Don't think light will improve much during this part of the day. Stay tuned, we will keep you posted.
15.40 IST: The umpires are together again. The light is degrading, it seems. They are taking the reading. It's quite dark to be honest. The batsmen walk off. Now, the Lankan players are going off, reluctantly.
15.38 IST: Oohhhh...that beat the outside edge by a whisker. First real great delivery by Gamage. He angles in a full length just around off, Pujara tries playing it with a straight bat but it curves away to miss the bat. That wasn't too far from the off stump either. The ball swung quite a lot after going past the wickets. Really testing conditions for batting. IND 17/3 in 11.5 overs 
15.33 IST: Full in length outside off from Lakmal, Rahane leaves it. Lakmal has an exceptional bowling figures at the moment, 6-6-0-3! IND 17/3 in 11 overs
Ajinkya Rahane in next.
15.28 IST: OUT! It's clipping the leg stump and hence the umpire's call will stay. The Indian skipper bags a rare duck. Massive breakthrough for Sri Lanka and they are absolutely delighted. Lakmal is on fire today. He has not conceded a single run today and has hunted down his third wicket now. He dishes out a full-length delivery on middle and it jags back in rather than going away. Kohli tries to work it away on the leg side but misses. He is thudded on the pads, they appeal vociferously and the umpire raises his finger. India in a spot of bother. IND 17/3 in 10.1 overs 
Shout for an lbw against Virat Kohli! Up goes the finger. Virat Kohli has a chat with his partner and takes the referral. Is it missing leg?
15.26 IST: Maiden from Gamage. IND 17/2 in 10 overs
15.23 IST: Lakmal bowls a maiden over to start with. IND 17/2 in 9 overs
15.15 IST: Play to restart at 15.20 IST. Minimum overs to be bowled is 44
UPDATE: Tea has been taken at Eden Gardens with India on 17/2. Follow the game here - https://t.co/ln05So6Mox #INDvSL pic.twitter.com/Q3IcMfgw2i

— BCCI (@BCCI) November 16, 2017
15.07 IST: Tea has been taken at Eden Gardens. There's no rain at the moment.
14.32 IST: Doesn't look too promising, folks. Let's see how many more overs we will get today. Stay tuned for latest updates.
14.28 IST: Suranga Lakmal is greeted by his players. In fact, it has started to drizzle now as the covers come on the field once more.
14.26 IST: The umpires get together. It has got really dark out there. They have decided that the light is not conducive enough to carry on. The players are going back to the hut.
14.25 IST: Nearly a catch to mid-wicket! Kohli would have had his heart in mouth. Lakmal serves a full length ball on middle and leg, stopping a bit off the pitch. Virat is early into the flick shot and as a result it pops out towards mid-wicket. Herath runs forward but it fall safely in front of him. Lakmal has a wry smile on his face.
Cheteshwar Pujara is complaining about something. Maybe, some movement near the sightscreen.
14.23 IST: Angling into the batsman, Pujara covers the line and blocks it solidly. IND 17/2 in 8 overs
14.20 IST: FOUR! Quality shot! The bowler overpitches it outside off and Pujara unfurls a beautiful off drive to gain a boundary. This will give ample confidence to the batsman. IND 17/2 in 7.2 overs
14.19 IST: Short in length from Lakmal angled into the batsman, Kohli goes on his toes as he defends it. Fourth maiden in a row from Lakmal! IND 13/2 in 7 overs
Skipper Virat Kohli walks in next. The ball is nipping around and it's a bit like English conditions where he struggled. How will he counter?
14.15 IST: OUT! Dhawan has chopped it on! He goes for an expansive drive to a length ball nipping back into him. Gets a big inside edge and has his stumps shattered. Shikhar won't be too happy with that shot selection. Lakmal, in the meantime, is all smiles. He has provided Sri Lanka a brilliant start. India at the moment are little stunned.  IND 13/2 in 6.2 overs
14.13 IST: Gamage lands it full and just outside off, Pujara takes a stride forward and defends it to the off side. IND 13/1 in 6 overs
14.10 IST: FOUR! Good length delivery outside off, Pujara has a tame push inside the line, not much footwork and it races away off the outside edge past the diving third slip fielder. Pujara is off the mark in an edgy manner. IND 13/1 in 5.2 overs
14.08 IST: MAIDEN! Length delivery from Lakmal angling into the batsman again, around off and shaping away a bit, Pujara plays it with soft hands and defends it to the off side. IND 8/1 in 5 overs
14.04 IST: FOUR! First of the innings. Gamage goes short outside off, Dhawan leans back a bit and packs a punch through point. Finds the gap and gets a boundary to his name. Lahiru continues to struggle. IND 8/1 in 4 overs
13.59 IST: Lakmal pitches it up but the line is outside off, Pujara watches it closely before making the leave. The temptation to play a cover drive was there. IND 3/1 in 3 overs
13.55 IST: Too wide outside off, Pujara has nothing to do with it. A disappointing first over by Gamage, hardly troubled the batsman. IND 1/1 in 2 overs
13.52 IST: A touch short in length, too straight in line, Dhawan moves back and taps it down in front of square leg for a single. IND 1/1 in 1.1 overs
Lahiru Gamage to share the new cherry from the other end.
13.51 IST: Full swinging delivery outside off, Pujara once again allows it through. Excellent first over by Suranga! IND 0/1 in 1 over
13.47 IST: That's a jaffa! Unplayable. Pujara is cut into half. Big movement for Lakmal again. From a good length this time. It lands around off and swerves back to beat Pujara completely. Misses the inside edge and goes over the stumps to the keeper. IND 0/1 in 0.3 overs
Cheteshwar Pujara is the number 3 batsman.
13.43 IST:  OUT! What a nasty one to get first up! Brilliant from Lakmal. He bowls it right on the money. A length delivery angling into the batsman, nipping away a shade after pitching. Rahul has to play the trajectory, tries to get behind the line but the movement and some extra bounce bring his downfall. It takes a tiny edge off the shoulder of the bat and goes behind to the keeper. Dickwella catches it, appeals and up goes the finger. A golden duck for KL. What a start for Sri Lanka! IND 0/1 in 0.1 overs
13.41 IST: The Sri Lankan players are in a huddle, again. The Indian openers walk to the centre. Suranga Lakmal has the new cherry as he will kick-off the proceedings. Three slips and a gully in place. KL Rahul on strike. Here we go, finally....
13.40 IST: Some cheer from the crowd! The covers are going off now. Seems we will get underway sooner rather than later. Fingers crossed.
13.32 IST: The ground is not entirely covered yet as the groundsmen probably are stopped midway by the umpires. Maybe, the drizzle has stopped. Not sure.
13.30 IST: Hang on, IT'S DRIZZLING! The players are given the marching orders and they are heading back to the pavilion. The covers are coming on.
13.28 IST: VVS Laxman rings the bell to mark the beginning of this Test match. Out come the Indian openers, KL Rahul and Shikhar Dhawan. The floodlights are switched on.
13.25 IST: 
Hours of play for Day 1 of the 1st Test #INDvSL pic.twitter.com/nJML3eGGmy

— BCCI (@BCCI) November 16, 2017
1.23 IST: National anthem time. The players from both sides are in the middle. Sri Lanka first, followed by India's.
13.18 IST: Sri Lanka Playing XI: Dimuth Karunaratne, Sadeera Samarawickrama, Lahiru Thirimanne, Angelo Mathews, Dinesh Chandimal (C), Niroshan Dickwella (WK), Dasun Shanaka, Dilruwan Perera, Rangana Herath, Suranga Lakmal, Lahiru Gamage
13.15 IST: India Playing XI: Shikhar Dhawan, Lokesh Rahul, Cheteshwar Pujara, Virat Kohli (C), Ajinkya Rahane, Ravichandran Ashwin, Wriddhiman Saha (WK), Ravindra Jadeja, Bhuvneshwar Kumar, Umesh Yadav, Mohammed Shami
​13.08 IST: India captain, Virat Kohli says he would have bowled as well, as it's overcast conditions and the pitch has a good covering of grass. He is taking it as a challenge to bat in these conditions. Feels that there isn't any demon in the pitch and spinners should come into play from day 3 onward. On the team combination, Kohli replies that they are playing 5 batsmen, Saha as the wicketkeeper, of course, two all-rounders in Ashwin and Jadeja along with three pacers in Umesh Yadav, Bhuvneshwar Kumar and Mohammad Shami.
Sri Lanka wins the toss and elects to bowl first in the 1st Test #INDvSL pic.twitter.com/fO6EQabS3A

— BCCI (@BCCI) November 16, 2017
​13.07 IST: Sri Lanka skipper, Dinesh Chandimal says they will have a bowl with lots of moisture on the pitch and there will be a lot of advantage today and tomorrow. Adds that they played some good cricket in UAE and they are confident heading into this match. Informs that they are going in with 6 batters, 4 bowlers and a fast bowling all-rounder.
13.02 IST: Sri Lanka have won the toss and have opted to field
12.56 IST: Pitch Report - This is that kind of track where the ball is going to do a lot. There isn't much difference between the outfield and the pitch. It's all green and if the overhead conditions remain the same, the pace bowlers will have a ball. Sunil Gavaskar simplifies it by saying - This is the type of pitch where you wish you were a fast bowler! Win the toss and field first, reckons Simon Doull.
12.52 IST: GOOD NEWS! 
UPDATE- Toss at 1 PM IST

— BCCI (@BCCI) November 16, 2017
12.35 IST: 
UPDATE - Most of the covers are off and the ground staff working in full flow. Next inspection at 12.45 IST #INDvSL pic.twitter.com/HKvwKHlOtc

— BCCI (@BCCI) November 16, 2017
11.32 IST: 
UPDATE - Lunch has been taken at the Eden Gardens. Next inspection at 12.10 IST #INDvSL pic.twitter.com/Fv1IKTdTmD

— BCCI (@BCCI) November 16, 2017
11.25 IST: Players will take early lunch and the umpires will have another inspection at 12:10 IST. No rain at the moment, but it's gloomy and there's absolutely no sun to dry the ground.
11.08 IST: The first layer of covers are being removed from those in the outfield. However, the pitch and the square still remain protected.
10.55 IST: The covers are coming off once again.
10.40 IST: The rain is getting heavier at Eden's, not great scenes from the ground.
10.25 IST: It's still raining in Kolkata. Chances of play look quite bleak.
10.10 IST: The rain is kept coming back in short spells, it will be very difficult for the ground staff to get the pitch ready quickly.
09.56 IST: It has started to drizzle once again and the covers are back in place. Not a good news for the fans.
09.45 IST: Good News. It's not drizzling anymore. The ground staff have started the process of taking the covers off.
09.32 IST: "Playing one format gives me more time to prepare. I would definitely love to play all the formats for India. I am improving as a batsman. I am working on a few things which will pay off. The domestic season has been good. I have played county games on challenging wickets and learnt a lot. You get to know a few things about your own technique. I was batting well in the nets during Ranji Trophy. There are times, wickets, where you have accept as a batsman that you cannot score hundreds. The dressing room environment at Nottinghamshire was fantastic. We will try to focus on ourselves (in this series) and respect the opposition," Cheteshwar Pujara says in a sideline interview.
09.25 IST: The covers are still on at the Eden Gardens.
09.15 IST: 
The super sopper and ground staff hard at work at the Eden Gardens #INDvSL pic.twitter.com/H050l54s4w

— BCCI (@BCCI) November 16, 2017
09.10 IST: The super soppers are out and the ground staff are working hard trying to get the pitch ready.
09.00 IST: Toss delayed due to rain at the Eden Gardens.
08.56 IST: Fast bowler Ashish Nehra makes his commentary debut after retiring from competitive cricket.
08.55 IST: It has started to drizzle and the groundstaff are running in to protect the ground. The pitch just got covered with four different layers.
08.51 IST: India have never lost a bilateral Test series at home against Sri Lanka.
08.45 IST: Rain has started in Kolkata. This is not good news for the match!
08.40 IST: 
A waiting game today #INDvSL pic.twitter.com/IkCcjx6Gcd

— BCCI (@BCCI) November 16, 2017
08.30 IST: No rain today so far but the conditions are highly overcast.
Brief Preview: India would look to continue their ruthless streak while Sri Lanka would want to forget the annihilation suffered at home and chase what has been an improbable dream of winning a Test in India when the two teams clash in a three-match series, starting at the Eden Gardens in Kolkata on Thursday. There is a possibility of rain threat after home team's morning practice session was called off after a spell of shower.
India had inflicted on Sri Lanka, a humiliating 9-0 whitewash across three formats even as they bounced back to secure a surprise 2-0 win against Pakistan in the UAE. There will be no let up from Team India, who are taking this series as a preparation for the gruelling two-month long South Africa tour where they play three Tests, six ODIs and three T20Is beginning with Cape Town Test on January 5. Since that Test series in July-August, the hosts have played 13 ODIs and six Twenty20s but adjusting to the rigours of the longer version of the game should not be an issue since most of the team members have played Ranji Trophy matches for their respective sides. (Read Full Preview)