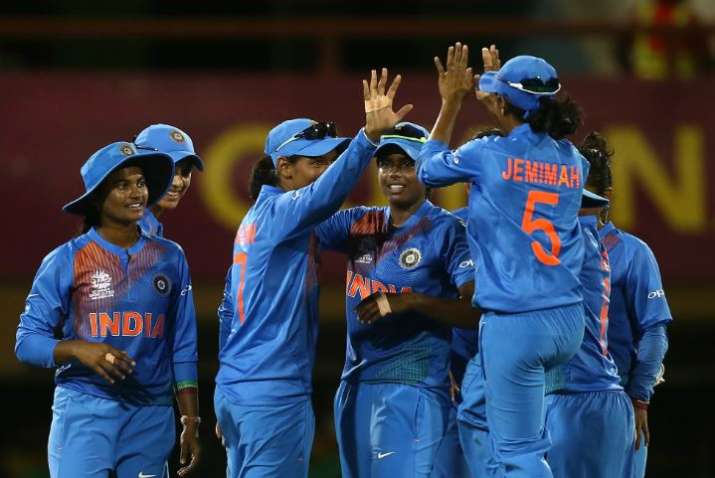 ICC Women's World T20, India vs Ireland
ICC Women's World T20, India vs Ireland:
 Indian spinners produced yet another controlled performance to clinch a semi-final berth with a comfortable 52-run victory against Ireland in a group league encounter of the ICC Women's World  T20 on Thursday. (Match Highlights) After managing 145 for 6 on a slow track, Indian spinners maintained tight leash on Irish women restricting them to 93 for 8 in 20 overs. With their third win, India with six points were assured of a last-four spot along with Australia (6 points from 3 games) with New Zealand, Pakistan and Ireland already even before their campaign could officially end.
Highlights, India vs Ireland, ICC Women's World T20, Match 13 Live from Guyana
* India Women (145/6) beat Ireland Women (93/8) by 52 runs in Match 13 of Group B. Radha 3/25, Deepti 2/15
Here's how Group B stands, with @SouthernStars and @BCCIWomen the two sides who will progress to the #WT20 semis! 🇦🇺🇮🇳 pic.twitter.com/ZSsgvgu1GP

— T20 World Cup (@T20WorldCup) November 15, 2018
Another half-century by Mithali Raj and a strong all-round bowling effort sees India prevail over Ireland by 52 runs to qualify for the #WT20 semi-finals! #INDvIRE #WatchThis

Scores, stats and video ➡️ https://t.co/5Cl3AlcAzx pic.twitter.com/MhipoQQ4c1

— T20 World Cup (@T20WorldCup) November 15, 2018
23.42 IST: The last delivery is bowled! India win by 52 runs and are now in the semifinals of the World T20. Clinical performance by the Indian eves. 
23.40 IST: OUT! That's a hat-trick of wickets. Not a hat-trick for Radha as there was one run out included. One bowled out, one stumping, one run-out. Wow. India have dismantled Ireland. IRE 91/8 in 19 overs
23.31 IST: OUT! The skipper gets her first wicket. Harmanpreet removes Joyce for 33. Ireland Women 84/5 in 17.3 overs
23.29 IST: OUT! Deepti removes Kavanagh for 2. That should do the trick. DLS taken and successfully reviewed for an LBW. The spinners have once again waived their magic around. Ireland Women 82/4 in 16.5 overs
23.25 IST: FOUR! Smashed. That was out of nowhere. Joyce has been the troublemaker for India. IRE 82/3 in 16.2 overs
23.18 IST: OUT! Stumped! Radha gets rid of the captain as Delany departs for 9. The pressure increases on the Irish. IRE 70/3 in 14.5 overs
23.16 IST: It's been pretty slow so far. The Indian bowlers have done well to contain Delany and Joyce. The required run rate has rocketed o 14. The batswomen need to step up. 
23.04 IST: FOUR! 10 runs off the over. Ireland are coming into this match with plenty of determination. IRE 54/2 in 11.1 overs
22.56 IST: OUT! Stumped and deceived! Poonam turns the ball beautifully, only to deceive Shillington to get out of the crease and the keeper does the rest. Ireland have lost their openers. Delany comes in to bat. IRE 42/2 in 8.5 overs
UPDATE- Mithali is in pain. Joyce smashed a ball but on stopping it, Mithali has hurt herself. She limps off the field and a sub has been brought in. The physio is along with her and is attending to her at the moment. 
22.40 IST: OUT! Deepti removes Gaby for 9. Ireland lose their first wicket and India rejoice the much needed wicket. IRE 27/1 in 5.1 overs
22.37 IST: FOUR! Another full toss and Shillington just hammers that to deep square leg. A one-bounce four and the Indian bowlers are feeling the heat. IRE 27/0 in 4.3 overs
22.33 IST: FOUR! A full toss and Shillington does not make any mistake to punish that. Smashes Radha's delivery deep to square leg. IRE 20/0 in 3.4 overs
22.26 IST: Ireland seem determined. It's not a huge target for them, but they're trying to pull in a few shots. 
22.20 IST: FOUR! Short, pulled and four! What a shot played by Gaby to backward square leg. A short-pitched ball by Mansi but is punished. IRE 5/0 in 0.4 overs
22.15 IST: And we're back for the chase. 146 on the board for Ireland to chase. It was a rather slow inning by India. Gave away easy wickets. Mithali's fifty helped India cross the 100 mark. Gaby Lewis and Clare Shillington are out to bat. Mansi Joshi to start the attack. Let's get started. 
22.06 IST: India Women score 145/6 in 20 overs against Ireland Women. Mithali 51, Garth 2/22
Mandhana and Raj got off to a fast start before Ireland struck back with six wickets, limiting India to 145. Will it be enough? Join us shortly for the chase in Guyana!

Stats, scores, video ➡ https://t.co/5Cl3AlcAzx#WT20 #INDvIRE #WatchThis pic.twitter.com/xwY7rj1wtr

— T20 World Cup (@T20WorldCup) November 15, 2018
21.58 IST: OUT! Garth removes Mithali for 51. India Women 133/5 in 18.3 overs
21.54 IST: FIFTY! Half century up for Mithali and this has been a solid innings for her. She has stood alone and sponsored India so far. 
21.52 IST: OUT! O Reilly removes Veda for 9. India Women 127/4 in 17.2 overs
21.49 IST: FOUR! Nicely swept by Veda. She knows where the gap is and sends it over to backward square leg. IND 125/3 in 17 overs
21.45 IST: OUT! The skipper departs! Harmanpreet was going for the big shot to deep cover but the fielder takes an excellent catch to dismiss their biggest threat. Unlucky for Harmanpreet as she departs for 7. Veda comes in next. IND 116/3 in 15.3 overs
21.43 IST: SIX! Bang! That one is pulled out of the hat! Harmanpreet has just smashed that straight down the ground. IND 116/2 in 15.2 overs
21.39 IST: OUT! Delany removes Rodrigues for 18. That was stumped and Rodrigues was way off the crease. A wide but she is stumped. Smart move by Delany though.  India Women 107/2 in 14.3 overs
21.35 IST: FOUR! What a Shot! Rodrigues sweeps that to perfectionto hit that to backward square leg. Her boundary brings up 100 for India. IND 102/1 in 14 overs
21.32 IST: FOUR! Punished and Rodrigues cuts that to third man on the backfoot. Beautifully played and the fielder cannot get to that. IND 94/1 in 13 overs
21.30 IST: DROPPED! Mithali gets a lifeline cause that one was a sitter. Delany is not happy. This is the second time she has been dropped. IND 88/1 in 12.1 overs
21.28 IST: FOUR! Classy drive by Rodrigues! She puts her mark on the match. 8 overs remain. IND 87/1 in 12 overs
21.26 IST: FOUR Wides! That easy runs for India. O Reilly sends that way down and eventually goes for a boundary. Singled down leg and the keeper isn't quick enough. IND 83/1 in 11.3 overs
21.19 IST: OUT! Timber! That is clean bowled and Smriti could not read that. Went for the high shot, mistimed it and the bails are off. Garth removes Mandhana for 33. India Women 67/1 in 10 overs 
21.16 IST: FOUR! Change of pace, a slower ball to Mithali and she cuts that on the backfoot to third man. Easy runs and duly punished. IND 66/0 in 9.2 overs
21.09 IST: FOUR! Knicked to third man and sails away for a boundary. Mithali finally got a run after she was struggling to find the gap. IND 56/0 in 8 overs
21.05 IST: SIX! There's the shot we have been waiting for. Smashed down the ground by Smriti and she has blasted that a long way. First maximum off the innings. India bring up their fifty as well and a fifty partnership. IND 50/0 in 7 overs
21.02 IST: FOUR! Back to back boundaries by Mithali, She gets across and flicks it and that's 15 off the over. IND 42/0 in 6 overs
21.00 IST: FOUR! Through the gaps by Mithali. Pleasant shot to watch. IND 38/0 in 5.5 overs
20.59 IST: FOUR! Full toss and punished! Mandhana won't spare that and she desperately needs the runs after the last two outings. Hammers that for a bounce before the fence. IND 32/0 in 5.2 overs
20.50 IST: FOUR! Classy stroke by Mandhana. She's been doing the hitting for now while Mithali takes it slow for now. IND 21/0 in 4.1 overs
20.43 IST: FOUR! Hangs back and Mandhana times the shot beautifully for a boundary. IND 11/0 in 1.2 overs
20.41 IST: FOUR! Mandhana skids away on the last ball of the over. A wide and a run included. IND 6/0 in 1 over
20.34 IST: The players are out, Mithali and Smriti to open for India with the latter on strike. Richardson will begin the attack. Let's get started. 
20.32 IST: Good News! The covers are off, we can finally get the match started. 
20.31 IST: The players are out for the national anthems. 
A brief word from @alanwilkins22 with India v Ireland coming at you next! pic.twitter.com/qZxCf83Sq3

— T20 World Cup (@T20WorldCup) November 15, 2018
20.28 IST: There is a bit of a drizzle in Guyana. We might have a delayed start. Unsure of how long, but it does not look good.
20.21 IST: Playing XI for the teams
India Playing XI: Mithali Raj, Smriti Mandhana, Jemimah Rodrigues, Harmanpreet Kaur(c), Veda Krishnamurthy, Taniya Bhatia(w), Deepti Sharma, Dayalan Hemalatha, Radha Yadav, Mansi Joshi, Poonam Yadav
Ireland Playing XI: Clare Shillington, Gaby Lewis, Isobel Joyce, Laura Delany(c), Shauna Kavanagh, Kim Garth, Eimear Richardson, Mary Waldron(w), Lara Maritz, Lucy OReilly, Celeste Raack
20.15 IST: TOSS! Ireland have won the toss and have opted to bowl vs India at Guyana. 
Ireland have won the toss and will bowl in Guyana.

Follow LIVE ➡️ https://t.co/5Cl3AlcAzx #WT20 #WatchThis #INDvIRE pic.twitter.com/KAaopu6zFC

— T20 World Cup (@T20WorldCup) November 15, 2018
20.08 IST: While we await for the TOSS, here's what the Indian women's coach has to say. 
"We respect every team, but we don't fear any team." - India's coach, Ramesh Powar.#INDvIRE | Preview | #WatchThis👇 pic.twitter.com/bP5c34Eaur

— T20 World Cup (@T20WorldCup) November 15, 2018
20.03 IST: TOSS has been delayed. There was a bit of rain. The playing surface is fine and it's upto the Umpires to give the green signal. 
19.43 IST: Shuttler Saina Nehwal is all 'blue' for today! 
#JerseyKnowsNoGender💪 I'm going to be cheering Team India on! @MirzaSania @klrahul11 @HimaDas8 and each one of you – it's time to wear your jerseys or our blue tonight, strike the pose and show your support. Great initiative by @Imvkohli and @Uber_India @ICC #WT20 pic.twitter.com/zG0aFT5M01

— Saina Nehwal (@NSaina) November 15, 2018
19.30 IST: Captain Virat Kohli has a message for the Indian eves. 
We're on our way to the semi-finals.. and it's time to back Team India to bring home the World Cup! #JerseyKnowsNoGender💪
I nominate @RishabPant777, @NSaina, @chetrisunil11 and all of you to join in. Wear your jerseys and strike the pose to cheer them on! 👍@Uber_India #WT20 pic.twitter.com/cVFhOYjXfX

— Virat Kohli (@imVkohli) November 15, 2018
Hello and welcome to our live coverage of today's match as India take on Ireland in the Group B match. The TOSS will take place at 8.00 PM IST and the match will commence from 8.30 PM IST. We will shortly get underway with the live coverage. 
Brief Report: Eyeing a semi-finals berth, overwhelming favourites India will have to guard against complacency when they play Ireland in their third Group B match of the ICC Women's World T20 here on Thursday. India are on a roll having convincingly won their first two matches, including against arch-rivals Pakistan two days ago. Skipper Harmanpreet Kaur declared open the tournament with her blazing hundred against New Zealand at the Providence, the same venue where India will face Ireland. (Read full report here)