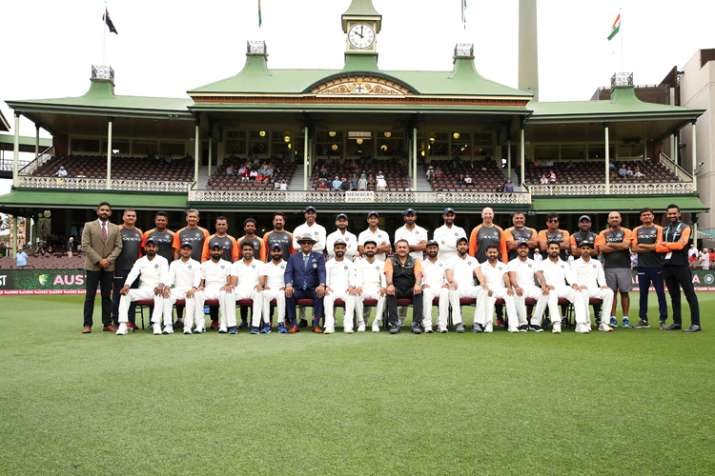 Highlights, India vs Australia, 4th Test Day 5: Hello and welcome to our blog highlights of India vs Australia Day 5 from Sydney Cricket Ground, also to the last day of action in whites between these two sides in India's tour Down Under. 2-1 and that could be the final scoreline as there is no time left for the Aussies to do anything about this game. The only variable would be 3-1 if India do manage to bowl out the hosts today. That seems far-fetched considering what we went through on Day 4 and the amount of cricket we got to see. But one thing is for sure, Kohli's boys will be creating history by winning their first ever Test series in Australia since their sojourns started 71 years back. (India vs Australia 4th Test, Day 5 Scorecard) (Click Here to read in Hindi)
When and Where to watch India vs Australia, 4th Test, Day 5
Highlights, India vs Australia, 4th Test Day 5: AUS 300 & 6/0 f/o vs IND (622/7d). Match drawn
Celebrations begin for jubilant India: https://t.co/e1QRTcvErA #AUSvIND pic.twitter.com/aKa2afk3H3

— cricket.com.au (@cricketcomau) January 7, 2019
A special moment for Team India #AUSvIND pic.twitter.com/1zWAwMh1LE

— cricket.com.au (@cricketcomau) January 7, 2019
09.30 IST: Time for the trophy presentation! The Border-Gavaskar trophy is handed over to Virat Kohli by Allan Border. The whole Indian team as well as the team management comes and joins their skipper on the podium. The newest entrant to the team, Mayank Agarwal holds the trophy aloft, it has been the tradition for some time now. Time for the shutterbugs! What an incredible achievement for Indian cricket!
Is this series triumph Virat Kohli's greatest achievement? #AUSvIND pic.twitter.com/hZAP5JjkA5

— cricket.com.au (@cricketcomau) January 7, 2019
09.25 IST: Victorious Indian skipper, Virat Kohli walks forward for an interview amidst a huge cheer from the crowd. Says that he has never been more proud to be a part of this team. Says that their transition started here when he became captain and winning the series for the first time in this country. Is delighted to be a part of this team, lead them and he feels honoured. Praises all his boys for their outstanding contribution. Of all his achievements, he considers it his best, top of the pile. States that this will give his them a different identity and they can inspire the young generation. On the performance, Kohli replies that they just wanted to do the basics right and not be flamboyant.
09.20 IST: Australian skipper, Tim Paine agrees that India were the better team and it is a huge thing to go overseas and win a Test series, congratulates them for the same. Feels that they were outplayed over the course of the series obviously but also mentions they did fight hard and is proud of his boys. Adds that the visitors played better more often than them and took the series win deservedly. Says there are a lot of positives to be taken out of the series and a learning curve for all the boys, especially the bowling attack which is one of the best in the world he feels. Looks forward to the series coming up against Sri Lanka and the Ashes later on. Reckons they have to just be positive and try to keep working harder as they prepare for the future series by putting their foot down and working relentlessly. Ends by saying that he is not under any mental pressure and the team will take a couple of days off before heading off to play for their respective BBL franchises.
Cheteshwar Pujara is the Player of the Match AND the Player of the Series! #AUSvIND pic.twitter.com/Yun0EBOgNc

— cricket.com.au (@cricketcomau) January 7, 2019
09.15 IST: Player of the Match and Series, Cheteshwar Pujara walks to the podium with a big smile on his face. The crowd is making a lot of noise. He says that it's a great feeling for them and they have worked hard to win a series, particularly in this country. Adds that he is pleased with the effort. Further says that the Adelaide hundred was really special. Mentions that as a batsman you just need to get used to the pace and bounce, something he has worked on and playing county cricket has helped him improve his technique. Congratulates all the fast bowlers and spinners for the way they bowled which he feels is remarkable. Informs that he will be playing some FC cricket back home and some county cricket as well. Adds that he wants to play white-ball cricket but Test cricket will always remain his priority.
🇮🇳 2 - 1 🇦🇺 #AUSvIND pic.twitter.com/kqlL4vS4Ik

— cricket.com.au (@cricketcomau) January 7, 2019
09.05 IST: 71 years! And finally India have their first Test series win ever in Australia. Kohli and his boys have re-written history out here, playing brilliant cricket over the last one and a half month. It was quite an anti-climatic end to what has been an entertaining series! This game ends in a draw, a rather damp squib but the series has been anything but that. The visitors went 1-0 up at Adelaide, while the hosts roared back at Perth to make it 1-1, but then began India's dominance. They won at Melbourne and made it 2-1 and have been relentless ever since. Even at Sydney, they were well-ahead before rain ruined any chance of a result. What a proud and historic moment for Indian cricket!
THANK YOU! 2-1 🇮🇳🇮🇳 #TeamIndia #AUSvIND pic.twitter.com/syKRSOgaWQ

— BCCI (@BCCI) January 7, 2019
09.01 IST: CALLED OFF! The game has officially been ended by the captains, officials after a consultation with the ground staff. The Sydney match ends in a draw but INDIA WIN THE BORDER-GAVASKAR TROPHY 2-1!!!
08.45 IST: 
The match officials will be meeting with the ground staff at 14:30 local time #AUSvIND

— BCCI (@BCCI) January 7, 2019
08.00 IST: The rain has not stopped. There will be another delay post Lunch. India in my opinion will be already planning the celebrations in the dressing room.
07.40 IST: Tim Paine in an interview earlier this morning with Mark Howard. He mentioned that it is a great opportunity to get some batting on Day 5 if the weather clears out. Reckoned that it was a really good series and even though they were outplayed, he felt they fought pretty hard and will take the positives ahead. Said that he is proud of the way they gave their all. Mentioned that India are a really tough team to beat right now, no. 1 in the world and a couple of guys really were in form and took the series away. Also added that he enjoys captaincy and takes it as a challenge and the jobs that come along with it. Stated it really doesn't make a difference captaining from behind the stumps and it is all the same. Said that he always wants to be 100 per cent ready and focused when he walks out to bat and hence, he is going to hit the nets for some practice even as the rain delays play. Signed off by saying that he might take a bit of rest post the Test series and decide about turning up for Hobart Hurricanes as he intends to remain fit for the Sri Lanka series coming up.
07.00 IST: It is officially Lunch time on Day 5. A very light drizzle is still on.
06.45 IST: News coming in is that the first session has been washed out. Lunch will be taken at 1230 local (07.00 IST) and play could resume at 1310 (07.40 IST)  local if the rain stops and the light is good enough. It is a big IF...
06.30 IST: So, the covers are still on at the SCG and lunch will be taken at 07.00 IST. No play for at least another hour and a bit... 
06.00 IST: The rain has got lighter now. Stay tuned for updates
05.32 IST: 
"Chop ons suck!!" @Neroli_M_FOX spoke with Peter Handscomb last night after play.

📺 Watch LIVE on Fox Cricket & 📰 join our match centre: https://t.co/PCdhco0cuw #AUSvIND #FoxCricket pic.twitter.com/3xcWkVMKHo

— Fox Cricket (@FoxCricket) January 6, 2019
05.20 IST: Did you know what Ricky Ponting said about Australia's batting yesterday? Here's a read
Strong criticism from the great Ricky Ponting on one particular aspect of Australia's game on day four.#AUSvIND | @GilletteAU pic.twitter.com/aUI9B3r7ZL

— cricket.com.au (@cricketcomau) January 6, 2019
.@MarkHoward03 speaks with Tim Paine ahead of the final day of the Pink Test.

📺 Watch LIVE on Fox Cricket & 📰 join our match centre: https://t.co/PCdhco0cuw #AUSvIND #FoxCricket pic.twitter.com/GvKGGGMjJJ

— Fox Cricket (@FoxCricket) January 6, 2019
05.15 IST: India have the trophy and Australia don't have to come out to grind and avoid another Test loss. Should make peace with 2-1. Let's see whether we get any action in this morning session or not. Stay with us.
Covers are on. Begun to rain here. The start has been delayed #AUSvIND pic.twitter.com/KjPxppMMAE

— BCCI (@BCCI) January 6, 2019
04.50 IST: Bad news, folks. The rain has picked up its intensity and it's pelting down at the SCG. The fresh images coming from the ground is not looking promising at all. Both teams won't be too bothered currently.
.@MarkHoward03 spoke with Kuldeep Yadav yesterday on his historic debut!

📺 Watch LIVE on Fox Cricket & 📰 join our match centre: https://t.co/PCdhcohNT6 #AUSvIND #FoxCricket pic.twitter.com/aGXwQABEE6

— Fox Cricket (@FoxCricket) January 6, 2019
Time to trot out the old stats on complete days of play washed out in Australian Test cricket:
24 Sydney
9 Melbourne
8 Brisbane
2 Adelaide
1 Hobart
0 Perth

— Ric Finlay (@RicFinlay) January 6, 2019
04.40 IST: We do have a delayed start. Further news is awaited from the SCG.
04.35 IST: 
Keeping the tradition alive. The Captains roll of honour signed by both captains 😎👌🏻 #TeamIndia #AUSvIND pic.twitter.com/fYUMC4R1SE

— BCCI (@BCCI) January 6, 2019
04.30 IST: Welcome to Day 5 of this magnificent Pink Test at the SCG, also to the last day of action in whites between these two sides in India's tour Down Under.
Brief Day 4 Report: India dominated the proceedings on the fourth day of the fourth and final Test match against Australia, enforcing the follow-on even as rain and bad light forced umpires to call off play early.
Australia were at 6/0 in the second innings and trail by 316 runs while following-on. This is the first time since 2005 that Australia is following-on, thanks to Kuldeep Yadav's brilliant five wicket haul.
Only 25.3 overs were bowled on Sunday. (Read full report here)