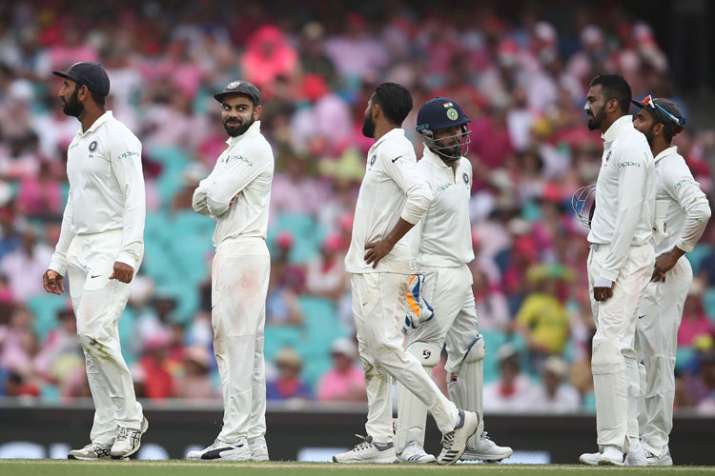 India vs Australia, 4th Test Day 4: The forecast for Day 5 is exactly the same as it was on Day 4 and the hosts will be really happy if it turns out that way. The Indians can only hope that the Sun decides to turn up somehow and allow for play on Monday. Whatever happens, what we will be seeing in all likelihood is Virat Kohli receive the Border-Gavaskar trophy from Allen Border. The start scheduled is an early one, at 1000 local (2300 GMT, previous night). Join us then, for all the action from the SCG. Take care and cheers till then. Goodbye! (India vs Australia 4th Test, Day 4 Scorecard) (Click Here to read in Hindi)
When and Where to watch India vs Australia, 4th Test, Day 4
India vs Australia, 4th Test Day 4: AUS (300 & 6/0) f/o, trail IND (622/7d) by 316 runs
Update - Play on day four has been abandoned. Day 5 to resume at 10 am local.

Scorecard - https://t.co/hdocWCmi3h #AUSvIND pic.twitter.com/5DYygZgeha

— BCCI (@BCCI) January 6, 2019
11.52 IST: CALLED OFF! So that's that. An end to what has been frustrating on and off day of Test cricket where we have had only a little more than 25 overs of play throughout. The light and rain have caused havoc here on the penultimate day, which saw India ending the first innings of the hosts and then enforcing them to follow-on, something which is rather rarely come upon the Aussies, especially at home. But somehow, they now have just a day more to survive to escape this game with a draw and the series with a 1-2 scoreline.
11.15 IST: No we haven't slept. It's just that there are no more fresh updates coming from the ground. There was an inspection which was scheduled around 15 minutes back but we have not heard anything from the officials yet. We can't do much here. The wait continues...
11.00 IST: If you're bored read: What did Kuldeep say after his five-for that made Warne emotional?
10.50 IST: The news coming in is that we aren't resuming any time soon. The umpires will have another inspection in about 15 minutes. The current light isn't good enough according to them and the pitch is seen being covered as well for now. No rain but this bad light situation has been really infuriating all day.
10.30 IST: The game was supposed to resume at 1603 local but the umpires are walking out and neither do they have their hats on, nor are the players following them. There is a meter to check the light in their hands as well. A certain delay post Tea here, due to bad light.
*A very good session for India. After the start of play, today was delayed almost for four hours, the visitors came onto the field and bowled to a set plan. Australia managed to add 64 runs to their overnight score before being bowled out finally for 300. India immediately decided to enforce the follow-on and the bowlers came hard for a four-over burst before the light turned bad once more. Australia were 6 for no loss when the umpires offered it to the batsmen and they walked off without a second thought, also forcing an early Tea on Day 4.
4th Test, Day 4: Early Tea taken as bad light stops play, Australia 300 & 6/0 (f/o) trail India (622/7d) by 316 runs in Sydney.
Tea has been called due to bad light. The third session is scheduled to commence at 16:03 if the light situation improves #TeamIndia #AUSvsIND pic.twitter.com/E4c3SA7dVe

— BCCI (@BCCI) January 6, 2019
* It has turned gloomy! In fact, the umpires get together and have decided to take the players off the field. Umpire Gould has a word with the Indian skipper.
10.13 IST: A short length ball and it doesn't rise as much as Harris expected it. Marcus had taken his eyes off it and the ball pings off his glove. Luckily for the batsman, it rolls towards point and does not go in the air. The pitch is playing games here.
*Jasprit Bumrah to share the cherry and bowl from the other end.
10.00 IST: FOUR! Off the mark in style! Drifts on to the pads to end the over, fuller length. Flicked away nonchalantly by Khawaja all the way to the deep square leg fence. AUS 4/0 in 1 over
Harris and Khawaja make their way back out to the middle for the second innings... #AUSvIND pic.twitter.com/24jSSHI6XP

— cricket.com.au (@cricketcomau) January 6, 2019
*About 35 overs left to be played in the day. Australian openers are on the field and the players are set to commence Australia's second innings with the bat.
Kuldeep Yadav's first Test on Aussie soil and he collects a five-wicket haul!#AUSvIND | @Domaincomau pic.twitter.com/e29NWD6oyZ

— cricket.com.au (@cricketcomau) January 6, 2019
09.50 IST: Now then, will Virat Kohli enforce the follow-on? We're still waiting for the official words. Meanwhile, Kuldeep Yadav takes the ball as a souvenir and is leading his team off the park. Big moment for the young man. Bowled superbly on a pretty much unresponsive surface. Here comes the much-awaited verdict - INDIA HAVE ENFORCED THE FOLLOW-ON! After almost three decades, Australia will be following on at home. Great achievement, especially for a team coming from the subcontinent.
09.45 IST: OUT! There is no inside edge and the on-field umpire's decision will prevail as the Ball Tracker shows the ball to be going on to clip the top of leg stump. Kuldeep has five! His 2nd one in Tests and the first in away Tests. He has bowled really nice and deserved this one. Slower ball and this one doesn't turn, holds its line. Hazlewood plays down the wrong line and gets rapped in front of the wickets. The umpire's finger goes up straightaway. Hazlewood reviews but the replays roll in and show that he has to leave. AUSTRALIA ARE BOWLED OUT FOR 300 AND TRAIL INDIA BY 322 RUNS NOW. Will Kohli enforce the follow-on?
*300 up for Australia! First time this series
09.38 IST: Mohammed Shami to Mitchell Starc, Length ball on the middle stump, whipped away by Starc through mid-wicket. Agarwal gives chase with his shin pads on and manages to save it inside the fence right at the end. Three runs taken.
*Virat Kohli is forced here to bring his pacer. It's Mohammed Shami running in from 'round the wicket.
09.31 IST: FOUR! Fine shot! Loopy and full around middle, Hazlewood gets forward and lifts it over mid on for a boundary. AUS 291/9 in 101.3 overs
*Change in bowling. Ravindra Jadeja is back on after a one-over experiment with Hanuma Vihari who is now off the field.
09.29 IST: Kuldeep Yadav to Mitchell Starc, Flighted on middle, Starc lifts it in the air, just wide of Kuldeep. The ball runs down towards long on, doesn't reach the fence and the batsmen get a couple of runs.
09.27 IST: Hanuma Vihari to Mitchell Starc, Fuller and quicker outside off, Starc comes ahead and defends this ball.
09.25 IST: Hanuma Vihari to have a bowl now. This is quite surprising.
*Time for a Drinks Break!
09.19 IST: FOUR! Nice shot! Tossed up delivery around off, turning back in, Hazlewood goes down on one knee and plays a lap sweep behind square leg for a boundary. Kohli getting anxious, this stand is eating up some time here. AUS 280/9 in 98.1 overs
09.17 IST: FOUR! Put away in the gap and for a boundary. Shorter one outside off and slower through the air. Enough time for Starc to rock back and cut it away. AUS 276/9 in 97.4 overs
09.13 IST: Yes indeed, it is a change of ends for Kuldeep and he has another chance to go for his fifth. Let's see what he can do. What does this tell? Virat Kohli is trying to rest his fast bowlers. Clear signs that he wants to enforce the follow-on...
09.11 IST: 'I can't believe my eyes' says Michael Clarke on air. Poor Kuldeep Yadav had a chance to get five wickets but surprise, surprise. Ravindra Jadeja is into the attack. Maybe a change of ends? Could be the only reason I could think of.
09.07 IST: Jasprit Bumrah to Josh Hazlewood, Bumrah seems to be setting up Josh here. Delivers yet another cracking yorker at 148.8 kph, Hazlewood probably was expecting it. Does well to block again. Watch out for the bumper!
09.05 IST: Kuldeep Yadav to Josh Hazlewood, DROPPED! Sitter put down by Vihari at mid-wicket. Could have been Kuldeep's first fifer outside India.
09.00 IST: FOUR! Cracking shot! Full outside off and Starc gets a small stride forward and plays a smashing cover drive. The fielders were mere spectators there. AUS 264/9 in 91.5 overs
*Josh Hazlewood walks in at no. 11.
08.55 IST: OUT! Kuldeep removes Lyon for 0. Given lbw! Lyon has decided not to review it and walks back. A nicely flighted one by Kuldeep on off, dipping in onto the batsman who goes down on one knee for the sweep shot. But Lyon fails to make any connection and is hit flush on the front boot. The Indians appeal and umpire Gould raises his finger. Nathan, surprisingly, doesn't review it. The replays suggest that it's a conventional chinaman delivery and maybe the impact was a shade outside the line of off stump. So close. Must have reviewed it. Australia 258/9, trail India (622/7d) by 364 runs in Sydney
08.51 IST: Jasprit Bumrah to Nathan Lyon, Oooh! Flies past the outside edge! Give this guy conditions suiting him and he will make sure he does magic with the ball. Lands this on a length and makes this straighten. Lyon, playing his first ball wants to feel the ball but is beaten on the outside. Lovely bowling.
*Nathan Lyon walks in next.
Bumrah was fired up after this one!#AUSvIND | @toyota_aus pic.twitter.com/8uy8LPbTp7

— cricket.com.au (@cricketcomau) January 6, 2019
08.49 IST: OUT! Bumrah removes Handscomb for 37. Chopped on! Handscomb plays on and India have their second of the morning. Bumrah is elated, his first wicket of the innings. Australia 257/8, trail India (622/7d) by 365 runs in Sydney
08.44 IST: FOUR! What was that? That looked like a helicopter-whip! On a shorter length outside off and turning in, Handscomb stands back in his crease and whips it away wide of the fielder at mid-wicket. Once it beats him, there's no stopping the ball. AUS 256/7 in 88.4 overs
08.42 IST: FOUR! Nice shot from Handscomb! Well controlled sweep to this full one outside off. Peter takes a big stride and sweeps it away square on the leg side for a boundary. AUS 252/7 in 88.2 overs
*Kuldeep Yadav is seen warming up. Will we see him with the new ball? Yes we will!
08.40 IST: Jasprit Bumrah to Mitchell Starc, Just short! A length ball on leg, seems to have stuck in the pitch. Starc who was trying to defend on the leg side gets a leading edge and the ball goes in the air back towards the left of Bumrah on his followthrough. Lands just in front of him.
08.35 IST: Mohammed Shami to Peter Handscomb, Oooh! The variable bounce again! Well outside off this time though and Handscomb manages to stay nice and low to defend it.
08.30 IST: FIVE WIDES! A bouncer gone too high and wide! The ball is down leg and almost delivered at halfway down the pitch. AUS 246/7 in 85.3 overs
08.28 IST: FOUR! Shot! It went back just as it came! Full and pacy outside off, Starc drives back down the ground with a straight bat. Brilliant timing, no chance for mid-off to chase that. AUS 241/7 in 85.1 overs
*Mitchell Starc is the new batsman in.
08.25 IST: OUT! Shami removes Cummins for 25. Timberrrrr.... the off stump takes a knock. This has kept super low. Unfortunate for Cummins, the second time it has happened to him this series. After two balls down leg, Shami gets his line right and on the off stump. The ball doesn't rise at all and Cummins who was on the back foot cannot get down in time to keep it out. India pick up their first of the day on the sixth ball. Should pump them up. Australia 236/7, trail India (622/7d) by 386 runs in Sydney
08.21 IST: Ravindra Jadeja to Peter Handscomb, Flatter ball to start off with, pushed towards mid-wicket by Handscomb.
SET! #TeamIndia #AUSvIND pic.twitter.com/RPn7LYQFRU

— BCCI (@BCCI) January 6, 2019
08.20 IST: Finally, for the first time on Day 4 the batsmen and the fielders make their way out to the middle. Jadeja to continue, Handscomb on strike.
Play will start at 13:50 local time, weather permitting #AUSvIND pic.twitter.com/JTGfniMtKp

— BCCI (@BCCI) January 6, 2019
08.05 IST: Here comes the most promising news of the day so far. RAIN HAS STOPPED and the covers are coming off. The umpires return to inspect the conditions and if no more rain, the first ball of Day 4 will be bowled at 1350 local time, only 20 minutes more. The Indian players are seen warming up. Get ready, folks.
On the Board and with signatures - @cheteshwar1 & @RishabPant777 do the "Honours" at the SCG #TeamIndia #AUSvIND pic.twitter.com/QPBbuCCNxs

— BCCI (@BCCI) January 5, 2019
07.48 IST: The umpires are out for an inspection, there seems to be no rain but the worry is still about the poor light conditions prevailing. Won't be an immediate start post Lunch. And as I type... DRIZZLE IS BACK! Stay tuned for more updates.
07.40 IST: Day 4 Session 2. The covers are still on! The rain has got heavier
07.00 IST: That's Lunch. The agony is over. Let's be hopeful of some action in the afternoon session. See you on the other side of Lunch in 40 mins.
06.50 IST: Just ten minute to go till Lunch is taken. The entire first session is being washed out it seems. Let's be hopeful of some action in the afternoon session.
06.20 IST: The covers are still on along with a slight drizzle. The wait goes on, looks like we are set to lose an entire session here. Pretty dark out there too.
06.12 IST: While rain frustrates us, here is a quick read about what KL Rahul advised Virat Kohli on Koffee with Karan.
06.00 IST: The rain has picked up the pace, bigger covers are being brought on. A longer delay on the cards. More updates here as and when we get it. Stay tuned.
More rain in Sydney. Big covers going on. Play has again be delayed #AUSvIND

— cricket.com.au (@cricketcomau) January 6, 2019
05.20 IST: Rain returns. Covers are back on. Repeat the drill. Frustrating.
05.15 IST: PITCH REPORT - Brett Lee spots a rough patch on the wicket that he feels Kuldeep will be targeting while bowling today. Still feels that the surface is flat and a good one to bat on. Could have a bit for the seamers too today with the overhead conditions but shouldn't be a hindrance to batsmen if they play well, he says.
05.10 IST: Meanwhile, Che Pujara can't seem to have enough of batting:
Just can't get enough of his bat, can he? @cheteshwar1 #TeamIndia #AUSvIND pic.twitter.com/UyfsEJU8aQ

— BCCI (@BCCI) January 5, 2019
Update: The covers are off. The umpires have done their inspection. If there is no further rain, play will commence at 11:00AM (local) #AUSvIND pic.twitter.com/s2bOQWBbAf

— BCCI (@BCCI) January 5, 2019
04.50 IST: The rain has stopped and the light is considerably brighter now. The covers are being taken off and the umpires are in the middle for an inspection. Play will resume at 1100 local if there is no further rain.
The covers are coming off! #AUSvIND pic.twitter.com/kcJB3XAL4y

— cricket.com.au (@cricketcomau) January 5, 2019
04.45 IST: Scratch all that, it has now started to rain and there will be a longer delay. The full covers are being laid out too. Stay tuned for more updates.
04.40 IST: The umpires are out there in the middle, there does not seem to be any rain but the light is still poor to continue. There will be another inspection in 10 minutes.
Ricky Ponting reflects on what he's seen in the #AUSvIND Test series to name the Aussie batters he thinks have booked a trip to this year's #Ashes tour. pic.twitter.com/xmi5H92AJ2

— cricket.com.au (@cricketcomau) January 5, 2019
04.35 IST: The groundstaff have covered the surface here. The floodlights are on as well with the place being quite dark as of now, and the start will be a delayed one.
04.30 IST: Hello and welcome to Day 4 of the final Test of the Border-Gavaskar trophy.
Brief Day 3, Report:  Kuldeep Yadav and Ravindra Jadeja spun India into complete command of the fourth and final test to have Australia at 236-6, trailing by 386 runs when play was abandoned due to poor weather at the Sydney Cricket Ground.
Kuldeep claimed three wickets and Jadeja two as Australia collapsed from 122-1 at lunch to 198-6 shortly after tea on Saturday in a pattern all too familiar for an Australian batting order yet to score a century this series.
When rain stopped play, Peter Handscomb was 28 not out and Pat Cummins was on 25, with Australia still needing another 287 runs to avoid the prospect of the follow-on after India posted 622-7 declared in its first innings. (Read full report here)