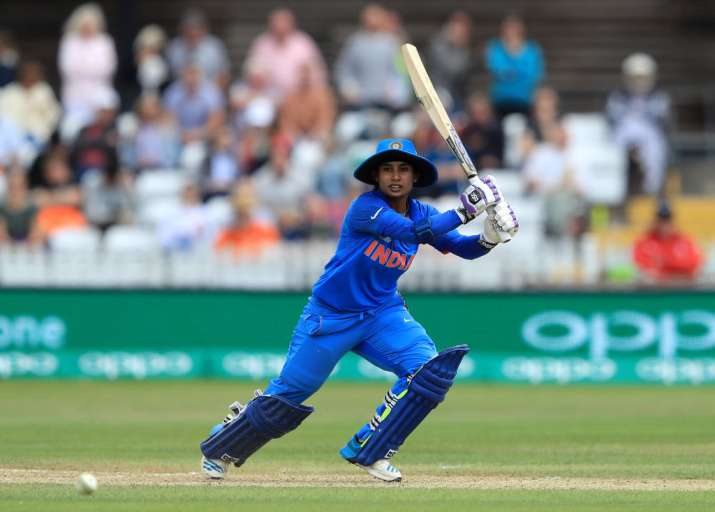 Australia beat India by eight wickets in Match 23 of the ICC Women's World Cup 2017 in Bristol. Opener Punam Raut's fighting century and a record-breaking 69 from skipper Mithali Raj enabled India to post a decent 226 for 7 against the formidable Australia in their sixth group league encounter of the ICC Women's World Cup. Raut (106, 136 balls) and Mithali (69, 114 balls) added 157 runs for the second wicket. The highlight of the Indian innings was Mithali surpassing former England captain Charlotte Edwards' aggregate of 5992 runs to become the highest run-getter in the history of women's ODI. En route her 49th ODI half-century, she also became the first batswoman to reach the individual milestone of 6000 runs. 
However, Australia showed positive approach while chasing and got off to a good start provided by their openers. They stole quick singles, ran-off slightest of misfields from India and keep getting the odd boundary in the middle overs. The experienced pair of skipper Lanning (76*) and Perry (60*) saw them over the line with their respective fifties. With this win, Australia are through to the semi-finals of ICC Women's World Cup 2017. They are also on top of the points table as per now. For India, Poonam Yadav picked up the wicket of Nicole Bolton, while Beth Mooney was run-out off a brilliant throw from Deepti Sharma.
HIGHLIGHTS FROM INDIA VS AUSTRALIA, ICC WOMEN'S WORLD CUP 2017
21.17 IST: FOUR! Perry hits this one straight down the ground to complete the formalities for the women in yellow. AUS Women 227/2 in 45.1 overs. Australia beat India by eight wickets.
21.11 IST: Fifty for Perry. It is her 22nd ODI fifty. She continues her fine form in this World Cup. AUS Women 218/2 in 44 overs
21.04 IST:  200 up for Australia. 8 runs from the 41st over. AUS Women 203/2 in 41 overs 
20.59 IST: FOUR! It's all too easy for Australia at the moment as they are cruising towards the target. AUS Women 195/2 in 40 overs
20.56 IST: Good over from Deepti Sharma, just 3 off it. AUS Women 186/2 in 39 overs
20.43 IST: FIFTY! Good half-century for Australian skipper Meg Lanning. She scored 50* off just 55 balls. AUS Women 172/2 in 35 overs
20.29 IST: 150 up for Australia with a smashing four from Ellyse Perry. AUS Women 152/2 in 31.1 overs
20.01 IST: OUT! A brilliant throw from Deepti Sharma ends Beth Mooney's (45 runs) stay. AUS Women 103/2 in 22.3 overs
19.59 IST:  100 up for Australia in the 23rd over. AUS Women 103/1 in 22.2 overs 
19.41 IST: 12 runs from the over! Another good one for Australia. AUS Women 82/1 in 18 overs
19.31 IST: OUT! Poonam removes Bolton for 36. AUS Women 62/1 in 15.4 overs 
19.14 IST: Three boundaries in a row from Nicole Bolton. Australia cruising at the moment. AUS Women 47/0 in 11 overs
18.53 IST: FOUR! Bolton easily steps back to pull it behind square. AUS Women 18/0 in 5 overs
18.45 IST: It has been a cautious start for Australia. They are 4/0 in 3 overs.
18.30 IST: Welcome back to Australia's chase. Jhulan Goswami to start the proceedings for India.
18.06 IST: FOUR! A boundary from Deepti Sharma to end the Indian innings. IND Women 226/7 in 50 overs
18.03 IST: BOWLED! Another one bites the dust. Sushma Verma gone for 6. IND Women 220/7 in 49.3 overs
17.55 IST: OUT! Another one gone, A fine cameo from Harmanpreet Kaur (23 runs) comes to an end. IND Women 211/5 in 48 overs
17.48 IST: Run-Out! This is bad news for the Indian team as Veda Krishnamurthy also goes back to the pavilion for a duck.  IND Women 206/4 in 47 overs 
17.47 IST: OUT! Punam Raut gone for a well played 106 (136 balls). IND Women 203/3 in 46.2 overs
17.45 IST: SIX! That is huge from Harmanpreet. She launched into it completely. IND Women 202/2 in 46 overs
17.38 IST: HUNDRED for Punam Raut! Brilliant knock from the Indian opener. Raut 100* (129 balls), her first hundred of the tournament. IND Women 187/2 in 44 overs
17.28 IST: OUT! Mithali 69(114) is gone. Good sharp catch Kristen Beams.  IND Women 166/2 in 41 overs. Harmanpreet Kaur comes to the crease.
17.25 IST: 7 runs from Megan Schutt's over. IND Women 164/1 in 40 overs 
16.45 IST: SIX! Brilliant use of the feet from the skipper. Reaches the pitch of the ball and lofted it with the turn over long-off. IND Women 103/1 in 30 overs
16.40 IST: Mithali Raj becomes the highest run-getter in women's ODI cricket. She goes past England's Charlotte Edwards. Mithali 35 runs (83 balls). IND Women 94/1 in 29 overs
16.28 IST: FOUR! Punam Raut hits it over mid-on to complete her fifty, 50 off 74 balls. IND Women 79/1 in 25 overs
16.16 IST: Two boundaries for Punam Raut off Ashleigh Gardner 's over. IND Women 67/1 in 22 overs
16.11 IST: Mithali pushes for a double and this completes the 50-run stand between the Indian duo. IND Women 59/1 in 21 overs
15.59 IST: NOT OUT! Mithali Raj gets a life as the third umpire rules out the LBW decision in her favour. IND Women 43/1 in 17 overs
15.50 IST: Two runs off the 14th over. IND Women 37/1 in 14 overs
15.33 IST: Couple of boundaries from Raut in the 9th over. IND Women 25/1 in 9 overs
15.21 IST: Not a great start for the Indians here in Bristol. They have lost Mandhana inside the first five overs and have only managed to score 11 runs. IND Women 11/1 in 5 overs
15.17 IST: Gardner removes Mandhana for 3. Caught by Alyssa Healy. IND Women 9/1 in 4 overs. Captain Mithali Raj walks in next.
15.08 IST: Ashleigh Gardner gives away 2 runs in the second over. IND Women 4/0 in 2 overs
15.05 IST: Two runs off the first over. IND Women 2/0 in 1 over
15.00 IST: Punam Raut and Smriti Mandhana have come to the crease. Punam Raut is on strike. Megan Schutt to open the proceedings for Australia. Here we go...
14.55 IST: On Wednesday, the Indians need a similar effort with the bat from Smriti Mandhana and Mithali. Mithali will have to emerge from the first golden duck of her career and focus on most coveted achievement of the highest One-Day International (ODI) scorer in the world.
The Indians have the highest scorer in Mithali and highest wicket-taker in Jhulan in the same team, a first in the history of women's cricket.
14.50 IST: Rewind the clock to the 2009 World Cup when the Indians won two back-to-back matches, at the Australian edition of the World Cup. Indian skipper Mithali Raj, Jhulan Goswami, Punam Yadav and Harmanpreet Kaur are the survivors of those unbelievable World Cup victories. The recipe is simple -- get the best batters in for 50 overs and launch an attack from the first ball of the innings. 
Back then, wicket-keeper opener Anagah Deshpande unleashed her cuts and pulls to rattle the Australian attack. Anjum Chopra joined the party with a gritty 76 to emerge as the Player of the Match. Anagah Deshpande unleashed her cuts and pulls to rattle the Australian attack. Anjum Chopra joined the party with a gritty 76 to emerge as the Player of the Match. 
14.45 IST: Fresh from their defeat in the last match, six-time champions Australia will take on a high-spirited India in a group match of the ICC Women's Cricket World Cup at the Bristol County Ground, England, on Wednesday. The Australian girls lead in head-to-head comparison with eight wins while Indian eves have won only twice.
14.40 IST: 
Playing XIs:
India Women: Punam Raut, Smriti Mandhana, Deepti Sharma, Mithali Raj (c), Harmanpreet Kaur, Veda Krishnamurthy, Shikha Pandey, Sushma Verma (wk), Jhulan Goswami, Ekta Bisht, Poonam Yadav
Australia Women: Beth Mooney, Nicole Bolton, Ellyse Perry, Meg Lanning (c), Elyse Villani, Alex Blackwell, Alyssa Healy(wk), Ashleigh Gardner, Jess Jonassen, Megan Schutt, Kristen Beams
14.30 IST: TOSS! Australia win toss, opt to field vs India.
Brief Preview: 
India were on a rampaging run beating England, West Indies, Pakistan and Sri Lanka before South Africa disturbed their momentum with a massive 115-run win. Similarly, Australia's four-match unbeaten run was stopped by England in the previous game and they would also look to get back to winning ways.
Neither of the teams have yet qualified for the semi-finals but Australia are in a better position by virtue of a strong net run-rate. The Aussies lost to England by just three runs, while India were defeated by a huge margin.
In the previous game against South Africa, India had a great chance of sealing a semi-final berth but now they have their task cut out in the remaining round robin games against two strong teams in Australia and New Zealand. (Read Full Preview Here)