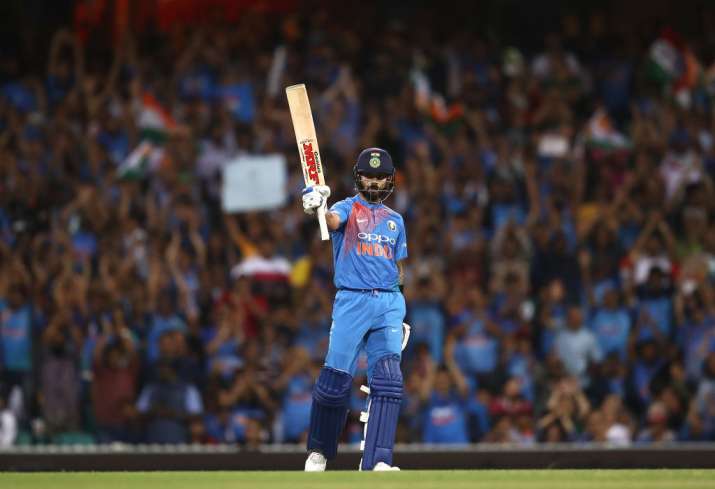 Australia vs India 3rd T20I:Fantastic win for India! The fact that it's their skipper who has steered them home puts the cherry on the cake. Not to underestimate the openers' partnership and Dinesh Karthik's contribution in the stand with Virat Kohli. Australia fought hard in the field but eventually their sorry performance in the Powerplay cost them the game. Here are the highlights of the day from Sydney. (SCORECARD | READ IN HINDI)
Highlights, India vs Australia, 3rd T20I Live from Sydney
Indian superstar Virat Kohli finishes the job and guides his side to victory to level the series at 1-1: https://t.co/SKzJqZd9Ap #AUSvIND pic.twitter.com/GjKrIZznFV

— cricket.com.au (@cricketcomau) November 25, 2018
16.47 IST: India (168/4) beat Australia (164/6) by 6 wickets in Sydney to draw three-match series 1-1. Kohli 61*, Dhawan 41
16.45 IST: FOUR! INDIA WIN BY 6 WICKETS! Kohli finishes it off in style! He has his arms afloat in celebration. Skipper leading from the front.
16.43 IST: FOUR! Scores are leveled! Tye serves it on a length and around middle and off, Kohli gives it the full whack of his bat and spanks it over the bowler's head. No chance for the long on fielder.
16.41 IST: FOUR! DK finds the gap and it's a boundary. 9 runs needed off 9 balls. Starc overpitches outside off, Karthik brings down an angled bat and drives it square of the wicket on the off side. It speeds all along the turf, no chance for the sweeper cover.
16.37 IST: 19th T20I Fifty for Kohli! 5th vs Australia, 4th IN AUSTRALIA. Wow. Gets there in a bit unorthodox manner. A short ball, outside off, slower in pace, Virat looks to pull but is early into the shot. Gets a thick inside edge which goes past the stumps to fine leg! A single taken. IND 143/4 in 17.4 overs
16.32 IST: SIX! A risk-free shot by Kohli. He uses his feet to get down the track, reaches the pitch of the ball and then nonchalantly flicks it with the spin over mid-wicket. Effortless. IND 133/4 in 16.4 overs
16.28 IST: SIX! That's a massive shot! What a shot by Virat! He reads the slower one early, it's on the fuller side at 118.6 kph and Kohli jumps out of the crease. Doesn't try to hit it too hard, just times his shot all the way over long off for a maximum. All timing, no power. IND 124/4 in 15.3 overs
16.28 IST: FOUR! Quality shot from a quality batsman! Back of a length delivery around off, Virat gets into a perfect position and carves it over point for a boundary.
16.26 IST: Skidding into the batsman from around middle, Kohli goes on the back foot and punches it to long on for a run.
* Dinesh Karthik comes in
16.18 IST: OUT! Two in two for Australia and they are roaring. Tye was held back by Finch but as soon as he is introduced, he delivers. Pant bags a golden duck. A clever slower bouncer around leg, at 113 kph, Pant attempts to wheel a pull shot but is early into the swing of his bat. It arrives late, kisses the gloves and loops behind. Carey moves across to his right and grabs the catch easily. This is turning out to be a fun contest. India 108/4 in 13.1 overs
16.16 IST: OUT! Maxwell strikes as Rahul holes out! 57 needed off 42 balls, Australia hanging in there. Maxwell serves a flighted full ball around off and Rahul jumps out of the crease to play a big shot. Goes through his shot well but gets more height than distance behind it. Nathan Coulter-Nile at long off takes the skier safely. India 108/3 in 13 overs
16.13 IST: 100 up for India! After a superb start to the chase, the openers did their bit. Now it's Kohli and Rahul who are anchoring India's innings. IND 102/2 in 12 overs
16.10 IST: Loopy and on off, Rahul drives it to the right of the bowler this time. Maxwell dives but fails to stop it this time. A single to end the over, just 3 from it.
16.07 IST: FOUR! Spoils a good over! Zampa errs this time and lets out a short and wide delivery outside off, the Indian skipper camps back and whacks it through point for a cracking boundary. We have reached the halfway mark, India need another 73 for a win. IND 94/2 in 10.3 overs
A wicket-maiden from Zampa to begin! https://t.co/SKzJqZd9Ap #AUSvIND pic.twitter.com/ulO5xB6bpu

— cricket.com.au (@cricketcomau) November 25, 2018
16.05 IST: Two wides! Zampa drifts this one down the leg side and KL fails to work it around. The keeper also fails to collect and they cross.
16.01 IST: Good start from Maxwell. Just three runs off the over. India 81/2 (9 overs)
15.59 IST: Glenn Maxwell introduced the attack.
15.58 IST: 11 runs from the over. India 78/2 (8 overs)
15.57 IST: SIX! KL is a class act! Coulter-Nile digs in a short delivery around off, Rahul stands back inside the crease to get on top of the delivery and pulls it handsomely in front of square leg. The fielder at the edge of the rope thinks he is in with a chance but it sails over him.
15.54 IST: What an over. A wicket maiden to begin with from Zampa. India 67/2 (7 overs)
15.53 IST: KL Rahul is the next man in.
15.52 IST: OUT! Timber! Zampa created pressure by bowling dots and then breaches Rohit's defense. He pushes this one quicker through the air, at 91.3 kph, a googly, Rohit gets back to work it around the leg side but has not picked the variation. Misses the ball completely and loses his stumps. Massive breakthrough. 98 needed off 79 balls, game on! India 67/2 (6.5 overs)
15.50 IST: Adam Zampa into the attack.
15.50 IST: End of the powerplay. India 67/1 (6 overs)
* Virat Kohli is back at his usual batting position. 98 needed off 87 balls.
15.46 IST: OUT! What a review! It's bat first and Starc has removed the dangerous Dhawan. He bowls it full and quick, in line of the stumps, Dhawan brings his bat down to keep it out but it seems that it has brushed the front pad first. They appeal but the umpire feels that it's bat first and shakes his head. Starc convinces his skipper to take the DRS and Finch obliges. The replays roll in and they show that it's hit the pad first and is going on to smash the leg stump. Entertainment from Dhawan's bat is over. IND 67/1 in 5.3 Overs
* It's a review, Dhawan is the batsman in danger
15.44 IST: FOUR! It's raining fours and sixes and Duckworth-Lewis can do nothing about it. Starc overpitches around off and Dhawan drives it through the line. He pierces the gap at covers with surgical precision to find the boundary. IND 67/0 in 5.2 Overs
15.42 IST: FOUR! Dhawan is unstoppable, 42 in the last two overs for India, they are cruising! A short ball in line of the stumps, Dhawan swivels and powers it over mid on, one bounce into the fence. IND 62/0 in 5 Overs
15.40 IST: SIX!No holds barred! That's huge, that's a monster... Back of a length delivery on middle, Shikhar turns inside the crease and dispatches it in front of square leg via a murderous pull shot. The ball goes into the stand. The crowd is loving it. IND 54/0 in 4.4 Overs
15.38 IST: SIX! Smashed! And what he does next ball, he sends it flying over the fence. A length delivery angling into the batsman, Rohit shows no mercy and hoists it over long on. It appeared to be an off pace delivery but Rohit got enough power to dismiss it. IND 46/0 in 4.2 Overs
15.35 IST: FOUR! Beautiful shot from Dhawan to end the over on high. IND 40/0 in 4 overs 
15.34 IST: SIX! This time Dhwan slogs it down to the off side for the maximum. Huge over for Indian team. IND 36/0 in 3.5 Overs
15.31 IST: SIX! BANG! Rohit has got plenty of bat on this one. Coulter-Nile errs in his line again, bowls a shortish delivery around middle and Rohit easily rides the bounce. Follows it up with the big swing of his bat and dismisses it over backward square leg for a biggie. IND 27/0 in 3.1 Overs
15.29 IST: FOUR! That's a shot of a batsman in prime form! Starc overdoes his length this time. Serves it fuller and on off, Dhawan crunches his drive through the gap at extra cover for a glorious boundary. 145 needed off 102 balls. IND 20/0 in 3 Overs
15.27 IST: WIDE! It was a harsh decision from umpire. Starc in total disbelief. IND 13-0 in 2.1 Overs
15.25 IST: FOUR! Smart batting! Senses the line to be just outside off and Dhawan shuffles across the stumps in anticipation. As soon as NCN drops the ball in that line, Shikhar is ready to smash it over backward square leg for a boundary. 9 from the over!
IND 12/0 in 2 Overs
15.22 IST: FOUR! Rohit greets NCN with a boundary. He receives a length delivery on the pads and easily lifts it over short fine leg for a boundary. He needs to get into the good areas quickly. IND 7/0 in 1.1 Overs
* Only three runs from Starc first over, a very good start for Aussies.
15.20 IST: Excellent yorker from Mitchell Starc, Rohit Sharma looks uncomfortable their with the shot. IND 3/0 in 0.4 Overs
* We're back for the run chase. 165 off 120 legal balls. Rohit Sharma and Shikhar Dhawan are the usual openers for India. Mitchell Starc is back playing this format after a gap of almost two years. He will kickoff the proceedings with the ball. The countdown ends and let's play screams the umpire.
* The match is set up extremely well. The hosts have a par score on the board, and the Indians like chasing. The second innings has all the elements to excite and entertain. Join us on the other side of the break for all the action.
* The Indians will rue the fact that they leaked so many runs in the death overs. Barring the two spinners, nobody else picked up a single wicket and went for quite a few as well. Krunal was the star with his 4-fer, while Kuldeep took 1. Their sloppiness in the field has cost them too, as they dropped a couple of easy chances yet again.
15.01 IST: Australia have a competitive total on the board. A very good finish from Stoinis and Coulter-Nile. 57 came in the final 5 overs, out of 27 were scored in the last 2.
14.58 IST: A 33-run unbeaten stand between Stoinis and Coulter-Nile has ensured the hosts have a good score on the board and can take the series 2-0. With Mitchell Starc, Coulter-Nile, Andrew Tye and Adam Zampa, the Aussies will feel they have a chance but India will also fancy their chances in their chase of 165.
14.57 IST: That's it. Australia score 164/6 from their 20 overs and India need 165 to win the match and level the series.
14.57 IST: FOUR! 15 runs off the over, fine way to end the innings for Australia. Length ball on the stumps, Stoinis looks to hit it through the off side but gets an inside edge which races past short fine leg. A boundary to end the innings. Australia finish on 164/6
14.52 IST: FOUR! Bumper on off, Stoinis is ready for it as he rocks back. Connects the pull well and finds the mid-wicket fence. Not the ideal start to the last over from Bumrah.
14.51 IST: 12 from Bhuvneshwar's last over. Australia 149/6 (19 overs)
14.51 IST: FOUR! Finishes the over with a boundary. 12 from the over. Full ball on off, Coulter-Nile makes room and smashes it through wide mid off. Dhawan out in the deep covers decent ground to his left, but can't stop the ball even with a dive.
14.50 IST: FOUR! Over the infield and that's away! Length ball with room on offer outside off, Coulter-Nile slices it over point and finds the fence.
14.46 IST: A wicket and a boundary in the over. Australia 137/6 (18 overs)
14.46 IST: FOUR! Full toss and that's in the gap. Wide outside off, Stoinis carves it square through point. No protection out there in the deep, so the ball races away to the boundary line.
14.44 IST: Nathan Coulter-Nile comes out to bat.
14.43 IST: OUT! A mix-up and Chris Lynn departs. Wicket gone at the wrong time for Australia. Stoinis taps it down on the off side and Lynn is off. Stoinis sends him back late as Bumrah rushes to the ball. He turns and fires it at the stumps at his ends, and scores a direct hit. Lynn is well out of his crease. Big blow to the Kangaroos. Australia 131/6 (17.2 overs)
14.42 IST: Bumrah returns to bowl his last two overs.
14.41 IST: Nine runs from the over. Australia 129/5 (17 overs)
14.40 IST: FOUR! A bit short and Lynn pounces it on quickly. Slaps the punch over covers to earn a boundary.
14.39 IST: Bhuvneshwar back into the attack.
14.37 IST: End of Krunal's four overs. Brilliant day with the ball for him. Australia 120/5 (16 overs)
14.36 IST: Marcus Stoinis comes out to bat.
14.35 IST: OUT! This time Carey holes out! Krunal gets the last laugh. Tossed up on off, Carey gets low and plays the big slog sweep. Can only get it as far as Virat Kohli at deep mid-wicket and the Indian skipper makes no mistake in taking that. Pandya with his 4th of the innings.
14.34 IST: FOUR! Another boundary, another good shot from Carey. Darted across, so he brings out the reverse paddle and beats Bumrah's dive at short third man.
14.33 IST: FOUR! Fuller and well outside off, Carey once again gets the placement right. Lifts it over covers and beats Bhuvneshwar in the deep, who can't cut it off by moving to his left.
14.31 IST: 15 overs gone. Australia 107/4 (15 overs)
14.28 IST: FOUR! Khaleel dishes out a low full toss outside off, Alex Carey smacks this through the gap in the covers to find the fence. Good balance as he hit that, nicely timed too.
14.25 IST: Another successful over from Krunal. Australia 98/4 (14 overs)
14.25 IST: FOUR! Beautiful shot from Alex Carey. Some width is offered outside off, Carey just lofts it over covers and sends it across the rope for a boundary.
14.24 IST: Lynn finally comes out to bat.
14.23 IST: OUT! Australia 90/4 (13.1 overs) 
14.22 IST: Krunal back on.
14.21 IST: Kuldeep is done with his four and another great outing for the chinaman. Australia 90/3 (13 overs)
14.18 IST: Nine off the over including a boundary. Australia 85/3 (12 overs)
14.16 IST: FOUR! Edged and over! Short ball on off, Maxwell stands tall and pulls. Gets a big top edge and the ball flies over Rishabh Pant's head. Boundary results.
14.14 IST: Khaleel back into the attack.
14.10 IST: Three runs and two wickets. What an over. Australia 76/3 (10 overs)
14.09 IST: Alex Carey comes out to bat ahead of Chris Lynn.
14.07 IST: OUT! Two in two for Krunal and he's on a hat-trick. Quicker one on off stump and McDermott gets low to sweep it away. Misses it completely and is struck on the pads. Another shout and once more the finger goes up. McDermott has no choice but to walk back, no review left to take. Was plumb anyway.
14.06 IST: Brian McDermott comes out to bat.
14.06 IST: OUT! OUT! This time D'Arcy Short is gone. Australia lose a review too. Krunal bowls it fuller and straighter on the stumps, the southpaw gets low to sweep and misses. Is caught flush in front of the stumps on the pads and the finger goes up quickly after the appeal. Now another review is taken but much to his dismay, Ball Tracker shows all three reds. Now, both the openers are back in the hut. Australia 73/2 (10.1 overs)
Krunal Pandya joins the party. No such luck for Short? He's reviewed after being given LBW. Went for the sweep and misses. Looks absolutely plumb. pic.twitter.com/p1sIupkTsh

— BCCI (@BCCI) November 25, 2018
14.03 IST: A dramatic second over from Kuldeep. Australia 73/1 (9 overs)
14.02 IST: Review taken. Not out! Maxwell survives! Good decision to take the review. Kuldeep tosses it up on middle and leg and it turns in, Maxwell looks to flick but misses and is caught on the pads. Loud shout and the finger goes up.
14.01 IST: FOUR! Good timing on that. Floated around off, turning in, Maxwell drives it sweetly through the covers for a boundary.
14.01 IST: Glenn Maxwell comes out to bat ahead of Chris Lynn.
14.00 IST: OUT! GONE! This time an Indian player holds on to it. Tossed up on middle and leg, spins in, Finch kneels down to sweep but gets a top edge which pops to short fine leg. Krunal there takes a simple catch. Australia lose their first, but they've been provided a good start here. Australia 68/1 (8.3 overs)
Kuldeep Yadav strikes. The Australian skipper departs for 28#AUSvIND pic.twitter.com/wdeUpfwLnL

— BCCI (@BCCI) November 25, 2018
13.57 IST: An opportunity missed for India and a lucky escape for Australia. Australia 64/0 (8 overs)
13.57 IST: FOUR! A touch short again, D'Arcy Short stays back and pulls it through square leg to find the fence. 12 off the over. What should have been a good over to begin with ends up becoming an expensive one for India.
13.56 IST: FOUR! Another misfield. The Men in Blue really need to buck up. Short and wide, Short cuts it to backward point where Bumrah is the culprit this time. He moves to his right, gets low but lets it through.
13.54 IST: DROPPED! India's sloppy display in this series continues. Tossed up on the stumps, Finch looks to go big over long on. Can't get enough distance on it and skies it in the same area. Rohit Sharma from the deep comes running in, settles under it well and then lets it through his palms. That's poor. Single taken
13.54 IST: Krunal Pandya into the attack.
13.52 IST: Three runs off the over including two off a misfield. Good start for Kuldeep. Australia 52/0 (7 overs)
13.49 IST: Kuldeep Yadav into the attack.
13.48 IST: End of the powerplay and a good one for Australia. Australia 49/0 (6 overs)
13.48 IST: FOUR! Fine end to the Powerplay. Full and outside off, Short crashes this past the diving point fielder to send it across the boundary line. After the first six, Australia are 49/0. A good Powerplay for them.
13.43 IST: Two boundaries from the over. Australia 41/0 (5 overs)
13.43 IST: FOUR! In the air and right in the gap too. Full and outside off, Finch picks his spot and executes it to perfection. Clears mid off and finds the fence. 13 runs off the over, a good one for the home side.
13.40 IST: FOUR! That's a shot with superb control. Quite short, not a lot of pace but Finch does well to keep this along the carpet. Pulls it through mid-wicket and beats the man in the deep. Good placement too. Nicely done.
13.38 IST: Decent start for Bumrah. Australia 28/0 (4 overs)
13.35 IST: FOUR! Welcomes him with a boundary. That's a good shot. Angling away from a back of a length, Short arches back a bit and cuts it past short third man for a boundary.
13.35 IST: Jasprit Bumrah into the attack.
13.34 IST: Only five runs off the over. Australia 21/0 (3 overs)
13.31 IST: FOUR! Take that, Bhuvi! That's a powerful hit from Short. Full in length and just outside off, the southpaw stands his ground and bangs it straight over the bowler's head for a boundary.
13.30 IST: Another decent over for the Aussies. Australia 16/0 (2 overs)
13.26 IST: FOUR! That's put away! Back of a length and quite close to off, Aaron Finch stays on the back foot and muscles the pull through mid-wicket for a boundary.
Shot!

Watch via Kayo here: https://t.co/SKzJqZd9Ap #AUSvIND pic.twitter.com/7Ba6QE0oL9

— cricket.com.au (@cricketcomau) November 25, 2018
13.25 IST: Khaleel Ahmed to share the new ball with Bhuvneshwar.
13.25 IST: Good first over for the home side.  Australia 8/0 (1 over)
13.24 IST: A big appeal for lbw, but the umpire shakes his head. Will India take the review? They won't. Good call, missing off. Length ball seaming in slightly, catches Finch on the pads as he looks to play at it. It falls behind on the off side and the batsmen take a leg bye.
13.22 IST: FOUR! Poor ball. Too much width outside off, on a length, Short frees his arms and cracks it through cover-point for a boundary.
13.20 IST: D'Arcy Short and Aaron Finch has come out to bat while Bhuvneshwar has the ball for India.
13.02 IST: All set for the final showdown.
They are ready. How about you?#AUSvIND pic.twitter.com/GgGQYhqrUJ

— BCCI (@BCCI) November 25, 2018
12.53 IST: Teams:
India: Rohit Sharma, Shikhar Dhawan, Lokesh Rahul, Virat Kohli (C), Rishabh Pant (WK), Dinesh Karthik, Krunal Pandya, Bhuvneshwar Kumar, Kuldeep Yadav, K Khaleel Ahmed, Jasprit Bumrah. Unchanged.
Australia: D Arcy Short, Aaron Finch (C), Chris Lynn, Glenn Maxwell, Marcus Stoinis, Ben McDermott, Alex Carey (WK), Nathan Coulter-Nile, Mitchell Starc, Andrew Tye, Adam Zampa. One change. Starc IN, Behrendorff OUT 
India XI: Rohit Sharma, Shikhar Dhawan, Virat Kohli (c), KL Rahul, Rishabh Pant (wk), Dinesh Karthik, Krunal Pandya, Bhuvneshwar Kumar, Kuldeep Yadav, Khaleel Ahmeed, Jasprit Bumrah.

Unchanged #AUSvIND

— cricket.com.au (@cricketcomau) November 25, 2018
12.52 IST: Australia win toss, opt to bat first.
Australia wins the toss and they have put us to bowl first #AUSvIND pic.twitter.com/yNo3RdNrvo

— BCCI (@BCCI) November 25, 2018
12.49 IST: Spin could play a major part in sunny conditions at the MCG. Advantage India? Time will tell.
12.42 IST: Final talks before the all important clash.
Game mode on 🤙🏻💪🏻 #TeamIndia #AUSvIND pic.twitter.com/P8VvnnZxi6

— BCCI (@BCCI) November 25, 2018
12.38 IST: The deck at the SCG.
Toss in 15 #AUSvIND pic.twitter.com/PtrJT3PY6Z

— cricket.com.au (@cricketcomau) November 25, 2018
12.36 IST: Mitchell Starc checking his mark during the practice.
Fair delivery #AUSvIND pic.twitter.com/5ETGTjV374

— cricket.com.au (@cricketcomau) November 25, 2018
12.25 IST: A bright and sunny SCG.
Setting for the final T20I
The SCG in full beam #AUSvIND pic.twitter.com/lkFADQm0uj

— BCCI (@BCCI) November 25, 2018
12.05 IST: The weather in Sydney is much better than it was so far in Brisbane and Melbourne. It's bright and sunny with a temperature of 22 degree Celsius and with 0 chances of rain.
12.02 IST: India have been unlucky in this series. In the first match, they were asked to chase a bigger target and in the second, they didn't even get to bat after restricting Australia to a low score. Therefore, the series stays in Australia's favour and all they can do is level it.
Brief Preview:
Staring at an imminent defeat after seven successive series wins on trot, India will be looking for yet another solid bowling performance against a brittle Australian top-order in third and final T20 International on Sunday.
India were in with a very good chance of levelling the series in Melbourne on Friday after reducing Australia to 132 for 7 in 19 overs but rain put paid to their hopes.
Now a win at the SCG will at least let Virat Kohli's team share the bragging rights and more importantly remain in a good frame of mind before the real test begins at Adelaide on December 6. (Read Full Preview Here)