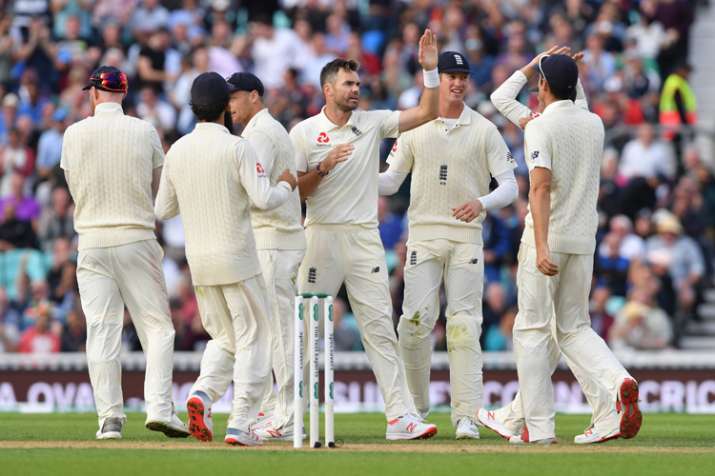 India vs England, Highlights, 5th Test Day 2 at The Oval:
India vs England, Highlights, 5th Test, Day 2:
James Anderson and Ben Stokes claimed two wickets each as England restricted India to 174/6 on Day 2. Well, well, well, someone said at the start of the Day 1 that it is a batting paradise. The best they have seen in this series. What is going here now? The hosts have clawed their way back into this Test just like they did in the previous successful victories in this series. They chipped away with 5 Indian wickets in this session and have become the favourites to win this match. Anderson and Broad put on an exhibition of reverse swing and tore apart the visitors' middle order. Curran and Ali supported equally well and made sure their team ended the day on top. (
SCORECARD
)
IND vs ENG, 5th Test, Day 2 Highlights from London:
23.02 IST: India 174/6 at stumps, trail England (332) by 158 runs at The Oval. Anderson 2/20, Stokes 2/44, Vihari 25*. Ben Stokes to Ravindra Jadeja, no run. Full on off, Jadeja defends it watchfully onto the ground. That's Stumps on Day 2.
A very good day for the boys! 👏

Scorecard/Videos: https://t.co/Mz94pIpwvI#EngvInd pic.twitter.com/nfOom4R8mv

— England Cricket (@englandcricket) September 8, 2018
22.59 IST: FOUR! Too full and straight. Jadeja flicks the ball on his pads to the fine leg fence and add four valuable runs to his team's total. ENG 174/6 in 50.3 overs.
22.56 IST: Moeen Ali is back on.
22.55 IST: FOUR! Edge and just wide of the third slip. A full ball on off, Jadeja looks to dig it and gets a thick outside edge. The ball races to the third man fence. Stokes ends another successful over.
22.53 IST: Jadeja walks in next.
22.52 IST: OUT! Stokes removes Pant for 5. Another one bites the dust. Pant, his Test career and India are loosing the plot here. Stokes corrects his line and bowls it on a length outside off. Pant goes after it with an angled bat with no real determination. The ball takes the edge and Cook, at first slip, pouches it comfortably. India 160/6, trail England (332) by 172 runs at The Oval.
22.50 IST: FOUR! No stopping this. It was asking to be hit and Pant obliges. A leg slider and a flick was enough to send it across the fence.  IND 160/5 in 48.2 overs.
22.42 IST: Rishabh Pant is the next man in.
22.41 IST: OUT! Stokes removes Kohli for 49. EDGED AND GONE! Shades of 2014 there! Stokes gets the big fish and it is a timely wicket as this partnership was starting to flourish now. Kolhi falls one short of a well-deserved half ton. However, I wonder, why did he play that shot when an over ago he had a word with Vihari who attempted a similar shot. Lapse of concentration? Maybe. Stokes bowls it full and wide outside off, it swings away further. Kohli goes for the booming drive through covers, looking to get to his 50 in style. The ball though takes the outside edge and goes towards second slip and Root there takes a good catch. The English crowd and the players celebrate as Kohli walks back dejected. India now have half the side back in the hut and with their captain now dismissed, 322 looks farfetched. India 154/5, trail England (332) by 178 runs at The Oval.
22.39 IST: FOUR! Straight like an arrow! However, if he plays shots like these, nobody would tell him to calm down. That is crisp. Full and on off, Vihari eases it through mid off and the ball races to the fence. The 50-run stand is up, a very, very important one in the context of the game. India were struggling when the two joined forces. However, the job is not yet over.
22.36 IST: FOUR! Boundaries now coming thick and fast for Vihari! On the pads, he flicks it fine and the ball races away to the fence.
22.34 IST: FOUR! Somewhat similar top-edge, but runs for India. In the air... but just short! Luck going Vihari's way here. He once again tries pull it. This time though he tries to drag it from outside off. The ball takes the top edge and goes towards Rashid at fine leg. He comes running in but can't reach it. He lets it through and the ball races to the fence.
22.32 IST: SIX! Vihari's first international boundary is a six! Not in convincing manner though but it should break the shackles for him. A bumper on middle, he takes on the challenge of pulling it. The ball takes the top edge and flies over the keeper and into the sightscreen.
22.30 IST: FOUR! Back-to-back boundaries! Through the off side this time. A friendly full toss outside off, Kohli guides it through cover-point and the ball races away.
22.28 IST: FOUR! Bread and butter stuff for Kohli. You bowl it to him there all day and he will keep murduring you. Full and on the pads, Kohli whips it through mid-wicket and you need not run for those.  IND 125/4 in 43.2 overs.
22.26 IST: Sam Curran is back on.
22.20 IST: FOUR! HAMMERED! That made a cracking sound off the bat! Short ball and on middle, Kohli swivels and pulls it through backward square leg and the ball races away to the fence.
22.18 IST: Some umbrellas have been opened in the crowd. Seems like there is a slight drizzle, a very slight one, lets just hope it does not get heavier.
22.14 IST: Ben Stokes is back on.
22.08 IST: James Anderson to Virat Kohli, In the air... but safe! Almost squares up Virat there. He looks to play the full ball a bit too square and ends up getting a leading edge to it. To his delight, it bounces before the fielder at point. IND 106/4 in 39 overs.
22.02 IST: Stuart Broad to Hanuma Vihari, NOT OUT! Yes, height does save him as the ball is going over the stumps. The on-field call has to be overturned and Vihari continues to live a charmed life. This seemed high to be honest. This was another inswinger by Broad. Vihari goes back and tries to nudge it but misses to get hit on the pads. The players appeal and the umpire after giving it a thought raises the finger. HV walks up to Vk and after a chat opts for the review. Time for the replays and they show the ball is bouncing over. Excellent use of technology. IND 108/4 in 37 overs.
21.56 IST: Stuart Broad to Hanuma Vihari, Howzzat? Not given! Looked close, very close. Not sure why the England captain did not take the review. An inswinger from Broad from outside off. Vihari tries to flick but misses to get hit above the knee role. The English players let out a huge appeal but the umpire shakes his head. Root has a chat but opts not to take the review. Ohkay... replays later show three reds, just as I wrote at the start, not sure why England did not go for the review, especially with two in the bag. Nevertheless, a life for Vihari and he would love to make full use of it. IND 104/4 in 36.3 overs
21.51 IST: Hanuma Vihari the debutant is now in the firing line!
21.45 IST: OUT! And another. What a spell from the champion that Anderson is. Rahane goes for a duck. It lands around off and goes away from Rahane with the shine. Rahane, just like Pujara, goes fishing. The edge is found and Cook takes a comfortable at first slip. India is under the cosh now and they are still behind by 229 runs. Anderson removes Rahane for 0. India 103/4, trail England (332) by 229 runs at The Oval
21.40 IST: Stuart Broad to Ajinkya Rahane, Cuts him in half there. A jaffa! It lands outside off and comes back in sharply. Rahane looks to play it off the front foot but the ball goes through his pad and pad. A scare survived.
21.36 IST: Ajinkya Rahane is the next man in.
21.34 IST: OUT! There it is, there it is. If not Kohli then, Pujara. England and Anderson will take them all, very happily. A short of a length ball outside off, Pujara has been so good till now to leave them but has a go at this one. He ends up nicking it to Bairstow behind the sticks who does the rest. Anderson removes Pujara for 37. India 101/3, trail England (332) by 231 runs at The Oval
21.30 IST: Stuart Broad to Cheteshwar Pujara, 3 runs.  Clips and clips in the gap. A full ball on middle and leg. Che flicks it through mid-wicket. The short mid-wicket fielder chases it and saves a run for his team. 100 for the visitors as well.  100 up for India in 32 overs.
21.25 IST: James Anderson to Virat Kohli, no run. Closer to the off pole but Kohli lets it pass again. IND 98/2 in 31 overs.
21.20 IST: Stuart Broad is the next change.
21.17 IST: FOUR! And a gentle loosener to let him off the hook. It way down the leg side, Kohli just clips it and gets it to fence ever so easily.
21.15 IST: Virat Kohli Not Out! Kohli hangs on to his life and so frustrating for Anderson. He has bowled 254 balls to Kohli as of now and he is yet to get the Indian skipper out. This one looked out though. Anderson bowled a full ball coming in with the swing after pitching. Kohli plays all over it and fails to connect. The English team cries out in an appeal but the umpire, after a lot of thinking, declines the request. Jimmy is convinced and so is his captain. They take the review. The replays roll in. The impact is just outside off and that is what saved him else it would have been curtains for Kohli. It seems Jimmy getting the ball to reverse. He would like to get one up on Kohli for sure.
21.14 IST: Review time! An LBW appeal declined by the umpire. Kohli is the man in question as Jimmy is certain it's hitting.
21.13 IST: Anderson has been brought on to remove Kohli. Can he?
21.12 IST: FOUR! Now Pujara gets into the act. Ali again flights it nicely on off. Che comes down the track and crunches it past the bowler and into the fence at long on. Runs coming thick and fast now.
21.08 IST: FOUR! Short and punished. A rare loosener from Ali in line of the stumps. Kohli goes back, swivels and plaves the pulls to the square leg fence for a boundary.
21.05 IST: FOUR! Full. Wide. Driven. Boundary. As easy as you like. Gets beaten two ball earlier and drives this through covers handsomely. That's Kohli for you in a gist.
20.57 IST: Sam Curran to Virat Kohli, no run. BEATEN! How much would have the England side loved if that would have taken the edge? Brilliant by Curran. He is in amidst of a brilliant spell here. He once again bowls it full and just outside off, gets it to slant across the batsman. Kohli goes for the drive but is beaten comprehensively.
20.50 IST: Virat Kohli walks in next.
20.49 IST: OUT! Sam Curran removes Rahul for 37. What an absolute peach. Take a bow, Sam Curran. Rahul has beaten all ends up here. He gets a length ball which lands on middle and off and it goes with the angle from over the wicket. Rahul plays inside the line and the ball goes past the bat and clips the top of off pole. England is ecstatic and rightly so. Rahul was looking dangerous and he has been sent backpacking. India 70/2, trail England (332) by 262 runs at The Oval.
20.46 IST: Three runs from the over. Moeen Ali to Lokesh Rahul, 1 run. Pushes this one to the on side and keeps the strike for the next over. IND 70/1 in 22 overs. 
20.40 IST: Four Byes! Uuf! Risky stuff from KL. He looks to sweep the slower floated ball and it goes agonizingly close to the stumps without touching anything. The slip fielder tries to cut it down and so does the fielder running from the square leg region but both fails. Ali has his hands on his head as he knows he could have had him there. Nonetheless, 4 byes stolen and more imprtantly for India, Rahul survives.
20.36 IST: Moeen Ali to share the attack from the other end.
20.32 IST: FOUR! Cuts and cuts hard. Curran dishes another short ball outside off and Che cuts it fiercely through backward point for the first boundary after the break.
20.30 IST: The last session is about to get underway. Players from both the sides are out in the middle. Pujara will be on strike. Sam Curran will continue for England.
20.13 IST: India 53/1 at Tea, trail England (332) by 279 runs at The Oval. Rahul 35*, Pujara 15*, Broad 1/12. Moeen Ali to Lokesh Rahul, 2 runs.  A shorter in length delivery, just outside off is punched off the back foot into the cover-point region to get a brace for the visiting team. 
Tea on Day 2 of the 5th Test#TeamIndia 53/1 (Rahul 35*, Pujara 15*), trail England 332 by 279 runs.

Updates - https://t.co/EhPQPnkoy2 #ENGvIND pic.twitter.com/oEM2xnduEX

— BCCI (@BCCI) September 8, 2018
20.03 IST: FOUR! What a way to conclude the over. Very short from Moeen, misses his length. Pujara cashes in on it as he rocks back quickly and pulls it powerfully through the square leg region to bring up Che's first boundary.
20.00 IST: Moeen Ali, England's trump card, comes into the attack.
19.59 IST: Sam Curran to Cheteshwar Pujara, No run.
19.56 IST: Sam Curran, the hero for England in this series, comes into the attack.
19.47 IST: James Anderson to Cheteshwar Pujara, no run. Good finish to the over from England's highest wicket taker. Dishes this on a length around off. The ball seams in on landing and takes Pujara's inner edge as he's looking to keep it out and deflects onto his thigh pad.  IND 40/1 in 12 overs.
19.42 IST: FOUR! Whenever Rahul drives, it pleases the eyes. This may sound like a poetry but that's how his batting style is. It brings the poet out of the person watching him. A full ball from Ben on off, Rahul comes forward, gets on top of it and dives it through covers. A boundary results.  IND 38/1 in 10.4 overs.
19.40 IST: The ball has been changed in between the overs for some reason. Root showed it to Pujara who wanted to have a feel of but the request declined by the English skipper. No love lost there.
19.36 IST: Anderson is brought back for another spell.
19.34 IST: FOUR! Short and pulled handsomely over fine leg region. Stokes targets the grille and Rahul is up to it. He goes after it and gets it to the fence.
19.29 IST: FOUR! IND 30/1 in 8 overs. Great effort from Buttler but couldn't stop the boundary there. Che punches the length ball off the front foot and through covers. Buttler there runs after it, dives in front, pushes it back but it hits his foot and hits the fence. The umpire signals a boundary.
19.20 IST: Meanwhile, KL Rahul has set a new record as he took most catches in a Test series in England. (Read full story)
19.16 IST: Comedy of errors here. Rahul lost his shoe while taking a run and it follows his for a couple of seconds. Stokes, ever so helpful, picks it up for him, gets the laces untied and hands it over to Rahul.
19.14 IST: FOUR! Goodness, gracious! This is out of the top bracket from Rahul. Stokes dishes a full ball outside off. Rahul sees the width and lines it up. He gets low, gets his bat under the ball and lofts it up and over. The ball lands just inside the fence but not before the crows applauds the beauty of a shot that was.
19.12 IST: Ben Stokes comes in to bowl.
19.07 IST: FOUR! Class! Not the kind of shot you'd see everyday. Anderson lands this one shortish around off and KL goes back to late cut it through slip cordon and gully. The ball beats the gully fielder and races to the fence.
18.59 IST: Cheteshwar Pujara is the new batsman in.
18.58 IST: OUT! Broad removes Dhawan for 3. Dhawan has been given out LBW. Looks very close though. He has a chat with Rahul and then signals 'T' to the umpire. But, he was so engrossed into his discussion with his partner that it seems he forgot about the 15 sec rule of DRS. As soon as he signals for the review the umpire inform him that the 15 secs are over and he cannot review it now. Dhawan, dejected, walks back with face down. India lose their first. Can the hosts make more inroads? Replays show that the impact was umpire's call, so the review wouldn't have mattered. How unlucky are the visitors, the hosts got beaten approximately a thousand times and the first ball he misses, Dhawan is gone. Harsha Bhogle, on air, say that Dhawan was 3 seconds late in signaling the 'T', that means he made the signal on the 18th sec. Too late Shikhar. Just the way this game goes! India 6/1, trail England (332) by 326 runs at The Oval.
18.50 IST: James Anderson to Lokesh Rahul, 3 runs. Off the mark first ball! Anderson starts with a back of a length delivery in the channel around off. Rahul stays back footed and punches it through covers for three runs. India are away as well.
18.42 IST: England 332-all out in first innings against India at The Oval. Buttler 89, Jadeja 4/79. Jos Buttler OUT! Taken! A beautiful innings from Buttler comes to end. The change in field does wonders for Jadeja and India. Jadeja tosses this one on off and turns it away from Buttler. He goes after it from his crease and with hard hands. The ball takes the outside edge and flies towards Rahane standing as the lone slip. He takes it with both his hands and sends Buttler back in the hut.
A wonderful innings from @josbuttler! 👏

Scorecard/Videos: https://t.co/6erwzLEIKR#EngvInd pic.twitter.com/lvnXUhLyG1

— England Cricket (@englandcricket) September 8, 2018
18.35 IST: SIX! Boom! Short ball but Buttler is unfazed by that. Bumrah looks to surprise the batsman with the bumper but Buttler hooks it into the gap. It wouldn't have mattered either way as the ball sailed over the fence and into the crows once again.
18.33 IST: SIX! And T20 mode it is. What a swat that was. Buttler and his power. He gets a length ball on off and Buttler pulls the trigger from there. A swat across the line and it goes up and over the mid-wicket fence and into the crowd. Bang!
18.24 IST: Last man, James Anderson walks in.
18.23 IST: OUT! Jadeja removes Broad for 38. What. A. Catch! Guess who's the Superman? The star in the slip cordon, KL Rahul. He has caught an exceptional one in the deep this time. Broad finally had enough of defending the balls out as he goes for a wild hoick over the long on fence. He lines up the quicker delivery on middle and off from Jadeja and lofts it over the infield. Rahul runs back from mid on and keeps his eyes on the ball. Just at the last moment, he dive in front to held on to it. He stands up and signals to the dressing room stating the number of catches he has taken in this series and that 13, joint highest in a series. He also broke the 96-run stand which was came at almost 5 runs an over. Buttler to get into T20 mode now? Looks likely now with the last man in.  England 312/9 in 117.3 overs vs India at Oval.
18.15 IST: Bumrah to share the attack.
18.14 IST: For runs from the overs. Ravindra Jadeja to Jos Buttler, 1 run. Guides the shortish ball to square leg and keeps the strike for the next over. ENG 308/8 in 115 overs.
18.11 IST: Jadeja to start after the break. He has a slip and a short leg.
18.10 IST: We are back for the post lunch session. The Indian players make their way out to the middle along with the two umpires. The English pair of Buttler and Broad walk out and the latter will be on strike.
17.35 IST: What a session for the hosts! How many of you would have thought they would cross the 300-run mark at the start of today? Well if you did so, you should surely buy yourself a lottery ticket because it has been a commendable effort by them. It is once again, that man, who has been exceptional for them down the order, Jos Buttler who walks off to a standing ovation from the crowd and his teammates. He deserves every bit of it as he has not only bailed them out of trouble but now has put them on the front foot.
17.33 IST: Wide again but at the side of the poles. Shami fires it down the leg side. Jos looks to flick it but misses the ball. Pant collects it with ease. THAT'S LUNCH ON DAY 2.
17.30 IST: Starts a new over with a bit shorter of a good length on middle stump line. The ball lands and seams in a bit. Butler looking to flick it misses and gets rapped on the pads because of the inward movement on the ball. The ball is missing leg stump though. They take a quick leg bye too.
17.28 IST: 300 up for England. What a turn around of events. From 198/7, the hosts have added 100+ in the first session itself. ENG 300/8 in 113.5 overs
17.18 IST: FOUR! If you slash, slash hard! Broad does exactly that as he sees the width on this short of a length ball. Goes for the fierce slash, gets a top edge and the ball flies over the slip cordon for a boundary. The hosts motoring along. ENG 296/8 in 111.5 overs
17.15 IST: Beaten..again! A typical Shami delivery. On a good length around off, moving away. Batsman gets sucked into the drive and gets beaten. This has become a copy paste stuff for me now.
17.13 IST: And luck is still unhappy with Shami. gets the edge again but not a wicket. Lands till length ball on middle and gets it to deviate away on hitting the deck. Buttler, from his crease, trying to keep it out but gets an outside edge. The ball rolls towards the vacant gully region for yet another brace. Hard luck Shami!
17.07 IST: FOUR! Classy drive by Buttler. A half-volley and Buttler says thank you so much, he leans into it and strokes it through covers for a boundary. ENG 283/8 in 109.4 overs
17.02 IST: FIFTY! Jos Buttler notches up his 10th half-century! What a comeback. ENG 276/8 in 108.3 overs
17.00 IST: FOUR! Streaky! But as they say, luck favors the brave. Buttler has been brave and the visitors the opposite. Shami starts the over with a beautiful delivery. ENG 274/8 in 108.1 overs
16.58 IST: Broad now makes room, Ishant bowls it way outside off. Broad reaches out for it and gets it off the toe end towards deep point for a run. 31 shy of the 300 run mark now England. IND 270/8 in 108 overs
16.57 IST: FOUR! Right in gap! Buttler moves into the 40s, also it brings up the 50-run stand between the two. Another annoying stand for the Indians but a vital one for England. This is full and on the pads, Buttler flicks it through square leg and the ball races away.
16.54 IST: FOUR! That's a shot even a top-order batsman will be proud off. Shami keeps it a bit short of good length, Broad transfer his wait on the front foot and makes contact with the ball simultaneously, hence the super timing. The ball flies past mid on's right and races to the boundary. England recovering well.
16.52 IST: FOUR! ENG 263/8 in 107 overs
16.47 IST: Easy runs here for Buttler. India leaking runs. Jadeja bowls this short and outside off, Buttler punches through covers to take a single.
16.45 IST: Leading edge but safe. Keeps it on a length on the middle stump line. The ball lands and moves away from Broad. Broad looking to work it into the leg side is squared up because of the movement and gets a leading edge. The ball flies over Shami's head and falls in between mid on and mid off.
16.43 IST: Shami starts his first over after the break with a short ball but he has banged it well wide of off stump. Broad has absolutely no issues leaving it alone.
16.40 IST: FOUR! Smashed by Buttler! Very poor delivery by Jadeja. Drops it short and wide outside off, Buttler picks his area and whacks it square of the wicket on the off side. A boundary results. Vital runs these. ENG 251/8 in 103.4 overs
* Drinks break. England have done well so far to survive the first hour by losing only one wicket. Jos Buttler is holding one end firmly and is adding vital runs to the total. A bit frustrating for India as once again they are struggling to get rid of the English tail.
16.34 IST: Unlucky Shami! Beats the batsman again but is still wicketless in the innings. lands this one on a good length just outside off. Buttler looking to score fast runs goes for the big booming drive through the off side. The ball moves away on landing and beats Buttler's bat.
16.33 IST: Broad gets rapped on the pads but Survives. Broad keeps it in line with the stumps. Broad tries to flick it but misses and gets rapped on the pads.
16.29 IST: Nasty! Banged in short angling towards Broad's head who does really well to duck under it at the last moment. Pant behind, leaps like a frog, to pouch it with his left glove. Nice take that by the young keeper.
16.25 IST: Beauty! Shami gets this one to lands in the corridor of uncertainty. The ball pitches and moves away. Buttler, trying to go for the drive on the up, is beaten.
16.24 IST: Much better from Shami as he lands this one on a good length on the middle and off line, with some away movement. Buttler does well to block it and the ball rolls towards the cover region. They take a quick single.  
16.23 IST: Bouncer! Broad has been hit on the gloves but the ball drops just besides his feet.. Good change of length from JB.
16.18 IST: 4 Leg byes! Bumrah misses his line and length on this one as he fires a knee-high full toss at Broad's body. Luckily for the batsman, the ball swings in too much, brushes his thigh pad and runs down towards deep fine leg for a boundary.
16.15 IST: FOUR! Beautiful shot! That will instill some confidence in the English pacer. Ishant keeps this fuller outside off. Broad comes forward and creams the drive through covers for a boundary.
16.08 IST: Buttler EDGED AND FOUR! Back of a length on off, Buttler away from his body tries to push it through the off side. The ball takes the outside edge and goes just wide of the diving second slip fielder and into the fence.
16.06 IST: Stuart Broad is the new man in.
16.05 IST: OUT! Bumrah removes Adil Rashid for 15. The angle does not save him as the ball is clipping the leg pole and it is umpire's call. England however, do not lose a review. India though, get the breakthrough they so desperately wanted today morning. End of the frustrating stand for India. Bumrah comes running in and bowls it around off, this one jags back in after pitching. Rashid is rooted in his crease as he tries to block it out but misses to get hit on the pads. The players appeal and the umpire after a while raises the finger. Rashid walks up to his partner and after a chat, sends it upstairs. Replays show that the ball is not missing the stumps. Rashid has to continue his walk back into the pavilion.  England 214/8 in 97.1 overs vs India at Oval.
16.03 IST: Up goes the finger and Rashid has been given his marching orders. He, though, has decided to review it. Looks close, however, the angle can just save him.
15.57 IST: Jasprit Bumrah to Adil Rashid, no run. A typical fast bowler's response, goes for a boundary on the last ball, this time he bangs it short, tries to roughen the batsman up. Rashid however, is up to the task and ducks under it. ENG 212/7 in 96 overs.
15.55 IST: FOUR! Excellent use of the wrists there. Full and on middle, with the angle, Rashid flicks it through mid-wicket and the ball races away. That went to the fence very quickly, no soul moved there.
15.50 IST: Ishant Sharma to Jos Buttler, no run. Howzzat? Doing a little too much. Another good decision. Full and tailing back in from off. Buttler misses the flick to get hit on the pads. The players appeal but the umpire shakes his head. Hawk Eye later confirms that it would have missed the leg pole.
15.40 IST: Jasprit Bumrah to Adil Rashid, 1 run. Rashid keeps the strike with the single! The indipper by Bumrah. Rashid taps it towards point and takes a brisk single.
15.35 IST: FOUR! Classical shot there! First runs of the day and it comes in the form of a boundary. A stylish shot to bring up the 200. Full and outside off, Rashid needs no sighters. He plants his front foot forward and strokes it through covers for a boundary.
15.34 IST: Jasprit Bumrah to bowl from the other end.
15.30 IST: We are all set for the action to begin. Out come the Indian players along with the umpires. They are followed by, the birthday boy, Jos Buttler and Adil Rashid who will resume their innings. Ishant Sharma has the second new ball in his hand which is relatively new. He has two slips in place.
15.25 IST: PITCH REPORT - Sanjay Manjrekar says, it's not as cold as yesterday and the conditions are slightly overcast but there is no fear of rain. Regarding the surface, he feels the Indian seamers bowled superbly on the opening day, used the conditions well and troubled the English batsmen. However, he also states that because of the Indian pacer's footmarks, specially Ishant Sharma's, a lot of rough has been created around the danger area. Reckons this will benefit Moeen Ali. Ends by saying that the most important battle will be the one between the English spinners, specially Moeen Ali, and the Indian batsmen.
14.30 IST: 
Day ✌ here at The Oval.

Thoughts?#ENDvIND pic.twitter.com/XsA7igLSgB

— BCCI (@BCCI) September 8, 2018
Who's coming to the Oval this weekend dressed like these guys? 👨‍🍳#EngvInd #ThankYouChef pic.twitter.com/0aJulbaQRi

— England Cricket (@englandcricket) September 7, 2018
Hello and welcome to our live coverage of Day 2 of the fifth and final Test between India and England. Play will resume at 3.30 PM IST, 11.00 AM Local Time.
Brief Preview: Ishant Sharma struck thrice to lead India's sensational fightback as the visitors reduced England to 198 for 7 at stumps after Alastair Cook hit a memorable half-century in his career's final match on day one of the fifth Test on Friday. Ishant (3/28) picked up three wickets, while Jasprit Bumrah (2/41) and Ravindra Jadeja (2/57) struck twice each to trigger England's collapse in the final session of the opening day. The 33-year-old Cook, who will retire from international cricket after this Test, produced a 190-ball 71-run innings to give England a good start before the hosts lost six wickets for 58 runs post tea to collapse from 133-1 to 181-7. (READ FULL PREVIEW)