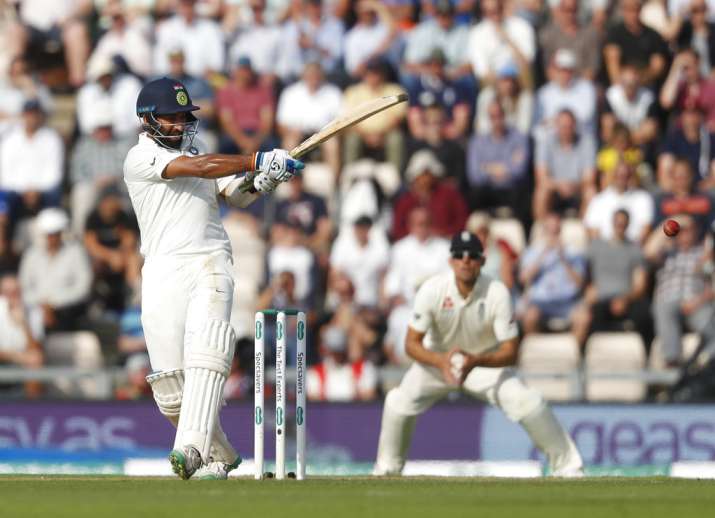 Live Cricket Score, India vs England, 4th Test, Day 2: England enjoyed the upper hand in the post-lunch session despite dogged defiance from Cheteshwar Pujara as India reached 181 for 5 at tea on the second day of the fourth Test. Rishabh Pant (0) patiently left the deliveries outside the off-stump before Moeen Ali got one to straighten after pitching trapping him leg-before at stroke of tea. Pujara however batted in his customary style reaching 70 off 151 balls with nine boundaries to his credit. Pujara played in his usual style. He took time to settle down and waited patiently for the loose deliveries to dispatch it to the boundary. Skipper Virat Kohli (46), once again looked good for a big score before Sam Curran managed to draw him forward inducing a thickish outside edge to Alastair Cook in the slip cordon. Kohli-Pujara added 92 runs for the third wicket after Shikhar Dhawan (23) and Lokesh Rahul (19) were dismissed cheaply by Stuart Broad (2/50). Stay tuned with us for all the action for cricket score India vs England 4th test. (LIVE SCORECARD | BALL-BY-BALL COMMENTARY)
HIGHLIGHTS, INDIA VS ENGLAND, 4TH TEST, DAY 2 AT SOUTHAMPTON - ENG 246 & 6/0 vs IND (273)
21.13 IST: There are a lot of rough areas of the track and from the looks of things, the pitch will take some considerable amount of turn come the new day. India will try and wrap up England ASAP. More so than any other reason because the hosts have two spinners, while the tourists have just the one. The morning session will be key in terms of a psychological edge. So join us at 3.30 PM IST as Day 3 promises to be exciting.
23.11 IST: 
That's Stumps on Day 2 of the 4th Test.#ENGvIND pic.twitter.com/3QzS3ogq4P

— BCCI (@BCCI) August 31, 2018
23.08 IST: So, like the first day, we've had exactly 4 overs after a team has been bowled out. Another exciting day of Test cricket comes to a close. The two English openers managed to survive Jasprit Bumrah and Ravichandran Ashwin's onslaught and head back to the dressing room unscathed. The day had genius with both bat ball, with Cheteshwar Pujara's hundred standing out amongst everything.
23.04 IST: Bumrah spears it outside off, the angle is taking it away and Jennings knows this. He raises his bat and lets it go past him. STUMPS ON DAY 2!
23.00 IST: FOUR! Falters with the line and pays the price. Bumrah bowls it on the pads, Jennings flicks it fine down the leg side and gets a boundary for doing so. ENG 6/0 in 3.1 overs
22.58 IST: Almost got him there. Fuller in length on middle and leg, it shapes away slightly and squares Cook up. It goes off the leading edge through covers and a single is taken. A scare survived, but another over has ticked by and that's all England will care about.
22.50 IST: Off the mark immediately. Ashwin comes from around the wicket and slides it in on middle and leg, Alastair Cook goes back and wrists it through mid-wicket for a single.
22.49 IST: The English openers are out as Keaton Jennings and Alastair Cook take field. R Ashwin will start with the new ball. Let's get started.
22.47 IST: The hosts would be disappointed they couldn't wrap the Indians up earlier. Kind of like a taste of what the visitors felt when the home side was batting yesterday and Curran somewhat took the game away from them. A handful of overs left in the day, and the Indians will want to scalp a wicket or two before Stumps. The action will begin again quickly, stay tuned!
22.43 IST: What a Test match! Just when you think it's over something different seems to put itself on display. India were on the brink of ending up in a position of weakness, but Cheteshwar Pujara's heroics have helped his side not only take the lead, but also be in a decent position, as the day is about to finish.
22.40 IST: India 273 all-out in first innings, lead England (246) by 27 runs. Pujara 132*, Moeen 5/63
22.38 IST: Seems Anderson's been given the nod to bowl. Could be on soon. He's asking Joe Root from which end he should come on to bowl.
22.33 IST: And this stand continues. Pujara once again does ever so well to keep the strike with him. Places it in the midwicket region and collects a couple. The lead is of 27 now while the partnership is worth 46 valuable runs. About 25 minutes left in the day's play.
22.26 IST: Bumrah, on the other hand, has safely negotiated a testing over from Curran.
22.21 IST: FOUR! Back-to-back boundaries! This is incredible batting from the Indian no.3. It's full and outside off. Pujara nicely leans into the shot and crisply drives it through the covers for a boundary. The chasing fielder can do nothing about it.  Pujara moves to 129*. IND 270/9 in 80.4 overs.
22.20 IST: FOUR! That is a terrific shot. Brute force and raw power from Cheteshwar Pujara. Haven't seen this side of him in a long time. He's expecting the ball to be full, so he uses the depth of the crease to get under the ball and lifts it over mid-wicket for a boundary. IND 266/9 in 80.3 overs.
22.19 IST: Second new ball has been taken.
22.15 IST: FOUR! Pujara taking the attack to the English bowling attack. Once again makes good use of his feet to get close to the pitch and lofts it over Joe Root's head at deep mid off. The English skipper tries chasing it down but can't keep it inside the rope. IND 261/9 in 79.4 overs.
22.08 IST: Consecutive wides. That's a rare sight. Curran once again fires it full and too far outside off, the umpire raises his arms sideways. IND 251/9 in 78 overs.
22.03 IST: And INDIA TAKE THE LEAD BY 1 RUN! Pujara pulls this away through mid-wicket for a couple and puts his team ahead of England.
22.01 IST: Read here how Pujara stood tall amongst the ruins and has given India a fighting chance in this Test.
21.55 IST: FOUR! On a good length outside off, Pujara stays back and drives it powerfully through covers. Beats the infield and the ball runs away. That is a shot of a man past the 3-figure mark. The deficit now is just 1. Can he though get a run in the next ball? Pujara moves to 110* with able support from Bumrah 4*. IND 245/9 in 75.5 overs. 
💯👏

A hard fought CENTURY for @cheteshwar1.

This is his 1st century in England, 5th against England and 15th overall in Tests.#ENGvIND pic.twitter.com/S1TzJp2iA6

— BCCI (@BCCI) August 31, 2018
21.50 IST: Sam Curran returns as England are desperate for that last wicket.
Determined @cheteshwar1 was a joy to watch. Crucial innings... match wide open... #ENGvIND pic.twitter.com/n1unlYpgjl

— Sachin Tendulkar (@sachin_rt) August 31, 2018
21.46 IST: FOUR! Well played and nicely timed. Pujara is very good with spin, uses his feet and flicks this through mid-wicket. No fielder there and the ball meets the ropes. IND 240/9 in 74.3 overs
Well done @cheteshwar1 top inn.. well deserved 100 👏👏 #ENGvIND 4th Test

— Harbhajan Turbanator (@harbhajan_singh) August 31, 2018
21.40 IST: Cheteshwar Pujara scores his 15th Test century. His first in England and what a knock this has been. Ali gives this air in line of the stumps, Pujara charges down and lofts it over his head. The ball does not go all the way but they take the second run. Removes his helmet and soaks in all the applause. IND 232/9 trail ENG (246) by 14 runs in Southampton.
21.34 IST: Bumrah is the last man in. Pujara still on 96*
Five wickets for Moeen Ali! How good has he been? 🙌

Scorecard/Videos: https://t.co/Tkym0XzCYO#EngvInd pic.twitter.com/E22iMGMnNV

— England Cricket (@englandcricket) August 31, 2018
21.31 IST: OUT! Got 'em! 5th Test 5-fer for Moeen Ali. He's steamrolled the tail here. Gets another to his name. Lands it around off and it spins back in with some extra bounce. Goes off bat apparently, then the pad and into the hands of Alastair Cook at FSL. The finger goes up in response to the appeal but Ishant is upset. He indicates there's no bat but Snicko detects a feather. He's gone. End of a useful knock from him though. Moeen removes Ishant for 14. India 227/9 in 71 overs vs England in Southampton
21.28 IST: FOUR! Gets low early to this tossed up one and sweeps it behind square leg. Through the gap and that will be a boundary. IND 227/8 in 70.3 overs.
21.23 IST: FOUR! Shot! Pujara moves to 94. What a confidence booster this will be from him if he gets to a 100 in England. Comes down the wicket again and chips this over mid-wicket all the way to the fence IND 220/8 in 68.5 overs. Pujara just six runs away from a great century.
21.18 IST: The other spinner Rashid is into the attack from the other end. Pujara on 90*.
21.14 IST: FOUR! Finally a boundary for Pujara. He is trying his best but does not play that much of white ball cricket. Waits for the ball to come to him and cuts it late towards third man for a boundary. IND 212/8 in 66.4 overs. Pujara moves to 88*
21.08 IST: A very good looking shot from Ishant. Ali gives this air outside off, Sharma uses his feet and lofts it over mid off. The ball stops near the ropes and the batsmen come back for the third run.
21.02 IST: 200 up for India! Pujara on 80.
20.59 IST: FOUR! Shot! This is good from Sharma. Brings out the broom again, reaches for the ball from outside off and finds the fence through square leg. IND 199/8 in 62.4 overs.
20.55 IST: Ishant Sharma joins Pujara in the middle.
20.50 IST: OUT! Moeen removes Shami for 0. Two in two for Moeen. What a spell from the bearded man. Comes in from over the wicket and lands this on middle and off, Shami goes back and looks to play it with a straight bat. The ball does just enough to go and hit the off pole. India have lost their last 6 wickets for 52 runs and Moeen will be on a hat-trick in his next over. India 195/8 in 61 overs vs England in Southampton. He will be on a hattrick in his next over.
Moeen Ali is on a hat-trick!

Scorecard/Clips: https://t.co/tL6UeAfWNf#EngvInd pic.twitter.com/bDrCVmJQ1c

— England Cricket (@englandcricket) August 31, 2018
20.48 IST: OUT! Moeen removes Ashwin for 1. Poor from Ashwin. Not the shot he should have played and it causes his downfall. Mooen gives this air outside off, Ashwin premeditates, gets on one knee and looks to reverse sweep this one. The ball hits the bottom of the bat, bounces and goes on to hit the timber. India far from reaching the hosts total, still trail by 51 runs. India 195/7 in 60.5 overs vs England in Southampton
20.40 IST: Ashwin walks out into the middle.
20.38 IST: OUT! Moeen removes Hardik for 4. Outstanding catch! England ripping then Indian lower middle order and have not only got themselves back into his game but also in a comfort zone. India's tail not that strong as of the hosts and they will hope they wrap this up ASAP. Moeen floats this around off, Pandya comes ahead and looks to milk this away. Root with a perfect field set has positioned himself at short mid-wicket. He dives to his left and takes a good low catch. India 189/6 in 58.3 overs vs England in Southampton
20.31 IST: FOUR! 29 balls for Pant to get off the mark. Hardik Pandya, 'Hold my Beer'. Gets on one knee to this floated ball and sweeps this through mid-wicket for a rocketing boundary. IND 185/5 in 56.5 overs.
20.30 IST: We are back for the last session of the day. Hardik Pandya is the new batsman in
Pant goes for a 29-ball duck on the stroke of tea! ☕️

Scorecard/Clips: https://t.co/ql1c2z2Fd8#EngvInd pic.twitter.com/hMy8r8vjII

— England Cricket (@englandcricket) August 31, 2018
20.12 IST: TEA time. Pujara the lone standing batsman at 70
20.12 IST: OUT! Moeen removes Pant for 0. Pant is gone for a duck, despite facing 29 deliveries! Unbelievable. He hasn't looked as assured as he did in the previous game and eventually, Moeen Ali ends his misery. Tosses this up on leg, it spins and strikes Pant on the front pad as he misses his defense. A loud shout goes up and so does the finger. No reviews left so there's nothing he can do. Was gone anyway, the replays confirmed that. A dead duck. India 181/5 in 56.4 overs vs England in Southampton
20.02 IST: FOUR! Two in two for Che. A bit too straight in line and Pujara doesn't think twice to put it away. Tickles it fine down the leg side, past a diving Jos Buttler for consecutive boundaries. IND 178/4 in 54.2 overs.
20.01 IST: FOUR! A boundary after ages. Oh that's just beautiful. Beautiful. Could watch that all day long. Pujara nicely leans forward to this full length ball and drives it through the covers to find the fence. No stopping that. IND 174/4 in 54.1 overs.
19.56 IST: Anderson is not happy with the shape of the ball. He shows it to the umpire who puts it through the 8-shaped gauge. Goes through just fine and he asks him to continue with it
19.52 IST: Pant yet to get off the mark after playing 13 deliveries.
19.45 IST: The play has resumed.
19.42 IST: That was nasty! Ouch! Stokes brings out the short one and it's quite accurate. Aimed right at Pujara who takes the pull shot on. The bounce gets too big on him though and he cops a blow on the helmet. It flies behind point and the batsmen change ends. Stokes checks up on him as Che takes his helmet off. The physio is out to have a look at Pujara. He seems to be fine, which is good to see. Going to need just a breather from the looks of things. IND 167/4 in 50.1 overs
19.38 IST: Hawk-Eye has gone down for the time being. So technical issue probably. That means that there will be no DRS available till it's back up and running.
19.37 IST: The veteran James Anderson is back for a burst. 
19.31 IST: Pujara is on 55 while Pant is yet to open his account having played just a couple of deliveries.
19.25 IST: Rishabh Pant is next in.
19.23 IST: OUT! Stokes removes Rahane for 11. Stokes gets the breakthrough. Take nothing away from him, that's a superb delivery, but that's possibly a no ball. Dicey call from the umpire. This will be one that will create a lot of chatter in the hours to follow. After a few outswingers, Big Ben brings this one in and gets some serious movement. Rahane attempts to block but is beaten completely and rapped on the front pad. A loud appeal goes up and the finger follows soon after. The batsman, after speaking with his partner, decides to use the DRS and it's taken upstairs. Replays roll in and it checks for the front foot no ball first. It shows that Stokes very likely has his front foot over the line, but the TV umpire is heard saying he thinks it's fine. The rest, well, all three boxes are ticked and Rahane is out of here. He walks back disappointed. India 161/4 in 46.4 overs vs England in Southampton
19.19 IST: FOUR! Overpitched and that's gleefully put away. Well outside off, moving away, Rahane reaches out to it and caresses the drive through the gap in the covers. Finds the fence with ease. IND 161/3 in 46.1 overs.
19.16 IST: A really interesting contest between bat and ball is going on at the moment. After the dismissal of Virat Kohli, there is a new zeal and intensity among the Englishmen. Stokes and Curran are in good rhythm and they are inducing false strokes as well. Rahane and Pujara have to be watchful.
19.11 IST: Time for Drinks. IND 156/3 in 45 overs.
19.08 IST: Dropped! Root drops Rahane of the bowling of Stokes. A lot of activity is happening in the slip cordon. In the avenue of apprehension, shapes in a touch after landing. Rahane fishes at it and gets an outside edge behind. The ball flies towards Root at second slip. It is at a very low height as Joe dives to his right but the ball doesn't stick. It rolls towards third man and a run is taken. It was not an easy chance by any means. England's slip problems continue.
19.00 IST: FOUR! Another chance perhaps! On a fuller length around off, Pujara pushes at it and gets an outside edge. Buttler is a bit late to react, dives to his left but the ball just goes past him and beats Cook as well through to the fence. The replays show that the ball was a catchable height for the keeper but he was slow to take off. Stokes is making an impact immediately. IND 151/3 in 42.1 overs.
18.57 IST: FIFTY! Cheteshwar Pujara scores his 19th half-century. IND 1--/3 trail ENG (246) by 1-- runs in Southampton
FIFTY!

A well deserved half-century for @cheteshwar1. This is his 19th in Tests.

Live - https://t.co/0H7QgsePBK #ENGvIND pic.twitter.com/mySUE1Qvlr

— BCCI (@BCCI) August 31, 2018
18.56 IST: Ajinkya Rahane is the new man in!
18.54 IST: OUT! Curran removes Kohli for 46. England have sent the big fish packing! That dismissal will boost the morale of the Englishmen by bounds and leaps. On a length outside off, angled across, Kohli comes forward and does the mistake of playing away from his body. A fat outside edge results as the ball flies towards Alastair Cook at first slip. He gets low to his right and takes a very fine catch. The Indian skipper starts walking off immediately, showing good sportsmanship. In the previous innings, Cook had gone back too after his opposite number had taken a good low catch. These kind of examples should be soaked in by the youngsters. India 142/3 in 41.1 overs vs England in Southampton
The big one @CurranSM! 🙌

Scorecard/Videos: https://t.co/VBQEnDVX0V#EngvInd pic.twitter.com/uDbId81DOh

— England Cricket (@englandcricket) August 31, 2018
18.49 IST: FOUR! Hallmark of a really good player! Gets a fractionally overpitched delivery and pounces on it. Pujara leans ahead and drives it beautifully through extra cover for a delightful boundary. IND 139/2 in 40 overs.
18.45 IST: Curran is back into the attack as England look for an opening.
18.42 IST: Pujara cuts Ali behind for three runs. Deft from Pujara! Pushed quicker through the air outside off, Che dabs it late towards third man. Stokes gives it a chase and slides near the fence. Kohli calls his partner through for the third and makes the danger end safely. Both the batsmen on 44 now. IND 135/2 in 39 overs.
18.35 IST: FOUR! That could have been converted into an opportunity! Much better from Ali. After bowling 4 short balls, he bowls this one full outside off. Kohli is drawn into the drive and gets an outside edge. The ball goes through the gap between the keeper and Stokes at first slip and runs through to the fence. IND 125/2 in 36.5 overs.
18.29 IST: FOUR! Sit back and enjoy! That was a mere push but the timing on that one was sensational. Fractionally overpitched on middle, Kohli who is standing outside his crease strokes it past Broad and through mid on to find the fence. IND 118/2 in 35.2 overs.
Send us your impression of @CurranSM's bowling face... 😬

Scorecard/Clips: https://t.co/9COzJVwSxb#EngvInd pic.twitter.com/30kF2ni0RP

— England Cricket (@englandcricket) August 31, 2018
18.24 IST: FOUR! This time he is also watchful but with aggressive intent. Short and asking for trouble as it is well outside off. Pujara stands tall and cuts it through the point region to pick up his second boundary of the over. IND 111/2 in 34 overs.
18.21 IST: FOUR! When you flash, flash hard! A pretty safe shot in the end. Short and there is width on offer. Pujara slaps it but gets it off the outer half over the slip cordon for a rocketing boundary. IND 107/2 in 33.2 overs
18.18 IST: Moeen Ali to bowl from the other end.
18.12 IST: We are back for the afternoon session. Cheteshwar Pujara and Virat Kohli to resume their innings. Stuart Broad to steam in with the ball first up after Lunch. Three slips in place. Here we go...Day 2, Session 2. Broad to Kohli
18.10 IST: Remember, the pitch is easing out and and it is only going to become easier to bat with the ball becoming softer. India should be patient and play the way they are playing. England, on the other hand, will have to get things done themselves. Join us in a short while for the second session.
That's Lunch on Day 2 of the 4th Test.

A 50-run partnership between @imVkohli & @cheteshwar1. #TeamIndia 100/2 (Pujara 28*, Kohli 25*), trail England (246) by 146 runs.

Updates - https://t.co/0H7QgsePBK #ENGvIND pic.twitter.com/LixWNwuMKx

— BCCI (@BCCI) August 31, 2018
17.33 IST: That's Lunch! India 100/2 trail England 246 by 146 runs in Southampton. Kohli 25*, Pujara 28*, Broad 2/34
17.27 IST: Hundred up for India at the loss of two wickets. IND 100/2 in 30 overs
17.21 IST: Adil Rashid is operating from the other end.
17.17 IST: Keaton Jennings is into the attack now with his medium pace!
17.11 IST: FOUR! On his way to 7000 runs! Shots like these, makes Kohli the player he is. Pitched up ball outside off, Kohli takes a step ahead and drives it through covers. The fielder dives near the ropes but cannot prevent the ball from stopping the fence. IND 90/2 in 25.1 overs.
17.07 IST: FOUR! In the air...but safe. England will want that man at gully closer. Curran darts this full and way outside off, Kohli gets low and reaches for the ball. Opens the bat face at the last moment and slices it towards gully. Stokes there dives but the ball is away from him. The ball races to the boundary. The umpire signals a boundary. IND 83/2 in 24.1 overs.
17.02 IST: FOUR! Cut away and cut away nicely to the boundary. Short and wide outside off from Anderson, Pujara rocks back and slaps this through point for a good looking boundary. IND 77/2 in 23.1 overs
17.02 IST:
Another day, another milestone for captain @imVkohli. 6K and counting in Tests 😎😎👏 #TeamIndia #ENGvIND pic.twitter.com/fX3g22ZEXM

— BCCI (@BCCI) August 31, 2018
16.56 IST: FOUR! Anderson gets the edge but it goes past the slip cordon and towards the boundary. Full and outside off, Kohli reaches for it and gets a fat edge to it. The ball flies past the third slip and to the third man region to meet the fence. 6000 Test runs for Virat Kohli and he becomes the second fastest Indian to get there. IND 72/2 in 21.4 overs.
16.48 IST: FOUR! Streaky! Broad making Pujara to make mistakes. Bowls this short and wide outside off. Pujara stays inside, opens the bat face and guides it uppishly over the cordon. The ball runs away to the fence. Pujara needs to be careful. IND 65/2 in 19.3 overs
16.44 IST: FOUR! Kohli cover drive! Two in two balls for India. One from Pujara and the other one from the skipper. Broad into his 8th over of the spell, pitches this up around off. Kohli who has just faced one ball before this goes ahead and drives it sweetly through covers. Nobody moves and Kohli is up and running. IND 60/2 in 19.1 overs
16.42 IST: FOUR! Shot! First for Pujara and a lovely one. Sam serves it up outside off. Pujara's eyes light up, he reaches for the ball and eases it through covers for a boundary. IND 56/2 in 19 overs.
16.40 IST: The Indian captain Virat Kohli walks in.
16.36 IST: OUT! Broad removes Dhawan for 23. Broad gets his man to play and gets him to nick. Four previous balls which went away and Dhawan was happy to leave it alone. This one too was shaping away but he is tempted to fish at this. Broad serves this full on that fifth stump channel, Dhawan leans ahead to drive it but gets a thick outside edge to it. The ball flies towards the cordon where Buttler dives to his left and takes a good low catch. India 50/2 in 17.5 overs vs England in Southampton
16.35 IST: With the flow of runs reduced to a trickle, check out comments of a few ex-players:
Different Team ... Doesn't matter ... Whatever the situation ... Bat 1st ... Bat 2nd ... Doesn't matter ... England find a way to be 30 for 3 !!!!!!! #ENGvIND

— Michael Vaughan (@MichaelVaughan) August 30, 2018
India's day. 60:40. Pitch at Southampton is indeed a good one to bat. It was on display when Mooen and Curran batted. It'll take an inspired spell or two from England or harakiri from 🇮🇳 on the morrow to even this contest. #EngvInd

— Aakash Chopra (@cricketaakash) August 30, 2018
16.25 IST: Stuart Broad to Shikhar Dhawan, Full ball outside off, Dhawan charges down the track. Don't know why he was doing so. Anyways, he doesn't fiddle with it. Sanity prevails.
16.17 IST: Dhawan has been caught by Cook in the slip cordon. Was there an inside edge? England certainly feel so as Cook has a conversation with his teammates and challenges the decision. Safe! There is no inside edge! England are following in their opposition's footsteps and waste a review. Good length ball around off, straightens after landing. Dhawan tries to play it across and the ball goes off something behind. Cook at first slip takes it and appeals along with Broad.
16.09 IST: Left-arm seamer Sam Curran is into the attack now. He was the hero for England in the first Test in Edgbaston. He was also the star with the bat in the previous innings. Can he put in a similar performance with the ball too?
16.06 IST: FOUR! Pristine timing on that one! Full ball on middle and leg, Dhawan moves inside the line exposing his leg stump. He connects nicely with the flick as he plays it behind square leg. Rashid in the deep hares to his right but only comes second best. That one flew off the bat. IND 46/1 in 11.5 overs.
16.00 IST: Pujara finally gets off the mark on the 12th delivery he plays.
15.55 IST: James Anderson to Shikhar Dhawan, Close shave! Certainly not where Dhawan intended to go. Fullish ball around off, there is nibble in the air. Shikhar pushes at it gingerly and gets a thick inside edge that just goes past the leg stump to fine leg. A couple taken. IND 39/1 in 8.4 overs.
15.48 IST: Cheteshwar Pujara strides out to bat.
15.45 IST: OUT! Broad removes Rahul for 19. India 37/1 in 7.1 overs vs England in Southampton. No, there is no surprise! A review goes down the drain for India. Stuart Broad has struck early this morning, just what the doctor ordered for England. India have lost their first wicket.
15.40 IST: FOUR! Shot! That will make him feel confident. Back of a length ball around off, nips away after pitching. Rahul makes use of the depth of the crease and punches it through covers to pick up a boundary. IND 34/0 in 6.3 overs
15.35 IST: FOUR! Sweet Pitched up ball well outside off, Dhawan leans into it and caresses it through cover-point. The timing is spot on and the ball whistles away to the fence. IND 30/0 in 5.2 overs.
15.35 IST: Meanwhile, just before the play started Ishant Sharma was seen chatting with Windies legend Michael Holding
From one fast bowler to the other 😎#ENGvIND pic.twitter.com/JZUeWbHrck

— BCCI (@BCCI) August 31, 2018
15.31 IST: FOUR! First runs of the morning! Well bowled and well played as well. Jimmy continues to probe in around off stump. Dhawan waits for it and opens the face of the bat at the last moment. He deliberately guides it past the slip cordon to find the fence. IND 23/0 in 4.3 overs
15.28 IST: We are set to get rolling. The men who matter come out to the middle. It is a terrific day for cricket as the sun is shining in all its glory. The Indian openers, Shikhar Dhawan and KL Rahul, will resume their innings. The legendary James Anderson is ready to steam in with the red cherry which is pretty fresh. Four slips in place. Here we go...
15.22 IST: The visiting bowlers have ruled the roost to give their side the upper hand in this game. It is up to their batsmen now to back them up and take the game away from England. It won't be easy for them though as they are up against a penetrative pace bowling attack. It will be about being sensible and capitalizing on the match situations. The hosts, on the other hand, will still believe in themselves. If they make early inroads this morning, their confidence will receive a boost. Expect a tough tussle between bat and ball.
15.18 IST: Sanjay Manjrekar doing the pitch report first says that the there is no rain threat for few more days. On looking down he says that this Day 2 pitch has two changes. One is that the fast bowlers leave a mark while bowling which indicates that there is some moisture on the surface. The second thing he points out is that the rough is very slow to the right-handed batsmen and it will help the spinners.
14.30 IST: Hello and welcome to our Live Coverage of the Day 2 of the fourth Test match between India and England at Rose Bowl, Southampton. Stay tuned as we bring you all the latest updates.
Brief Day 1 Report: Sam Curran offered some spirited resistance with a resolute half-century but Indian bowlers, led by Jasprit Bumrah, produced a disciplined effort to dismiss England for 246 on the opening day of the fourth Test match on Thursday. Bumrah (3/46) scalped three wickets, while Ishant Sharma (2/26), Mohammed Shami (2/51) and spinner R Ashwin (2/40) took two wickets each and Hardik Pandya (1/51) accounted for one as India dominated the proceedings on the opening day. All-rounder Sam Curran anchored the England innings with a determined 78 as he shared 81 runs with Moeen Ali (40) and 63 runs with Stuart Broad (17) for the seventh and ninth wickets respectively.
The hosts lost six wickets for 86 runs to find themselves in a precarious position after opting to bat. However, the 20-year-old Curran resurrected the England innings with a 136-ball innings which was studded with eight hits to the fence and a six. It was his second Test half-century. The left-hander was the last batsman to be dismissed when he was cleaned up by Ashwin in the 77th over.
At stumps, Shikhar Dhawan (3 not out) and KL Rahul (11 not out) were at the crease with the hosts leading by 227 runs. (READ FULL REPORT HERE)