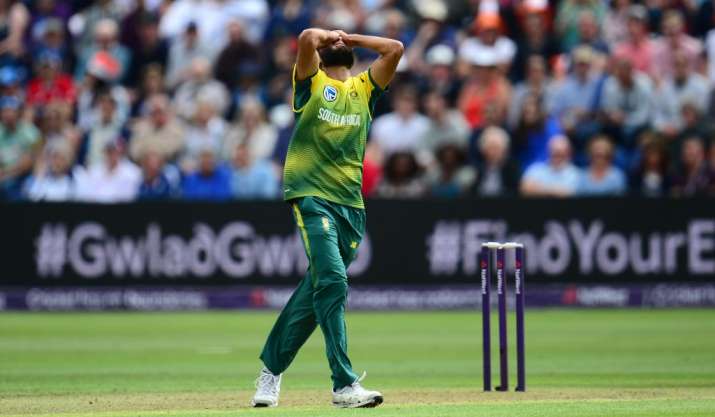 In an unfortunate incident, South African spinner Imran Tahir faced racial abuse during the fourth ODI between India and South Africa at New Wanderers stadium in Johannesburg on Saturday. The 38-year old was verbally and racially abused by miscreants every time he entered and left the field while performing his drinks duties. A group of spectators repeatedly shouted at the cricketer and hurled abuses at him. 
Backing his player in the whole incident, Cricket South Africa (CSA) confirmed the news on Monday of racial abuse against Tahir in Johannesburg. The fan was eventually evicted from the stadium after the leg-spinner reported the incident to the security officials. "Cricket South Africa has noted and is aware of the circulation of video footage featuring Imran Tahir on social media and Whatsapp groups," CSA said in a release.
"Imran Tahir was verbally and racially abused by an unknown man during the fourth ODI against India at the Wanderers Stadium on Saturday. Tahir reported the incident to the stadium security, and was subsequently accompanied by two security personnel to identify and to have the man ejected from the stadium," they added.
Adding more the statement, CSA said: "Tahir made no physical contact with the offender or any of the children in the vicinity. The incident is under investigation with the CSA and stadium security teams. In accordance with the ICC Anti-racism code, spectators who engage in racist conduct are to be ejected from the stadium and can face further sanctions and criminal prosecution."
WATCH the incident in the video clip below:
Later during a press conference, South Africa team manager Mohammed Moosajee also backed the veteran spinner, he said: "My understanding from Imran's perspective is that he was racially and verbally abused by a certain gentleman throughout the match. He reported to stadium security stationed in front of the dressing room and two of the security personnel accompanied him to  identify the perpetrator."
"According to what Imran said, it was an Indian fan," 
...when he (Tahir) got up there, there was some hostile verbal exchanges. And to neutralise the situation, they removed him from the scene and brought him back to the changing room," Moosajee added.
In the past as well, Tahir had been subjected to such kind of behaviour. During the 2015 World Cup, the fans at Manuka Oval had a run in with Tahir with one of the fans shouting "Why don't you go stroke your pet camel?" at him. Tahir had faced such an incident at the same venue during the 2014 tour as well.
Interestingly, Tahir was not the part of the South African playing XI for the rain-marred Johannesburg ODI against India which the hosts won by five wickets. With this win, the Proteas have managed to stay alive in the six-match ODI series and reduced the margin to 1-3.