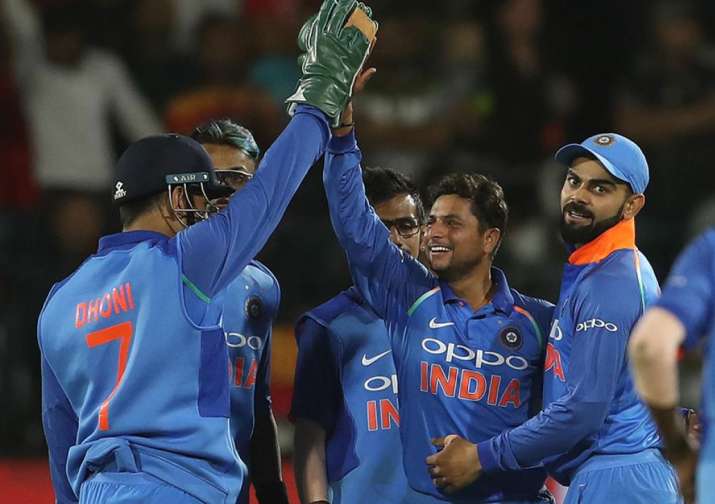 Touted as the next big thing in Indian cricket - left-arm wrist spinner Kuldeep Yadav has terrorized the batsmen world over with his smart and unplayable bowling. In his journey so far,  Kuldeep has turned heads with his unique bowling style and classical chinaman variations that have bamboozled the best in the business.  He has featured in 20 One-day Internationals (ODIs), 8 Twenty20 Internationals (T20Is) and two Test matches for India.
In the last one year, Kuldeep has taken some rapid strides in world cricket and has emerged as trump card for Indian team especially in the limited-overs format. Along with fellow leg-spinner Yuzvendra Chahal, Kuldeep have formed a deadly combination for the men in blue who is dominating the batsmen with their guile and skills. Recently, the duo played a key role in India's first ODI series win in South Africa.  In the six-match series that India won 5-1, Kuldeep took 17 wickets at an astonishing average of 13.88.
Keeping Kuldeep's incredible statistics in mind, his mentor, Brad Hogg, has said that the young India spinner is ready to feature in Tests and should be given an opportunity to play the longest format of the game. 
"Oh, he is ready. A quality wrist spinner always does well against England. I know it's hard on Ashwin and Jadeja, and if India can play Ashwin as the allrounder and squeeze in Kuldeep, it would be great. And if they need just one spinner, I think he is ready for it. He is not a T20 and ODI specialist, he is the real deal. Throw him in the Tests, I say!" The Indian Express quoted the former Australian chinaman bowler as saying.
India are set to tour England in July this year where they will play three T20Is, three ODI and five Test matches. 
In his debut Test against Australia last year in Dharamsala, the 23-year-old produced a series-defining spell of 4/68 helping the hosts clinch the series 2-1. 
Hogg, who played in the Indian Premier League (IPL) franchise Kolkata Knight Riders (KKR), has spent a lot of time with the bowler and is not shy to say that the young Indian spinner is a fantastic human being. "Kuldeep would be a perfect role model for a son I would want. He is a fantastic human being. Genuine, authentic, and someone who keeps it real," Hogg added.
The 47-year old Australian also added that he had seen potential in Kuldeep very early when he saw him first four years ago. "When I met him four years ago, I felt he was a well-rounded young man. He worked bloody hard, listened a lot, asked questions; immediately you knew that here is a guy who is serious about his career."
Late this year, the world number one ranked Test side India is set to tour Australia and Hogg believes the presence of Kuldeep in the Indian Test side will do wonders for the visitors. 
"In Australia, you need someone with a lot of over spin, to go with the ability to rip it side-ways too, and that's the reason behind Nathan Lyon's success here. Kuldeep can do it," Hogg said.
Kuldeep will next be seen in action in the 11th edition of Indian Premier League playing for Kolkata Knight Riders which starts on April 7.