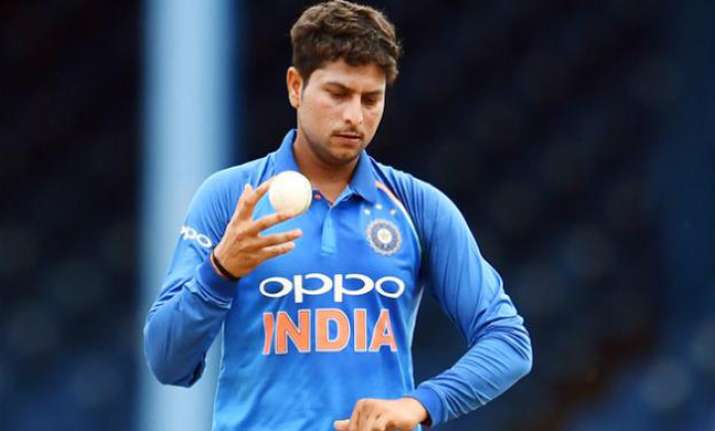 Young Chinaman Kuldeep Yadav revealed that he nearly contemplated on taking his own life after not being picked in the Uttar Pradesh squad. Today Kuldeep's name is one of the regulars on the list as the chinaman has been through the rough to be in the position that he is in at the moment. The slow left-armer contemplated on the fact whether he would leave cricket to take his life after he was not selected in the UP squad. 
Kuldeep felt that he had prepared well for the selections in the team but the disappointment of his name not being on the list made the young colt think about ending his life. 
Kuldeep mentioned that such a matter was conjured up in the heat of the moment. 
Kuldeep has revealed how his perceptions changed about bowling and what led him to become a Chinaman.
"I had worked hard for my selection, but when I was not picked, I mentioned suicide in frustration. It happens to everyone in the heat of the moment," Kuldeep told Hindustan Times.
The chinaman mentioned that he never took cricket seriously and it was his father that wanted him to take up the sport right from the start.
"I was a meritorious student in school and wanted to play cricket just for fun. I never thought of making it my vocation. In fact, my father wanted me to play cricket and took me to the coach," he added.
Kuldeep mentioned that it was his coach who forced him to become a spinner when he wanted to become a seamer. Kuldeep's coach was highly impressed with his bowling skills and asked him to make his style a habit.
"I always wanted to become a seam bowler, but my coach forced me to become a spinner. When I bowled a few balls (Chinaman), I was asked to make it a habit. Otherwise, I didn't know I was bowling something different.
Shane Warne has been an inspiration to the young Kuldeep. Warne recently touted Kuldeep to become on of the 'best' spinners in the sport. 
"I keep watching videos of Warne. His grip of the ball, length of deliveries and use of the crease are unbeatable. I try to learn from the footage."
Kuldeep created history when he became the first spinner and the third Indian to collect a hat-trick in ODIs. He achieved the feat against Australia.  
"It was a pressure game. It was the series decider. I was bowling alongside Ravichandran Ashwin and Ravindra Jadeja. I felt at ease only after bagging four crucial wickets. I felt the pressure as bowling in such conditions was quite difficult. But I focused on the length of my deliveries," he said.
"If I am sure about my skills, I will be successful. So, I keep concentrating and working hard on my abilities,"
Kuldeep mentioned that it was Play Station 4 that helps him concentrate better on and off the field. 
"PS4 is my favourite (video) game and it helps me understand and solve the problems of life. I don't stop thinking about the game even when I am home and enjoying my mother's home-cooked food,"
As time passes by, Kuldeep Yadav, at the age of 22, has achieved laurels and records with the nation that will only help the chinaman develop into a better bowler.