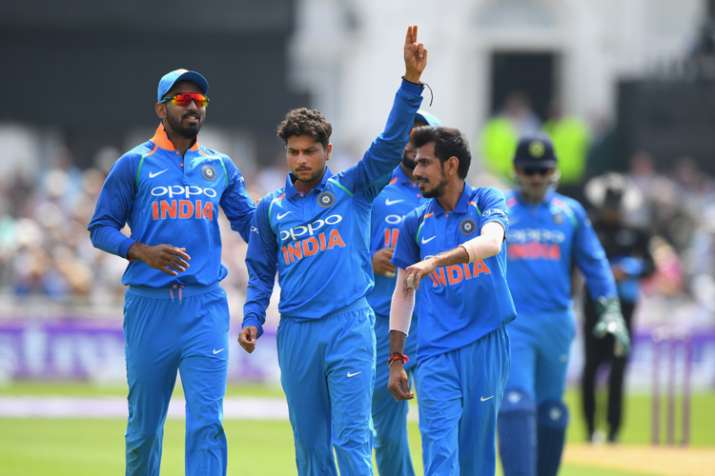 India are on a roll on their ongoing England tour after winning the first ODI and the T20I series already in the bag. But if there is one man who has propelled India into such an advantageous position it has been the left-arm wrist-spinner Kuldeep Yadav. His googlies have bamboozled the English batsmen who are having trouble picking his variations from the hand and the tweaker has had no problems in dismantling the opposition with his mystery bowling. (India tour of England Full Coverage)
In a video posted by the BCCI on its website, Yadav is interviewed by his fellow teammate and swashbuckling batsman KL Rahul. The latter starts off by asking the bowler who he is backing to win the FIFA World Cup as Kuldeep has been following it very closely. 
Kuldeep replied by saying: "I was supporting Brazil before but they got knocked out by a better team in Belgium. Now I think France are a good team and they should lift the trophy." 
WATCH: What are @imkuldeep18's predictions for the 2018 FIFA World Cup Final? Who was he supporting? How did it feel to grab 6 wickets in the 1st ODI? He answers it all to @klrahul11 - by @RajalArora

Full Video Link----> https://t.co/XdV5jK40vl pic.twitter.com/D59xEoLuWC

— BCCI (@BCCI) July 13, 2018
Rahul too concurred with his teammate on this point as he too thinks France will win the tournament.
 
Next, the batsman asked the 23-year-old about how did he feel on becoming the first wrist-spinner in history to claim a six-for. To this Kuldeep replied: "I felt nervous before the game (1st ODI) as I do before every match as for me each game is important. But I'm very happy now that I got so many wickets."
When Rahul suggested that Kuldeep has been very consistent as a bowler in the last one year or so, be it ODIs, Tests, T20s or the IPL, the latter agreed that a lot of credit for this must go to others who have helped him understand his bowling much better.
"I would first of all like to credit my coach - Kapil Pandey - who is in India at the moment. He works a lot with me on my bowling and different planning strategies. Other than him, in the Indian team, Mahi Bhai (MS Dhoni), Virat (Kohli), all the support staff and players have helped me a lot. The team culture being great is also a massive boost. I also like to discuss a lot with (Narendra) Hirwani Sir whenever I am home." 
In his last question, the Karnataka batsman commented that Kuldeep always had the skill but in the past one year and a half he has also improved a lot on his fitness which has sharpened his skills as a bowler. To this, Kuldeep added: "When I played U-19 cricket, I weighed an astonishing 75 kgs! But then I worked hard to lose a few kilos and with (Shankar) Basu Sir, I have worked even harder on my fitness, the effects of which I can see on my bowling."