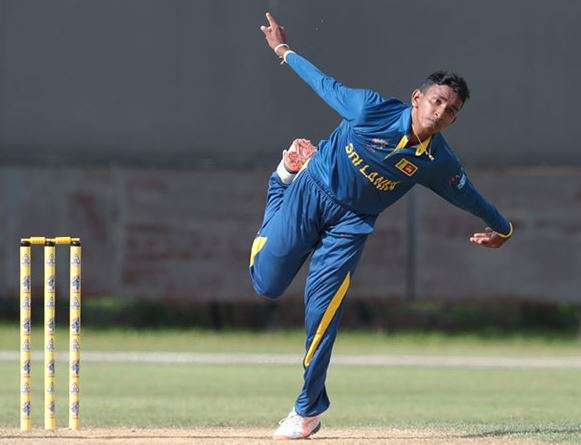 Sri Lanka is a team full of surprises and this time they have a bowler whose unique action is 'out of this world'. Kevin Koththigoda, a teenager who is currently representing Sri Lanka in the Asia Cup U-19 squad which is being held in Malaysia, has the art of bowling without seeing where the ball is moving. His actions are compared to South Africa chinaman, Paul Addams. 
The Lankans always have a surprise package in store for the big times. Bowlers like Ajanta Mendis, Akila Dananjaya have demolished batting line-ups, stunning the batsmen with their swing and their ability is always discovered against a team like India. 
It was former Sri Lanka 'A' player Dhammika Sudarshana who told Cricbuzz about the youngster's ability that can help the Lankans add another bullet to their gun. Sudarshana compared the unorthodox spinner to Paul Addams, but the only difference between two is that the South African legend was a left-arm spinner where Kevin is a right-arm bowler.
Kevin, who is currently playing in the Asia Cup, took a wicket and helped his team win by 61 runs.
"He has a very unusual action. It's like that of Paul Adams. The action wasn't coached or anything, it came naturally to him. Initially, he was struggling with the length as he couldn't see the pitch, but he has improved tremendously," former Sri Lanka 'A' opener Dhammika Sudarshana told Cricbuzz.
Sudarshana, who took Kevin under his wings, helped the right-arm bowler change schools in desperate times.
"He came with his parents and asked me whether he could change schools. It was a fair request and we didn't have any objections," Sudarshana explained.
"Since his action is unique, the batsmen get confused. He is an excellent fielder and a decent batsman. He has got a very bright future ahead of him," Sudarshana added.
Former cricketer and now umpire Sarath Asoka lauded the youngster and said that he has a bright future ahead of him. Asoka made these comments about the bowler in the matches he has officiated where Kevin has played.
"He has an incredible action but lands the ball in the right areas. (He is a) lovely kid and has a good future," said Asoka.
"He has an incredible action, but lands the ball in the right areas. (He is a) lovely kid and has a good future," said Sarath Asoka
The U-19 star does indeed have a long and bright future ahead of him, but with Sri Lanka who were currently whitewashed by India 9-0 at home, thrashed by Pakistan in the ODI and T20 series, and now again face India in their backyard for a three-Test series, will have to revamp their squad and now knowing of the youngster's ability of surprise, they may add Kevin in their arsenal sooner than later.