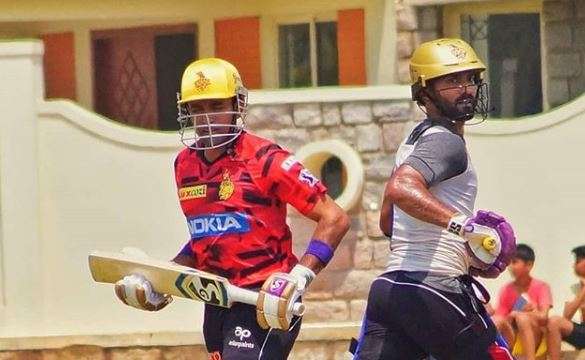 After the announcement of India's 15-member 2019 World Cup squad, a lot has been said on the inclusion of Dinesh Karthik over young wicketkeeper Rishabh Pant. Karthik's Kolkata Knight Riders (KKR) teammate Robin Uthappa though is happy after his skipper's inclusion and said that justice has been done to India's best limited-overs finisher of past two years.
Uthappa posted a story on his Instagram profile and wrote," If ever a person deserved to be in this world cup squad on merit and his performances it (has) been @dkooo19!! Stoked for him!! Justice has been done. Easily the best finisher in the Indian squad in the past 2 years!!"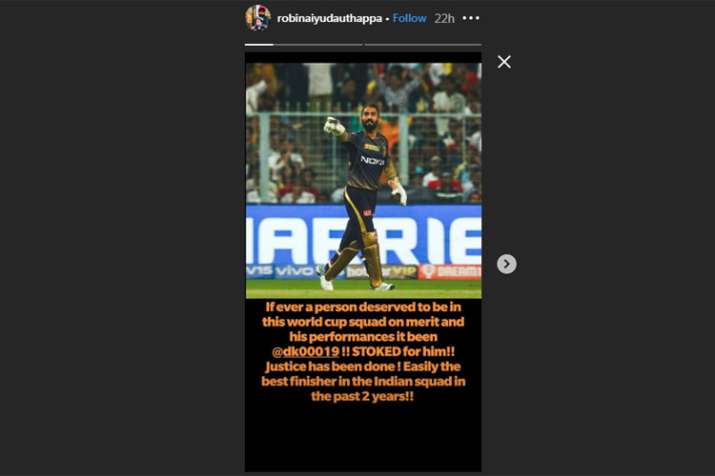 Karthik has been performing consistently well in ODIs since 2017 scoring 425 runs in 20 matches at an average of 46.75.
The BCCI selection committee chairman MSK Prasad explained the reason behind picking the experience of Karthik over the younger exuberance of Rishabh Pant. Prasad insisted that Karthik has been selected in the team as a second wicketkeeper and he has the ability to handle the pressure in crunch situations.
"The situation that was discussed in the selection committee meeting is one of them [Rishabh Pant and Dinesh Karthik] will play in the XI only if MS Dhoni is injured. Under such circumstances in a crunch match, who is the best guy who can handle the pressure? That's is the reason that went in favour of Dinesh Karthik," MSK Prasad said.
Meanwhile, after getting selected, Karthik said it was a dream come true to be a part of the team.
"I am very excited. It has been a dream for me to be a part of this team for a long time now," he said.
"As a team, we have done some special things and I have been through that journey and I have really wanted to be a part of this team," he told www.kkr.in.