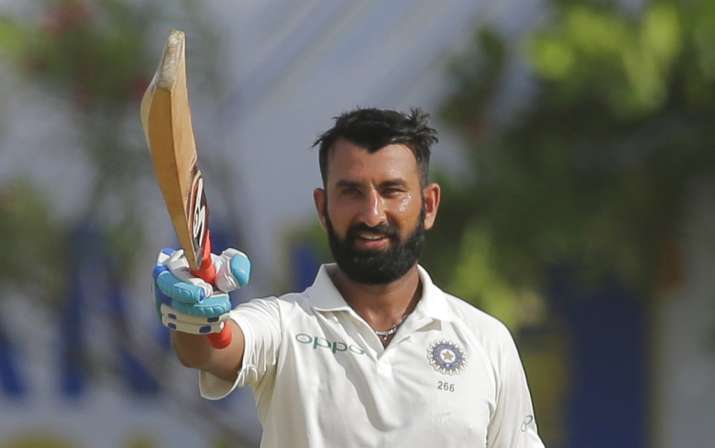 Rated highly for his impeccable skills and unmatched determination - Cheteshwar Pujara is the backbone of Indian batting line-up when it comes to cricket's purest format. Since his debut in red ball cricket in 2010, the Rajkot-born batsman as grown leaps and bounds as his career progressed. With his outstanding technique and ability to bat for long hours without losing concentration, Pujara has been a thorn in the flesh of oppositions. Pujara has a career average of 50.42 in Test cricket and has notched up three double hundreds in the 57 Test matches that he has played so far. Considering his superior pedigree in Test cricket, Pujara endured a rather tough time in South Africa during the three-match Test series, which India lost 1-2. Pujara managed to score just 100 runs in his six innings with an average of 16.66.
Following his return from South Africa, Pujara is back to the grinds of domestic cricket before he flies to Yorkshire.  
Speaking to India TV, the 30-year-old spoke about his experience of playing in South Africa and India's chances on the overseas tours. "We didn't bat well in first two tests but put up a clinical performance in the third Test. And that's why we won the third Test. That created an atmosphere and made us confident that we can perform good overseas as well," Pujara told India TV.
Pujara also spoke confidently about his batting and believed the grind in domestic cricket helps him to prepare better for the big stage. "Ranji, India A, Indian Test team experience has made me a confident batsman. All this experience tells you how to bat in what conditions. You score a big total through this and the team gets an edge. Hard work I did in past two years and domestic cricket before that is helping me today."
India is scheduled to visit England in July this year where they will play three T20Is, three ODIs and five Tests on a two-month long tour. After being ignored by all the top IPL franchises, the Saurashtra batsman has signed for Yorkshire to play in the upcoming County Championship in England. On his County experience, Pujara said: "County cricket has benefitted me a lot. I've played 15-20 County matches so far. It helps because the wickets in England are very challenging for a batsman. It's not easy to get used to the weather in England. I believe Team India will have an advantage when they tour England."
"Win in South Africa will benefit India in England as well. The confidence will be intact in Australia too. When you win, you get a self-belief and get to know what makes you win," he added.
He also spoke about a few changes in his technique ahead of the County season and said: "I will experiment with a few things in County this time. So that we can get an advantage in the Test series."
Riding on the stupendous victory at the Wanderers against South Africa, India also clinched the ICC Test Championship mace for the second consecutive year. The victory also meant that no team can surmount India in the Test rankings on April 3, the cut-off date. Sharing his views about the balance of the current Indian Test team, Pujara said: "India team is balanced. Every player is contributing in India's victory. I personally feel our bowlers are too good and you require good bowling attack if you wish to win a Test match."
Pujara is also known to share a great on and off-field camaraderie with Indian captain Virat Kohli. The duo has shared several match-winning stands for India in whites. Pujara also spoke on sharing lighthearted moments on the crease with Virat & Co. "It's important to enjoy amid pressure in cricket. We all play to win but sometimes a good laugh makes us understand a wicket better. We will look to perform well in England and Australia with  this style in future."
He also praised Kohli's captaincy and feels the Delhi-born cricketer is doing a fine job in all formats for the Indian team. "He has captained the team well across all formats. He works a lot on his fitness. He has set standards for every player with his fitness as well as batting."
Lastly, Pujara also talked about his fitness regime which allows him to bat for long hours at the crease and believes it's a continuous process to keep yourself motivated in the game.
"I've worked a lot on my fitness in last two years. It is the result of the effort of two years that I see in myself. I am working on my fielding skills as well.  The entire team is playing as a unit and performing up to their potential. Balanced. We have good Fast bowling all-rounders, spinners, batsman," Pujara signed off.