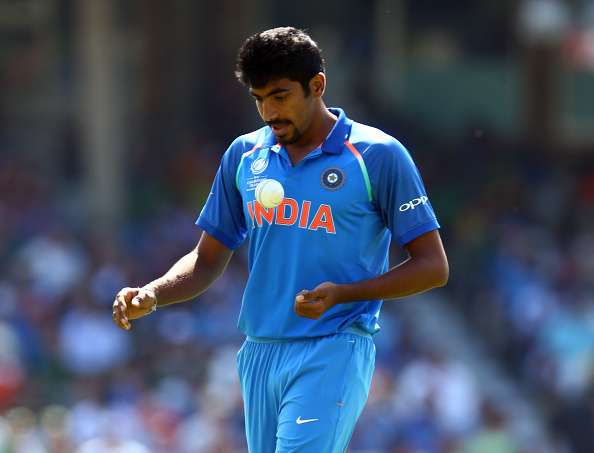 One of the premier bowlers in limited-overs cricket, Jasprit Bumrah is once again in the news. No, this time not for his infamous No-ball which he bowled in the final of the ICC Champions Trophy against Pakistan which made him the villain overnight but because of his ailing grandfather. 
Known for his unique slingy action and his deadly Yorkers, the 23-year old pacer has established himself as India's leading pacer in a very short span of time. One of the finest discoveries of the lucrative Indian Premier League (IPL), Jasprit came broke into the limelight after an impressive stint with Mumbai Indians. As the young pacer continues to scale new peaks in his short international career for the country, his 84-year old grandfather is fighting hard every day to meet his daily expenses in a small town of Uttarakhand.
Santokh Singh Bumrah lives in Kiccha drives an auto-rickshaw and stays in a rented house. Despite all the adversities, the elderly man takes a lot of pride in speaking about the achievements of his grandson.
"Jasprit Bumrah is my grandson. I saw him on television and I was very happy. It feels great to see him on TV screen performing so well in international matches. I somehow manage my expenses. I ride a tempo to make ends meet," Santokh was quoted by Hindustan Times.
In an unfortunate turn of events, once a famous businessman in Gujarat - Santokh Singh Bumrah incurred huge losses and moved to Uttarakhand in 2006. Jasprit's father Jasbir Singh Bumrah, who died in 2001, was involved in the family business as well.
"After Jasbir's death in 2001, the fate turned and I started running into losses. Sold out factories and shifted to Kiccha with my brothers" Santokh Singh added.
Speaking about his last wish, the 84-year-old says: " I pray to God for his success and meet him once before I die."
The reason Santokh Singh has had to stay away from his grandson Jasprit is because of the latter's mother. 
"Jasprit's mother was not willing to see us. Though recently my daughter visited Ahmedabad. I tried hard to get Jasprit's contact but couldn't. I would be grateful if you could please help," he concluded.
Bumrah who was a part of India's Champions Trophy squad has been rested for the West Indies tour.