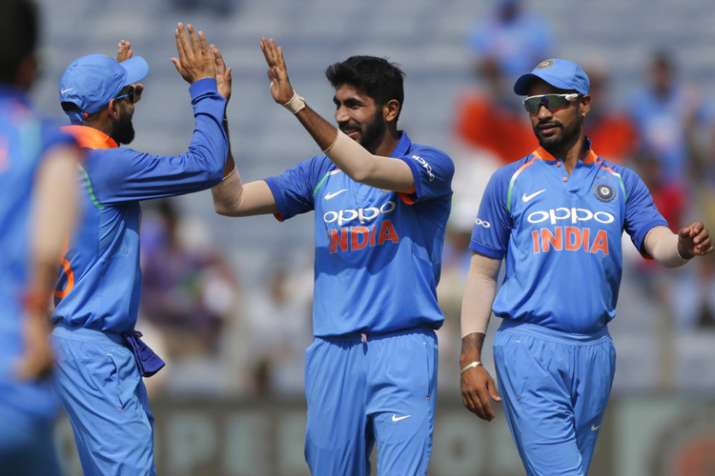 Former India fast bowler and the only Indian to claim a hattrick in a World Cup, Chetan Sharma, in an exclusive chat with indiatvnews.com said that Jasprit Bumrah is the one bowler in the current Indian setup who excites him the most. 
When asked to predict which bowler from the current Indian lineup he thinks has the most chances of emulating his feat at next year's World Cup he chose the young sensation Jasprit Bumrah.
"Jasprit Bumrah is a player who can break any bowling record. In World Cups, I am the only Indian to take a hattrick. Bumrah is so talented, I bet he can take a hattrick anywhere in the world for India at any stage. I wish he does that soon and especially if he does it in the World Cup then it would be truly thrilling," Sharma told indiatvnews.com via telephone.
When the 52-year old was asked to comment on the current Indian setup and the home team's bowling attack he stressed that he was happy with the current crop of India's fast bowlers. On young Khaleel Ahmed who has featured in the Asia Cup followed by the West Indies series, Sharma was eager to see him perform overseas and believes that he will add variation to the bowling attack which comprises of only right-arm fast bowlers.
"From what I have seen of Khaleel, he bowls pretty well whenever the conditions support fast bowling like he did at CCI. But it's too early to arrive at a conclusion about him as he has only played a handful of matches. But its good to see that he comes into his groove very early and has the ability to bowl according to the conditions. I think he will be really successful in England. It will also be interesting to see how he performs on bouncy Australian pitches if given the chance.
"Even though all our bowlers are right handed, they are doing exceptionally well. However, a good left-arm pacer like Khaleel definitely gives variety to the attack. Let Khaleel prove himself and then they should include him in the team on a more consistent basis," explained the Ludhiana-born bowler.
Sharma also expressed hope that India's new no.4 Ambati Rayudu will continue his rich run of form in Australia as well which might put an end to the country's prolonged search for that position.
"Rayudu did well in the Asia Cup and now against West Indies, he is also doing pretty well. He is carrying out his responsibilities to perfection. but we still have more than a dozen games before the World Cup. But I would love to see him perform well in Australia and then I can definitely say that the search for no. 4 has ended.
"It's a testing period going on in the Indian time. We are trying out different players for different situations. That is why guys like Khaleel are getting a chance. Whoever performs well over these dozen games will find himself on the plane to England," concluded Sharma.