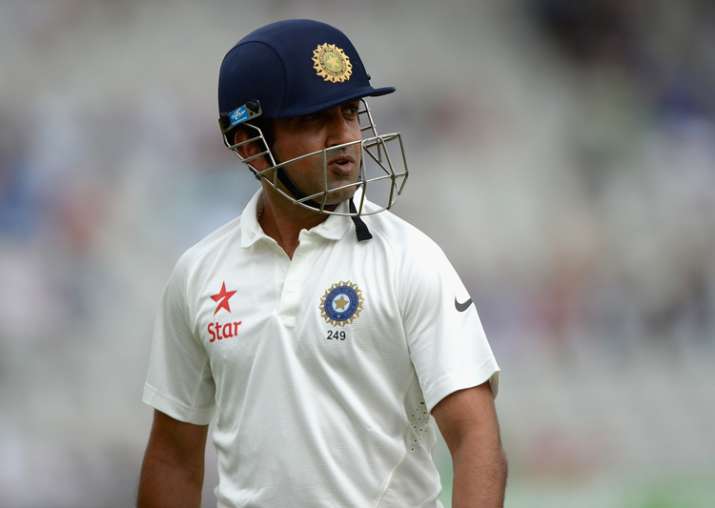 Having concluded the year at the pinnacle of the ICC Test rankings, a tougher challenge awaits Virat Kohli-led India on their tour to South Africa, starting January 5, 2018, opined India  opener Gautam Gambhir. "In the past two and a half years, Team India has done well, though the biggest challenge will arise when they travel to South Africa, England and Australia," Gambhir told India TV in an exclusive interview.
"The next one year will be crucial for the Indian side. The progress has been evident in the home season, but they have to perform the same outside as well. Every Indian captain and player will do well at home; the biggest challenge is to perform well away. Now it's time to deliver and the players have the experience to face the South African team. It's more about the results than the process," the 36-year-old Delhi batsman added.
After playing a successful home season, India will tour to South Africa for a lengthy series comprising three Tests, six ODIs and three T20Is. India have never won a Test series in South Africa before and watching the current form of Indian cricket team, the expectations of a better outcome heap upon the Kohli & Co.
Gambhir, who is currently eyeing a Ranji Trophy title for his home team Delhi, spoke about the importance of having a winning mindset ahead of tough challenges.
"The players should go with the mindset that they can win the series. If you enter with a scared attitude, then you'll end up playing safe cricket and that will not hand you a win. If you're scared of losing, then you will never win.  Even if we lose it wouldn't be that Kohli will be the first captain to lose in SA, many others have lost. By playing safe cricket, one would never win but by going in with an attacking mindset will offer you results."
Commenting on Kohli's aggressive mindset and India's possible team formation, Gambhir added: "Sometimes, a defensive mindset can result into a negative outcome, but aggressiveness can win you matches away from home. I am sure that Kohli knows how an aggressive mindset can help in the series. Taking four batsmen, one all-rounder and four bowlers can contribute to an attacking and aggressive mindset that can help you take 20 wickets."
The seasoned southpaw continued to talk about India's playing XI in South Africa, claiming that playing five-bowlers will result in the visitors' favour. "Sometimes, the wickets are flat. You may have to go with three seamers and two spinners. Even Jadeja is an all-rounder other than Hardik Pandya. They have to take a gamble by playing five bowlers who can bowl 15 overs a day. And even if we drop a batsman out, it's important to go in with an attacking mindset before playing six batsmen and four bowlers."
Hailing India's formidable pace quartet of Ishant Sharma, Umesh Yadav, Mohammed Shami and Bhuvneshwar Kumar, Gambhir continued: "The bowlers who are going in have the experience like Ishant, who has played over 70 80 Test matches, Umesh, Shami and Bhuvneshwar. It's all about experience than the pace attack you're sending in as they know the conditions well."
Having played 58 Test matches for India, the forgotten opener expressed confidence in the current opening pair of Murali Vijay and Shikhar Dhawan. However, he came up with a pack of valuable advice for the dynamic openers.
"The pair of Shikhar Dhawan and Murali Vijay will be good to open with. Dhawan has the experience of playing in the South African conditions. You must start with experienced players who are in a good form at the moment," he advised. 
Talking about the mentality one should have while opening innings for his team, Gambhir said: "As an opening batsman, you have to be mentally tough as the conditions will be difficult with a new ball. Pacers like Rabada, Philander, Morkel and Steyn will make the most of it. You have to be mentally tough as it's not about surviving, but also about projecting a score on the board with runs as the bowlers will also come with an attacking mindset. The batsman will have to score runs if they want to win the series."
"Then you perform well overseas and get results. Then you can call yourselves the Number 1 team and I am sure these guys would be ready for it," he added.
Guiding India to many victories across all formats, Gambhir has scored 4154 runs in Tests, 5238 runs in ODIs and 932 runs in T20Is. He last played for India in a Test match in November 2016 at Rajkot, where he lost his wicket for 29 and 0 in successive innings against England.
"Ultimately, we cannot think about the selections because it's not in our hands and it will never be. The only thing is to perform well, score runs and win matches whenever you have the bat in your hand," the optimistic cricketer said.
Boasting about his current form, through which he led Delhi to the Ranji Trophy final, Gambhir said: "My performance has been satisfactory, when you get to score plus 600 runs, its satisfactory. But I don't think it will be of any use unless you can win the matches in the finals. As a sportsman, it's of no use unless those runs win you matches. The satisfying moment is that those runs have helped us reaching the Ranji Trophy finals."
(With inputs from India TV Sports Correspondent Vaibhav Bhola)