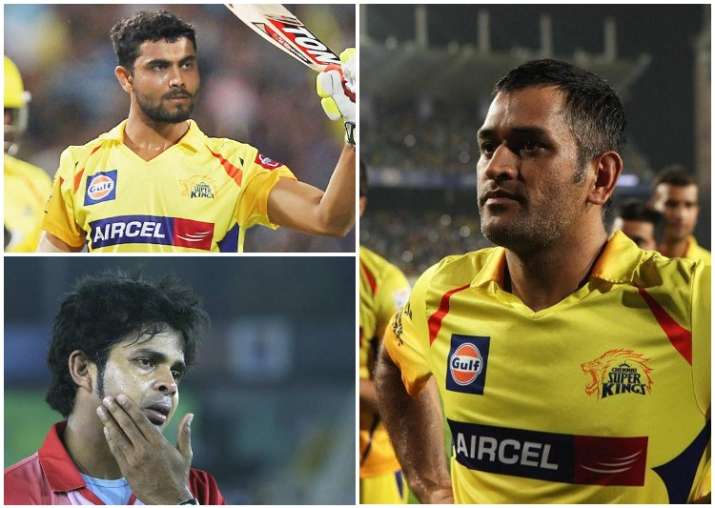 Controversies, scandals, corruption charges and many such unexpected events have always been a part of the Indian Premier League (IPL). The T20 league has been marred by various controversies since it's inception since 2008. From on-field fights to spot-fixing and team bans, the IPL has seen it all and we bring you the biggest controversies that have rocked the cash-rich league in past one decade.
Ravindra Jadeja banned (2010)
Team India all-rounder Ravindra Jadeja was allegedly accused of trying to strike a deal with another franchise between the IPL seasons. Jadeja, who played two seasons with Rajasthan Royals could not find a place with any franchise and was penalised for trying to negotiate terms with another franchise. Jadeja missed the 2010 season. The all-rounder was then signed by Kochi Tuskers Kerala in 2011.
Mohammad Asif tested positive for steroids (2009)
A year before his spot-fixing ban, Mohammad Asif was tested positive for a banned drug (nandrolone) during IPL's inaugural edition in 2008. In February 2009, he was handed a one-year ban. Asif was banned by the Pakistan cricket board in 2008 and was already blighted by such scandals before.
Rahul Sharma, Wayne Parnell consume drugs at rave party (2013)
South African all-rounder Wayne Parnell and Indian leg-spinner Rahul Sharma were reportedly caught at a rave party in Juhu (Mumbai). The duo played for Pune Warriors India (PWI) and refused to have taken any kind of drugs at the party but after the tests which were conducted proved that the cricketers consumed recreational drugs and were tested positive.
Luke Pomersbach stalk and brawl (2012)
Australian batsman Luke Pomersbach, who was playing for Royal Challengers Bangalore in the fifth edition of the IPL, was reported to have followed a woman from USA, stalked her to her hotel room and attempted to molest her. The incident ended in a brawl as he encountered the girl's fiancée. Pomersbach was charged with several sections in the Indian Penal Code but later the case was settled outside the court between the two parties.
Chennai Super Kings and Rajasthan Royals suspended for 2 years (2013)
The two high-profile and former champions, Chennai Super Kings and Rajasthan Royals, were banned for two-years for a spot-fixing scandal in 2013. Gurunath Meiyappan, N Srinivasan was involved in betting on matches which involved his own team CSK. Srinivasan was also accused of divulging Vindoo Dara Singh.
Raj Kundra, a stakeholder in the Rajasthan Royals franchise was also found guilty of betting on matches, a charge which he accepted.
The two teams were banned from the IPL 2016 and 2017 editions and will return in 2018.
Sreesanth banned from cricket after spot-fixing scandal (2013)
It was during the 2013 edition when three players from Rajasthan Royals were involved in spot-fixing against the Mumbai Indians. S Sreesanth, Ankeet Chavan and Ajit Chandila were arrested by the Delhi police for allegedly fulfilling the promises made to bookies where at that time Team India representative Sreesanth, agreed to concede 14 runs. For his actions, Sreesanth was suspended by Rajasthan Royals and was banned for life by the BCCI.
Shah Rukh Khan banned by MCA (2013)
Renowned Bollywood actor, Shah Rukh Khan was banned by the Mumbai Cricket Association after the superstar and owner of Kolkata Knight Riders allegedly was involved in a scuffle with the security guards during a match between KKR and Mumbai Indians. As media reports suggest, King Khan had entered the field after the match and was reportedly drunk and abusive. The MCA banned the actor for five years from attending any matches in the Wankhede Stadium in Mumbai, be it domestic or International.
Harbhajan Singh slaps S Sreesanth (2008)
On the more dramatic side of the IPL and less of a controversy which still makes the headlines, Harbhajan Singh slapped S Sreesanth after a match between Kings XI Punjab and Mumbai Indians in 2008. As per video footage, it appeared that Bhajji had slapped the fast bowler when they were shaking hands after the match. The spinner was banned for the rest of the season and was fined 100 per cent of his match fee. Later the players hugged and made up. Bhajji revealed that Sreesanth was being overdramatic after the win which prompted him to slap him.